From small campervans to big Class As, there are so many different RV sizes to choose from. Here's how you can find the best RV size for you…
When it comes to RVs, size does matter, but only on an individual level. Bigger isn't necessarily better. Smaller isn't necessarily smarter. It comes down to what the best RV size is for you.
But how do you determine the right size? What if you buy an RV that's too big? Or too small? How do you find the "goldilocks RV" that's just right?
Since there is no single right answer, you have to decide based on guidelines instead of hard-fast rules. The following tips will help guide you, pointing you toward the perfect RV size for you and your travel companions.
We use affiliate links and may receive a small commission on purchases at no added cost to you. Thank you for your support. You can read our full affiliate disclosure here.
What Is the Most Common RV Size?
Since RVs are divided into different classes, there isn't one "most common RV size." Instead, there is the most common RV size in each class.
Camper Report gives a great At-a-Glance summary of the most popular RV lengths as follows:
Class A: about 33 feet long
Class B: about 20 feet long
Class C: about 28 feet long
Towable 5th Wheel: about 32-36 feet long
Travel Trailer: high 20-low 30 feet long
If you don't know the differences between the RV classes listed above, I recommend you read the following:
10 Tips to Help Find the Best RV Size for You
Now that you have a good understanding of the different RV classes, let's help you narrow it down even more. The following tips will help you figure out which RV size is right for you.
Tip #1 Rent Before You Buy
I'm going to start with the best advice I can give anyone shopping for an RV. Do not buy right away. Rent before you buy! Or at least try before you buy.
Newbie RVers often learn the hard truth of what they thought they wanted and needed vs. what they really need and want AFTER they buy an RV. That's an expensive lesson to learn. You pretty much have to live with whatever you chose since RVs immediately lose value when you drive them off the lot.
Another reason to rent before you buy is you might realize that the idea of RVing doesn't live up to the reality of RVing. You may discover that you don't enjoy it as much as you thought. I know this may seem unlikely for us dreamers, but I've heard the regret too often in my years on the road.
If you're not 100% sure, I recommend reading "Should I Buy or Rent an RV" to weigh the pros and cons of each further.
Tip #2 Count How Many People Will Sleep In Your RV MOST OF THE TIME
Obviously, you need to know how many people you will travel with. However, you must also consider how often these travelers will camp with you.
Are you counting grandchildren that might camp with you once a year? Is it worth having a bunk or pull-out bed for them? Or would it really be okay for them to sleep on the couch or the floor… or even in a tent?
Be realistic about how many people will sleep in your RV most of the time. Then, compare the "good enough" option to the "more than enough" option when it comes to sleeping space.
Tip #3 Estimate How Often & How Long You Will Use Your RV
Do you plan to take long trips or weekend getaways? Are you going to go every weekend, every summer, or year-round?
The frequency and length of your road trips should play a big role in your decision. If you're not going to use it that often or for long durations, you can probably do without more creature comforts.
A weekend RVer, for instance, doesn't need a washer/dryer combo. A summer RVer, for instance, may spend more time outdoors and doesn't need as much living space inside.
Tip #4 Estimate How Far You Will Drive Your RV
Some RVers camp close to home, while others take off across the country. You need to have a good idea of which kind of RVer you are (or at least where you fall between the two extremes).
The tricky part is the SAME answer may have different results for which RV is best for you. For some people, the farther they travel, the smaller RV they want. They want to be able to drive it easily and cost-efficiently.
For other RVers, the farther they travel, the more they want their RV to be like home. They want to take as many creature comforts with them.
So, when you consider this, you'll have to figure out which kind of RVer you are and weigh the pros and cons of going bigger vs. smaller the farther you travel.
Tip #5 Compare Boondocking vs. Campground Camping
Like what you see in these videos? We'd appreciate it if you would Subscribe to our YouTube Channel (easy to do right here) and consider "ringing the bell icon" to be notified of any new video from us. 🙂 Thanks!
There are two main types of RVing: boondocking and campground camping. Boondocking is when you camp in an undeveloped location without using utilities or other hookups.
Campground camping is when you camp in a designated RV park or campground that likely has hookups and amenities, like electricity, water, picnic tables, bathrooms, etc.
Jennifer and I are diehard boondockers, but you must judge if boondocking is right for you. You may also want to look into our Beginner's Guide to Boondocking.
Curious about boondocking? Love ebooks? We made this for you!
We created a 65+-page downloadable digital guide to help you with the most common boondocking problems. We get a ton of questions from our subscribers about how to get started boondocking that range from where-to go and wild animals to water conservation to what equipment to use and more. So, we wrote an ebook that answers all these questions in one place!
---
Tip #6 Don't Forget RV Height (or YOUR Height)
People always talk about the LENGTH of RVs, but they sometimes forget that height is important, too. At least, it is if you are a relatively tall person. Or your travel companion is.
I've heard stories of people who bought an RV online after extensive research and thorough comparison of floorplans… only to realize they can't comfortably stand up in it.
Very tall people will automatically think about this. But above-average height people might overlook this important factor. Again, that's why it's a good idea to try before you buy!
Tip #7 Consider Your Furry Travel Companions
In an RV, every inch of space counts. If your 70 lb dog takes up half your living space, you might need to reconsider the size of the RV you're looking at.
I say "might" because we do, in fact, travel with a 70-pound hairy beast… in a campervan. We always have. It works for us, but we were very mindful of how it would work. You need to be, too.
Tip #8 Don't Forget About Campground RV Length Limits
The Mack Daddy Class A motorhomes and big 5th wheels can be really appealing. The ample space, the amenities, and the separate rooms are all great… until you can't fit into most campgrounds.
This is especially true if you plan to stay at a lot of national parks. They all have RV length limits, but some are smaller than others. In general, they can accommodate up to 35 feet. However, sometimes it's much smaller, like 25 feet.
Tip #9 Factor in Outdoor Space
Don't forget to account for outdoor living space. In many cases, this is the size of your campsite that you can use as an extension of your RV. You can eat, lounge, play games, and more in this area.
If you boondock like Jennifer and me, you have even more of the outdoors beckoning you to come out and play.
Aside from rainy days, how much of your time is really going to be spent inside your RV? More so, you need to consider if your RV being too comfortable will actually dissuade you from going on more adventures. It's like not wanting to get out of bed when you're tucked in nice and cozy.
Tip #10 Don't Be RV Rich and Travel Poor
In truth, deciding on the best size RV for you is likely going to depend on one factor more than anything else: your budget.
The surprising thing is that smaller RVs aren't necessarily more affordable than big RVs. The opposite can be true, especially when comparing campervans with standard-size motorhomes. A lot of people get sticker shock when they see the big price on small campervans.
However, the overall point is that your budget matters. Don't stretch yourself too far so that you don't have money left over for traveling. Because TRAVELING is the point, not buying the nicest RV.
Remember that common saying, "House rich and cash poor" and tweak it to "RV rich and travel poor." Use that as your mantra to keep yourself grounded when making a decision.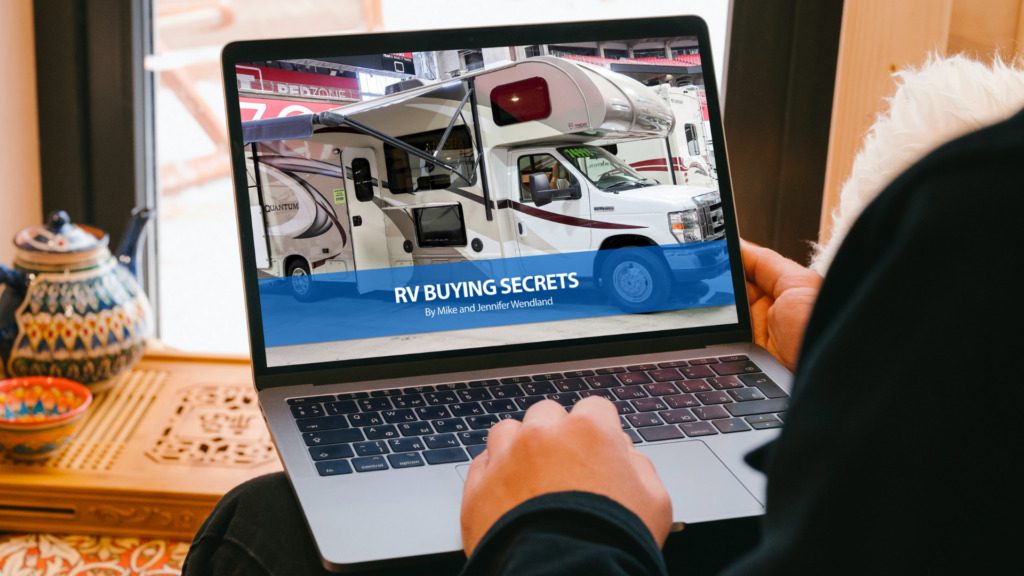 Next to your home, an RV is most likely the 2nd most expensive thing you'll ever purchase.
We get questions every day of other RVers wondering. "How do you buy a new or used RV?"
So we created a 75+-page downloadable digital guide to help you understand the nuances that come with purchasing an RV, where you can save thousands of dollars in the buying process, what the right questions are to ask dealers, what things to look out for, how to select the right unit, amenities, warranties, and so much more!
We created this guide to help you understand the nuances that come with purchasing an RV including:
Where to save thousands of dollars in the buying process
What questions to ask dealers
How to select the right unit
How to narrow down RV amenities
Understanding your warranty and what it covers
This ebook is designed to help make your purchase process as smooth as possible. And to teach you step-by-step exactly what to do so you can start your RV Lifestyle today!
---
---
---
We recommend you go Lectric for your RV Lifestyle

You know we love our RAD Power bikes – and have featured them for years, but we recently tested out and LOVE our new Lectric foldable ebikes. Being able to fold them up allowed us to put them in our Wonder rear garage area for a recent RV Lifestyle Gathering. You can check out our experience with them right here on our YouTube Channel.