Do you speak RV? Test your fluency with this list of phrases only RVers understand. How many do you know?!…
In our RV Lifestyle Facebook group, a member challenged fellow RVers to share phrases only RVers would understand. She kicked off the list, and then nearly 300 comments followed!
We got a kick out of the phrases! Some are acronyms or shorthand. Some are relatable. And some are just downright funny.
We know you'll get a kick out of them, too, so we decided to list the best ones. How many do you know?
Hey, if you buy something through my links, I might get a little something-something as a thank you. No extra cost to you, promise! Read our full affiliate disclosure here.
125 Phrases Only RVers Understand
The following are RV phrases that real RVers shared in our RV Lifestyle Facebook group. If you're not already in our Facebook group, you should join! It's full of helpful information and amusing posts.
Alrighty, let's jump into the RV phrases. How many do you understand or can relate to? (Psst! We added some helpful links throughout!)
A class A toy hauler just arrived. It's massive!
If we are rocking, don't come a knocking…
We can only accommodate certain sizes. How long is yours?
Go outside and shut off the Grey Water and turn on the Black Water so the Rhino can clean it out when you pull it.
Fill the honey wagon and dump.
I demand shade! But satellite friendly.
Do you want to pour the dishwater into the toilet, or should I dump it down the sink first?
Is that campground FCFS with FHU?
The animals are shaking the trailer.
Baby, am I over the ball yet?
A little to the right! A little to the left!
I hate making the bed, but it is a great workout!
Is the lock on the fridge?
I am going to dump the tank!
Are you a toad 4 on the round or a dolly?
Holy moly! Check it out. This one is huge!
Does yours come with bunks?
How many slideouts does she have?
What is the capacity of your holding tank?
What chassis did you get?
Mine has an overcab bunk!
Gotta bungee in the awning.
Clean out the poop chute!
Oh, you have a full turd toter.
Ever heard of a duece caboose?
Get level first, then hit the slides.
Just got the toad hooked up. We are ready to roll!
What color loofah does everyone put on their golf cart?
Where did that tree come from?
I can run 75 mph all day long.
Sorry for what I said when I was parking the RV.
Use her once, fix her twice.
My wheels are off the ground!
Whose turn is it to empty the honey wagon?
We are not stationary. We love to sleep around!
It's finally level. I think.
A little more to your left. No, no, stop! Your other left…
There's a cougar. Ope! There's another one!
I am going to take a shower. Are you running water?
I am shutting off the water.
I am going to need an RV dictionary.
Gotta go outside for a while. It burped me!
So far, so good. Darn, I spoke too soon.
Is anything on? I gotta blow dry my hair.
There is water coming up in the tub.
Watch out for feral kids.
I want to crimp my hair, but I am running the Kuerig.
Honey, I need you to come over this way. Just this much. (Gestures with fingers.)
Sorry, kids, I forgot to tell you it would be windy last night.
It might be in the underbelly.
If it starts to rain, be sure to dip the awning.
I forgot to lube the slides!
What didn't you stow today?
I cannot slide it back in!
Backing up an RV is a marriage tester.
Got my TT behind my GMC to go to BLM land for a "vaca."
Do you want a full hookup?
Where is the sugar? I don't know but check the shower.
Here for the yokes, folks!
Gotta keep that tow ball greased!
Forget what you heard while we were backing.
We're Walcokgin tonight at Walmart.
My dinghy has a flat tire.
My toad is getting dirty.
Do you "heat shrink" or "reflectix" your windows?
Switch the tanks, honey. We ran out of propane!
Keep coming, keep coming, STOP! That is perfect.
Do you have an MH or a TT?
Have you disconnected yet?
I didn't even know that was an option!
What Does THAT Mean?
Was half of that gibberish to you? Don't worry, we have a beginner's guide to RV terminology, jargon, and acronyms.
From boondocking to Wallydocking and DW to TT, you can join the fun by becoming an RV jargon expert! Keep reading What Does THAT Mean? RV Terminology, Jargon & Acronyms…
Finding Your RV Community
Like what you see in these videos? We'd appreciate it if you would Subscribe to our YouTube Channel (easy to do right here) and consider "ringing the bell icon" to be notified of any new video from us. 🙂 Thanks!
Finding RV Community on the road can be a challenge. But joining a club or attending a rally or a meetup can bring you lifelong friends. Watch the video to learn more!
By popular demand, we announce the publication of the latest in our library of RV travel guides – a 7-Day Adventure Guide to Coastal Maine.
With its dramatic rocky coastline, enchanting fishing towns, and windswept sandy beaches, Coastal Maine is a destination that should be on every RVers' bucket list.
We call these guides "7 days," but they really are seven stops. They're meant to be experienced at your own pace, a couple of days at one stop, a week at another, however long you want.
We have carefully curated this 66-page digital guide (not a printed book) so you can take in all Coastal Maine has to offer. We give you the routes to drive, the spot to stop, the places to eat, and the museums, excursions, hikes and adventures we think you will enjoy the most.
For an RVer, Coastal Maine has it all: stunning landscapes, short drives between stops, spacious campsites, that perfect small city and nature mixed with a seemingly endless variety of things to see and explore.
---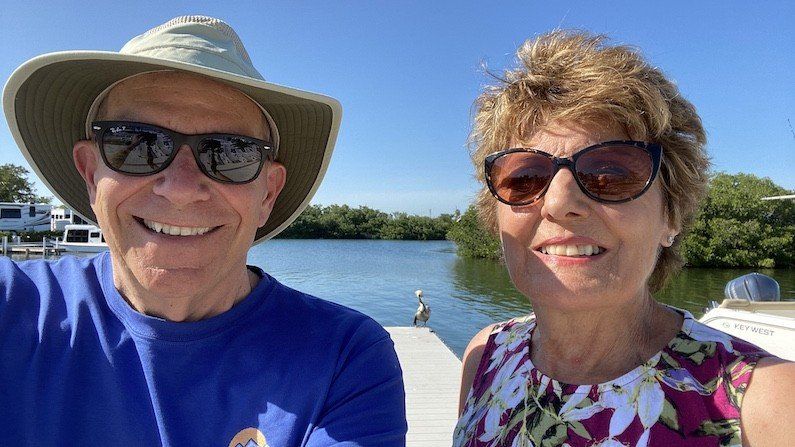 Curious about the gear, gadgets, accessories, and RV products Mike & Jennifer use and recommend?
On this RV Lifestyle Travel blog, our RV Podcast and our RV Lifestyle YouTube Channel, we mention all sorts of RV-related products and gear that we use, So we created a special page that links to them. We update this all the time.  CLICK HERE to go to it directly. Have you caught one of our Amazon LIVE events yet? Just go here and Follow us – to be notified every time we go live.
---