When making a large purchase, like a 5th wheel vs. travel trailer, you want to be sure you're getting the right one for you. Here are key points to help you decide…
The differences between a 5th wheel and travel trailer go far beyond how you hitch them to your vehicle. In some cases, it's clear-cut which one would be better for you. But, in most cases, it comes down to comparing the pros and cons of each.
The pros and cons vary based on your needs and comfort level pulling something behind your vehicle. I will say, though, that you can get used to pulling anything. So, try not to let fear of that get in the way of buying what's right for your travel needs.
Here is a guide on the main differences between a 5th wheel vs. travel trailer to help steer your decision.
5th Wheel vs. Travel Trailer Pros & Cons
The two biggest differences between a 5th wheel and travel trailer are size and price. In general, 5th wheels are larger and more expensive, which is their biggest pro and con, respectively.
People looking for a roomier trailer for more long-term travel tend to go for a 5th wheel. Now, there are larger travel trailers available, but once you get to a certain size, you're probably best off sizing up altogether.
If you're looking at trailers over 28′ long, a 5th wheel is probably the better choice. They have higher ceilings and multiple levels and can be seated better when you are pulling them. 
Travel trailers on the other hand are usually much less pricey than 5th wheels, except for the luxury Airstreams, which easily sell for over $100,000!
Travel trailers also come in a wider variety of styles.
These differences are just the tip of the iceberg. Keep reading to find out the many more differences between these two different rig styles.
Tow Seating
The most obvious difference between a 5th wheel vs. travel trailer is the tow seating.
The tow seating for a 5th wheel is usually centered in the bed of a pickup truck.
This helps center the mass of the rig in between the axles of the towing vehicle. You usually get a smoother ride as a result with less wandering (weaving slightly in your lane).
A travel trailer's tow seating is usually located at the rear of a tow vehicle.
A trailer hitch is centered below the back bumper of the vehicle. The weight, therefore, pushes down on the back of your vehicle, which can lead to a bumpier drive.
A 5th wheel is usually towed using a larger truck (usually 3/4 to 1-ton pickups, though some of the smaller and light weight Fifth Wheels can be towed by a half-ton pickup), whereas a travel trailer can be towed using a variety of vehicles (big SUVs and half-ton pickups are common).
As long as your vehicle is rated to tow the weight of the trailer, you should be able to pull the rig. Yes, that's even true of cars and small travel trailers.
However, you also want to consider the weight of your gear, all fluids in your tanks, the people in the car, and any other towing parts needed. Those items may easily weigh 1,000 pounds which all need to be factored into the total towing capacity for the vehicle you drive.
You may also want to consider your family or traveling group. A truck may not be able to accommodate a large family, or at least not comfortably. So, a travel trailer, for instance, pulled behind a van might be better for your family.
States That Allow Passengers to Ride in Towables
There are some states that allow people to ride in travel trailers or 5th wheels while they're being towed. The laws change frequently, so check local laws before traveling. But here are the states that allow passengers to ride in towables while they're being pulled.
Arizona
California (5th wheels only)
Idaho
Indiana
Iowa
Maryland
Michigan
Minnesota
Mississippi
Missouri
Montana (5th wheels only)
Nebraska
New Jersey
New York (5th wheels only)
North Carolina
North Dakota (5th wheels only)
Oklahoma
Oregon (5th wheels only)
Pennsylvania (5th wheels only)
South Dakota (5th wheels only)
Tennessee
Washington D.C.
West Virginia
Wisconsin (5th wheels only)
As you can see, some states allow passengers to be in 5th wheels but not travel trailers. That's because 5th wheels are more stable than travel trailers, which brings us to our next point.
Ease of Towing
When it comes to ease of towing, 5th wheels are the clear winner. That is because some of the weight of the rig is centered between the axles of the tow vehicle. That centers the mass of the rig on the truck, making the 5th wheel stable during towing.
---
Do you enjoy your Small House and BIG Yard RV Lifestyle experience? Maybe you need a t-shirt or hoodie to tell the world. This saying is a favorite in our community. Don't need a hoodie? We have mugs.
---
Cost
5th wheels can be very expensive. In almost every case, they are going to be pricier than a travel trailer for similar features. When making your choice, you will want to compare prices between similar sizes of the two.
Truck Bed Storage
5th wheels are hooked right into the back of your truck. That housing takes up almost the entire bed of the truck, which means there is little storage space left for other items you may want to bring.
Do you like to bring bikes or a smoker? While you can fit smaller items in the truck bed, you may have to find another option to bring those larger ones because of that 5th Wheel hitch.
Total Rig Length
Since 5th wheels have a large portion that sits over the bed of the truck, they can be a little roomier inside. That is because the back portion of the 5th wheel can extend over the truck.
In other words, you can tow a 5th wheel that feels like the same length as a travel trailer, but is actually larger due to the portion that is above the truck bed.
Multiple Levels
If mobility is a concern for you, travel trailers are your best bet. That is because 5th wheels usually come with multiple levels. They have at least one set of stairs you have to climb to access the bathroom and bedroom.
Fuel Economy
5th wheel vehicles are usually heavier and have a larger profile than trailers do. That can reduce fuel efficiency, meaning it will cost more to pull.
Ceiling Height
If you are tall, then a 5th wheel might be a better option. They have higher ceilings (usually) than travel trailers do.
But, sometimes that taller ceiling is only in the living space, and actually shorter in the bedroom. You will want to try out a few rigs to feel how comfortable they are for you.
Luxury Amenities
Travel trailers usually have a cap on weight since they have to be able to be pulled properly. That means 5th wheels have more wiggle room to add weight and more luxurious features.
If you want to park your rig and enjoy a more luxurious experience, a 5th wheel might be better suited for you.
Basement Storage
While the storage in the towing vehicle is limited when pulling a 5th wheel, the basement storage oftentimes makes up for it. The multi-level design of a 5th wheel allows for a very large storage cavity underneath it.
Hook-Ups
According to many people, hooking up a 5th wheel is easier than hooking up a trailer. If you are an expert at hooking up your trailer, this is probably not much of a concern. If you are new at it, you will likely become an expert in no time!
However, if you are considering a 5th wheel, and already know how to hook up a trailer, you might be in for a nice surprise!
5th Wheel vs. Travel Trailer: Which is Right for You?
Jennifer and I have been motorhome RVers for the past decade. We've had Class Bs and Class Cs but of late, have seriously considered a towable. At the most recent Tampa RV Supershow, we were very impressed with the many towables we toured.
How about you? What is your favorite?
If you're not completely sold on towables yet, you may want to read Class A vs. Class B vs. Class C RVs.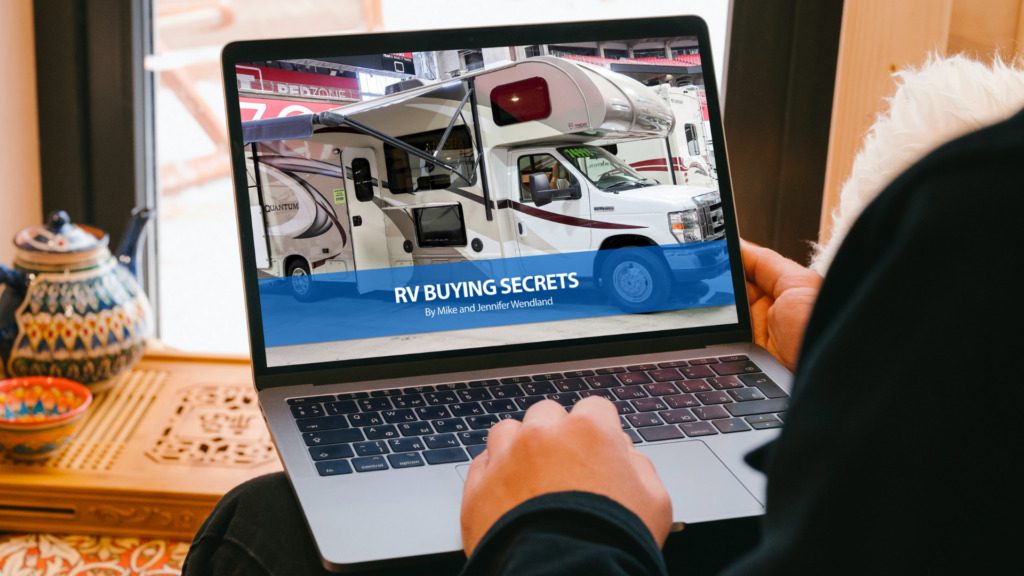 Next to your home, an RV is most likely the 2nd most expensive thing you'll ever purchase.
We get questions every day of other RVers wondering. "How do you buy a new or used RV?"
So we created a 75+-page downloadable digital guide to help you understand the nuances that come with purchasing an RV, where you can save thousands of dollars in the buying process, what the right questions are to ask dealers, what things to look out for, how to select the right unit, amenities, warranties, and so much more!
We created this guide to help you understand the nuances that come with purchasing an RV including:
Where to save thousands of dollars in the buying process
What questions to ask dealers
How to select the right unit
How to narrow down RV amenities
Understanding your warranty and what it covers
This ebook is designed to help make your purchase process as smooth as possible. And to teach you step-by-step exactly what to do so you can start your RV Lifestyle today!
---
---
---