Don't let the rain ruin your camping trip! Here are the best rainy day camping activities for RVing adults…
Rain, rain, go away,
Come again some other day,
We want to go outside and play,
Come again some other day,
Even as an adult, that nursery rhyme always pops into my head every time it rains. Especially when we are camping, and all we want to do is go outside and play!
But with over 11 years of enjoying the RV Lifestyle and lots of rainy days, we've learned how to keep ourselves entertained on days when the weather is not cooperating with our original itinerary.
So, we're going to give you plenty of ideas on how to spend a rainy day while camping. Plus, plenty of helpful links to help you make the most of each option.
If you buy something through our links, we may get a small commission at no extra cost to you. It helps keep our lights on so we can continue to provide helpful resources for RVers. Read our full affiliate disclosure here.
10 Best Rainy Day Camping Activities for Adults
We have another article on Ways to Keep Kids Entertained in an RV on a Rainy Day. Plus, a recent Facebook post in our RV Lifestyle Facebook group garnered over 600 comments with suggestions of what to do when it rains.
Both of those links provide great rainy ideas for kids and adults alike! But today, we're going to focus on the adults.
We're going to start off easy but don't expect all of these activities to be lounging activities… they're not! Sure, rainy days are a great day to relax, but that doesn't mean you have to be completely inactive.
1. Read a Good CAMPING Book (Not Just Any Book!)
Now we know you may think this isn't original advice, but reading a book is a go-to rainy day camping activity for good reason. There's something about the pitter-patter of rain that helps you immerse yourself in the pages of a good book.
We will point out, too, that we said you should read a good camping book. Not just any book!
A good camping book will transport you to another world while keeping you connected to your current travel experience. It will help inspire and motivate you to get out there and enjoy the great outdoors as soon as the rain lets up.
That's why we highly suggest you keep at least one of these great books to read while camping at the ready on every vacation.
Here's a few from the varied list:
If you're interested, we also have a list of 13 Ghost Stories Books that'd be great to read during a storm! And a list of the 10 Best Wilderness Survival Books that'll help keep you alive in severe weather 😉
2. Watch a Good CAMPING Movie (Again, Not Just Any Movie!)
That's right, not just any movie… a good camping movie! As I said about books, you should choose a movie that keeps you immersed in your travel experience.
That way, you still get a taste of adventure even if confined to your RV.
To make it easy for you, we've made a list of the 13 Best Roadtrip Movies for RVers. This list includes a WIDE RANGE of movies, from kids and adventure to horror and sci-fi.
Here's a quick sampling:
Speaking of movies, we recently posted an article on the best projectors for a portable movie theater. There's a mini projector option on that list compatible with iPhones and Androids that you can use to create an indoor theater on a rainy day.
3. Invite Camping Neighbors Over
Like what you see in these videos? We'd appreciate it if you would Subscribe to our YouTube Channel (easy to do right here) and consider "ringing the bell icon" to be notified of any new video from us. 🙂 Thanks!
On one memorable trip, rain tried to interfere with an RV gathering Jennifer and I were attending. As you can see from the video above, we didn't let the rain get us down!
We made a game of it, seeing how many RVers we could fit into our campervan (obviously this was WAY before you know what…). It was a fun day with lots of laughs and a great opportunity to make new friends.
So, no matter the size of your RV, you could always invite fellow campers over. Whether you squeeze inside or tuck under your awning, it's always nice to gather together on a rainy day.
Plenty of campers will agree that one of the best rainy day camping activities is playing games. So, invite some people over and have a game night! Or, rather, a game rainy day.
This brings us to our next rainy day suggestion…
4. Host a CHAMPIONSHIP Game Day
Forget game NIGHT. Host a championship game day! Whether you invite your camping neighbors over or play among your travel party, games are always fun on a rainy day.
But don't get stuck playing the same game for hours. Instead, organize an impromptu championship series where you play various games to determine an ultimate winner.
Since every person has different strong suits, this style of game day levels the playing field. Each player can pick a game, and then the person who wins the most games is the champion.
You can pick standard board games or card games, or you can get creative with different challenges. Here are A LOT of fun game ideas:
There should definitely be a prize for the champion, whether it's a silly homemade trophy or one of the best gifts for RVers.
5. Cook Up Some Comfort Food
Comfort food and rainy days go hand in hand! Whether you're curling up to a good book or movie, doing crafts, or playing games, comfort food is the perfect complement to all the activities on this list.
If you're like me, you always travel with at least one favorite comfort food in your pantry. But you can always try something new.
Here are a few comfort food suggestions from our sister site, Camping Food Recipes:
By the way, if you have a favorite go-to camping recipe, we'd love to try it! Please Submit a Recipe on our sister website.
6. Camping Puzzels & Adult Lego
What can be more relaxing than working on a puzzle while listening to raindrops hit your RV roof? If you think it's not practical to do puzzles in a bumpy RV that you move from campground to campground, you'd be (happily) wrong!
You can use a roll-up puzzle mat to preserve your progress until you finish! Here is a sampling of the 9 Best Camping Puzzles:
And on that same note, what about 3-D puzzles? Yep, I'm talking about Lego! Lego aren't just for kids anymore.
Like the puzzle mat, you can use an organizer box to stay tidy. As an RVer, I recommend starting with the following sets:
7. Journaling & Scrapbooking
Another great rainy day camping activity is journaling and scrapbooking. It's the perfect time to sit down and catch up on your recent experiences on the road.
If you want to be prepared for such a rainy day, you can check out these great travel journals and notebooks.
Some of the journals have prompts, while others give you plenty of space to write freely.
You can also check out these travel journal apps for RVers and read travel bullet journal ideas and tips.
8. Unique Crafts & Activity Books
Doing arts and crafts is one of the best ways to keep yourself busy while being stuck inside. You can draw, paint, knit, carve, or even color.
You can also enjoy many different activity books from crossword puzzles, sudoku, and miscellaneous games.
Here's a list of some of the 13 Best Travel Crafts and Activity Books for Adults. We also have a list of 13 Unique Camping Hobbies to Do While RVing.
Here's a sampling from both lists:
Be sure to click on the article links above to see all 26 recommendations!
9. Plan Your Next RV Trip
There's no time like the present to plan your next RV trip! Especially if rain is keeping you from enjoying your current one.
If you're stuck inside, you might as well make good use of your time and start planning your next adventure, whether it's reworking your current itinerary or starting a new one.
I have lots of articles about planning a great trip, but I recommend starting with my #1 Advice & Tools for Planning the Perfect RV Trip.
Or, you can take the opportunity to review some of the Best Travel Guides for RVers. That way you only have to decide where to go next rather than plan the whole trip yourself.
10. Go Out in the Rain!
Just because it's raining, it doesn't mean you have to stay inside! It doesn't mean you can't hit the trail or enjoy what you had planned for the day regardless. (As long as there's no lightning, of course.)
Rain is just water, after all. You're not going to melt (I'm tempted to enter a mother-in-law joke here but I'll refrain).
Like they say, there's no such thing as bad weather, just bad clothing.
So, whip out your camping poncho, put on your hiking hat, and slip on your waterproof shoes. Get out there and see how the world looks different under its cover.
Jump in puddles, turn your face up to the sky, and enjoy the rain!
What's Your Favorite Rainy Day Camping Activities for Adults?
You know, I should've added cuddling and romantic dinners to the list. Taking advantage of a rainy day to help Keep the Romance Alive While RVing is a great idea.
And I'm sure that's not the only thing I missed. So, please add your suggestions for the best rainy day camping activities for adults in the comments below.
You can also check out some more great conversations in our RV Lifestyle Facebook group.
This bundle contains our ever-popular Michigan Upper Peninsula 7-Stop Adventure Guide PLUS the NEW LOWER Michigan Adventure Guide PLUS the US Side Tour of the Great Lakes! This ULTIMATE Bundle will help you keep enjoying Michigan and the Great Lakes for years!
---
---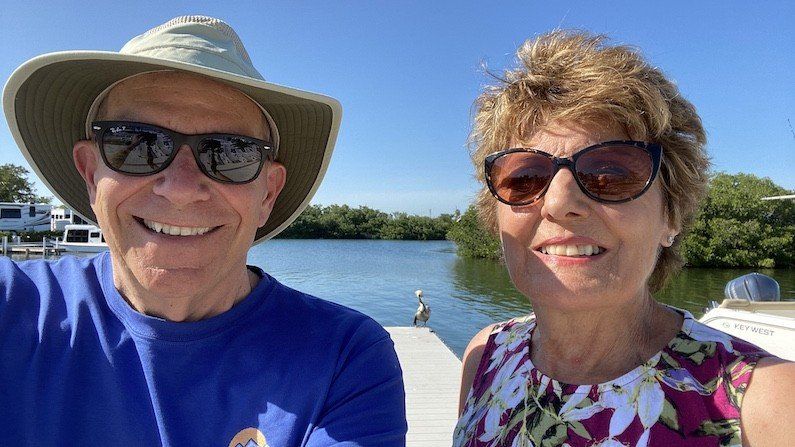 Curious about the gear, gadgets, accessories, and RV products Mike & Jennifer use and recommend?
On this RV Lifestyle Travel blog, our RV Podcast and our RV Lifestyle YouTube Channel, we mention all sorts of RV-related products and gear that we use, So we created a special page that links to them. We update this all the time.  CLICK HERE to go to it directly. Have you caught one of our Amazon LIVE events yet? Just go here and Follow us – to be notified every time we go live.
---