Here are the best wilderness survival books that teach you how to forage for food, build shelters, treat medical emergencies, and more…
RVers love to camp from the safety of our RV, but we often venture into remote places that can turn dangerous quickly.
It's especially true for fellow boondockers like Jennifer and myself, who often camp off-grid in off-the-beaten-path areas.
Whether RVers get lost hiking for the day or get their RV stuck somewhere, these wilderness survival books can help them do just that. Survive the wilderness!
Hey, if you buy something through my links, I might get a little something-something as a thank you. No extra cost to you, promise! Read our full affiliate disclosure here.
These books are so good, we put them on our Amazon List called Books: Our Favorite RV Lifestyle Travel, Camping, and Survival Books
SURVIVE the Zombie Apocalypse!
Before we jump into the books, I wanted to share this fun video with you! If you want to be an ultimate RV survivor, you should check out this Global Expedition RV. It's an amazing vehicle that I'm sure could survive the zombie apocalypse… if you can survive the purchase price!
Like what you see in these videos? We'd appreciate it if you would Subscribe to our YouTube Channel (easy to do right here) and consider "ringing the bell icon" to be notified of any new video from us. 🙂 Thanks!
10 Best Wilderness Survival Books
These wilderness survival books are also great for a "hybrid rugged RV trip" trip where you rough it during the day and return to your RV at night. It's a safe way to learn and practice the skills you might need someday.
These guides might seem over-the-top for some, but RVers too often take our safety for granted.
You must remember what we learned from the senior couple whose RV was stranded in Nevada's high desert. Their family shared their story and their loss so we could improve our chances of survival in a similar situation.
If you're only going to get one book on this list, get this book. This New York Times Best Seller is written by survivalist expert Dave Canterbury.
This ultimate guide covers the 5Cs of Survivability: cutting tools, covering, combustion devices, containers, and cordages. You might not even know what some of those words mean! But this book will teach you.
"With advice on not just getting along, but truly reconnecting with the great outdoors, Dave Canterbury's treasure trove of world-renowned wisdom and experience comes to life within these pages." —Bustle
No list of wilderness survival books would be complete without a kid option, and this is an excellent book.
I like to think of this as a Do-It-Yourself Boyscout Guide. It teaches kids survival skills in an easy-to-understand format perfect for family camping trips.
It's a wonderful way to unplug kids from screens and connect them to nature in a hands-on experience. And if you want, you can still cook and sleep in the RV!
This highly-rated book teaches you to "use outdoor clues to find your way, predict the weather, locate water, track animals- and other forgotten skills." It's written by navigator Tristan Gooley who sees the forest beyond the trees, so to speak.
As described: Gooley shares more than 850 tips for forecasting, tracking, and more, gathered from decades spent walking the landscape around his home and around the world.
"Turn every walk into a game of detection—from master outdoorsman Tristan Gooley, New York Times-bestselling" -author of The Secret World of Weather and The Natural Navigator
This survival book is written by a doctor and nurse practitioner that are experts in medical preparedness. They created the book to enable the average person to handle injuries and illnesses in disaster situations in which modern medical facilities and professionals are unavailable.
Their mission is to "put a medically prepared person in every family for when medical help is not on the way… Most medical books will send you to the doctor or hospital when an emergency happens. The Ultimate Survival Medicine Guide assumes what might actually happen—that the average person could be left without medical help in a disaster."
Another New York Times Bestseller, this is one of the most popular wilderness survival books. It's "for anyone planning to spend time outside." So, that covers all of us RVers.
As you may have guessed by the title, it is written by the host of the show MeatEater as seen on Netflix, Steven Rinella.
It's described as an "indispensable guide to surviving everything from an extended wilderness exploration to a day-long boat trip."
We all gotta eat, and this book will help you do it! The subtitle of this book is A North American Field Guide to Over 200 Natural Foods.
So, no matter where you're lost (or hiking and just want a snack), this book will help you identify edible plants throughout North America.
It's filled with vivid photos and detailed information of the plants, and even some tempting recipes!
If you can't tie anything except a double knot in your shoe, this book is for you. It teaches you how to tie 25 of the most practical rope knots that can help you escape, evade, and survive.
This no-nonsense guide covers:
Explanations of common knots and ropes terms
Easy to follow instructions and clear pictures
Tips for proper rope care
Advice on how to choose the right knot for the job
All the fundamental boy scout knots
The author's name is Wiseman… that must be a good sign, right?! More so, his name is well-recognized in his field, with multi-million copies of this book sold worldwide.
John "Lofty" Wiseman created (and updated) this book as the ultimate guide to surviving anywhere. The latest edition includes more than 100 pages of additional material, including a new chapter on urban survival.
Practical title for a practical book. How to Eat in the Woods is a "comprehensive, practical, and reliable guide to staying alive in the woods and living off the land, by one of the most respected wilderness survivalists."
It teaches you how to track, trap, kill, and prepare various types of animals. You also learn how to select bait and catch, clean and cook fish. Plus, how to recognize edible plants, locate bird eggs, catch edible insects, and find potable water.
With so many serious books about surviving being stranded, lost, and starving, I thought it'd be good to end on a lighter note. This Worst-Case Scenario handbook does provide valuable survival information… in a funny way.
You may never need to wrestle free from an alligator or survive being buried alive. But you could after you read this book!
This book is a bit tongue-in-cheek, but it really does provide expert advice on what to do in extreme situations. And some situations that you could undoubtedly encounter while RVing.
Examples include how to survive a snake attack, purify water, survive an avalanche, and much more.
Do You Own Wilderness Survival Books?
If you own any of these wilderness survival books or have another recommendation, please share in the comments below! We always appreciate first-hand feedback from fellow RVers.
Finally! Mike and Jennifer's Michigan Bundle
(Michigan's Lower Peninsula AND Michigan's Upper Peninsula)
This Michigan Bundle contains our ever-popular Guide to the Upper Peninsula PLUS our newest Guide on the LOWER Peninsula! Here's a little on both ebooks (not a printed book):
Michigan's Upper Peninsula Adventure Guide: This ebook is a seven stop guided exploration of the Michigan UP. We provide a suggested route and itinerary, links to multiple campgrounds and boondocking spots, and the best spots to see along the way. Don't plan your trip to the Upper Peninsula without it!
Michigan's Lower Peninsula Adventure Guide: This guide explores the Lower Peninsula, also known as 'the Mitten." You can easily spot its mitten shape on the map. Most of this guide follows the coast of Lake Huron and Lake Michigan, with a little bit of Lake Erie down near Detroit.
You are in for a HUGE adventure with this ebook bundle of the best of Michigan for RVers!
---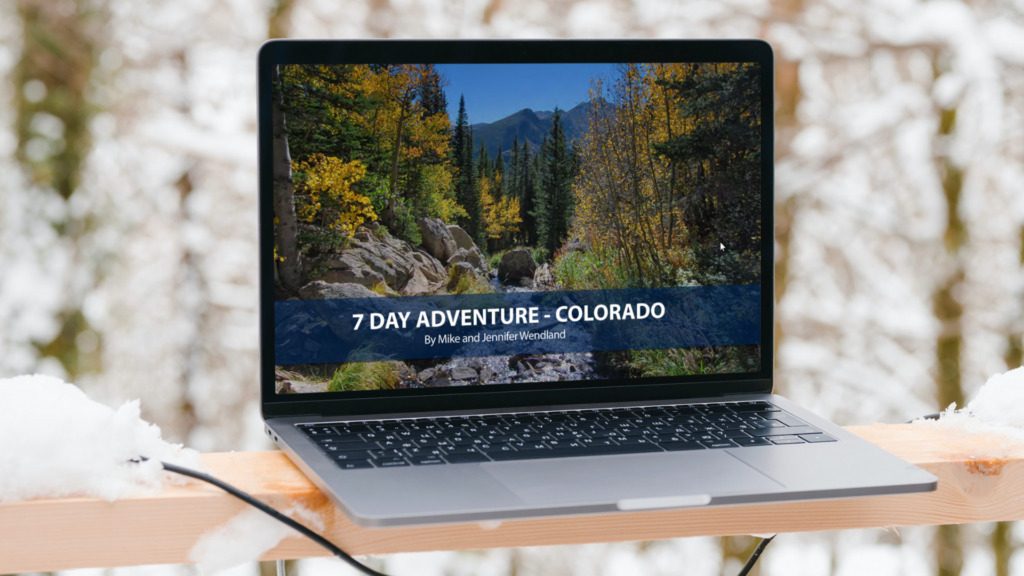 When Jennifer and I first went to Colorado, I felt like I finally understood what John Denver meant by his song: I've now been Rocky Mountain High.
And like Denver, exploring all that Colorado has to offer made me want to sing, too.
This is a fully designed and edited guide that you can download and start reading immediately on your phone, tablet, computer or e-reader.
---