Enjoy hiking and exploring even more with these best waterproof shoes for women and men.
You know what they say, "There's no bad weather, just bad… shoes!" Okay, well they say "bad clothes" but I think that reasonably includes shoes.
With the proper shoes, no wet conditions will hold you back from enjoying the great outdoors. A great pair of waterproof shoes can keep your feet dry for every season!
From waterproof ankle boots to waterproof hiking boots, there are tons of choices to keep your toes warm and dry. Shoe companies now offer different styles, each with a comfortable fit and waterproof technology for cold, wet, and winter weather.
The following are my top picks for the best waterproof hiking shoes you can find for women and men. They are made from the best material you can find to keep your feet dry for a long time!
Hey, if you buy something through my links, I might get a little something-something as a thank you. No extra cost to you, promise! Read our full affiliate disclosure here.
7 Best Waterproof Shoes for Women and Men
Rainy days should not prevent you from getting outdoors and enjoying everything that nature has to offer. Instead, look for a comfortable shoe that provides arch support and a waterproof membrane. That way, you can enjoy the great outdoors, despite wet weather!
The following are the best shoes you can find to keep your feet warm and dry. Even when it is raining, there's snow on the ground, or your hike includes small water crossings!
The Best Waterproof Shoes for Women
The following are my top waterproof show picks for women. The list includes a hiking sneaker, hiking boot, everyday sneaker, and slip-on boots. A bit of something for everyone and every situation!
Long walks in heavy rains or rugged terrain are no match for this pair of shoes! The Free Hiker Gore-Tex hiking sneaker is constructed out of premium, upcycled, and sustainable materials. Not only are they high-quality, durable sneakers, but they're also excellent for the environment.
Adidas is a widely known brand that has been constructing high-quality sneakers for many years. For these waterproof hiking shoes, they teamed up with another infamous brand: Gore-Tex.
This versatile sneaker boot comes complete with a Gore-Tex membrane, as well as boot cushioning. It features a Continental outsole, and a protective toe cap to provide comfort and durability for many hours on muddy trails.
In addition, this pair of shoes provides Primeknit fabric around your ankles. Just another added layer of ankle support and protection against the elements.
It is also a great option for both daywear or taking long hikes in heavy or light rain, over rough terrain.
They are pricey, but the quality lives up to the price tag.
Newton Ridge is an "amped hiking boot" made of waterproof full-grain leather and suede bootie construction. Its OMNI-GRIP will keep you from slipping on the trail, as well as on ice and in snow.
It has metal lacing hardware and superior cushioning to keep your feet secure and cozy. It comes in over a dozen colors, too!
It offers a lot of value for a very reasonable price tag under $100.
Made from waterproof technology, Dyma-tex material, these shoes are an excellent choice when it comes to wet weather! The Dyma-tex material is different than other waterproof membranes since it is woven directly into synthetic materials.
These shoes can also repel snow and slush since they come coated with water-repellent material.
The shows offer a collar with an elastic fit, mimicking a sock-like fit. That prevents water from making your socks wet when stepping into puddles. However, the upper part may need a little dry time before wearing them again.
The only downside is that these shoes have low arch support. If you need good arch support, you may want to look into a different brand.
Uggs are a well-known boot brand for a reason. These slip-on ankle boots are waterproof with Ugg's signature sheepskin insole.
They're perfect for wearing around the campsite and comfortable enough to wear on hikes. You can choose from several colors, ranging from neutral to bold. That includes bright yellow, red, purple, and pink!
Best of all, they come in well under $100!
The Best Waterproof Shoes for Men
Here are my top choices for the best waterproof shoes for men! This list includes two types of waterproof boots plus ultra-versatile waterproof sneakers.
This classic-looking hiking boot seals out water but lets moisture escape with a breathable mesh lining. They have a protective rubber toe cap, which I always appreciate when hiking.
The air cushion in the heel absorbs shock and adds stability, and the closed-cell foam tongue keeps debris out.
It's a go-to waterproof hiking boot that comes in about a dozen colors. Its price is quite reasonable, too, at just over $100.
These waterproof boots are a favorite for construction workers, and for good reason. They provide superb ankle support and a grippy outsole to keep you well-balanced. That's as useful while camping as it is on the job site!
Not only are they waterproof, but they are insulated and designed with slip resistance in mind! You can always count on good traction no matter the wet conditions when camping.
If you're looking for more of a sneaker than a waterproof boot, these shoes are for you. They're made of waterproof synthetic leather and waterproof membrane construction. They also come with a rubber toe cap as you find in most hiking boots.
The tread is flexible yet offers multi-directional traction. It comes with removable flexible foam for additional arch support.
These low-top shoes are great for both indoor and outdoor use, easily transitioning from everyday wear to outdoor wear.
We'd love to hear your recommendation for the best waterproof shoes for women and men. Please share your thoughts in the comments below.
Related Articles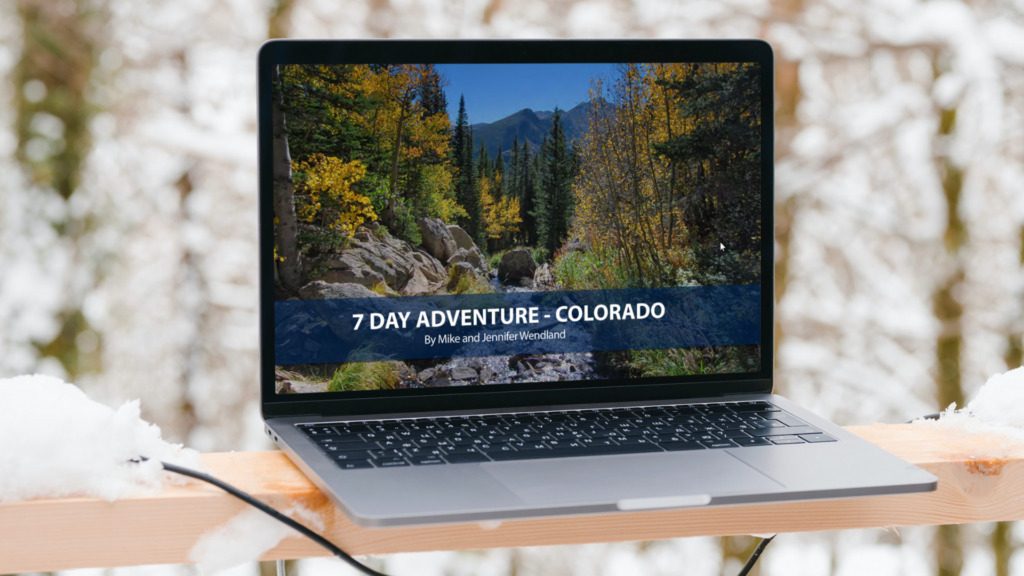 When Jennifer and I first went to Colorado, I felt like I finally understood what John Denver meant by his song: I've now been Rocky Mountain High.
And like Denver, exploring all that Colorado has to offer made me want to sing, too.
This is a fully designed and edited guide that you can download and start reading immediately on your phone, tablet, computer or e-reader.
---