Looking for a great hat for your next RV trip? Here are the best features and top picks for hiking hats for women.
From ball caps to floppy hats, there is no shortage of choices when it comes to your sun protection. Before you go on your next hike, make sure that you have a high-quality hat to help protect you from the sun.
The following outlines what you should look for in the best hiking hats for women. Then, I outline my top picks for you!
(We use affiliate links and may receive a small commission on purchases. This doesn't affect your price. Thank you for your support.)
What to Look for in Hiking Hats
Not all outdoor hats are created equal. That is why you should know the important features when looking for the perfect hiking hat!
Fit
One important factor when choosing a hiking hat is the fit. Having a comfortable hat can help ensure that you actually wear the hat. A hiking hat will do no good if you do not actually wear it.
Not all hats fit the same. A baseball hat may be your "go-to," while others will want a bucket hat. Do not be afraid to try on different hats, and choose one that has a comfortable fit.
UV Protection
Ultraviolet Protection Factor (UV) is a rating that can help you determine how much sun protection a hat will provide you. UV protection can help fight harmful UV rays from the sun, keeping you safer from sunburns and skin cancer.
For best results, look for clothing or hats that offer a UPF rating of 30 or more. A rating of 30-49 offers good protection, and any item with a factor above 50 is considered excellent!
A 50+ UPF rating is the highest rating. Some clothing that says it has a higher rating is not considered legitimate.
Brim Style
You may also want to consider the hat's brim style. Some offer a full brim that goes around the entire edge of the hat.
Others have a clamshell brim that can fold up nicely for easy packing.
For the most sun protection, look for a wider brim. A wide 3-inch brim should do the trick!
Venting
Whether they are called mesh vents or mesh panels, breathable hats with venting can help you regulate your body temperature. This is especially important when on a long hike, or in areas that are hot.
Many hats also provide an optional neck cape that can be unfolded to protect your neck. This can be great at the end of the day when the sun is behind you and some of your sunscreen has worn off.
Hat Size
Some of us have big heads. So, while many hat styles claim to be one-size-fits-all, it's not really true. That's why most of the hat styles that made the list below come in different sizes. Take the time to measure your head and find your measurement on the brand's size chart.
A well-fitted hat makes all the difference in comfort!
Adjustable Chin Strap
An adjustable chin cord can help keep your hat secure on those windy days. They can also come in handy to keep the hat around your neck when eating or not actively wearing it.
Your best option? Look for a hat that allows you to tighten up or loosen when needed.
Water Resistant
Whether you get caught in light rain or heavy rain, certain hats can hold their own by being water-resistant. Welcome rainy days with a hat that can help keep you dry!
Material Type
Some hats are made from synthetic materials. Others are made from polyester mesh or straw, while winter hats may be made from merino wool.
The point is that there is no shortage of material types when it comes to hats. Make sure you pick something that will not irritate your skin and is suitable for its intended use.
Types of Hats
There are also many different types of hats you can choose from. Get the style that you are most comfortable with so you are likely to wear it all day long!
---
Mike and Jennifer's RV Lifestyle hat collection
Who needs a hat? You do! Dad hats aren't just for dads. This comfy one's got a low profile with an adjustable strap and curved visor. Just the thing to wear on your next RV Lifestyle adventure.
---
The 5 Best Hiking Hats for Women
The following are the best hiking hats for women on the market today!
This great hiking hat is imported and made from 100% recycled nylon. The membrane itself is polyurethane.
It features a pull-on closure, and a UPF 50+ rating to protect you from the harsh sun rays.
Not only is this hat incredibly durable, but it is water repellent for those light rainy days (or water crossings!).
The Tilley LTM6 Airflo will help your body regulate its temperature in those summer months by featuring a moisture-wicking hydrofil. You also know that this is a reliable purchase since the company guarantees this hat for life!
Conner hats are a great option if you are looking for a well-made straw hat. They also have mesh, leather, and water-resistant cotton choices. They don't sacrifice style in their quality designs.
In addition to great features, the company will plant 12 trees for each hat you buy! Talk about a great option for those that are concerned with the life of our planet.
Each hat offers different features. The Cool as a Breeze Canvas Hat is a popular option.
It has a 3.25′ wide brim, is made from recycled plastic bottles, is waterproof, and has a chin cord with a secure toggle. In addition, it is super lightweight, crushable and offers a UPF rating of 50+!
Some consider the Sunday Afternoons Ultra Adventure Hat the best sun hat because of its protective features. This brand is more about function than fashion. But it comes in fun colors, so you can be sure to find one that you love!
The Sunday Afternoons Adventure comes into two different size: s/m or l/xl. There is also adjustable sizing on each hat to fine-tune its size.
This hiking hat features a hook and loop tab that allows wearers to lift the next for breathability.
You can also stay cool with the crown mesh ventilation. They are placed strategically to keep your head as cool as can be.
The Adventure hat features a 4″ wide brim, and 7 1/2″ neck cape to keep you out of the sun. It also offers UPF 50+ sun protection!
The Outdoor Research Sombriolet is a unisex bucket hat that offers excellent performance. Made from nylon and polyester, this lightweight hat also features pull-on closure.
It is water-resistant, breathable, wicks away sweat, quick-drying, and has UPF 50+ sun protection!
Yep, another Outdoor Research hat made the list. If great ball caps are what you are in the market for, this is one of the best performance hats you can find in that style. It's a unisex design with a couple of neutral colors to choose from.
This imported hat is made from 100% nylon. It is breathable and features an add-on neck cape to protect your neck from the sun.
Speaking of Hiking…
Here are some more great articles for hikers:
Mike and Jennifer's Southern Utah RV Adventure Guide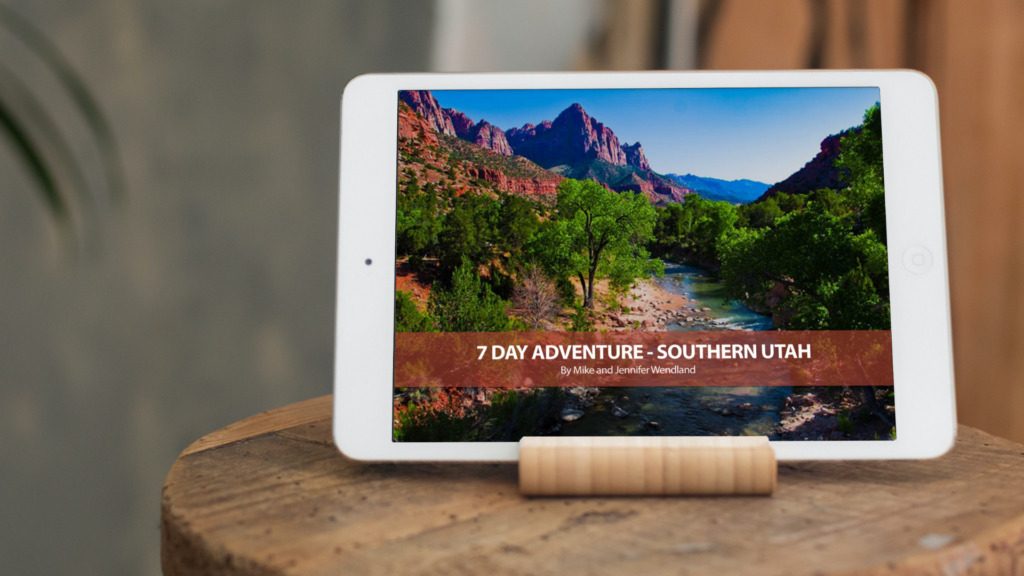 Utah, Utah, Utah. What more is there to be said? In very few places across the United States is there such a tremendous area with breathtaking vistas and diversity of terrain.
The sheer size of the National Parks, the canyons, the desert. Combined with the amount of history written in the red rocks that rise like towers jutting out of the ground and the delicate hoodoos washed away by erosion.
It is a place that, if you've never been, you need to go, at least once in your life.
This ebook is a seven day guided exploration of the State and National Parks in Southern Utah. We provide a suggested route and itinerary, links to multiple campgrounds and boondocking spots, and the best spots to see along the way. Don't plan your trip to Southern Utah without it!
You can hit everything in seven days, do a whirlwind weekend tour, or you can take your time and explore the area over a few weeks.
---
---
---