The best tips on how to buy a used RV from a private party. Plus how to get a complete RV Buying Guide!
You're ready to jump into the RV lifestyle with both feet and own your first recreational vehicle!
There are many avenues you have to shop for the right RV. You can buy a brand new one or used from an RV dealer.
The best fair market value, however, can (normally) be found through a private party seller. At the moment though, it's a seller's market and those prices might be higher than normal.
If it's your first RV, it can be a tad intimidating to buy a used vehicle from a stranger. How do you know you're taking all the necessary steps?
First, Know What You Want
The first crucial step in how to buy a used RV from a private party is knowing exactly the type of RV for you.
RVs come in different classes, so first learn which RV class is right for you.
There's only so much online research you can do though. It's a good idea to visit an RV dealership to look at the selection of different types of RVs or attend a local RV show, to settle on which class is best for you.
You'll want to examine if the RV provides enough space and if you like the bathroom and the layout. You'll get a sense of the type of amenities that come with it, and whether you can feel comfortable driving it.
Seeing it is the best way to narrow down your choices.
Don't worry so much about the prices you see here.
Private owners typically sell much cheaper than a dealer because they don't have to worry about mark-up. But like I mentioned at the beginning of this post, this market is a little different right now and the seller's price might not be cheaper than a dealer's price (depending on the model).
After you tour a lot of RVs and determine the right model, research the best rates for that particular RV in a private sale.
How to Buy a Used RV from a Private Party
Read on below for the most important things to know to get a good deal on a good condition RV.
Search Online
The best places to find a great deal for a used RV is on Facebook Marketplace, RVT.com, and RV Trader.
There are also loads of Facebook Groups where people can buy and sell their RVs. To find the best deals for particular brands and rig types, they may be worth checking, and now may be a great time to do it.
If you're truly looking for the best price, consider expanding your local search radius. The best deal might be far away. If so, decide whether it's worth traveling to get it.
Also, don't expect to find your ideal asking price right away. It can take months to find that RV that meets both your sale price and wish list.
Now Pay that RV a Visit
As a prospective buyer, don't just rely on pictures. Call not just one private seller, but several to get that essential closer look.
The more RVs of a similar situation you see, the more you'll understand what you're getting for your money. Now you'll have context for an RV's condition, and why one seller may be charging more than another.
Another advantage to seeing the RV in person is to protect yourself from being scammed.
One typical scam is a seller telling you they're out of the country but can tell you the location of the RV upon payment. This RV doesn't exist.
---
Mike and Jennifer's RV Lifestyle hat collection
Who needs a hat? You do! Dad hats aren't just for dads. This comfy one's got a low profile with an adjustable strap and curved visor. Just the thing to wear on your next RV Lifestyle adventure.
---
Ask Loads of Questions
Don't be bashful. Ask the seller lots of questions. Do your due diligence.
One of the most important factors for how to buy a used RV from a private party is trusting the seller. You can tell a lot about a seller based on how they respond to your questions.
Ask if the vehicle has been involved in any accidents. Request documentation for its maintenance history.
Do they know all the answers? Are they getting frustrated with your questions? If you get a bad vibe from them, then you know all you need to simply walk away.
Besides, if they're treating potential buyers with disrespect, imagine how they treated the RV!
When examining the RV yourself, take note of accessories included with the RV. Since you saw the new version of this RV on the lot, you'll be armed with the knowledge of what amenities typically come with it.
People ask about RVs they are thinking about buying in our Facebook Group all the time.
Maybe this used RV comes with bonus amenities, and you can get a bigger bang for your buck! This can come in the form of updated kitchen appliances or towing equipment.
Use this checklist to jump-start your own!
Check to see if the Title is Clean
Hopefully, all your questions get answered and you're confident enough in the status of the RV to move forward. The next step is checking that the RV has a clean title.
The current owner might be underwater on their RV loans. If they owe more on their RV than it's worth, you can't help them. Unless they're selling what the RV is worth, walk away.
Also be wary if the seller isn't the current owner of the RV, such as if they're selling the motorhome on behalf of a friend. They might not be fully qualified to answer all your questions, such as maintenance history.
Another rule of thumb is that a sale of this kind is relatively simple. If the seller is making things too complicated, just walk away. Another deal will come.
To give yourself even more peace of mind, run the VIN number and conduct a history check. This process will notify you whether the payments are up to date since the RV can't be transferred to you cleanly if it's owned by the bank.
Get the RV Inspected By A Professional
There are NRVIA certified instructors you can hire locally. They provide a deep dive into any issues your naked eye can't detect.
You should know about any mold, rust, corrosion, or problems with the roof and walls before buying.
For your own sanity though, remember that no RV is perfect. Just because there are issues doesn't mean it's not a good fit for you.
Don't Be Afraid to Negotiate
Unless you're competing with another buyer, it doesn't hurt to lowball the seller. If necessary, tell them you'll think about it and walk away.
You'll be surprised at what can happen when you let them sweat a little. If you love the RV though, call them back shortly and make the deal.
Draft a bill of sale so you have a paper trail showing what money was exchanged exactly.
Get Your New RV Insured
Congratulations on your RV purchase! The title is signed over to your name and you got the keys. Now call your RV insurance company and get it insured right away. Don't know who to use? Try our Partners List to start researching.
Ideally do this before even driving it away, just to be safe. Tell the company exactly how you will be using it, such as whether it's a full-time or part-time use.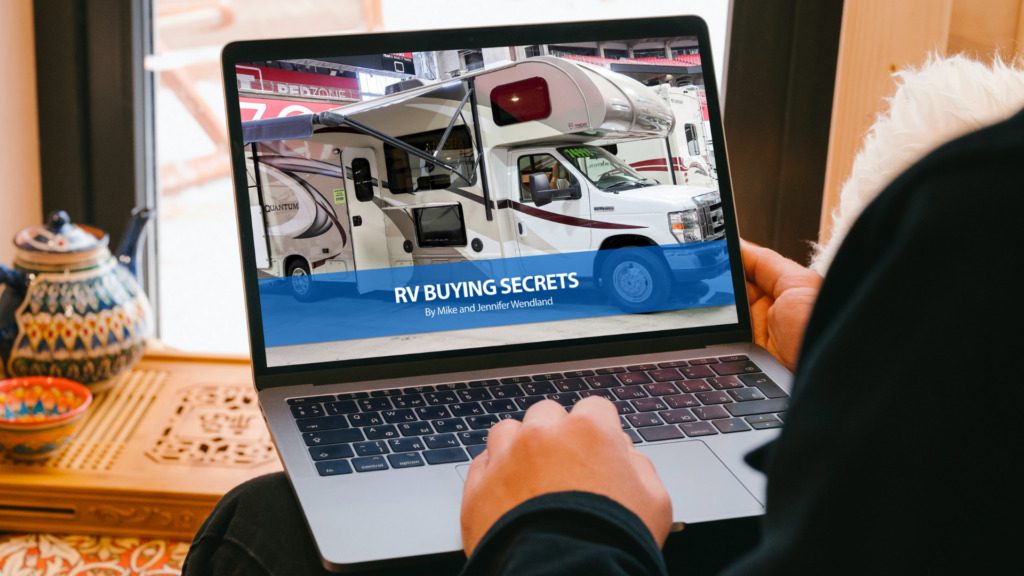 Next to your home, an RV is most likely the 2nd most expensive thing you'll ever purchase.
We get questions every day of other RVers wondering. "How do you buy a new or used RV?"
So we created a 75+-page downloadable digital guide to help you understand the nuances that come with purchasing an RV, where you can save thousands of dollars in the buying process, what the right questions are to ask dealers, what things to look out for, how to select the right unit, amenities, warranties, and so much more!
We created this guide to help you understand the nuances that come with purchasing an RV including:
Where to save thousands of dollars in the buying process
What questions to ask dealers
How to select the right unit
How to narrow down RV amenities
Understanding your warranty and what it covers
This ebook is designed to help make your purchase process as smooth as possible. And to teach you step-by-step exactly what to do so you can start your RV Lifestyle today!
---
---
---