The best RV campgrounds in New Jersey offer some of the most beautiful and diverse outdoor experiences on the East Coast.
New Jersey (NJ) provides the backdrop for some of the best camping around. With 130 miles of gorgeous Atlantic coastline and shaded pine forests, it is no wonder that New Jersey is a popular RV destination!
Not only can you find a place to stay that is near white-sand beaches, boardwalks, and amusement parks. If water play is more "your thing," you can be sure to find it everywhere.
Or, take a hike along the Appalachian Trail, wander through the Pinelands, take a tube down the Delaware River, fish, kayak (or fish from a kayak), or canoe. Then have a glass of wine or beer at one of the wineries, distilleries, or craft breweries New Jersey has to offer.
The 7 Best RV Campgrounds in New Jersey (and 2 Notables)
Many of the best RV campgrounds in NJ are located in the Asbury Park region and near the city of Cape May.
Best RV Campgrounds in New Jersey: Asbury Park
Asbury Park is a quaint seaside town located on the northern end of the NJ coastline. It is known for its white sandy beaches and entertaining beachfront boardwalk featuring shops, arcades, and cafes.
The city also boasts a live music venue called the Stone Pony. The Stony Pony has hosted the likes of Bruce Springsteen and Jon Bon Jovi. There is also the 1920s Paramount Theatre and the Silverball Museum showcasing video games, arcade games, and pinball machines dating from the 1930s to the present day.
Here is a list of some of the best RV campgrounds in NJ located in Asbury Park.
Featuring pull-through sites and over 20 amenities, this family-friendly resort even has a fishing pond on site.
It is pet-friendly, complete with a dog park. It also provides WiFi, showers, and laundry.
Be sure to call ahead to find out if they are still "cash only."
This campground is one of the best RV campgrounds in New Jersey for its proximity to big attractions.
It's near attractions like Jenkinson's Boardwalk, Six Flags Adventures, Jackson Premium Outlets, fishing at Seaside Heights, and beaches, to name a few.
The onsite amenities will also appeal to sports-lovers. It has an RC Track, Basketball, Mini Golf area, Horseshoe Pit, Softball Field, Bocce Court, and two playgrounds.
For the adults, relax at the tiki bar before joining the family at one of the two pools.
Camp at this 2,283-acre wooded park featuring a 17-acre lake for fishing, boating, and ice-skating.
Visitors can rent kayaks, rowboats, canoes, and paddle boats in the summer to simply enjoy the lake or fish for bass, catfish, and bluegill.
Please note that this campground is for military members and their families only.
This small campground features only nine spots alongside a large lagoon where you can fish or crab. It is family-friendly but does not allow pets or fires.
Since it's so small, it gives you a unique experience compared to the other best campgrounds in NJ. So, if you have a military ID and like to fish, this is the spot for you.
Best RV Campgrounds in New Jersey: Cape May
Cape May is a seaside resort town located at the tip of southern New Jersey's Cape May Peninsula.
It is well-known for its Victorian-era architecture, such as the Emlen Physick Estate, a museum featuring preserved interior from the same era.
The city also boasts the Cape May Lighthouse with stunning views across the Delaware River and the Atlantic Ocean. You can also explore the many shops and restaurants located at the Washington Street Mall, a three-block pedestrianized area of Washington Street.
Here are my picks for the best RV campgrounds in NJ that are in Cape May.
Surrounded by large trees and lush landscaping, you'll enjoy the many amenities included in your stay.
There are picnic areas, a swimming pool, tennis, mini-golf, playground, fishing with lake, and beach access. They even feature a game room and fitness center, and library.
There is something for everyone to enjoy!
Complete with their own fishing lake, this campground also has ziplining, a 2,000 square-foot pool, bocce court, shuffleboard, and more.
If fishing is not your thing, you can rent a kayak to head out on the lake instead.
Featuring 20/30/50 Amp sites, Ocean View Resort has accommodations that are sure to fit your rig.
Relax alongside the Lake at Ocean View. Do some catch and release fishing at Greenbrier Fishing pond. OR, take a short drive to a sandy beach to enjoy a day of lounging in the sun. Then, take some time to play at the splash pad, complete with a pirate ship.
If wine tasting is more up your alley, you can go wine tasting at the many wineries dotting Cape May before taking in a museum in town.
Other Notables for our list of the best New Jersey Campgrounds
Between Asbury Park and Cape May, there are two noteworthy campgrounds you might want to check out. Some may argue they belong on the master list of best campgrounds in NJ.
Now offering premium 50 Amp sites, this campground is ready for RVs of all sizes.
Come enjoy biking to the beach or hike the Barnegat Branch Trail. Or canoe or kayak along the "tea-colored" Cedar Creek. The tannic acid from the roots of the cedar trees lining the river banks gives it its unusual color.
Just 10 miles from gorgeous, pristine beaches, this resort caters to both couples and families. It features over 225 spacious sites, each providing grills, water hookups, campfire rings, and picnic tables.
The campground also features a jump pillow, mini-golf, nature trails to hike, playground, and swimming pool.
There is also a laundry facility, dog park, a dump station, and a camp store for your convenience.
Reserve Your Spot at one of the best RV Campgrounds in New Jersey!
New Jersey not only boasts some of the most gorgeous coastlines in America, but great sporting activities, shopping, wine tasting, breweries, and distilleries around. You might as well enjoy it all while staying in one of the best RV campgrounds in NJ.
Have You Stayed at Any of the Best Campgrounds in NJ?
We'd love to hear about your experience in the comments below! Please share your tips and recommendations for the best campgrounds in NJ.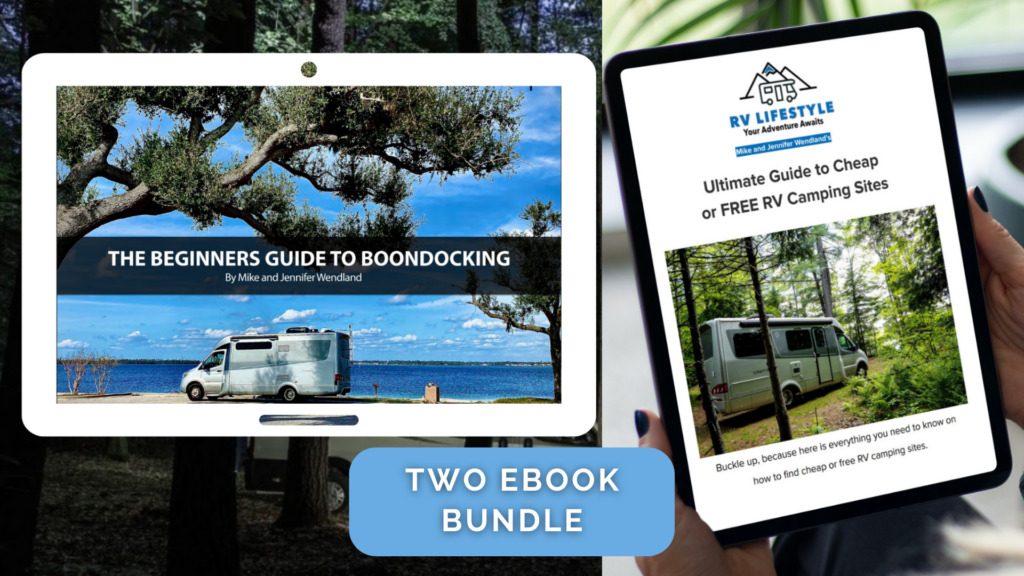 Beginners Guide to Boondocking (one of our most popular ebooks) and one of our newest ebooks, The Ultimate Guide to Free and Cheap RV Camping!
ebook #1: Beginners Guide to Boondocking
We created a 65+-page downloadable digital guide to help you understand the nuances that come with boondocking, the most common boondocking problems, and what you need to do to get your rig "boondocking-ready."
ebook #2: The Ultimate Guide to Free and Cheap RV Camping
Buckle up because here is everything you need to know on how to find cheap or free RV camping sites in the 33-page EBOOK.
---
---
---
RV Lifestyle officially recommends The Dyrt
You can book campgrounds for tents, RVs, cabins, and glamping, or find free camping. The Dyrt has it all. And in case you didn't know, The Dyrt is the #1 camping app and website in the US, with over 8 million campsites, reviews, and tips — submitted by campers, for campers. And The Dyrt PRO version makes every camping trip easier. With offline map backups, offline search, exclusive discounts, and trip planning tools, PRO can improve any stage of camping.
The Dyrt app lets users with basic accounts search for camping and save favorites, completely for free. The Dyrt PRO is an upgrade that makes it easier to go camping. Try PRO for free today.
Use the code RVlifestyle for your 30-day free trial!