Our shortlist for the Best Camper Vans 2022!
If you're looking for the freedom and sense of adventure that a motorhome provides but don't need that much space or the big price tag, then you should consider a camper van.
Camper vans are an attractive option given that they are compact, rugged, and can be as equipped as you need. In fact, my wife and I traveled in one ourselves for many years!
Today we'll take a look at the best camper vans 2022 has to offer.
How Do You Choose the Right Camper Van?
Like everything else, there are tons of options on the market for camper vans.
Camper vans are hot, especially with the wildly popular "van life" crowd of minimalists who want comfort and practicality and lots of off-the-grid capabilities. New models are coming out all the time and we'll do our best to give you looks at many of them as we get to check them out this year.
They come in a variety of sizes and configurations depending on their purpose.
Some are designed for weekend travel, while others can accommodate simple full-time living. Some are for campgrounds, and others for boondocking. Some are cheap, and others are shockingly expensive!
TIP: We also recently did a review on the 9 best Class B RVs out there. CLICK HERE to see that article
Choosing the best camper van for you depends on your travel plans, as well as the following considerations:
Your Budget
Size to accommodate your gear and passengers
Drivetrain (2-wheel, 4-wheel, or all-wheel drive)
Diesel vs. gasoline
Service history and mileage (if buying used)
Weekender vs. Fulltime
The following list of 2022 best camper vans gives you a range of the above features.
The Best Camper Vans 2022
Based on our experience and other campers we've gotten to know, we've compiled a list of the best camper vans for you to check out this year.
Let's get this on the road! In our opinion, here are the best small camper vans 2022 has to offer:
Winnebago Solis 59P
The Winnebago Solis 59P is right under 20' long and packs many features into a smaller vehicle. It's a pop-top that sleeps up to 4 passengers.
This model features a lovely dinette and wet bath that's very compact with just a shower and a toilet.
Much like the Winnebago Revel (which we'll cover soon), the bathroom can also function as a closet, which is complete with shelves.
The Solis offers standard equipment such as AGM batteries, a Coleman AC unit, a 2800 Onan generator, one solar panel with 220 watts, and a water heater system. It also offers many convenient features, such as USB ports and LED lighting.
MSRP starts at $128,311.
Winnebago also offers a slightly larger floorplan with the Solix 59PX, bringing it to 21′ in length. This one starts at $148,900.
Thor Tellaro
The Tellaro from Thor features many of the same functionalities as their Sequence model. One main difference is that the Tellaro is available with a pop-top, which helps increase sleeping capacity to four people. It's 21′ long and without the pop-top, sleeps two people.
It's available in 4 floorplans, so you have lots of choices with this one.
Standard equipment includes a Thule bike rack, 200-watt solar panel, AGM batteries, power awning, and an energy-efficient AC system. This model features the same generator you'll find in the Solis, as well as a similar bathroom.
The Tellaro, however, does have a few advantages over the Winnebago Solis. For example, it has a bigger dining table and refrigerator, extended storage space, and a powered awning.
Another great benefit is the price of the Tellaro is usually less than the Solis. MSRP starts at $120,960 depending on the floorplan you select.
Winnebago Revel
The Revel from Winnebago is a popular option that many RVers love. Also just under 20', it has a comfortable amount of space for two adults.
Under the hood, you'll find a V6 engine that's 3.0 liters and turbodiesel. Plus, it's a 4-wheel drive.
Of course, Winnebago is a big name in the RV industry, so you find some of the best amenities on their vans. You'll enjoy having your freshwater tank, pantry, refrigerator, closet, and even an exterior table that folds down.
The Revel features power equipment that draws its electricity from two high-performance batteries that you can look at using Bluetooth.
You'll find other great things with this camper van including adaptive cruise control, keyless entry, and a Wi-Fi hotspot.
The only downside is that it comes with a pretty hefty price tag of around $202,000 for the base model.
Pleasure-Way Tofino
The Tofino from Pleasure-Way is a great option for those looking for a cheaper price tag.
On this list of best camper vans 2022, the Tofino comes in at the smallest.
At only 17 feet 9 inches long, it sits atop the 1500 model Ram ProMaster chassis. This is a van that's not only easy to drive but also very easy to park since it's shorter than other models.
The price usually starts just above $85,000, making it a more affordable option than the Winnebago or Thor models.
Inside the van, you'll find many space-saving features such as a couch that transforms into a bed and a dinette table that sits on a moveable tripod. The tripod allows the table to be set up in multiple ways, such as facing the couch or in front of the sofa.
Considering this is a smaller van, it still offers a good deal of storage size, a refrigerator that runs on AC/DC, a stove, and a sink. Throughout the van, you'll find USB ports and LED lighting.
The pop-up area is smaller than the Tellaro and Solis models but is still sufficient to sleep, one adult or children.
There is a catch to this model, which makes the price cheaper – there's no shower or bathroom on board. However, the rear storage area is pretty large, so you could stick a porta-potty back there if you wanted.
This model also does not come with a generator or an AC for the coach area.
As you can see, the PleasureWay is more of a minimalist van but still comes standard with a couple of 100Ah lithium batteries and an inverter that can handle 2,000 watts.
Airstream Interstate Nineteen
The Airstream Interstate Nineteen is considered a luxury camper van and is the smallest model the manufacturer makes.
At 19 feet long, it does pack a punch in the market because it looks more like an oversized van than a camper. It has seating areas for four passengers but only sleeps two people.
You'll love standard equipment such as an unlimited water heater, Mercedez Benz safety Systems, LED HDTV made by Samsung, a power sliding door, and so much more.
This camper van comes complete with a kitchen, bathroom, a lounging area, and the largest bed in its class.
Pricing starts at $191,125.
Converted Sprinter Camper Vans
Another option I think is worth exploring is converting your own Sprinter van or buying someone else's converted van. San Diego has a top-rated Sprinter van conversion company called VanCraft.
You can buy an already converted campervan starting at $89,000 or convert your own Sprinter van starting at $43,000. Surprisingly, they have a really fast 2-month turnaround.
What's neat is the company also rents converted campervans. So, you can try out a few different models to see which works best for you before you buy or convert your own.
Sometimes the best camper vans are ones customized by you or others!
Best Camper Vans 2022- USED
If the prices of new camper vans are above your budget or what you're willing to pay, have no fear! There are excellent used options available for much less.
Basically, if you can afford a new, relatively nice car, you can afford a new-to-you camper van.
You can check out our article for Used Class B RV for Every Budget. We've updated the guide with how to find the best used camper van for your budget.
Your Vote for the Best Camper Vans 2022
We'd love to hear your opinions! Let us know in the comments which camper van you'd buy or already enjoy.
The Beginner's Guide to Boondocking
If you're researching camper vans, you should also research boondocking! Camper vans are ideal for camping off the grid.
In our complete beginner's guide, we walk you through:
The 4 electronic systems you need
Tips, tricks, and "cheats"
Safety
Best resources to find free or cheap boondocking spots
and so much more!
Get my Beginners Guide to Boondocking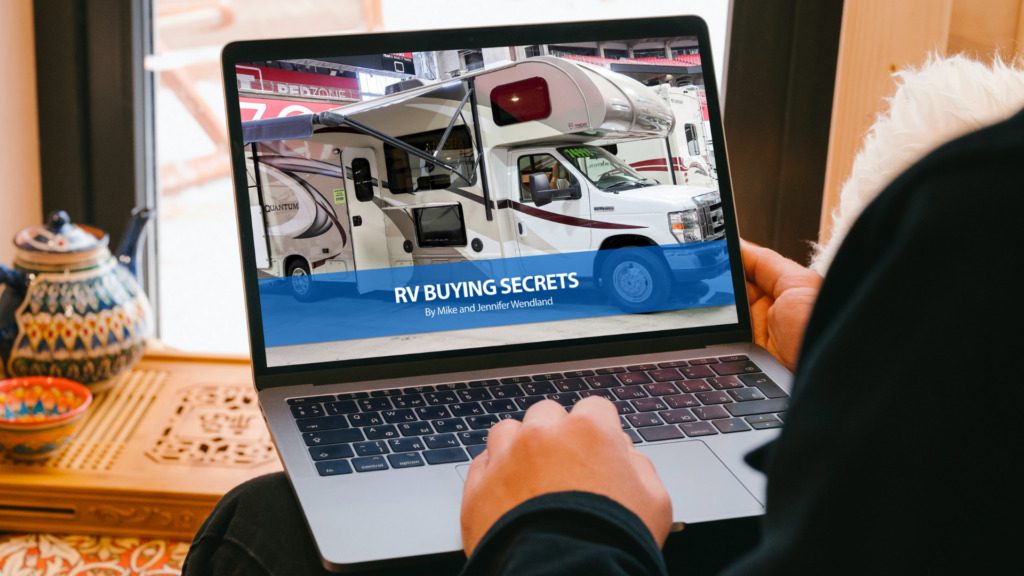 Next to your home, an RV is most likely the 2nd most expensive thing you'll ever purchase.
We get questions every day of other RVers wondering. "How do you buy a new or used RV?"
So we created a 75+-page downloadable digital guide to help you understand the nuances that come with purchasing an RV, where you can save thousands of dollars in the buying process, what the right questions are to ask dealers, what things to look out for, how to select the right unit, amenities, warranties, and so much more!
We created this guide to help you understand the nuances that come with purchasing an RV including:
Where to save thousands of dollars in the buying process
What questions to ask dealers
How to select the right unit
How to narrow down RV amenities
Understanding your warranty and what it covers
This ebook is designed to help make your purchase process as smooth as possible. And to teach you step-by-step exactly what to do so you can start your RV Lifestyle today!
---
---
---