Our shortlist for the Best Camper Vans 2023!
If you're looking for the freedom and sense of adventure that a motorhome provides but don't need that much space or don't mind the big price tag (for many of them), then you should consider a camper van.
Camper vans are an attractive option given that they are compact, rugged, and can be as equipped as you need. In fact, my wife and I traveled in one ourselves for many years!
Today we'll take a look at the best camper vans 2023 has to offer. We have not driven or used these vans but if you want some first-hand experience, come on over to our Facebook Group. With close to 180,000 members you are bound to meet people who have driven these and more. Ask your questions in there!
How Do You Choose the Right Camper Van?
Like everything else, there are tons of options on the market for camper vans.
Camper vans are hot, especially with the wildly popular "van life" crowd of minimalists who want comfort and practicality and lots of off-the-grid capabilities. New models are coming out all the time and we'll do our best to give you looks at many of them as we get to check them out this year.
They come in a variety of sizes and configurations depending on their purpose.
Some are designed for weekend travel, while others can accommodate simple full-time living. Some are for campgrounds, and others for boondocking. Some are cheap, and others are shockingly expensive!
TIP: We also recently did a review on the 9 best Class B RVs out there. CLICK HERE to see that article
Choosing the best camper van for you depends on your travel plans, as well as the following considerations:
Your Budget
Size to accommodate your gear and passengers
Drivetrain (2-wheel, 4-wheel, or all-wheel drive)
Diesel vs. gasoline
Service history and mileage (if buying used)
Weekender vs. Fulltime
The following list of 2023 best camper vans gives you a range of the above features.
The Best Camper Vans 2023
Based on our experience and other campers we've gotten to know, we've compiled a list of the best camper vans for you to check out this year.
Let's get this on the road! In our opinion, here are the best small camper vans 2023 has to offer:
Like what you see in these videos? We'd appreciate it if you would Subscribe to our YouTube Channel (easy to do right here) and consider "ringing the bell icon" to be notified of any new video from us. 🙂 Thanks!
Americans have been wanting European motorhomes to become available in the U.S. for a long time. And now, this new Italian motorhome is now taking orders in the U.S.
We toured the Wingamm OASI 540 during the 2022 RV SuperShow in Tampa (watch the video above.) And we were really impressed by its very compact yet functional design.
This 17'9″ It's only 10″ longer than a Honda Odyssey minivan. A standard parking space in America is 19′, so you can park this campervan like a car! This means it'll also fit in your driveway.
This small campervan has 2 beds and can sleep 3 adults or 2 adults and 2 children, yes up to four people. Their patented drop-down bed makes this possible. The dining room can also seat 6 people!
It has a lovely block kitchen and a full bathroom with a cassette toilet that you can remove from the outside and a closet..
It comes standard with heat and A/C, radiant heat floors, leather, and a 210-watt solar panel.
MSRP starts at $145,000.
Winnebago also offers a slightly larger floorplan with the Solix 59PX, bringing it to 21′ in length. This one starts at $171,996.
The STRADA-ion is Gretch's flagship Sprinter Motorhome. It's a luxury Class B with an advanced lithium-ion battery energy storage system. It provides a total of 1,260Ah, which will run the AC for up to 12 hours on battery power alone.
It has a 280-amp alternator that charges the lithium-ion batteries from idle, meaning you don't have to drive to charge your batteries. The battery management software pairs with its Fire Fly control system, which you can operate from your phone.
It's 24 feet long and sleeps 2. It comes in 2 floorplans, the Lounge Plan and Tour Plan. The biggest difference between the two is that the Lounge Plan seats up to 9, whereas the Tour Plan "only" seats 7. I put "only" in quotations because 7 is a lot of people!
MSRP starts at $244,900.
The Embassy Dolphin SL is known for its revolutionary floor plan that allows for two separate sleeping areas. That means a person can stay awake or wake up early and not disturb the person who's sleeping!
This separate sleeping arrangement also makes it popular among single parents, traveling friends, and traveling business partners. And, speaking of work, the rear bed platform converts into a table-height desk.
It's 22'2″ long and built on a Ford Transit Chassis. The kitchen and bathroom separate the front living/sleeping area from the rear bedroom. Your usable space can be extended with an optional rear porch with tent.
The Dolphin SL has a lithium-ion battery system. It doesn't come with solar, but the system can be fully charged by the engine. You can add a battery management system with Bluetooth™ connectivity as an option.
Unfortunately, Embassy doesn't list MSRP. So, you have to call to get a quote for your desired floorplan and options.
The new Roadtrek Pivot is 20'9″ long and built on a RAM Promaster 3500 chassis. It comfortably seats 4 and sleeps 3 with an optional folding mattress.
It has two different bed setup options: two twin beds or one king bed. A popular feature is its Duo Space bathroom that comes standard. It has a pivoting wall that creates a separate showering area and keeps the other amenities dry.
It also has an outdoor shower and rear access doors. So, you can open the side sliding door and rear swing doors for an open indoor/outdoor setup.
It comes standard with a 13′ power awning, 600 AMP lithium battery system, generator, 300-watt solar panels, and 12/100 V power inverter.
MSRP starts at $183,386.
The Coachmen Galleria is 24'3″ long and built on the award-winning 3500 Mercedes Sprinter extended platform. It has four floorplan options, including one option (24A) with a fixed bed and power incline storage underneath.
Its kitchen is on the bigger side, including a 7.3 cu. ft. refrigerator with pull-out freezer in the 24A and 24FL floor plans.
Standard features include an Onan quiet generator, 330W solar, and a standard 330 Ah AGM battery with 2,000W Pure Sine Wave Inverter. You can opt for a 630 Ah Li3 lithium battery.
Coachmen doesn't list the MSRP, so you must contact a local dealer to learn more.
The Tellaro from Thor features many of the same functionalities as their Sequence model. One main difference is that the Tellaro is available with a pop-top. The Tellaro is 21′ long and without the pop-top, sleeps two people.
The Tellaro is available in 4 floorplans, so you have lots of choices with this one. We particularly like the 20A floorplan that gives you a sky bunk option in addition to a rear bedroom.
Standard equipment includes a Thule bike rack, 190-watt solar panel, dual 100-Ah lithium house batteries, power awning, and a power-saver AC system. This model features the same generator you'll find in the Solis, as well as a similar bathroom.
The Tellaro, however, does have a few advantages over the Winnebago Solis. For example, it has a bigger dining table and refrigerator, extended storage space, and a powered awning.
Another great benefit is the price of the Tellaro is usually less than the Solis. Tellaro MSRP starts at $134,260, depending on the floorplan you select. The 20A floorplan that we like starts at $139,020.
The Cahaba is Tiffin's answer to Class B demand in the form of a small but mighty camper van. The overall length is 19'5″ long and built on a Mercedes 2500 Sprinter chassis with a 3.0L turbo diesel engine.
It comes standard with a 12V lithium house battery, but the Cahaba's Volta power system option is perhaps its most impressive feature. Quiet to operate, it offers 12,100-watt-hours of power.
This is so much power it can keep your appliances going all day, including the air conditioner!
This campervan looks fantastic, with a sleek design and all-metal running boards. For the gear-minded, the Cahaba has both a roof rack and MOLLE gear rack mounted on the rear door.
The interior is incredibly functional too, including a kitchenette, wet bath, and opposing benches that convert into a bed. All the latest technology, such as touchscreen features, are included.
For extra features, there is an LED light package that helps navigate in the dark, and an upgrade option to have 4-wheel drive.
Tiffin doesn't list the MSRP, so you must contact a local dealer to learn more.
The Travato from Winnebago is one of the top-selling Camper Vans in North America. At 21', it has a comfortable amount of space for two adults.
It has 4 floorplans that give you plenty of options for sleeping and living areas. All floorplans have a convenient adjustable/removable table and mount to maximize the space.
It's built on a Ram ProMaster chassis with a 3.6L V6 engine.
The Travato features a Pure Energy Management System 3-module lithium-ion energy pack with a 3,200-watt inverter and a dedicated second alternator to charge the system. Plus, a Cummins Onan gas generator.
The 4 floorplans range start from $175,292-$210,516.
The Plateau FL is 22'9″ long and built on a Mercedes-Benz Sprinter 2500 van chassis. It has a 3.0L V6 BlueTEC diesel engine.
It has two separate living areas with an electric sofa that coverts to a queen bed in the back and a lounge area in the front. This setup allows two people to easily enjoy "Me Time" with separate TVs and sitting areas.
The front lounge also has a multifunctional workstation. And the gallery kitchen has more counterspace than you often see in camper vans.
The Plateau FL has Dual 100Ah lithium batteries, a 2000-watt pure-sine wave inverter, and an Onan generator.
MSRP is $178,685.
The Airstream Rangeline is 21′ long and is built on the RAM ProMaster 3500 chassis. It has a 3.6L Pentastar V6 engine.
It has a simple, efficient floorplan with a rear sleeping area for 2 and seat capacity for 4. You can expand the living and sleeping space with an optional pop-top.
It comes standard with a 270 Ah Deep Cycle Lithium Gamechanger Battle Born Battery, a 100 AMP charger, and 2,000 watt true sine inverter. Plus, it has a gas-fueled ultra-quiet generator.
It may not have as many bells and whistles as other camper vans, but it's very practical and comfortable. Plus, it's one of the most affordable options.
Pricing starts at $147,570.
The Entegra Coach Launch is 19'6″ long and is built on a Mercedes-Benz Sprinter 2500 4×4 van chassis. It has a 3.0L V6 engine.
The interior includes a generous garage space in the rear with a drop-down bed. It can sleep 2 and seat 3 in a small yet functional living area.
On the exterior, it has a fold-down exterior table, a double roof rack, and moveable roof ladder.
It comes standard with a 48V 210Ah smart lithium battery that provides 10KWh of power. It also has a 3,50W inverter and 200W solar panels.
Entegra Coach does not list MSRP, so you must contact your local dinner or use their Build & Price feature on their website.
Rounding out our list of the best Cass B RVs for 2022 are the custom vans built by Advanced RV of Willoughby, Ohio.
They are not for everyone because of the cost. They even clearly state in their FAQs that "an ARV will cost 2-4 times more than a factory-built, class B motorhome purchased from a dealer."
These vans – built on the Mercedes Benz Sprinter chassis – are the most expensive Class B RVs built anywhere on planet Earth. Each one is built with features and a floor plan personally selected by the buyer after several days of planning with Advanced RV engineers and designers.
Each van – no two are exactly alike – is named by the customer – and from the time it comes in till the time it is delivered – usually a year-long process – it is referred to by that name and never a number.
The vans typically have massive lithium battery power supplies, high end, computer-controlled air suspension systems for smooth rides and handcrafted cabinetry, deluxe entertainment systems, and innovative components like recirculating water systems.
The vans sell start at about $340, 000 and go up to around $500,000.
I told you these were not for everyone. But in a list of the best Class B RVs, Advanced RV has to be included. They truly are quality designs.
It is worth noting that they have Pre-Owned RVs for sale on their website, as well. You don't get to fully customize it, but you do get a customized van at a better price.
Here's a video tour we did of the factory to give you an idea of the process.
Best Camper Vans 2023- USED
If the prices of new camper vans are above your budget or what you're willing to pay, have no fear! There are excellent used options available for much less.
Basically, if you can afford a new, relatively nice car, you can afford a new-to-you camper van.
You can check out our article for Used Class B RV for Every Budget. We've updated the guide with how to find the best used camper van for your budget.
Your Vote for the Best Camper Vans 2023
We'd love to hear your opinions! Let us know in the comments which camper van you'd buy or already enjoy.
The Beginner's Guide to Boondocking
If you're researching camper vans, you should also research boondocking! Camper vans are ideal for camping off the grid.
In our complete beginner's guide, we walk you through:
The 4 electronic systems you need
Tips, tricks, and "cheats"
Safety
Best resources to find free or cheap boondocking spots
and so much more!
Get my Beginners Guide to Boondocking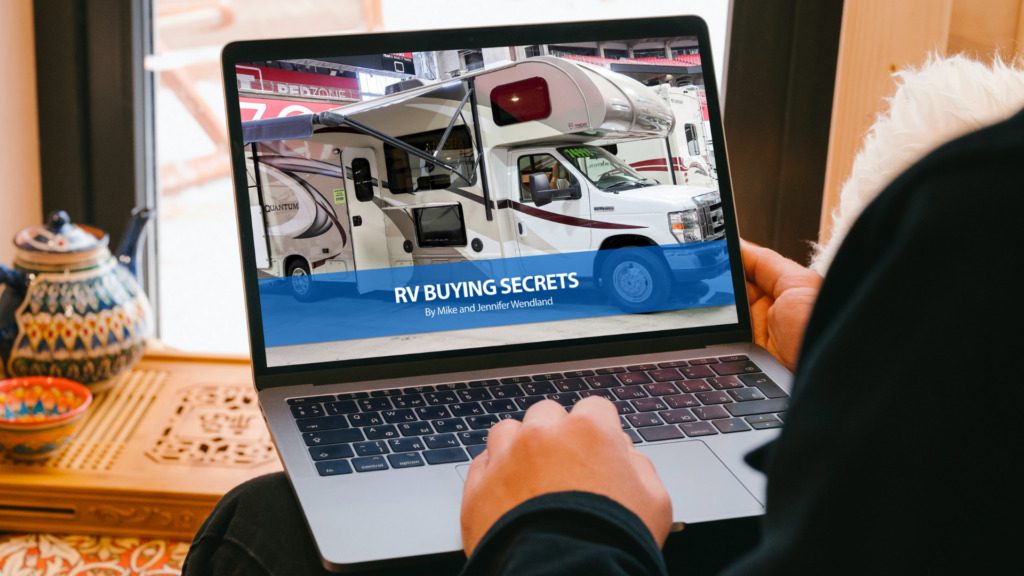 Next to your home, an RV is most likely the 2nd most expensive thing you'll ever purchase.
We get questions every day of other RVers wondering. "How do you buy a new or used RV?"
So we created a 75+-page downloadable digital guide to help you understand the nuances that come with purchasing an RV, where you can save thousands of dollars in the buying process, what the right questions are to ask dealers, what things to look out for, how to select the right unit, amenities, warranties, and so much more!
We created this guide to help you understand the nuances that come with purchasing an RV including:
Where to save thousands of dollars in the buying process
What questions to ask dealers
How to select the right unit
How to narrow down RV amenities
Understanding your warranty and what it covers
This ebook is designed to help make your purchase process as smooth as possible. And to teach you step-by-step exactly what to do so you can start your RV Lifestyle today!
---
---
---
Official RV Lifestyle QUICK Links to the Destination eBooks
You can see ALL our eBooks here, or use the following Quick Links to go straight to what you need!
● Arizona
● Colorado
And MANY of these are BUNDLED together: 
Ultimate Michigan and Great Lakes Bundle – 3 ebooks –
Upper Peninsula, Lower Peninsula, and the Great Lakes Tour
Michigan Bundle
Upper Peninsula, Lower Peninsula
The Great Lakes Adventure Guide Bundle
The Great Lake Shoreline Tour & JUST the Upper Peninsula Guide
Florida Adventure Guide Bundle
Gulf Coast, Atlantic Coast, Keys
Southwest Adventure Guide Bundle
Arizona, Colorado, Southern Utah)
Ultimate 7-Day RV Adventure Guide Bundle
Collection 1- our first 10 ebooks (does NOT contain Great Lakes Shoreline or Natchez Trace)
We also have a nice collection of ebooks that will help you navigate the RV Lifestyle.
Like these:
The Beginner's Guide to Boondocking
The Ultimate Guide to Cheap or FREE RV Camping Sites
Boondocking and Free RV Camping EBOOK Bundle
The Beginner's Guide to Boondocking ebook and Ultimate Guide to Free Camping Sites
And ONE PRINT book 🙂 and yes, before you ask, we have plans for MANY more print books.
The Complete Guide to Boondocking – PRINT VERSION
This is the same as the ebook titled The Beginner's Guide to Boondocking but in print.
And while you are exploring all our ebooks – check out the hoodies, T-shirts, Stickers, and mugs in our MERCH Store! You can get to it directly by just going here – SHOP!