Need some camping crockpot recipes? Our RV Lifestyle FB community responded with DOZENS of crockpot camping recipes you can easily make in your RV. Here are some of the great recipes they recommended…
Recently, someone asked our RV Lifestyle Facebook group about crockpot dinners, and they got nearly 200 responses!
Katy posted: Would like to make crockpot dinners in the camper while we go to the beach and on day trips. What are your favorite crockpot meals while traveling?
We can't ignore that very active Facebook post and wanted to share some of your fellow RVers' favorite crockpot recipes. Plus, we wanted to share a few of our own favorite slow cooker recipes that are featured on our sister site, CampingFoodRecipes.com.
We use affiliate links and may receive a small commission on purchases at no added cost to you. Thank you for your support. You can read our full affiliate disclosure here.
Why Every RV Kitchen Should Have a Crockpot
Jennifer and I have a crockpot in our RV that gets a lot of use. As Katy alluded, crockpots are a great (& easy) way to prepare dinner while you go out and do what RVers do whether that's going to the beach, on a hike, or on a day trip to town.
We have a whole Amazon shopping list of our Favorite RV Kitchen Supplies, which includes crock pots, instant pots, and everything you might need in your RV kitchen.
13 Best Camping Crockpot Recipes According to Fellow RVers
We've selected a handful of camping crockpot recipes that our Facebook members suggested. If you want even more options, you can read all of the camping crockpot recipes here (it has almost 200 comments!).
You can also check out Camping Food Recipes for more great ideas for your next camping meal plan!
#1 Crockpot French Toast Casserole Recipe
Crockpot French toast casserole is the perfect way to start your camping day. Simply prep it the night before, refrigerate overnight, & pop it in the crockpot in the morning.
While many slow cooker french toast casserole recipes use brioche bread or white sandwich bread, this recipe lives up to its name by using French bread. It gives the perfect texture and absorbs the wet mix wonderfully.
This is a favorite recipe on our sister site, so be sure to check it out!
#2 Crockpot Chicken Tacos
Is it Tuesday yet? Because I'm ready for tacos! Well, with Dana's favorite crockpot chicken taco recipe, you don't have to wait until Tuesday to eat tacos. This recipe is easy to make any day of the week, and she says, "You can do so many different things with it."
This recipe is on a website called "Spend with Pennies," so you know it meets my favorite camping recipe criteria: affordable!
#3 Slow Cooker Cilantro Lime Chicken
Jen shared this All Recipe that's as easy as combining salsa, taco seasoning mix, lime, cilantro, and chicken. She says, "We like to add sauteed peppers (or throw some in slow cooker too) and corn."
It only takes about 4 hours to cook on high or 6-8 hours on low. Mmmm… I can't wait to try this one, Jenn!
Mike and Jennifer's RV Lifestyle Mugs
#4 Mississippi Pot Roast
This recipe was mentioned a few times, so it must be good! Heather included the above link and the full title is actually: Mississippi Pot Roast (The BEST Pot Roast EVER).
I think Jennifer and I are going to move this one to the top of our dinner list. We love us some good pot roast! Make sure you click the link above to read the directions.
a chuck roast
ranch dressing mix
au jus gravy mix
butter
jarred pepperoncini peppers
#5 Turkey Vegetable Stew
Like what you see in these videos? We'd appreciate it if you would Subscribe to our YouTube Channel (easy to do right here) and consider "ringing the bell icon" to be notified of any new video from us. 🙂 Thanks!
Speaking of Jennifer, I want to share her favorite crockpot recipe, too. Trust me. I know from experience that this turkey vegetable stew is delightful! I've had to smell this delicious aroma while driving down plenty of highways. Let's just say I got to our destination faster than normal.
As Jennifer says in her recipe post, "one of the neatest things about crockpot meals is you can cook them as you drive. We put the cooker in the galley sink so it does not slide off the counter as we are driving."
#6 Dr. Pepper BBQ Ribs
I don't have a link for this recipe because you don't need one! It's literally 3 ingredients: ribs, BBQ sauce, and Dr. Pepper. Yep, Dr. Pepper!
Here are Michele's instructions: "Fit ribs into your slow cooker, cut if needed to fit. Pour 1 jar BBQ sauce and 1 cup Dr. Pepper. Cook on high 4 hours or low for 8."
I've actually used the same recipe before with pork roast. It was delicious! So, I'm sure these BBQ ribs are just as tasty. And now I'm wondering what other kind of meat I can slather with BBQ and Dr. Pepper…
#7 Easy Taco Soup Slow Cooker Recipe
Another favorite from CampingFoodRecipes.com, this easy taco soup recipe is a camping go-to. It's an excellent healthy option for campers who don't want to be weighed down by a heavy meal. And it's very filling!
This hearty soup has everything you need: meat, veggies, fiber, and flavor that'll make it a family favorite. Or, make it vegetarian! Simply omit the meat to enjoy vegetarian taco soup.
Don't let the fancy name fool you. This recipe is easy to make. Although, admittedly, it does require more ingredients than Michele's Dr. Pepper ribs.
Still, the point is that it's easy and delicious! Cheryle, who shared the recipe, suggests using boneless chicken with this recipe to shred for tacos or to put on top of a salad.
You had me at mashed potatoes, Sharon! With an even fancier name than the last recipe, this recipe teaches you how to make coq au vin the easy way.
This does require more ingredients than most of the recipes on this list, but it gives you a complete meal in one pot. One crockpot, that is. And boy does it look scrumptious!
#10 Chili Verde
This one doesn't require a link to a recipe either, because it's just 3 ingredients! All you need to do is throw pork shoulder, green salsa, and green enchilada sauce into the crockpot, and voila!
Sabrina suggests eating it with tortillas or over eggs. She also says that it's "very forgiving!… no measurements needed!"
#11 Crack Chicken
The last time I ate something with "Crack" in the name was Amish Crack. And Amish Crack is worth driving out of the way for, so this suggestion caught my eye.
Turns out Crack Chicken is quite popular. You can google it, and a whole bunch of recipes pop up. The one I link to here is the most similar to the one Johnnie shared with the group.
Ingredients you will need:
chicken breasts
ranch dressing mix
cream cheese
cooked crumbled bacon
shredded cheddar cheese
green onions
#12 Homemade Hot Dog Sauce
This homemade hot dog sauce recipe takes your camping hot dogs to the next level. Also known as coney sauce or chili dog sauce, you can make this sauce in a slow cooker, on your RV stovetop, or in a dutch oven over the campfire.
However you make it, you'll get to enjoy a tasty American classic wherever you camp. And speaking of classic American hot dogs, you should also check out this Classic Chicago Hot Dog Recipe and Classic New York Style Hot Dog Recipe.
#13 Crockpot Cube Steak With (or Without) Gravy
This is actually a 2-in-1 recipe as it includes a gravy and non-gravy version (the gravy version is shown above). Both versions use simple and affordable ingredients, which I think are the foundation of any great camping recipe.
If you click on the link, you can see detailed instructions for both versions and easy-to-read recipe cards. Plus, they explain how to know when the steak is cooked through so you don't end up with tough meat.
If you have any other favorite camping meals, please SUBMIT YOUR RECIPES on our sister site so your fellow RVers can enjoy them, too! It's a great way to connect with the camping community and share in the joy of cooking wherever we camp!
Also, be sure to join our RV Lifestyle Facebook Group for more great tips, advice, and good ol' fun. It's an incredible resource for both new and veteran RVers!
Mike and Jennifer's Southern Utah RV Adventure Guide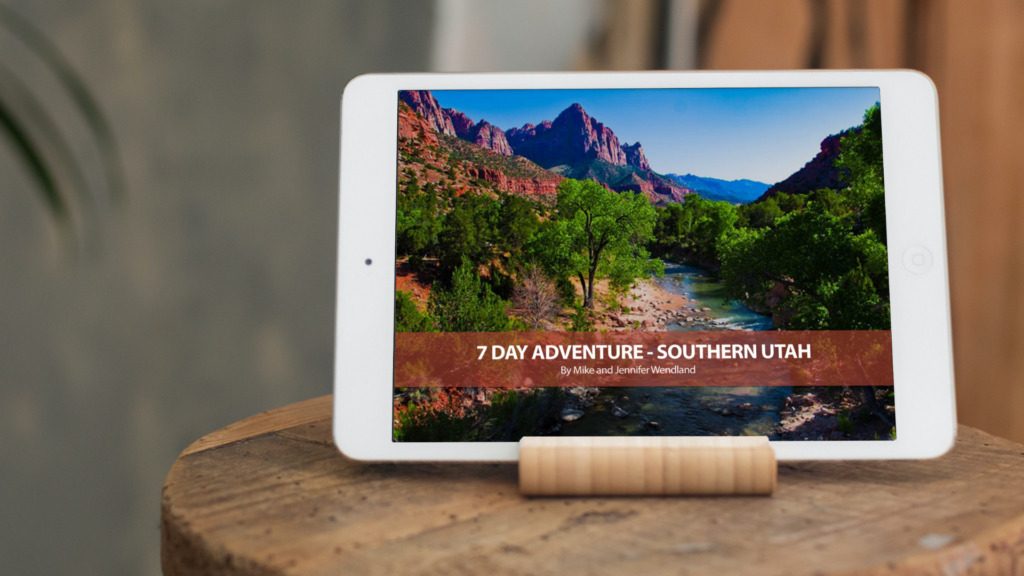 Utah, Utah, Utah. What more is there to be said? In very few places across the United States is there such a tremendous area with breathtaking vistas and diversity of terrain.
The sheer size of the National Parks, the canyons, the desert. Combined with the amount of history written in the red rocks that rise like towers jutting out of the ground and the delicate hoodoos washed away by erosion.
It is a place that, if you've never been, you need to go, at least once in your life.
This ebook is a seven day guided exploration of the State and National Parks in Southern Utah. We provide a suggested route and itinerary, links to multiple campgrounds and boondocking spots, and the best spots to see along the way. Don't plan your trip to Southern Utah without it!
You can hit everything in seven days, do a whirlwind weekend tour, or you can take your time and explore the area over a few weeks.
---
---
---
Official RV Lifestyle QUICK Links to the Destination eBooks
You can see ALL our eBooks here, or use the following Quick Links to go straight to what you need!
● Arizona
● Colorado
And MANY of these are BUNDLED together: 
Ultimate Michigan and Great Lakes Bundle – 3 ebooks –
Upper Peninsula, Lower Peninsula, and the Great Lakes Tour
Michigan Bundle
Upper Peninsula, Lower Peninsula
The Great Lakes Adventure Guide Bundle
The Great Lake Shoreline Tour & JUST the Upper Peninsula Guide
Florida Adventure Guide Bundle
Gulf Coast, Atlantic Coast, Keys
Southwest Adventure Guide Bundle
Arizona, Colorado, Southern Utah)
Ultimate 7-Day RV Adventure Guide Bundle
Collection 1- our first 10 ebooks (does NOT contain Great Lakes Shoreline or Natchez Trace)
We also have a nice collection of ebooks that will help you navigate the RV Lifestyle.
Like these:
The Beginner's Guide to Boondocking
The Ultimate Guide to Cheap or FREE RV Camping Sites
Boondocking and Free RV Camping EBOOK Bundle
The Beginner's Guide to Boondocking ebook and Ultimate Guide to Free Camping Sites
And ONE PRINT book 🙂 and yes, before you ask, we have plans for MANY more print books.
The Complete Guide to Boondocking – PRINT VERSION
This is the same as the ebook titled The Beginner's Guide to Boondocking but in print.
And while you are exploring all our ebooks – check out the hoodies, T-shirts, Stickers, and mugs in our MERCH Store! You can get to it directly by just going here – SHOP!