Whether you need more room in your pack or to be lighter on your feet, minimalist or "barefoot" hiking shoes are becoming more popular. Here are the best minimalist hiking shoes on the market today.
Let's face it. Traditional hiking boots are heavy. Their extra weight and cumbersome size make them difficult to pack.
Yes, traditional shoes are known for their stellar ankle support, thicker sole, and durable materials that can withstand any kind of rugged terrain and wet weather. But recently another shoe option emerged with the ability to tackle long hikes, sharp rocks, and cold weather, and has been gaining in popularity.
A variety of minimalist footwear to address different needs has flooded the marketplace.
(We use affiliate links and may receive a small commission on purchases. Thank you for your support.)
Why The Sudden Need for Minimal Footwear?
From experienced hikers, I've been hearing more and more complaints about their regular hiking shoes not having enough room for their toes. Soreness abounds!
Development of the minimalist shoe for the most part includes a wide toe box feature, and generally more flexible soles. This is good news for those of us with wider feet.
Trail shoes are designed to protect the feet from ankle sprains and stress fractures from hiking rough terrain. So it makes sense why an important factor in their design would be keeping it tight around the whole foot, including protecting the toes across all kinds of terrain.
The best minimalist hiking shoes give more customizability to all kinds of sizes, including (if needed) that wider toe box. And since minimalist boots are made with, well, minimal materials, they will dry faster, giving you the added option of wearing them as water shoes.
But Do Lightweight Boots Offer Enough Protection?
Yes and no. Be wary if you're like me and spent your whole hiking lives wearing normal hiking boots. If you switch immediately to minimalist hiking boots for longer hikes on rocky terrain, you would be risking an ankle or foot injury.
The problem is that with normal hiking boots, the pressure you place on your foot as you hike rests mostly on your heel. With a lightweight shoe, that pressure shifts toward the middle of your sole.
So if you're making the switch to less shoe, the key is to give yourself a gradual transition. Break them in with short hikes at first, because you're almost learning how to walk again in these "barefoot shoes." As you grow more comfortable and the soreness becomes less and less, you can wear them more on long walks.
However, I've heard that even the best minimalist hiking boots can't do it all. If you're tackling the Appalachian Trail for example, you still need enough support that the lighter versions don't provide. In this context, regular hiking boots are a great choice to get that additional protection.
The Best Minimalist Hiking Shoes
So, if you're looking for your next pair to give you both protection and a lighter feel on manageable day hikes, here are the best options for minimalist hiking shoes.
Available for both men and women and a choice in color between black and brown, the Tracker is built to fit your foot. It's wide enough to keep you stable on the trail but also has thin soles so you can get that ground feel.
The Tracker still has great water resistance due to its hi-top style, making it harder for dirt or water to get inside the shoe.
And if you're still unsure you'll take to this new kind of shoe, the company as of this writing offers a whopping 100-day trial.
Designed for those looking for that "bare feet" feel, the Vapor Glove is a shoe built for trail runners and perhaps the lightest option money can buy. Fans talk about how running in these strengthen their ankles and Achilles tendons over time.
Its Vibram soles included make for peak comfort, and are designed to cater to the foot's natural position.
More Best Minimalist Hiking Shoes
These Xero shoes are for the extreme hikers of us. Fully waterproof, light and sleek, the Xcursion are zero drop shoes designed to give the wearer proper posture while hiking. If you like these kinds of hikes, you may also want to check out the best rain ponchos for hiking and backpacking.
But wait? What does a zero-drop shoe mean? It means the shoe places the forefoot and heel flat on the ground, which aligns the spine.
Even if you're not trudging through hilly, wet terrain, they are stylish enough to wear with any clothes.
Lems shoes are for those who basically want a more lightweight version of their durable, normal hiking boots. It's made with oiled leather, pre-treated to be a water repellant.
So if it's made of leather, how is the shoe so light, you ask? Its rubber sole is incredibly lightweight.
As for its bulky look, not to worry. This boot can pack down to the mere size of a puff jacket. This way you get that durable hiking boot but all the advantages of a minimalist boot.
Like the Xcursion, the Boulder Boot has a zero-drop sole, is breathable and for good reason is one the most popular minimalist hiking shoes on the market.
The X Ultra 4 GTX is for the hiker who needs great control hiking downhill. It features Descent Control Technology that makes going down hills safer, even in wet conditions.
This shoe is a top pick if you need a shoe that can handle tough descents that is unafraid of getting super muddy and gunky. Check here to learn how to deal with dirty shoes!
You might get a look at this running shoe and be skeptical. How could a shoe that small and lightweight protect me?
Its Vibram outsole has flex grooves that maintain a good grip while keeping durability. For these reasons, you can even wear this to go street running as well as hiking. Does this qualify as one of the Best Minimalist Hiking Shoes?
Best Minimalist Hiking Shoes vs Regular Hiking Shoes
What kind of hiking shoe do you recommend? Regular or minimalist? Which do you like better for wet trails? Let us know in the comments!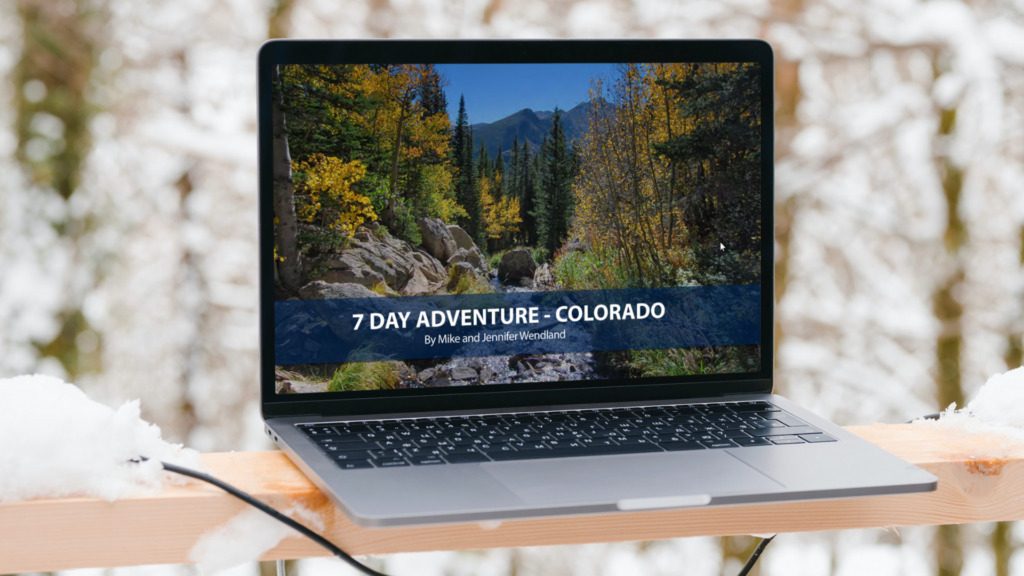 When Jennifer and I first went to Colorado, I felt like I finally understood what John Denver meant by his song: I've now been Rocky Mountain High.
And like Denver, exploring all that Colorado has to offer made me want to sing, too.
This is a fully designed and edited guide that you can download and start reading immediately on your phone, tablet, computer or e-reader.
---