"Hitting the Open Road"…ahh the images it conjures up. Freedom, adventure, new experiences.
It's a tantalizing phrase and if you are RVing you have probably been bit by the travel bug and the sense of independence that comes with your RV.
It seems like people from every walk of life are captured by the idea of a rig all their own. It seems the perfect getaway for families, the perfect retirement plan, the perfect couples retreat, the perfect…the list goes on and on.
But RVing is not for the faint of heart. Before hitting the open road there are some essentials that need to be added to the RV toolbox.
We use affiliate links and may receive a small commission on purchases at no added cost to you. Thank you for your support. You can read our full affiliate disclosure here.
First up – Do you know how to use these tools?
First on the list, if at all possible, is someone who can actually use the tools that you have in the toolbox.
To be really successful, it helps if this person is a jack-of-all-trades.
If traveling with someone, ideally one of those people needs to be an optimist and one needs to be able to tackle the nuts and bolts. The roles don't have to be exclusive, but both roles are necessary.
Traveling alone? RVers are equivalent to the pioneers of old: tough, resilient, able to solve problems, dreamers of epic proportions, wanderers, independent, alive.
Do you need to learn how to use certain tools? YouTube is your friend.
Our Community Answered the Question
The question was posed on RV Lifestyle:
"O. K. What tools go into the toolbox for the motor home?"
We had so many great responses. We will try to list the best ones.
CASH and lots of it
Cash might not be seen as a tool, but cash is the essential on-the-road tool.
It is not cheap to RV. Gas alone can run into hundreds of dollars.
Campsites run anywhere from $25 – $75 per night unless, of course, you are boondocking.
If you run into mechanical problems and are fortunate enough to find someone who will work on your rig (it is harder than you think) the minimum cost at RV dealerships is $129 per hour and this can go as high as $189.
Shop around, sometimes you can locate an independent garage that will be willing to work on your rig for far less, perhaps $69 per hour.
This is where your mechanical, jack-of-all-trades person really comes in handy. If that person knows how to use the tools and can fix the problem, life on the open road is so much easier. Otherwise, cash or credit card are your friends.
In the RV Toolbox: Duct Tape
Don't leave home without it.
It's flexible, resists tearing, and sticks to just about anything. Its uses are limited only by your imagination.
As one person in our community said, If it moves and it shouldn't use duct tape.
Just some of its many uses:
Keep antenna in place
Cover broken windows
Fix a leaky hose
Temporary fix for a vent cover
Adhere the 'extra' key to a secure place
In the RV Toolbox: Assorted Screwdrivers
In the RV Toolbox: WD 40
WD40 removes tar, tree sap and bird poop from the outside of your RV. Camping under trees can really do a number on the outside of your rig.
Lubricates squeaky drawers and doors.
Keeps hose ends from corroding.
Lubricates all those tools that you have in your tool box to prevent them from rusting.
If you have your bikes with you, it will keep mud from sticking and will prevent saltwater oxidation. It will also lubricate and remove rust from your bike chain.

In the RV Toolbox: Hammer
Use it to hammer something shut or pry something open. They are very handy to have on the road. If you don't already have a hammer, consider getting a camping hammer, or travel hammer, as these are smaller but still work well.
In the RV Toolbox: Zip Ties
Zip ties are versatile, inexpensive, and take up very little room. Use them to manage wires or hold things together in a pinch. They can secure items and also "lock" items that you don't want people to get into.
Also in the RV Toolbox: an LED Flashlight
Get an LED flashlight. They are usually compact, ultrabright, and long-lasting.
In the RV Toolbox: Pocket Knife
It's small enough to fit in your pocket and it has multiple uses. It will cut just about anything. It can be used as a screwdriver in a pinch. It's also very handy to cut an apple or to slice some cheese for the impromptu lunch.
In the RV Toolbox: Pliers
Needle Nose, these will be helpful for those hard-to-get-into places
A set of Tongue and Groove Pliers
Also In the RV Toolbox: Wire Cutters, Small, Medium and Large Adjustable Wrenches and Utility Knife or Multitool
Use a multitool for cutting through dense material and breaking down boxes. It's a very handy tool for on the road.
This list is hardly all-inclusive but could be the building blocks for your tool kit.
Our RV Lifestyle Community has More Helpful lists for the Toolbox
Here are some other helpful hints from our Facebook Community:
Lou gave us this list:
all basic non-power tools you can think of. Plus electrical tools – tow strap/chain, ratchet straps all types
Jd wrote:
1. Cash
2. Zip ties
3. Duck tape
4. Water pump pliers
5. Straight slot screwdriver
6. Phillips screwdriver
7. Dikes
8. 1/4 inch drive socket set (SAE and metric)
9. Water hose repair kit (male and female)
10. SAE wrench set (1/4 to 3/4)
11. Metric wrench set (8mm to 16mm)
12. Razor knife
13. Multimeter
14. Fuses
15. Needle nose pliers
16. Hex wrench set (SAE and metric)
17. YouTube videos
18. Vodka
19. A smart assed camping buddy
Mike (another member, not Mike Wendland) wrote:
"… but you must realize there are always going to be times when the only tool that will get the job done is located in a hardware store approximately 75 miles away, and their hours are 8 am to 6 pm, Mon-Sat, and it is 6:30 pm on a Saturday evening when you discover that you need that particular tool. Just part of the adventure. Enjoy and be safe."
Don't have what you need in your RV toolbox? Ask an RV neighbor.
Fellow RVers are very friendly and often want to help. You can get practical advice about how to fix something and often the tool and expertise as well to finish the job from your fellow RVer.
Don't be afraid to ask. Often, you will gain a friend as well.
You will learn from experience.
Almost anything can be learned by looking at YouTube.
After the first year, you will probably have gathered up all the tools that you need, well almost. There is always that one tool that you wish that you had.
Our RV Lifestyle Community is full of people ready to help whenever you have a problem. Make sure you are a member to support each other.
Happy trails… see you on the open road.
Did we miss a tool to put in the RVers toolbox?
Tell us all about it in the comments.
---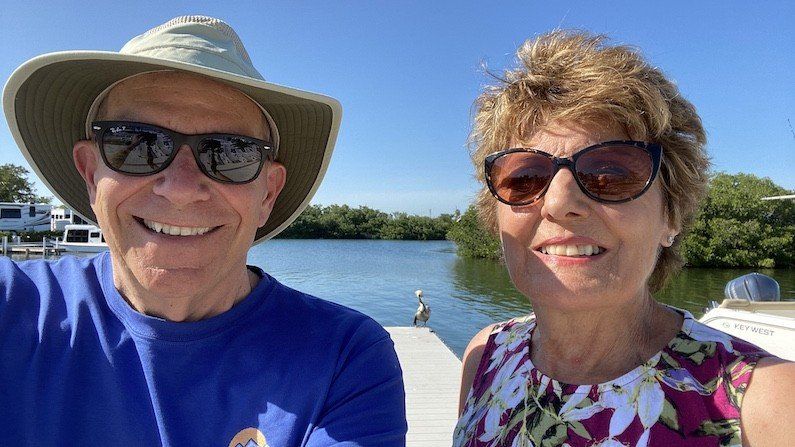 Curious about the gear, gadgets, accessories, and RV products Mike & Jennifer use and recommend?
On this RV Lifestyle Travel blog, our RV Podcast and our RV Lifestyle YouTube Channel, we mention all sorts of RV-related products and gear that we use, So we created a special page that links to them. We update this all the time.  CLICK HERE to go to it directly.
---
---
---
---
---