Is an RV a money pit on wheels? It can be! But we know the common pitfalls and how to avoid and minimize them…
Are you dreaming about hitting the open road in your very own RV? The allure of the RV lifestyle is undeniable – the freedom to travel wherever you please, the ability to sleep under the stars, and the opportunity to explore new places at your own pace.
But before you jump headfirst into the adventure, it's important to understand the real cost of living life on the road. Let's take a closer look at the potential money pit that is the RV lifestyle!
We use affiliate links and may receive a small commission on purchases at no added cost to you. Thank you for your support. You can read our full affiliate disclosure here.
Is an RV a Money Pit?
Yes, an RV can be a money pit, and in many cases, it is. Buying and maintaining an RV comes with a lot of expenses that can dig deeper and deeper into your bank account.
However, by being aware of common wallet-gouging costs, you can budget accordingly. Or, bet yet, you can avoid or minimize many of them.
We will list the big money pit issues and then some resources to help you avoid or minimize them.
1. RVs are EXPENSIVE (Even Used)
An RV will likely be your second most expensive purchase in your life. It comes second only to buying a house.
Compared to some housing markets in the U.S., an RV is even MORE money than a house. For example, the average home price in Oklahoma is about $200,000, which many Class A's exceed.
Here is a quick breakdown of 2023 RV prices. This is just one source of prices. You might find many more.
Pop-up campers: $16,900
Teardrop trailers: $23,900
Travel trailers: $35,100
Fifth wheels: $70,000
Class B: $134,000
Class C: $148,000
Class A: $375,800
You can, of course, save money on used RVs, but you'll have to budget for more repair and maintenance costs. Plus, keep in mind that many campgrounds have a 10-year age limit on RVs to stay at their parks.
RESOURCES that can help when buying an RV:
2. Taxes & Registration Fees
Many states charge a sales or use tax of 6-10% on RV purchases. For an expensive rig costing $100,000, you're looking at an extra $10,000 just for taxes in a state with a 10% rate. Even smaller campers aren't immune – a $20,000 trailer would tack on another $2,000 in taxes.
Registration is another expense worth considering, as costs vary widely between states. While Arizona keeps rates low, Florida has notoriously high yearly fees. Texas falls in the mid-range compared to other areas.
If you plan to travel or reside in your RV long-term, changing your legal residency could help avoid steep local charges down the line. However, be advised that most areas require taxes and title to be handled according to your home state, regardless of where the purchase occurs.
RESOURCES for Domicile and Residency:
If you are going to RV full-time, you really need to read more about this with our friends at Escapees – Ultimate Guide for Residency and Domicile as a Full Time RVer
3. Maintenance and Repairs
Just like any vehicle, RVs require regular maintenance and occasional repairs. From oil changes and tire rotations to engine tune-ups and roof sealing, these expenses can quickly add up.
Plus, if you face a major repair job, be prepared to dish out a significant chunk of change. And trust me, it's a matter of when not if you're going to need repairs.
It'll also cost you a lot of time since there is a shortage of RV technicians. As such, it's best to learn how to do basic RV maintenance and repairs yourself.
RESOURCES to do it yourself:
Get the Home Study Course today and worry about the road, not the repairs!
Every time you move your RV it's like driving through a hurricane during an earthquake. Parts break and many items need to be maintained, this program will show you how you can save time and money by gaining the confidence to take on the majority of the issues you'll come across. Don't get caught with your RV in the shop! Learn how you can maintain and repair your RV at your own pace and at the most convenient time for you! This course is produced by the National RV Training Academy.
4. Campground Fees (Not Always a Bargain)
While camping in the great outdoors can be a budget-friendly alternative to expensive hotels, don't be fooled into thinking that campground fees are always cheap. Popular campgrounds in prime locations can charge steep prices, especially during peak travel seasons.
Plus, it's not uncommon to encounter additional charges for amenities like electricity, water hookups, and Wi-Fi access.
Staying on public lands, like national and state parks, makes it more affordable. But they don't usually have many amenities. The more must-have amenities on your list, the more the price goes up.
RESOURCES for Boondocking:
As boondockers, we save a lot of money by avoiding campground fees. Here's how you can save money in this area:
5. Fuel Costs: Your Travel Budget's Worst Enemy
RVs are not known for their fuel efficiency. In fact, many RVs average as little as 8-10 miles per gallon. When you consider the rising cost of gasoline, this can put a significant dent in your budget, especially if you plan on logging some serious miles.
Be sure to factor in fuel costs when planning your next adventure to avoid any unwelcome surprises at the pump.
RESOURCES on gas-saving tricks and discount programs:
6. Cooking vs. Dining Out
One of the benefits of RV living is the ability to prepare your own meals. Not only does this give you greater control over your diet, but it can also help save money.
However, eating out (or even getting snacks) can quickly add up.
RESOURCES to help with food costs:
We recommend planning your camping menu in advance, as that's the best way to save money on food. We have a sister website called CampingFoodRecipes.com that will make this much easier (and tastier).
7. RV Insurance: Protecting Your Investment
When embarking on the RV lifestyle, it's crucial to protect your investment with proper insurance coverage. RV insurance can help cover financial losses in the event of accidents, theft, or damage to your vehicle.
RESOURCES for Insurance:
Insurance premiums may vary based on factors like the age and type of RV, but there are ways to save. Here are 5 Professional Tips for Buying RV Insurance.
Tour of a $6.5 Million Luxury RV!
Like what you see in these videos? We'd appreciate it if you would Subscribe to our YouTube Channel (easy to do right here) and consider "ringing the bell icon" to be notified of any new video from us. 🙂 Thanks!
Ever wondered what it would be like to live to do your RV living in a $2.5 million RV? Yes, there is such a thing. Motorhomes are getting more and more luxurious. At a recent RV show, we toured two Class A RVs that were well over a million dollars. The first – $1.5 million. The second, after taxes and fees, $2.5 million. Come tour them with us…but first take off your shoes!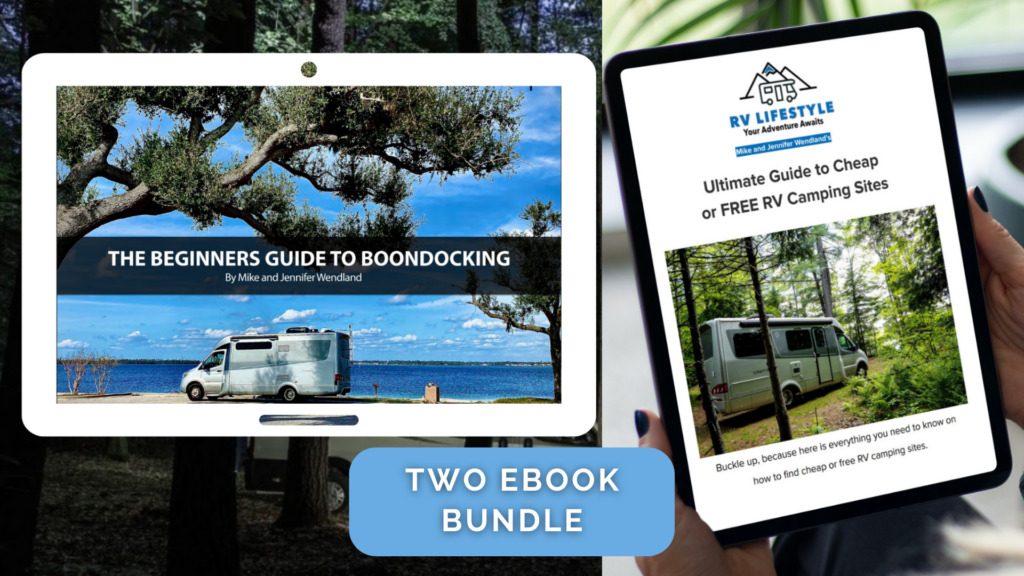 Beginners Guide to Boondocking (one of our most popular ebooks) and one of our newest ebooks, The Ultimate Guide to Free and Cheap RV Camping!
ebook #1: Beginners Guide to Boondocking
We created a 65+-page downloadable digital guide to help you understand the nuances that come with boondocking, the most common boondocking problems, and what you need to do to get your rig "boondocking-ready."
ebook #2: The Ultimate Guide to Free and Cheap RV Camping
Buckle up because here is everything you need to know on how to find cheap or free RV camping sites in the 33-page EBOOK.
---
---
---
Official RV Lifestyle QUICK Links to ALL our eBooks
You can see ALL our eBooks here, or use the following Quick Links to go straight to what you need!
● Arizona
●    Colorado 
And MANY of these are BUNDLED together:
New England Bundle
Coastal Maine, Adirondacks
Ultimate Michigan and Great Lakes Bundle – 3 ebooks –
Upper Peninsula, Lower Peninsula, and the Great Lakes Tour
Michigan Bundle
Upper Peninsula, Lower Peninsula
The Great Lakes Adventure Guide Bundle
The Great Lake Shoreline Tour & JUST the Upper Peninsula Guide
Florida Adventure Guide Bundle
Gulf Coast, Atlantic Coast, Keys
Southwest Adventure Guide Bundle
Arizona, Colorado, Southern Utah)
Ultimate 7-Day RV Adventure Guide Bundle
Collection 1- our first 10 ebooks (does NOT contain Great Lakes Shoreline or Natchez Trace)
We also have a nice collection of ebooks that will help you navigate the RV Lifestyle.
Like these:
The Beginner's Guide to Boondocking
The Ultimate Guide to Cheap or FREE RV Camping Sites
Boondocking and Free RV Camping EBOOK Bundle
The Beginner's Guide to Boondocking ebook and Ultimate Guide to Free Camping Sites
And ONE PRINT book 🙂 and yes, before you ask, we have plans for MANY more print books.
The Complete Guide to Boondocking – PRINT VERSION
This is the same as the ebook titled The Beginner's Guide to Boondocking but in print.
And while you are exploring all our ebooks – check out the hoodies, T-shirts, Stickers, and mugs in our MERCH Store! You can get to it directly by just going here – SHOP!
---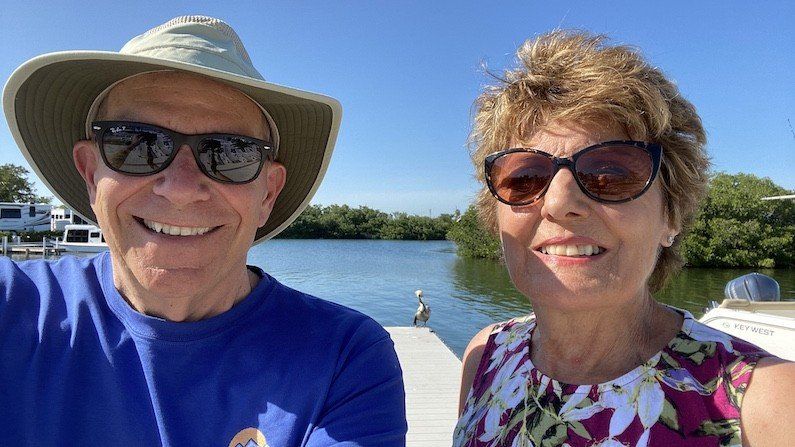 Curious about the gear, gadgets, accessories, and RV products Mike & Jennifer use and recommend?
On this RV Lifestyle Travel blog, our RV Podcast and our RV Lifestyle YouTube Channel, we mention all sorts of RV-related products and gear that we use, So we created a special page that links to them. We update this all the time.  CLICK HERE to go to it directly.
---