A certified RV Inspector gives top troubleshooting tips for RV shore power for 120 volt AC and 12 volt DC systems…
In our weekly RV Lifestyle podcasts, certified RV inspector Brenda from Queen Bee RV shares her expertise regarding common problems RVers face. And in this RV Lifestyle podcast episode, Brenda shared troubleshooting tips for RV shore power. You can easily resolve many repair issues by understanding your RV's electrical systems. Brenda helps us do just that!
Here is the advice she shared on our podcast. She helps us understand the different systems and then walks us through troubleshooting tips that will likely fix the problem.
We use affiliate links and may receive a small commission on purchases at no added cost to you. Thank you for your support. You can read our full affiliate disclosure here.
Watch the Podcast Video
Like what you see in these videos? We'd appreciate it if you would Subscribe to our YouTube Channel (easy to do right here) and consider "ringing the bell icon" to be notified of any new video from us. 🙂 Thanks!
We summarize Brenda's tips below, but watching the above video is very helpful! Brenda walks you through what you need to know and the fixes you can try.
We also suggest you tune into our podcast for more troubleshooting tips, camping recipes, and lots of great RV-related information. A new episode airs every Wednesday!
Subscribe with your favorite podcast platform: Google Podcasts | Spotify | Stitcher | Email | TuneIn | RSS
Understanding the Different Systems
The first step is to familiarize yourself with which appliances and components operate on the 120 Volt AC or 12 Volt DC system. This knowledge will help you troubleshoot your RV appliances more effectively.
To make things easier, create a cheat sheet that lists the appliances and components that run on each system.
The 120 Volt AC System
The 120 Volt AC system powers significant appliances like the air conditioner, microwave, wall receptacles, refrigerator (absorption type or residential style), tank water heater (if electric option is available), and the washer and dryer.
Additionally, it powers the converter, a commonly overlooked component that charges your battery or operates your 12 Volt DC systems.
The 12 Volt DC System
The 12Volt DC system is powered by your coach battery, which can be lead acid, gel, AGM, or lithium. (You can read why lithium batteries are taking over the RV world.)
This system controls interior lights, water pump, appliance control systems (like the fridge and air conditioner thermostat), slide-out and leveling systems, DSI igniter on the water heater, vent fans, furnace blower fan, and some electronics.
Troubleshooting Tips for 120 Volt AC System
If you encounter issues with the 120 Volt AC system, consider the following troubleshooting tips. They may save you a costly bill from a repairman!
Check the Breakers
Begin by checking the breaker at the campground pedestal and the ones in your electrical panel box.
Sometimes, a breaker might appear to be in the correct position but could still be tripped. Run your finger across them to ensure they are secure.
GFCI Outlet
If your outlets are not functioning, inspect the GFCI (Ground Fault Circuit Interrupter) outlet. It may have tripped at the receptacle or breaker panel.
Reset the GFCI outlet and check if the problem is resolved.
Generator Issues
If your generator is running but there is no power at the 120Volt appliances, ensure that the dedicated breaker inside the generator compartment is switched on.
Official mugs, tumblers, glassware – celebrating the RV Lifestyle!
Troubleshooting Tips for 12 Volt DC System
If you are facing issues with the 12 Volt DC system, try these troubleshooting tips:
Battery Health
When connected to shore power, your converter is responsible for providing power to the 12Volt DC appliances and components.
If your 12 Volt systems are functional when plugged in but not when boondocking, check the health and charge status of your coach battery.
Inspect the connections to ensure they are tight and free of excessive corrosion that could interfere with performance.
Battery Disconnect Switch and Blade Fuses
Confirm that the battery disconnect switch is not engaged, as this can prevent the power from reaching your 12Volt DC systems.
Also, check the blade fuses in the panel box to ensure none are blown.
Final Tip: Create a Troubleshooting Reference
It may seem too simple, but creating a list of these troubleshooting tips on an index card can be a lifesaver. Keep it handy for easy reference whenever you run into RV electrical system issues.
By following these steps, you can eliminate a surprising number of problems and ensure a smooth and enjoyable RVing experience.
We hope you found these tips helpful! You can listen to our podcasts or watch the videos.
RV Electricity Dos and Don'ts
Like what you see in these videos? We'd appreciate it if you would Subscribe to our YouTube Channel (easy to do right here) and consider "ringing the bell icon" to be notified of any new video from us. 🙂 Thanks!
In another helpful podcast, an expert on all things electric in an RV shares the Dos and Don'ts every RVers should know. You can listen to the podcast or watch the video above.
Get the Home Study Course today and worry about the road, not the repairs!
Every time you move your RV it's like driving through a hurricane during an earthquake. Parts break and many items need to be maintained, this program will show you how you can save time and money by gaining the confidence to take on the majority of the issues you'll come across. Don't get caught with your RV in the shop! Learn how you can maintain and repair your RV at your own pace and at the most convenient time for you! This course is produced by the National RV Training Academy.
---
---
Official RV Lifestyle QUICK Links to ALL our eBooks
You can see ALL our eBooks here, or use the following Quick Links to go straight to what you need!
● Arizona
●    Colorado 
And MANY of these are BUNDLED together:
New England Bundle
Coastal Maine, Adirondacks
Ultimate Michigan and Great Lakes Bundle – 3 ebooks –
Upper Peninsula, Lower Peninsula, and the Great Lakes Tour
Michigan Bundle
Upper Peninsula, Lower Peninsula
The Great Lakes Adventure Guide Bundle
The Great Lake Shoreline Tour & JUST the Upper Peninsula Guide
Florida Adventure Guide Bundle
Gulf Coast, Atlantic Coast, Keys
Southwest Adventure Guide Bundle
Arizona, Colorado, Southern Utah)
Ultimate 7-Day RV Adventure Guide Bundle
Collection 1- our first 10 ebooks (does NOT contain Great Lakes Shoreline or Natchez Trace)
We also have a nice collection of ebooks that will help you navigate the RV Lifestyle.
Like these:
The Beginner's Guide to Boondocking
The Ultimate Guide to Cheap or FREE RV Camping Sites
Boondocking and Free RV Camping EBOOK Bundle
The Beginner's Guide to Boondocking ebook and Ultimate Guide to Free Camping Sites
And ONE PRINT book 🙂 and yes, before you ask, we have plans for MANY more print books.
The Complete Guide to Boondocking – PRINT VERSION
This is the same as the ebook titled The Beginner's Guide to Boondocking but in print.
And while you are exploring all our ebooks – check out the hoodies, T-shirts, Stickers, and mugs in our MERCH Store! You can get to it directly by just going here – SHOP!
---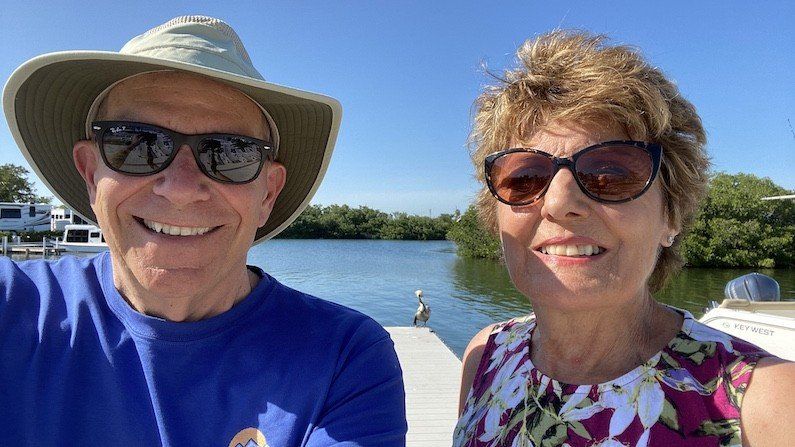 Curious about the gear, gadgets, accessories, and RV products Mike & Jennifer use and recommend?
On this RV Lifestyle Travel blog, our RV Podcast and our RV Lifestyle YouTube Channel, we mention all sorts of RV-related products and gear that we use, So we created a special page that links to them. We update this all the time.  CLICK HERE to go to it directly.
---