As Hurricane Ian barrels towards the Florida west coast today, it's a reminder of how serious emergency weather preparation for RVers needs to be taken.
In bad weather, RVs are seriously vulnerable. A sticks and bricks building is always safer. But because an RV, by its very definition, is mobile, it has one huge advantage over most structures: It can – and should! – be moved when there are dangerous weather warnings.
It's not just hurricanes, of course. There are tornados, wildfires, blizzards, floods, electrical storms, and many other emergency situations that all RVers can encounter. Having an emergency plan and being prepared should be at the top of every RVers priority list.
Read: Dangerous Weather While Camping: Staying Safe in Storms
Let's start with those in the face of Hurricane Ian.
What should RVers do before an approaching hurricane?
As soon as it looks like your area is about to be under a Hurricane Watch, have your fuel tank filled. If your RV or its generator uses propane, fill that, too.
Get to a supermarket and buy bottled water and enough food to get you out of the area. When it's a Hurricane Warning, you'll find fuel stations with long lines and outages and grocery stores with bare shelves.
Follow the advice of local officials. If evacuations are being suggested, don't think about it. Unhook and get out. Immediately. Roads will quickly clog. Traveling in an RV is slow enough. You want to be on the road before gridlock sets in.
Don't dally. Following the evacuation routes away from the storm and drive long and hard to get out of the approaching storm. The sooner you can get to a safe zone the sooner you can find a welcoming campground to stay until the emergency passes. HINT: Those campgrounds will quickly fill with other hurricane refugees.
Closely monitor news stations in the areas you drive through. Keep checking weather apps, monitor a NOAA weather radio (every RVer should have one) and pay careful attention to the emergency signs on freeways and turnpikes advising of changing traffic situtations.
Read: The Best Weather App for 2022
If bad weather hits while driving, do your best to avoid driving through standing water. If you must, slow down. Be careful when slowing or stopping as too much water on your brakes can severely limit their effectiveness. Read: 3 Critical Bad Weather Tips and The Best Three Severe Weather Apps
Carry paper maps with you. In heavy traffic, cell towers can be overwhelmed, disrupting the GPS navigation apps you may use. If you have a dedicated satellite GPS system, use it for more reliable coverage.
Don't second guess your decision to move out. If the hurricane fizzles or hits a different area, that means you can get back to where you want to be faster. If not, that means you'll be safe.
How do you protect your RV in a hurricane?
If you can't haul it out of the area, know that the experts say an RV should be able to withstand winds of 75 miles an hour without tipping over.
But that doesn't mean it won't be damaged by flying debris. Try to protect your windows. Many Rvers use something called Plylox clips, which allow you to easily attach plywood and can be purchased at a local home store or through Amazon. Put on a front window cover if you have one.
Deploy your stabilizer jacks and wheel chocks.
Take a video of everything in your RV in case it is damaged, so you have a record for insurance purposes.
And don't stay in it as the storm approaches. Get to a designated shelter.
Read: Hurricane Safety Tips
More resources on Emergency Weather Preparation for RVers
We've written a lot about emergencies and RVing. Here are some more suggested resources:
Bottom Line: Take Weather Warnings Seriously
By no means have we touched on everything in emergency preparations for RVers. But we hope it has been helpful. And what will make it even more helpful is if you add your suggestions in the comments below.
Be Safe, everyone!
Maybe it's time to…
Check out this Southwest Adventure Guide Bundle (Arizona, Utah, & Colorado)
When Jennifer and I travel to the southwest, we are continually amazed at the majesty and beauty this country has to offer. And it's really hard to stay in just one state! So we created this Bundle for you in case you like to travel as we do.
We put together our Southern Utah Guide, Colorado Guide, and our NEW Arizona Guide into this 3-State Bundle at a very reduced price!
Each of these RV travel guides is a seven-day guided exploration of some amazing places to explore in these states. And each stop is a curated view of the best things that we've enjoyed on these trips and want you to experience.
All together these guides are over 300 pages of content!
---
---
---
---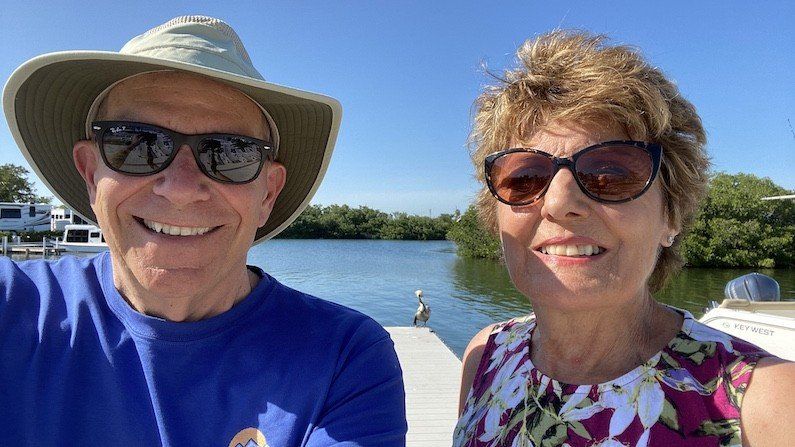 Curious about the gear, gadgets, accessories, and RV products Mike & Jennifer use and recommend?
On this RV Lifestyle Travel blog, our RV Podcast and our RV Lifestyle YouTube Channel, we mention all sorts of RV-related products and gear that we use, So we created a special page that links to them. We update this all the time.  CLICK HERE to go to it directly.
---