Do 5th wheel campers have to stop at weigh stations? What about big motorhomes and travel trailers? We answer these RV questions and more…
If you travel with a 5th wheel camper, large travel trailer, or Class A RV, you may wonder what the rules and regulations are at weigh stations in different states. We're here to help you understand if and when you need to stop.
We'll cover things like the maximum weight of your pickup truck and recreational trailer, states that require you to stop, exceptions to the rules, and more.
Just remember that if you're ever unsure of state laws, it's always a good idea to research the specific state you're traveling to. The following is general information to serve as a guide, not a comprehensive guide of state laws.
Hey, if you buy something through my links, I might get a little something-something as a thank you. No extra cost to you, promise! Read our full affiliate disclosure here.
What Are Weigh Stations?
Weigh stations are typically located along highways and check the weight of large vehicles, such as commercial trucks, to ensure they are within legal limits. The Department of Transportation (DOT) requires commercial vehicles to stop at weigh stations to weigh their cargo and check their DOT numbers.
Weigh stations are important for enforcing weight limits and preventing unsafe conditions on the road. Vehicles that are overloaded can pose a serious risk to other drivers and can cause damage to the roadways.
Do RVs Need to Stop at Weigh Stations?
Most RVs do not need to stop at weigh stations because most RVs' gross combined weight doesn't exceed 10,000 pounds. However, larger motorhomes, fifth wheels, and travel trailers weighing over 10,000 pounds may need to stop in certain states.
If your gross combined weight (GCW) doesn't exceed 10,000 pounds, then you almost never need to stop your RV at a weigh station. This is true whether you have a motorhome or towable RV. 10,000 pounds is the weight limit in most states, and in some states, it's higher.
What is Gross Combined Weight (GCW)?
The GCW is the combined gross weight or total weight of your RV and tow vehicle and cargo. Here's how you calculate it:
GCW = Weight of RV + Weight of Tow Vehicle (if applicable) + Weight of Cargo
Don't confuse the GCW or GVW with ratings (GCWR or GVWR). The "R" or rating is the amount of weight the vehicle or trailer can handle, not necessarily how much it actually weighs.
Do 5th Wheel Campers Have to Stop at Weigh Stations?
If your 5th wheel camper, tow vehicle, and cargo do not exceed 10,000 pounds, you do not have to stop. However, 5th wheels range from 2,400 to 20,000 pounds. They have an average empty weight of about 13,000 pounds and an average gross vehicle weight rating of 18,000 pounds. So, you may need to stop in some states…
Which States Require 10,000+ lb. Vehicles to Stop?
Vehicles that exceed 10,000 pounds are required to stop in the following states. However, in most cases, the laws stipulate commercial vehicles only. So even if your RV is over 10,000 lbs, you usually don't have to stop.
The problem is the laws are often confusing and unclear. It gets a bit more confusing if you exceed 26,000 lbs.
So, here is a list of states that require 10,000+ lb vehicles to stop (which may or may not include RVs). We then marked the states that are more likely to require 10,000+ pound RVs to stop to use as a guide.
**RVs exceeding 10,000 lbs are more likely to have to stop in these states, but you should call local officials to confirm and/or pay close attention to signage when approaching a weigh station. That's also not to say other states won't require you to stop.
Alaska
Arkansas
Colorado (** if 26,000+ lbs)
Georgia**
Iowa**
Louisiana
Maryland
Massachusetts
Michigan
Minnesota**
Missouri (only 18,000+ lbs)
Nevada
New Jersey**
New Mexico (only 26,001+ lbs)
New York**
North Carolina**
North Dakota
Ohio
Oregon**
Pennsylvania**
Rhode Island
Washington
Wisconsin
**RVs exceeding 10,000 lbs are more likely to have to stop in these states, but you should call local officials to confirm and/or pay close attention to signage when approaching a weigh station.
Remember, this is only a guide.
States with Unique Weigh Station Laws
Some states have unique laws when it comes to weigh stations. Here are three main examples:
Delaware: RVs over 46 ft must stop (including tow vehicle's length)
New Jersey: ALL vehicle types over 10,000 pounds must stop
Pennsylvania: RVers towing a trailer or 5th wheel must stop
Exceptions to the 10,000 lb "Rule"
There are a few exceptions that may apply in certain situations. Here are the main three…
An Officer Directs You to Pull Into a Weigh Station
If a police officer or weigh master signals for you to stop, you must comply in certain states, regardless if you're overweight. If a marked police officer directs you to pull into a weigh station, don't panic and just follow instructions.
The officer will explain their reasons for signaling you. The important thing to remember is that it's their job to ensure transportation safety, including RV safety.
You Operate a Business Out of Your RV
There is also a rare exception if you operate a business out of your RV since weigh stations are intended to monitor commercial-use vehicles. If you simply 'work from home' in your RV, this won't apply to you.
But if you carry merchandise, haul commercial cargo, or your business is centered around your RV in certain ways, then your best option is to check with local regulations.
Your Big RV is Considered a Truck
BIG RVs that require a special RV driver's license may be subject to different laws. Although, in some states, even RVs that require a CDL to drive aren't required to stop at weigh stations.
Can You Pull Into a Weigh Station to Weigh Your RV?
No, you should not pull into a weigh station to simply weigh your RV. Open weigh stations are intended for monitoring commercial use heavy vehicles and certain specialty vehicles. Instead, RVers should locate a CAT Scale…
How to Determine Your RV's Weight
CAT Scales are often located at truck stops along the highway. RVers can use these or any truck stop scales to determine the actual weight of personal vehicles, including RV weight.
If stopping at a truck stop, you may want to read the 7 Unwritten Rules for RV Parking Overnight at Truck Stops.
Penalties for Not Stopping at Weigh Stations
If a 5th wheel camper or recreational vehicle that is required to stop at a weigh station fails to do so, they may be subject to a fine. In most cases, however, an officer will just redirect you back to the weigh station.
So, don't worry if you mistakenly pass by a weigh station. You'll be corrected if necessary, usually without consequences.
Alternatively, don't worry if you pull into a weigh station and weren't supposed to. In most cases, they'll just wave you through.
It's Best to Know Before You Go
The best practice, of course, is to always check state laws whenever you're about to cross state lines. RV drivers should do this for all driving laws, not just weight limitations. You can check the state's DMV or state police websites for information.
Checking state laws before you go can save you from driving into speed traps in your RV.
So, whenever you head out on an interstate road trip, learn about any special laws of the individual states before you enter the state. That's the easiest way to keep you and the local officials happy.
Want a deeper dive into this?
This post really gets into all the details Should I Weigh My RV?
Check Out Our 5th Wheel Mods!
Like what you see in these videos? We'd appreciate it if you would Subscribe to our YouTube Channel (easy to do right here) and consider "ringing the bell icon" to be notified of any new video from us. 🙂 Thanks!
Watch as Cortni tours the new redesign with us and see why making the RV fit your lifestyle is always worth it. Learn more about The Flipping Nomad and check out her RV Renovation Course.
New York's Adirondack Park is immense. In fact, it's greater in size than Yellowstone, Everglades, Glacier, and Grand Canyon National Parks combined.
Created by New York in 1892, it is a constitutionally protected "Forever Wild" area and contains 85% of all wilderness in the eastern United States.
There are about 3,000 beautiful clean lakes in the region, surrounded by lush forests and dozens of small charming towns to visit.
This ebook is a seven day guided exploration of New York's Adirondack Park and Finger Lakes.
We provide a suggested route and itinerary, links to multiple campgrounds and boondocking spots, and the best spots to see along the way.
Don't plan your trip to Upstate New York without it!
---
---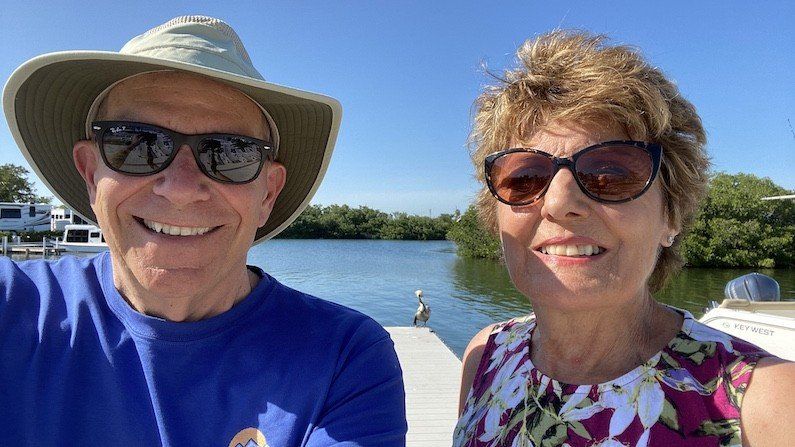 Curious about the gear, gadgets, accessories, and RV products Mike & Jennifer use and recommend?
On this RV Lifestyle Travel blog, our RV Podcast and our RV Lifestyle YouTube Channel, we mention all sorts of RV-related products and gear that we use, So we created a special page that links to them. We update this all the time.  CLICK HERE to go to it directly. Have you caught one of our Amazon LIVE events yet? Just go here and Follow us – to be notified every time we go live.
---