As an RVer, you'll quickly learn that you don't need to continuously pack, load, and unload most items in your RV. To get you ahead of the learning curve, here are 15 things to leave in your RV…
Packing up for a road trip can be a tedious process. That is why it is great when you can figure out what to leave in your RV between trips.
One of our RV Lifestyle members had the same thought. Ashley asked the RV Lifestyle Facebook group, "What are some items you've bought that you leave in your camper? For now, we are not 100% full-time and curious about what we are missing before we head to the store."
We use affiliate links and may receive a small commission on purchases at no added cost to you. Thank you for your support. You can read our full affiliate disclosure here.
15 Things to Leave in Your RV
An overwhelming number of respondents said they leave everything in their RVs except for their clothes and fresh food.
Some people even have a second set of camping clothes that they leave stowed when not on the road. Those folks just said they grab groceries and go!
The following suggestions are the specific items that our members say they leave in their RVs even when they are not on the road.
(P.S. As I wrote this, I realized we have related articles for almost every item that our FB members suggested. How convenient! You can click on those links to make stocking your RV that much easier with the products we recommend.)
1. Picnic Table Supplies
One of the most useful things to leave in your RV is picnic table supplies. You can easily keep a table cover, utensil holder, and all the paper products in your RV. Trust me, you'll be using these a lot while camping.
We have a useful shopping list for this: Best Foldable Tables and Table Accessories for Camping.
2. Electric Skillet
Another great item to keep on board is handy for cooking when camping. An electric skillet can help you quickly make pancakes, vegetables, and hamburgers!
3. Toiletries
Why pack and unpack toiletries? Many respondents said they keep bathroom essentials on board at all times!
Double up what you use at home and keep the extra in your RV.
4. Camping Chairs
This is probably one item that does not need to be mentioned. However, you do not want to get caught without a camping chair! If you do not have designated chairs to keep stowed in your RV, you might want to think about adding them.
Check out the 5 Best Camping Chairs we recommend.
5. Grill
Having a grill when camping is excellent. It makes delicious food outdoors and also helps clean-up stay easy. It's best to have your own so you don't have to rely on campgrounds to provide them (or clean them!).
One cool thing is that many grill companies now have travel options. For example, if you love to smoke meat, you can bring a travel-sized Traeger with you. Or, a Blackstone on the go!
To make it even easier on you, we have a list of the Best Portable Grills for Camping.
6. Coffee Maker
One of the first things to leave in your RV mentioned by one of our RV Lifestyle members, Stephanie, was a coffee maker. Frankly, I am not surprised. What is better than waking to a fresh cup of coffee on a crisp, cool morning in the great outdoors?
Having a coffee maker stowed in the RV ensures that you will not forget this essential item or have to schlep it between your house and RV. Just do not forget the coffee!
You can check out our recommendations for the Best Coffee Makers for RV Travel.
Mike and Jennifer's RV Lifestyle Mugs
7. Cookware
Many people responded that they keep all of their cookware on board their RV when not in use. In addition, many RVers said they keep storage containers, bags, and cooking utensils on their own.
Kathie said, "Our entire kitchen is stocked with pots, pans, dishes, utensils, and paper products." That way, all you have to do is add food and go!
Visit Best Cookware Sets for Camping.
8. Air Compressor
Having an air compressor for your RV really comes in handy. It can save you in a flat tire pinch! The last thing you want is to be stuck in a desolate location without a way to inflate your tires.
Plus, you can use it to blow off picnic tables or other dusty surfaces.
9. Tools
Another item that goes with an air compressor is a set of tools. Most campers use tools at some point in their traveling experience. You might need help unhitching a stabilizer or screwing something together.
Instead of packing and unpacking tools on each trip, consider keeping some stored in your RV.
See 10 Top Tools Every RVer Needs to Carry to help you gather these handy things to leave in your RV.
10. Paper Goods
Jaime said that he leaves all his paper goods, like toilet paper, paper towels, paper plates, plastic cups, and plasticware. Since these items will not go bad between travel dates, there is no reason to pull them from the trailer.
Just replenish as you run out of items!
Click here if you're wondering What is the Best Toilet Paper for RV Use?
11. Spare Tire
The one thing you do not want to have to happen is to get a flat tire, especially if it is in the middle of nowhere!
The second worst thing would be to have a flat and no spare tire. Always be sure to have a spare tire on your RV.
Or you better have Great RV Roadside Assistance Coverage! (Which I recommend even if you do have a spare tire.)
Oh hey, I even have an article on Neat & Funny RV Spare Tire Covers! (I tell ya', we've written so much about the RV Lifestyle! I'm so excited we get to share all of these resources and recommendations with you!)
12. Vacuum
Another item to consider keeping on board your RV is a vacuum. That way, you can easily clean up even when on the road. And you don't have to drag your house vacuum out to the RV to do it between trips!
Here are the Best RV Vacuums.
13. Ice Maker
This may seem extravagant, but it really is great to have one in your RV. It's also certainly one of the things to leave in your RV so you don't have to keep lugging it around.
Lots of people love having access to ice. I even included an ice maker on my list of best RV kitchen gadgets and also have an entire list of the Best Ice Makers for Camping.
If you love having ice in your drinks at home, consider purchasing a countertop ice maker in your RV. It does take up a little space, but if it brings a lot of refreshing joy, it is worth the RV real estate!
14. Bedding & Towels
Another excellent thing to consider leaving in the RV is an extra set of linens.
Many RVers have two sets of bedding. They will use one, strip the bed, and make it with fresh bedding before leaving camp—that way, their RV is set up for their next trip.
Then they take in the soiled bedding when they get home and wash it before storing it in the RV.
Check out The 3 Best RV Bedding Solutions [REVIEW and VIDEO]
The only thing you need to consider is if your RV will be in a humid environment. In that case, you might want to take all bedding out of the RV when you get home.
15. Gas, Water, and Propane
RV Lifestyle member, Gene, keeps his Rv stocked with essentials like gas, propane, and water. Safety first, people! You don't want to end up stranded without these essentials.
Speaking of safety, I might as well end this list of things to leave in your RV with another useful link: RV Safety Essentials Shopping List.
Where to Shop for Needed Items
After reading this list, you may have found some items that would be good to keep in your RV. If that is the case, then follow the advice from Brittany on where to procure needed items.
She said that she finds the best prices on needed items at the following stores in the following order:
What Not to Leave in Your RV
While there are plenty of things to leave in your RV, there are also some things you don't.
One RV lifestyle member, Lee, said they keep everything except fresh food. While that may seem obvious, it is worth the mention. He said they keep clothes, toiletries, dishes, towels, and even drinking water packed. Then replenish as needed.
Holly commented, "We live in the south. I worry about the heat affecting things like liquid hand soap, toothpaste, Neosporin." She followed up by asking other members if she should not worry about those items.
One member responded that she does not leave them in either but has them in a ready-to-go box she grabs when packing. It simplifies the process.
Another member, Kate, also commented that she feels that "the heat inside the camper causes issues. So, I have a clear tote that I use to pack and unpack stuff that I do not want to be left in the camper."
She said the clear tote is also "convenient for putting laundered towels and washcloths in that have to be returned to the camper after each trip."
But Janie said she does not unpack items and keeps "the pantry fully stocked."
Now that your RV's stocked, where are you going to go?
Mike and Jennifer's Southern Utah RV Adventure Guide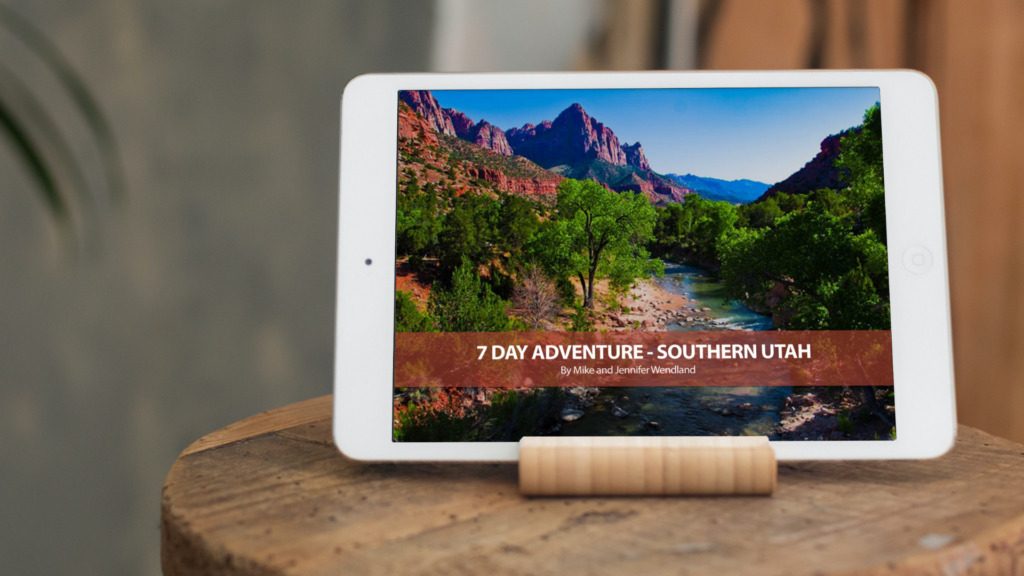 Utah, Utah, Utah. What more is there to be said? In very few places across the United States is there such a tremendous area with breathtaking vistas and diversity of terrain.
The sheer size of the National Parks, the canyons, the desert. Combined with the amount of history written in the red rocks that rise like towers jutting out of the ground and the delicate hoodoos washed away by erosion.
It is a place that, if you've never been, you need to go, at least once in your life.
This ebook is a seven day guided exploration of the State and National Parks in Southern Utah. We provide a suggested route and itinerary, links to multiple campgrounds and boondocking spots, and the best spots to see along the way. Don't plan your trip to Southern Utah without it!
You can hit everything in seven days, do a whirlwind weekend tour, or you can take your time and explore the area over a few weeks.
---
---
---
---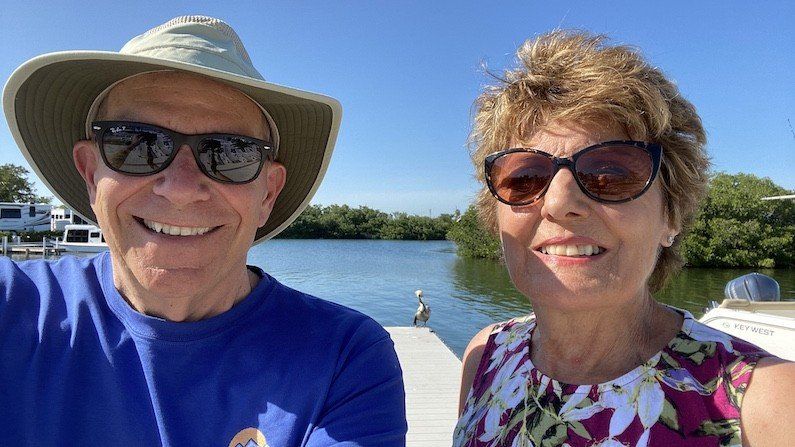 Curious about the gear, gadgets, accessories, and RV products Mike & Jennifer use and recommend?
On this RV Lifestyle Travel blog, our RV Podcast and our RV Lifestyle YouTube Channel, we mention all sorts of RV-related products and gear that we use, So we created a special page that links to them. We update this all the time.  CLICK HERE to go to it directly.
---