How about bringing some joy to others on your next road trip? To do that, consider picking up one of these funny, neat, or inspirational RV spare tire covers…
On my last trip, I was passing by many other RVers. And boy was I entertained!
So many RVs and some of the cars being towed had humorous spare tire covers or inspirational ones that made me smile.
I appreciate these since I was on a long road trip and needed something to entertain me.
It got me thinking that I should look up and post about the neat and funny RV spare tire covers out there. So, here we are!
Not all RVs have spare tires showing on the outside. And some RVs don't even have spare tires at all!
Maybe the car you tow has one showing on the outside. Maybe you decide to use these while camping. Whatever your particular situation, I hope you enjoy these selections!
We use affiliate links and may receive a small commission on purchases at no added cost to you. Thank you for your support. You can read our full affiliate disclosure here.
9 Neat & Funny RV Spare Tire Covers
If you have to be on the road, why not bring in some fun or beauty? Not only can it make you smile, but other drivers will appreciate your humor or thoughtful sayings.
The following are nine cool or humourous RV spare tire covers I found online.
We love adventure! Or at least the sense of adventure. I love this tire cover because it captures the spirit of almost every RVer I know.
The cover features an ombre blue background with mountains and an outline of trees and deer. The foreground has another mountain range, and the words "Adventure Awaits" are written in white.
Not only is the tire cover attractive, but it's also functional!
It is made from high-quality material polyester fiber that's waterproof and will not scratch. The cover can protect your spare tire from sun damage, wind, mud, and rain.
Talk about a humorous tire cover! This black tire cover features a raccoon in the foreground holding up two punk rock hand signs. He is also wearing shades that make him look that much more relaxed.
The cover is made from durable material and comes in sizes from 14-17" that can fit tire diameters of up to 33".
This one features a black body with a side profile of bigfoot walking. Tucked under his arm is a lawn flamingo! Why is Big Foot carrying a flamingo?! I have no idea but I sure had fun thinking of some possible reasons for the next 5 minutes.
I think this is especially funny given the fact that many people set up flamingos on their campsites. And, of course, Bigfoot is one of those nature folktales that we love to hear about!
This cover comes in different sizes from 14-17" that can fit tires up to 33" inches in length.
It also got me thinking about some of the Myths and Monsters of Michigan that I always enjoy.
This funny tire cover exposes why some people stay away from nature. It shows a picturesque natural scene with a mountain, trees, and a tent. But the outside reads: Go Outside, Worst Case Scenario a Bear Kills You.
Of course, nature enthusiasts know that the chance of an animal causing you harm is very slim, which makes this cover so humorous. It's this adventurous mentality that sets us apart from non-campers.
(We of course always practice bear safety, though!)
---
Mike and Jennifer's RV Lifestyle hat collection
Who needs a hat? You do! Dad hats aren't just for dads. This comfy one's got a low profile with an adjustable strap and curved visor. Just the thing to wear on your next RV Lifestyle adventure.
---
This is just a neat spare tire cover. It shows a beautiful outdoor scene with mountains, trees, a river or lake, and the stars and moon.
The cover itself is pretty, and features muted colors so that it won't stick out like a sore thumb.
It is made from high-quality polyester fiber, so you can count on it protecting your tire from the elements.
For any veterans out there, this RV spare tire cover is for you! You can certainly relate to its sentiment.
The cover has a background of the American flag. In the foreground are the words: I Go Where I'm Towed. Assuming this covers a tire on the back end of a trailer, the play on words is perfect.
This dustproof, sun-proof, and corrosion-proof polyester fabric cover is highly durable to protect that tire from all the elements.
Out of all the RV spare tire covers, this is probably the most ridiculous. Which is why I love it!
The cover pictures a laser-eye shooting dinosaur that appears to be floating in outer space. There is a sloth on the dinosaur's back, who just so happens to be carrying an American flag.
The picture is just so off-the-wall that it would make anyone laugh. Or at least take a second look!
The cover can fit 23-33" tire diameters and is made from waterproof, durable material that can withstand all kinds of weather.
One of the best things about RVing is the sense of freedom. It's being able to stop and explore when and where you want. This whimsical cover is for those folks that truly love to be present when traveling.
The cover expresses that sentiment. It features a mountainscape with the sun rising in the background. The body is tan, and the message is written in black.
The cover can be wiped clean and is made from highly durable washable fabric. That means it can withstand adverse weather conditions.
Another thing I love about RVing is that I do not worry as much. Being in a quiet environment free from the daily pressure of life, I feel peaceful. This cover captures that ideology perfectly!
This is an excellent cover for those that love a monochrome color scheme. It features a black background with mountains, trees, and abstract rive in the foreground. The saying, "Adventure: Explore More, Worry Less," is also written in white.
Tell us about your RV spare tire cover in the comments below. We'd love to hear about all of the different options and why you chose that particular one.
Mike and Jennifer's Southern Utah RV Adventure Guide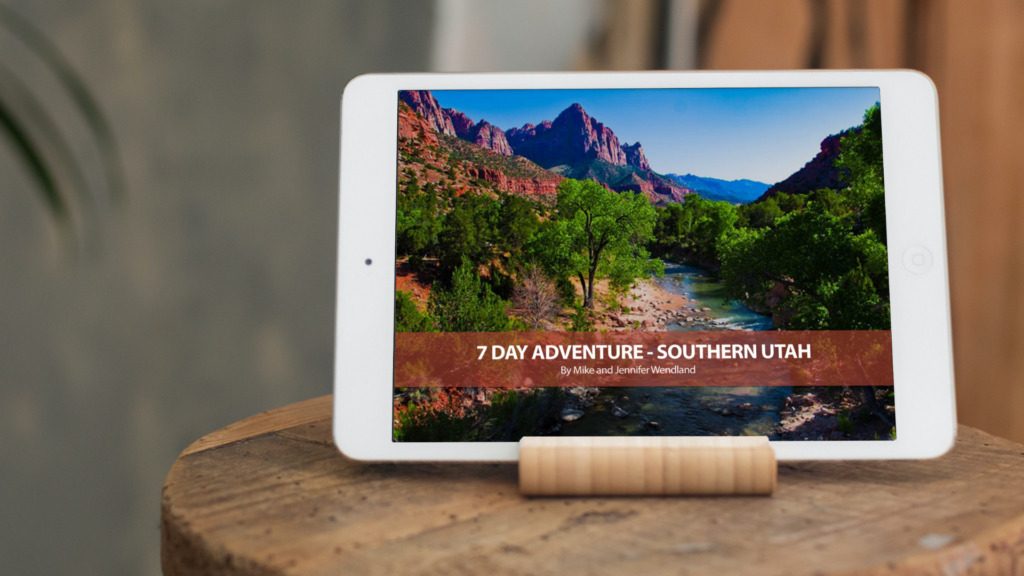 Utah, Utah, Utah. What more is there to be said? In very few places across the United States is there such a tremendous area with breathtaking vistas and diversity of terrain.
The sheer size of the National Parks, the canyons, the desert. Combined with the amount of history written in the red rocks that rise like towers jutting out of the ground and the delicate hoodoos washed away by erosion.
It is a place that, if you've never been, you need to go, at least once in your life.
This ebook is a seven day guided exploration of the State and National Parks in Southern Utah. We provide a suggested route and itinerary, links to multiple campgrounds and boondocking spots, and the best spots to see along the way. Don't plan your trip to Southern Utah without it!
You can hit everything in seven days, do a whirlwind weekend tour, or you can take your time and explore the area over a few weeks.
---
---
---
RV Lifestyle officially recommends The Dyrt
You can book campgrounds for tents, RVs, cabins, and glamping, or find free camping. The Dyrt has it all. And in case you didn't know, The Dyrt is the #1 camping app and website in the US, with over 8 million campsites, reviews, and tips — submitted by campers, for campers. And The Dyrt PRO version makes every camping trip easier. With offline map backups, offline search, exclusive discounts, and trip planning tools, PRO can improve any stage of camping.
The Dyrt app lets users with basic accounts search for camping and save favorites, completely for free. The Dyrt PRO is an upgrade that makes it easier to go camping. Try PRO for free today.
Use the code RVlifestyle for your 30-day free trial!