Learn about the different camping reservation discounts available and start planning your budget-friendly camping getaway…
Whether you're a seasoned camper or new to the experience, saving money on camping reservations can make the trip even more enjoyable. Fortunately, there are several camping reservation discounts and memberships that can help you save big on nightly rates.
Plus, many offer special benefits, like early check-in and late check-out.
In this blog post, we discuss some of the most popular camping reservation discounts and memberships available to RVers.
We use affiliate links and may receive a small commission on purchases at no added cost to you. Thank you for your support. You can read our full affiliate disclosure here.
10 Popular Camping Reservation Discounts
Many RVers utilize more than one of the following in their journeys.
However, before investing in any memberships, we suggest reading Are RV Campground Memberships and Clubs Worth It? Many are, in fact, well worth it, but which ones are worth it for you depend on your travel style.
But the following list is a great start to determine which membership and group discounts are best for you!
We LOVE Harvest Hosts! It's a membership program that connects RVers with unique places to stay overnight for free, such as farms and wineries. Members pay an annual fee and can stay at any of the participating host locations for one night at a time.
In exchange for the free overnight stay, members are encouraged to support the host location by purchasing products or services. This is a great way to save money on camping reservations while experiencing unique and memorable locations.
You can use this link and the discount code: RVLIFESTYLE15 you get 15% off Harvest Hosts annual membership.
Like what you see in these videos? We'd appreciate it if you would Subscribe to our YouTube Channel (easy to do right here) and consider "ringing the bell icon" to be notified of any new video from us. 🙂 Thanks!
The Harvest Hosts CampersCard is a NEW discount program we've already benefited from. You can see in the video above how we used it while camping out at an incredible hidden gem campground.
CampersCard members get benefits, including early check-in, late checkout, and discounts on nightly rates.
Passport America is a discount camping club that provides members with up to 50% off nightly rates at participating campgrounds across the United States, Canada, and Mexico. Members pay an annual fee and can save money on camping reservations all year long.
The program also includes an online directory of participating campgrounds and RV parks, making it easy to find a discounted camping spot.
AND if you are reading this before May 1, 2023 there's a $10 discount code at the top of the page.
Escapees is a membership organization for RVers that provides members with access to discounted camping rates, RV-related products and services, and a community of like-minded travelers.
Members can save up to 15% on camping fees at participating campgrounds, RV parks, and resorts. The organization also offers a variety of educational resources and support for RVers.
---
Mike and Jennifer's Summer T-Shirts for your next adventure

---
Good Sam/Camping World is a membership program that provides RVers with a variety of benefits, including discounts on camping fees at participating campgrounds, RV parks, and resorts.
Members also receive discounts on RV-related products and services at Camping World stores and online. The program also offers a roadside assistance service and a travel planning tool.
KOA Kampgrounds is a network of campgrounds across the United States and Canada that offers a variety of camping options, including tent sites, RV sites, and cabins.
The organization offers a rewards program for frequent campers, as well as discounts for members of AAA and AARP. Members can also save on camping fees by purchasing a KOA Value Kard Rewards membership.
Thousand Trails is a membership camping program that provides members with access to a network of campgrounds across the United States and Canada.
Members can purchase a pass to one of their five different zones and gain access to all the campgrounds in that zone for a single price.
This club would be a good fit for RVers looking to stay in one general area, but still moving around a bit.
Other Camping Reservation Discounts
There also general discounts that can save you on camping reservations as well as dining, retail, and more.
8. Military Discounts
Many campgrounds offer military discounts for active duty and veterans, as well as their dependents. In most cases, you have to contact them directly to inquire about and book the special rate. Be ready to show your military ID when you arrive, too.
Military members can also get a Military Annual Pass or Military Lifetime Pass for FREE ACCESS to all National Parks. You defended those parks, so you get to enjoy them for free 🙂
Wherever you travel, get in the habit of asking for a military discount. Many restaurants and retailers offer military discounts often ranging from 10-30%. At the very least, you'll get a thank you for your service.
And our Guide to Military Campgrounds will fill in all you need to know.
9. Senior Discounts
AARP is a discount program for adults 50 and older. Members receive discounts at participating businesses, including healthcare, financial services, shopping, dining, entertainment, and yes, travel.
If you're an AARP member, you can receive a 10% discount at participating campgrounds. There aren't a huge number of campgrounds that offer this discount, but it's worth asking if you're a member.
Like the military discount, you usually have to contact the campground directly to inquire about and receive an AARP discount. Have your card ready upon arrival, too.
By the way, seniors can also get a discounted Annual or Lifetime Senior Pass to National Parks.
10. "Doesn't Hurt to Ask" Discount
If you're not sure if a campground offers any discounts or promotions, it never hurts to ask. Many campgrounds are willing to offer discounts to attract new customers or fill empty spots. You may be surprised at how much you can save by simply asking for a discount.
There's another BIG way you can save while traveling…
Have you heard of reciprocal memberships before? If not, get ready to learn how to save a lot of money while visiting more educational and cultural centers across the country.
So, stay tuned if you like to visit museums, aquariums, zoos, and science and technology centers during your RV travels.
In this article, I explain what reciprocal memberships are, how they save RVers money, and list the best ones for RVers.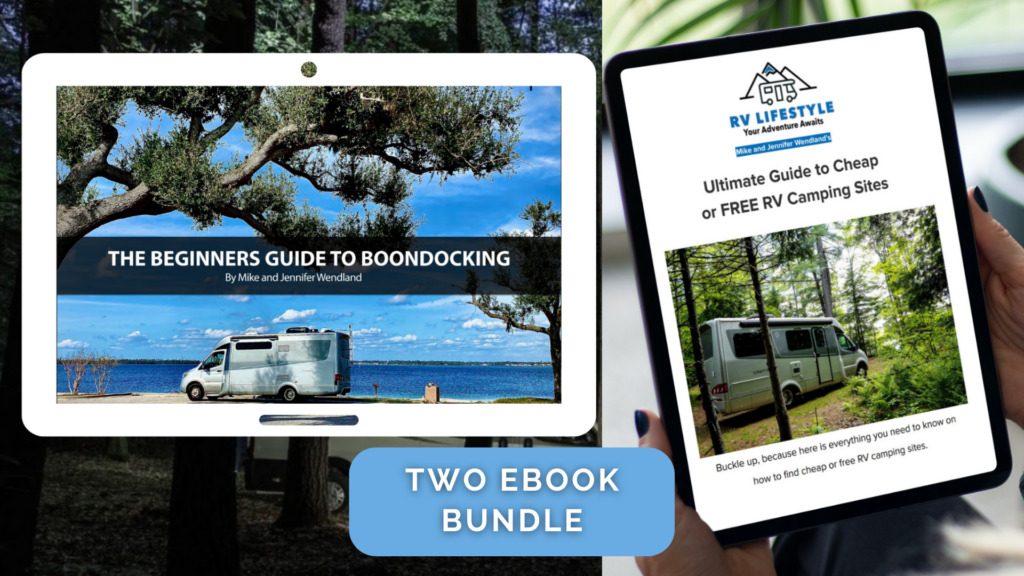 Beginners Guide to Boondocking (one of our most popular ebooks) and one of our newest ebooks, The Ultimate Guide to Free and Cheap RV Camping!
ebook #1: Beginners Guide to Boondocking
We created a 65+-page downloadable digital guide to help you understand the nuances that come with boondocking, the most common boondocking problems, and what you need to do to get your rig "boondocking-ready."
ebook #2: The Ultimate Guide to Free and Cheap RV Camping
Buckle up because here is everything you need to know on how to find cheap or free RV camping sites in the 33-page EBOOK.
---
---
---
Official RV Lifestyle QUICK Links to ALL our eBooks
You can see ALL our eBooks here, or use the following Quick Links to go straight to what you need!
● Arizona
●    Colorado 
And MANY of these are BUNDLED together:
New England Bundle
Coastal Maine, Adirondacks
Ultimate Michigan and Great Lakes Bundle – 3 ebooks –
Upper Peninsula, Lower Peninsula, and the Great Lakes Tour
Michigan Bundle
Upper Peninsula, Lower Peninsula
The Great Lakes Adventure Guide Bundle
The Great Lake Shoreline Tour & JUST the Upper Peninsula Guide
Florida Adventure Guide Bundle
Gulf Coast, Atlantic Coast, Keys
Southwest Adventure Guide Bundle
Arizona, Colorado, Southern Utah)
Ultimate 7-Day RV Adventure Guide Bundle
Collection 1- our first 10 ebooks (does NOT contain Great Lakes Shoreline or Natchez Trace)
We also have a nice collection of ebooks that will help you navigate the RV Lifestyle.
Like these:
The Beginner's Guide to Boondocking
The Ultimate Guide to Cheap or FREE RV Camping Sites
Boondocking and Free RV Camping EBOOK Bundle
The Beginner's Guide to Boondocking ebook and Ultimate Guide to Free Camping Sites
And ONE PRINT book 🙂 and yes, before you ask, we have plans for MANY more print books.
The Complete Guide to Boondocking – PRINT VERSION
This is the same as the ebook titled The Beginner's Guide to Boondocking but in print.
And while you are exploring all our ebooks – check out the hoodies, T-shirts, Stickers, and mugs in our MERCH Store! You can get to it directly by just going here – SHOP!