Many are familiar with Yellowstone's landmarks, but what about Yosemite landmarks in California? There are a LOT worth seeing…
There is a reason over 4 million people visit Yosemite National Park every year. It's because there are so many incredible landmarks to take in!
There is so much to see, from cascading waterfalls to an awe-inspiring sheer rock face in this fantastic national park. The good news is that you can view most of these landmarks from the road or short day hikes.
When visiting Yosemite, you'll want to be sure to come early and be prepared. To see the most landmarks, you need to organize your time well. Be ready for crowds, but enjoy all the beauty that brings in those crowds!
The following is my list of the most famous landmarks to see while visiting the park.
Yosemite National Park, California
Yosemite National Park is a nature lovers' playground!
It became a World Heritage Site in 1984. That is because it has diverse, natural beauty. You can view Half Dome, also known as the "undisputed king of the granite monoliths," or Yosemite Falls, one of the tallest waterfalls globally.
The best time to visit Yosemite National Park is between May and September. The temperatures are warmer and all roads are typically open. Do beware that some roads may still be closed the earlier you go due to the snowfall earlier in the season.
Also, be aware that since this park is highly trafficked, it can be very crowded in the late spring and summer months. As part of Central California, its temperatures can also reach the high 90s and even low 100s, particularly in August.
Yosemite Landmarks
If this is your first visit to this high sierra region, there are some landmarks that you won't want to miss. At the same time, not all of them will necessarily interest you; many will. But here are the most popular things to see while visiting Yosemite…
Half Dome
This granite dome has a sheer rock face that rises almost 5,000 above the Yosemite Valley.
It is one of those awe-inspiring natural wonders. People who stood at the stone monolith have described it as "utterly fantastic."
If you want to hike this monster, you can. It is a 14- to 16-mile day hike, depending on where you start. Most hikers take about 10 to 12 hours to complete it. It is a strenuous hike that requires you to hang on to/pull yourself up a cable on the final stretch up the rocky dome.
On the hike, you can take in incredible views of Liberty Cap, Vernal and Nevada Falls, Half Dome itself, and panoramic views of Yosemite Valley. It is a beautiful sight to see, but not for the faint of heart.
Here's an important note from an RV Lifestyle reader (Susie): To hike Half Dome when the cables are up (which is in summer), you need a permit, which is assigned by a lottery system. Check the NPS website for details.
Tuolumne Meadows
Talk about a tranquil location! Sitting at an elevation of 8,6000 feet above sea level, Toulumne Meadows features a gentle meadow set against the rugged mountains of the high sierra. Tuolumne River runs through the area.
There is a campground and many hikes available to those that want them. Take the easy trail of Lyell Canyon (via the John Muir Trail) or the more moderate hike to Gaylor Lakes.
Tuolumne Grove
About 25 miles away from Toulmone Meadows, you can walk among the giant sequoia trees in Tuolumne Grove. This 2.5-mile is rated easy and meanders over smooth, flat ground.
Here's a note about this from an RV Lifestyle reader (Susie): Tuolumne Grove is certainly an "easy" trail but it's definitely not flat! Beware that it starts at 6000′ elevation and goes downhill; the return up the hill is the hard part, especially if you aren't used to the altitude.
You can view a dozen mature giant sequoias, including one that you can walkthrough!
Yosemite Falls
If you like waterfalls, you will not want to miss Yosemite Falls. It is the tallest waterfall in the park, dropping a total of 2,425 feet when you count from the top of the fall to the base of the falls. It comprises three waterfalls in all, the Upper Yosemite Fall, middle cascades, and Lower Yosemite Fall.
Yosemite Falls is the 6th highest waterfall in the United States and has an average of 250 cubic feet of cascading water flow each second.
If you love waterfalls, there are two others that you might like as well. Bridalveil Fall and Vernal Fall are also considered parked favorites!
Tunnel View
Tunnel View is a magnificent viewpoint located on Route 41 in the park. After coming through a tunnel, you come out to the other side with an expansive view of many iconic features in the park.
Once you exit the tunnel, there is a parking lot on either side of the highway. If you park, you can get out and see many landmarks that might not be visible within the park. El Capitan, Half Dome, and Bridalveil Fall are just three of the landmarks you can see.
Tioga Pass
Tioga Pass opens up every year about the same time taxes are due, April 15. It is the eastern entry of Yosemite, with State Route 120 running through it.
This pass has many gorgeous views of the granite mountains and surrounding pine forests. The interesting thing about Tioga Pass is that it is the highest highway pass in Calfirnoai. Taking your RV along this route will leave you with a tremendous badge of honor!
And another important note from an RV Lifestyle reader (Susie): Tioga Road usually opens no earlier than late May, and sometimes as late as July. It depends on how much snow the area got the previous winter. Check the park website for plowing updates starting in April.
Mariposa Grove
If you are an arborist at heart, you will want to check out Mariposa Grove. Just like Tuolomne Grove, it is a grove of Giant Sequoia trees. It is the largest grove in the entire park!
These towering giants are among the 30 largest giant sequoias in the world.
Ahwahnee Hotel
If historic landmarks interest you, then visit this majestic Yosemite hotel! Built in the roaring '20s, this landmark building was meant to attract well-to-do travelers. Over the years, it has hosted Presidents, royalty, and other famous people.
The hotel sits on the Yosemite Valley floor and offers its guests decor that matches the park's natural setting. Even if you do not stay in the hotel, it is well worth a visit and a meal in its exquisitely decorated dining room.
Other Yosemite Landmarks That Might Interest You
The great thing about Yosemite is that there is so much to see and do. You and your traveling party will never be bored!
After hiking and sightseeing, you can grab a meal from one of the many gorgeous lodges.
Or, art lovers will want to visit the Ansel Adams Gallery to see some of his famous art from the park!
The following are a few more places that you might want to check out when in the park:
Taft Point
Mirror Lake
El Capitan Bridge
Tenaya Canyon
Cathedral Rocks
Washburn Point Overlook
Wawona Hotel
Yosemite Lodge
If you're taking your dog along for the ride, check out the 6 Best Dog Friendly Hikes Yosemite National Park.
What Are Your Favorite Yosemite Landmarks?
Please share your favorite Yosemite landmarks or those you hope to see someday! Scroll down to the comments below.
More Important Notes from our reader Susie
For this year 2022, the free shuttle buses are working again (they were closed during COVID). This allows you to park in one of the main lots and use the shuttle system to see the valley sites.
The best tip I can provide is the seasonal YARTS bus (https://yarts.com/). It's a regional bus system that covers transportation into the park from the gateway communities of Sonora, Merced, Fresno, and Mammoth Lakes (and closer gateway communities as well). The bus stops at many of the larger campgrounds that are just outside the park (such as the Thousand Trails Campground called "Yosemite Lakes" off Highway 120, as well as Yosemite Pines RV park in Groveland).
Bus fare includes admission to the park, and you're dropped off at the visitor center, where you can catch the local shuttles to the sites. The YARTS bus allows you to skip the parking hassles and includes admission to the park so it might even be a cheaper option than driving yourself.
Note that this summer is going to be particularly crowded, as some of the attractions are closed for multi-year renovations. Glacier Point Road is closed for at least 2022 (rumor is the closure might extend beyond that) and major construction on Tioga Road continues.
My advice is to visit the park in another season besides Summer; crowds are lighter and parking is much better. Right now the waterfalls are running and the crowds aren't bad. Autumn (in October) is stunning with lots of fall colors, while Spring features blooming dogwoods in the valley.
Also note that like other popular parks, the NPS might be continuing its "entrance by reservation only" system again this year. That means you'll need to plan ahead to visit the park by picking up a reservation using their online system. Reservations sell out quickly in summer (another reason to use the YARTS bus if you can't secure a reservation).
Thank you Susie!
Mike and Jennifer's Southern Utah RV Adventure Guide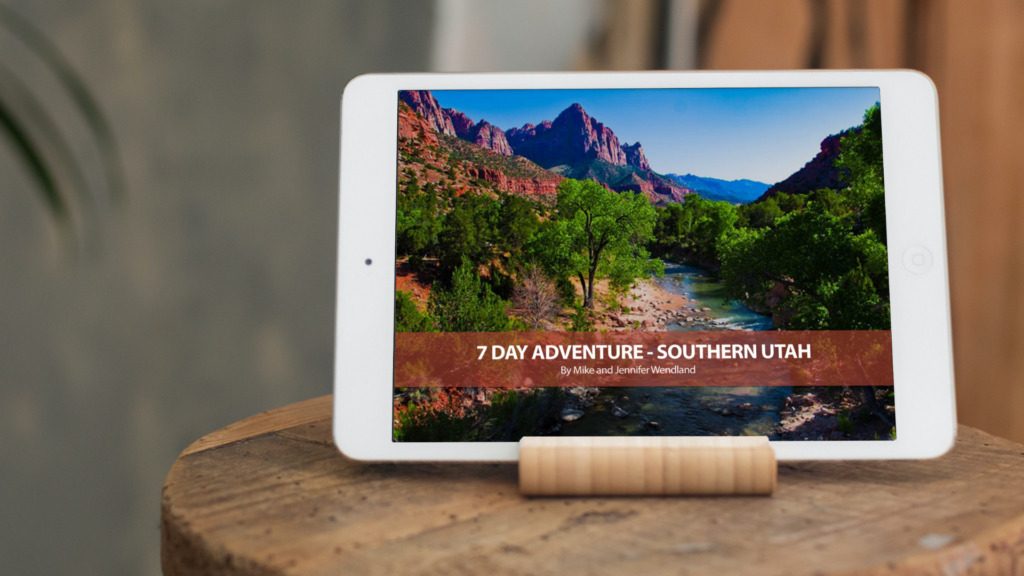 Utah, Utah, Utah. What more is there to be said? In very few places across the United States is there such a tremendous area with breathtaking vistas and diversity of terrain.
The sheer size of the National Parks, the canyons, the desert. Combined with the amount of history written in the red rocks that rise like towers jutting out of the ground and the delicate hoodoos washed away by erosion.
It is a place that, if you've never been, you need to go, at least once in your life.
This ebook is a seven day guided exploration of the State and National Parks in Southern Utah. We provide a suggested route and itinerary, links to multiple campgrounds and boondocking spots, and the best spots to see along the way. Don't plan your trip to Southern Utah without it!
You can hit everything in seven days, do a whirlwind weekend tour, or you can take your time and explore the area over a few weeks.
---