Who says you can't make pizza while camping? Or that you have to use bulky beach towels at the lake? This list of cool and fun RV camping accessories shows you what you didn't even realize you're missing while RVing…
Are you ready to make your camping experience a little more fun? And a little more comfortable?
There are many basics you need to take a long for your camping trip to be successful—things like a map, a lantern, a cooking device.
But what if you want to infuse a little more joy into these items and into your trip?
The following fun RV camping accessories aren't things you need. But that doesn't mean you don't want them! Some items really do serve a purpose, but all make your next trip a little more fun, playful, and comfortable.
Hey, if you buy something through my links, I might get a little something-something as a thank you. No extra cost to you, promise! Read our full affiliate disclosure here.
11 Fun RV Camping Accessories
The following 11 fun RV camping accessories range from a bit useful to a bit silly. But in a way, that describes the RV lifestyle, doesn't it?!
I wanted to add quite a few items to this list, so I've provided quick descriptions of each. You can click on the links for even more info.
First of all, I love pizza. Who doesn't? Oddly enough, I find myself missing it when we're out boondocking out of reach of a pizzeria. So this portable pizza oven caught my eye.
Obviously, it's not the most practical item to load into your limited space. But how fun would it be to make homemade pizzas on your next outing? You can pop it in the RV on special trips, like with the grandkids.
This portable gas pizza oven by CAPT'N COOK is an easy way to cook customized pizzas at your campsite. The best thing about this portable pizza oven is how well it cooks your pizza. This oven crisps up the crust well while cooking the toppings to perfection!
It even comes complete with a pizza cutter and peel.
This item falls under "cool" RV camping accessories, in both meanings of the word. It's one of those things that makes you wonder why you didn't buy it sooner.
It's simply a light for the interior of your cooler or ice chest… but it's so nifty!
This lightweight, plastic light attaches to the inside lid of your cooler. When you lift the lid, it lights up what's inside!
The light also turns off automatically when you lower the lid or turns off after 20 seconds of continuous use.
The cool thing is that these little lights are versatile. You can use it in a tackle or toolbox– anywhere you need a light.
These outdoor speaker lights are great for creating ambiance two times over with light and music. These outdoor speakers look like torch lights and can be used to outline your campsite.
They are versatile and can be hung as well. Just pair them with your phone and play your favorite music playlist to elevate your camping hang time.
Of course, always be sure to not use them too late or too loudly. We never want our fun RV camping accessories to become a nuisance to others and us to be deemed the bad camping neighbor.
Jennifer and I love having camping hats around to throw on if we do not feel like combing our hair. This camping hat features a humorous message that's perfect for morning walks with the dog or afternoons at the lake.
Who really cares about your hair anyway when there are sights to see and fun to be had?
These unique stainless steel sticks are another way to add fun and sweetness to your next campfire.
These sticks look like typical skewers, but they have a stainless steel cup at the end. Use this cup for cooking comfort foods right over the fire.
One popular way to use these sticks is to fill them with refrigerated biscuit dough. Cook the dough into campfire cups for chili or stew. Or fill them with fruit and whipped cream and make individual berry tarts over the fire!
It's one of our 10 Easy Campfire Snacks & Treats that we love. So, of course, we included them on our list of fun RV camping accessories.
You may already have some excellent camping chairs. But if you don't have these folding outdoor rocking chairs, you are missing out!
The GCI Outdoor Freestyle Rocker folds up like a standard camping chair. But it also has a specialized system that turns the legs into a rocking chair.
It also comes complete with a mesh backrest, drink holder, and a 250-pound weight capacity.
Track your American adventures with a brightly colored sticker map of the United States. Add a cool, colorful sticker to the map when you visit each state.
It's designed for indoor and outdoor use. So, you can attach your map to your rig's exterior to show off where you have been! It's fun for other drivers to see and is a conversation starter at your next campground. It's a great icebreaker to make friends while camping.
This four-pack of LED lights is a twist on typical camp lighting. They look like a typical light bulb but include some cool features.
For one, these lights come with a hook to attach them anywhere on your campsite. They also have different lighting modes for emergencies, including high, low, and strobe.
These lights are also made strong and durable to withstand normal camping conditions.
These are not your typical skewers! Gone are the days of wooden skewers or bulky, sharp metal skewers.
This set of six cooking forks has wide forks so that you can cook many different things over your campfire, from marshmallows to sausages.
They also collapse into a compact size so they won't take up precious space.
I like most about this set because each fork comes in a different fun color. Each member of your group can have a cooking fork that they are responsible for.
I know that many of us retire household towels to use in our RV. That results in mismatched towels in different prints and sizes. But this set can change that!
It features four large microfiber towels with different colored stitching for each family member. The towels are ultra-absorbent and can fold up to a very compact size.
The other cool thing about this set is that it comes with a compact carrying case that can fit nicely in a small cabinet. No more bulky beach towels taking up precious RV storage space!
I am not sure this inflatable lounger is great for us older folks. But what a fun thing to have when people visit us!
This lounger is inflatable and can be used outdoors to lay in the sun, read a book or take a nap. It's perfect for keeping you off the sand while lounging at the beach.
The nice thing is that it deflates to a compact size for easy storage and only weighs 2.6 pounds.
Mike and Jennifer's Southern Utah RV Adventure Guide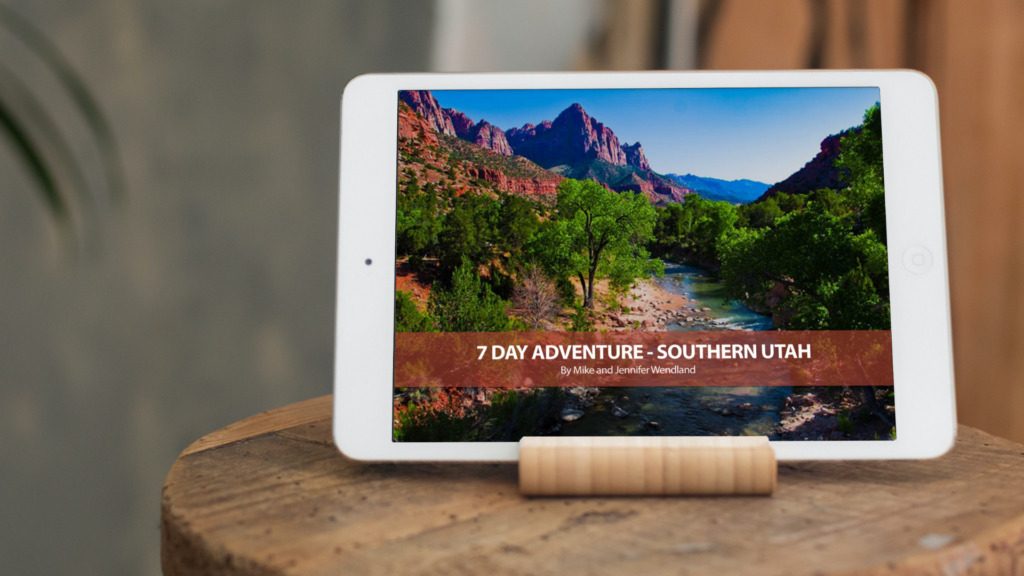 Utah, Utah, Utah. What more is there to be said? In very few places across the United States is there such a tremendous area with breathtaking vistas and diversity of terrain.
The sheer size of the National Parks, the canyons, the desert. Combined with the amount of history written in the red rocks that rise like towers jutting out of the ground and the delicate hoodoos washed away by erosion.
It is a place that, if you've never been, you need to go, at least once in your life.
This ebook is a seven day guided exploration of the State and National Parks in Southern Utah. We provide a suggested route and itinerary, links to multiple campgrounds and boondocking spots, and the best spots to see along the way. Don't plan your trip to Southern Utah without it!
You can hit everything in seven days, do a whirlwind weekend tour, or you can take your time and explore the area over a few weeks.
---