New technology advances have made telemedicine health care for the RV Lifestyle a great way to find peace of mind when far from your normal health care providers.
In Episode 428 of the RV Podcast, we explore a set of professional medical devices that, through the Internet, allow your regular healthcare professionals back home to do a remote physical exam on you just as if you were in the office.
These remarkable telemedicine healthcare tools are being used by major hospitals, clinics, and health practitioners across North America and take virtual care to a whole new level.
In the podcast this week, we interview an RVing couple from Canada who have the kit and have used it to provide realtime readouts of their medical condition through the high-tech tools that connect to the Internet.
To watch a video version of the complete podcast, which also includes RV News of the week and answers to questions about RV living, click the player below.
If you prefer an audio version, the RV Podcast is available on all the major podcast apps. Or listen now by clicking the player in the box below.
How the Tytocare Remote Exam Kit can provide telemedicine health care for the RV Lifestyle
As reported in NewTravelTech.com, remote and virtual telemedicine has seen a major surge in use and development since the COVID pandemic of 2020. A slew of medical apps and medical tools have been incorporated into smartphones and devices like the Apple Watch that can provide things like EKG measurements of your heart, blood pressure readings, blood oxygen levels, and more.
But with the development of something called the Tytocare Remote Exam Kit that includes a high-tech stethoscope to check your heart, lungs, and abdomen and an otoscope to check your ears, healthcare providers can do a virtual exam to diagnose your symptoms and come up with a treatment plan.
"It's just as if we were physically in the office with our doctor," said Jordan Cait, who, with wife Melissa, alerted us to this option for remote health care and were interviewed on the podcast.
The Caits showed us the kit, which they obtained from the Cleveland Clinic, where they have subscribed to an Express Care Online program that lets them see and speak with a health provider live, using a mobile phone, tablet, or computer, anytime they need an appointment for coughs, colds, minor pains, and other non-emergency concerns.
If you're traveling anyplace in the United States or Canada, you can be examined with telemedicine. It doesn't matter if you're in midtown New York, on a beach in Florida, at a ranch in Texas, or out in the middle of nowhere in Montana on a camping trip. You really can be anywhere.
All you need is a cell phone connection.
The TytoCare kit enables your healthcare provider to do a real-time medical examination, diagnose your ailments, and prescribe treatment or drugs based on the data returned by the kit.
The Caits describe the process in the podcast interview, noting how the healthcare provider on the other end directed them to use each device, guiding them to position it correctly to properly examine the heart, ears, and throat.
The use for the RVer is obvious. There's no need (unless there is a serious health emergency) to drive to a clinic or hospital. The equipment kit, available from participating healthcare providers and even Best Buy, typically costs about $229. Telemedicine consults cost $59.
"They were able to look in my hubby's ears and nose and listen to his chest after he had a bout of COVID," said Melissa. Thankfully, he was clear. But it made me realize how important these devices could be for people on the road. Truly amazing!"
Telemedicine services like this aren't for emergencies like a stroke, heart attack, or serious problem involving a chronic condition.
You can get more information on this service and see an FAQ about telemedicine in the article on our NewTravelTech.com sister blog in the article called Telemedicine for Travelers.
RV News of the week
During hard financial times data shows people keep on camping
We saw an interesting story last week, saying that during hard financial times, which the US certainly seems to be in with record inflation and other trials, people go camping.
The story says camping is an activity that permits people to vacation and feel a sense of normalcy at a lower cost. And with 11 million Americans already owning an RV, many can easily camp.
The story points out RV purchases tend to go down during a recession, but camping itself does not, and campgrounds typically see no significant dip in reservations.
13 bison killed after being struck by truck just outside Yellowstone National Park
Thirteen bison were killed after a truck struck them just outside Yellowstone National Park last week.
Some of the bison died immediately in the crash, others had to be put down because of the severity of their injuries. Park officials said bison often congregate on roads in the winter when there is a lot of snow because it is easier for them to walk.
Also, the large animals are difficult to see at night when this accident occurred because they are dark, and their eyes do not reflect light like deer.
The accident happened on US Hwy 191, just outside the Western entrance to the park.
California couple die in rockslide while driving in Yosemite National Park
A California couple died at Yosemite National Park last week after a rockslide struck their rented Dodge Ram truck while they were driving along El Portal Road.
The rocks fell from about 1,000 feet and pushed their vehicle off the road and into the embankment of the Merced River.
Officials estimated about 185 tons of rock fell during the accident. Geologists do not know what caused the rockslide and are investigating.
Texas State Parks celebrating 100 year birthday with many special events, including attempt to set world record in S'more making
Texas State Parks are celebrating their 100-year anniversary in 2023 with numerous special activities.
Each park holds events throughout the year. Some things planned include: Lessons on how to make the perfect campfire, a trail walk teaching how to find signs of wildlife like coyotes, and stargazing/identification on a dark night Texas night.
But the event that caught our eye was the state's attempt to break the world record for the most S'mores ever created at one moment in time. Every Texas state park will be participating and it is scheduled for May 13 – a Saturday.
Havasupai Tribe announces its popular campground and beautiful waterfall at the Grand Canyon will open to visitors again this February.
Good news for anyone heading to the Grand Canyon – the Havasupai HAVE-A-SU-PIE Tribe announced its tourism business will open again on Feb. 1, 2023.
The tribe owns a breathtakingly beautiful waterfall and canyon accessible from the Grand Canyon National Park's western rim area. Tourists need a permit from the tribe to visit the Havasu Falls and Supai Campground, which is about a 10-mile hike down.
The tribe closed its land to visitors in March 2020 because of COVID. Then in October 2022, severe flooding struck the tribe's land washing away bridges and other key things needed for visitors.
Getting to the waterfalls and campground requires some physical strength. The tribe advises visitors to plan four hours to hike down into the canyon and six hours to get back up.
RV Lifestyle Community Comments
Attempted Catalytic Converter Theft
This comment came in from Tim:
Yesterday I got to South Haven and after 2+ hours clearing the drive of snow, I started my 2021 Tiffin Wayfarer Class C RV to get it ready for our trip to Venice, FL next week.
The check engine light came on. It sounded a little rough when I started it up and didn't seem to have full power. Today I took it to my MB dealer in Kalamazoo to find that someone had cut out my emissions chamber with a sawzall. They also took part of my exhaust pipe.
Fortunately they didn't get my catalytic converter. The dealer got me fixed up and I filed a police report and an insurance claim.
This theft made me feel violated. I have motion lights and a camera on my van that was in my driveway but I didn't see anyone around my van. The camera does pick up deer walking in the drive. Just thought I would let you know. I know this is happening a lot these days.
I will store my RV in a gated storage facility when we return from Florida. Bummer.
Fulltime RVing vs. Living in a House – Big Debate!
There was a very active discussion last week on our RV Lifestyle Facebook Group about fulltime RVing as compared to living in a house.
It started with this comment from Craig:
A few things most RVers don't understand, especially if you want to be a full-timer.
#1 A RV is just that, a recreational vehicle, it's not made for full time.
#2 Within 5 to 7 years things will start to go south, especially if traveling.
#3 If you are stationary tires become flat spotted or rotted, refrigerators, water heaters, stoves, water lines and pumps fail. Plastic cracks, walls bow, roofs deteriorate, and floors become soft.
#4 I know I will catch flack for this but I see a lot of people who think full time RVing is the way to go. Just remember it can become very costly in a short period of time.
#5 That being said, RVing can be wonderful. I've owned everything from tent trailers, cab overs, travel trailers to 5th wheels for 40 years. I try to upgrade every 5 years. After several costly repairs you will understand why.
As Craig predicted, he got a lot of pushback on this. There were over 200 comments on his post in just a few hours.
Many like this one from Chris:
Going on 4 yrs full time in mine.
ANYTHING we do in life is a compromise. This is no different. The trade off for us is the over a thousand a month in rent alone we're NOT paying. If my hose freezes then so be it.. I refuse to pay 1600 per month rent for a sticks and bricks house I don't own.
We're off to the pacific coast the end of the month for a spontaneous trip. Since we don't pay all our money to landlords we can afford to LIVE!
That's the trade-off.
Donna's comment to Craig echoed many:
If you buy a quality RV it is made for full time living.
I have not had to make any expensive repairs or upkeep in 11 years except for buying 4 tires. Having an RV is exactly like owning a home, things break in your home, and things break in an RV.
You have not experienced owning a quality built RV, otherwise you could not make that comment. My RV is also well insulated weather wise and I can easily keep it warm to minus 10, and keep it very comfortable in 90 degree heat in NM.
When all the comments were in, the consensus seemed to be that buying a quality RV in the first place and keeping it well-maintained greatly lowers the chances for all the problems Craig mentioned.
Your Turn: What do you think?
We love getting your comments and questions. Use the field at the end of this post to share what's on your mind.
Get the Home Study Course today and worry about the road, not the repairs!
Every time you move your RV it's like driving through a hurricane during an earthquake. Parts break and many items need to be maintained, this program will show you how you can save time and money by gaining the confidence to take on the majority of the issues you'll come across. Don't get caught with your RV in the shop! Learn how you can maintain and repair your RV at your own pace and at the most convenient time for you! This course is produced by the National RV Training Academy.
RV Lifestyle Favorite Amazon Quick Links
We use affiliate links and may receive a small commission on purchases at no added cost to you. Thank you for your support. You can read our full affiliate disclosure here.
Mike and Jennifer's Southern Utah RV Adventure Guide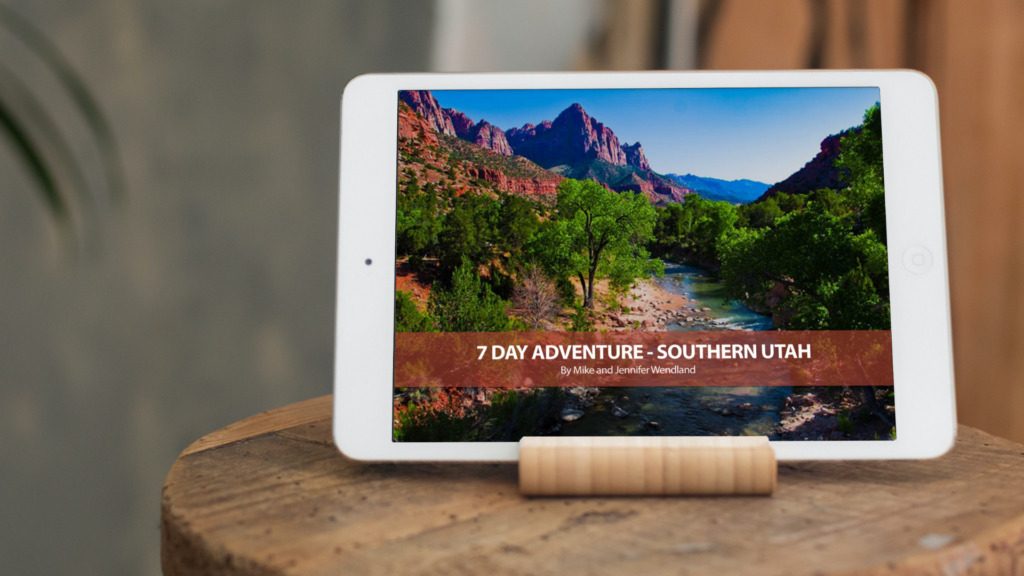 Utah, Utah, Utah. What more is there to be said? In very few places across the United States is there such a tremendous area with breathtaking vistas and diversity of terrain.
The sheer size of the National Parks, the canyons, the desert. Combined with the amount of history written in the red rocks that rise like towers jutting out of the ground and the delicate hoodoos washed away by erosion.
It is a place that, if you've never been, you need to go, at least once in your life.
This ebook is a seven day guided exploration of the State and National Parks in Southern Utah. We provide a suggested route and itinerary, links to multiple campgrounds and boondocking spots, and the best spots to see along the way. Don't plan your trip to Southern Utah without it!
You can hit everything in seven days, do a whirlwind weekend tour, or you can take your time and explore the area over a few weeks.
---