Don't learn the hard way! You should always check the RV VIN before buying a used RV. Here's why..
Is that used RV you have your eye on safe to drive and legal to own?
You may think that you are doing everything right, like checking Carfax. But some used RV retailers are selling unsafe RVs to unsuspecting people.
There is good news, though! There are legitimate ways to check out used RVs before purchasing them.
Keep reading to safeguard yourself from a bad purchase.
A Real RVer Who Learned the Hard Way
One of RV Lifestyle Facebook followers, Christine, shared a horror story recently. She bought a 2011 Tiffin and thought everything was fine since the Carfax said the vehicle's VIN was clear. Little did she know that it was not fine, and she ended up with a $57,000 loss!
Here is her story:
In March 2019, she and her husband purchased a 2011 Tiffin Allergo Bus from a company called Northern Kentucky Auto Sales. It took about nine months for them to get the title to the vehicle, which occurred right before their leaving to go to Florida for the winter.
The title was issued in Pennsylvania, even though the RV was originally purchased by the sales company in Texas. The couple went through several legal processes to secure the title, and Indiana would not title the vehicle. The Indiana Attorney General denied the titling.
Why would they deny it, you ask?
Apparently, the RV was sold at a Texas auction in Texas and was only supposed to be used for parts!
This was particularly upsetting to the couple because despite the rig being unsafe to drive, the couple had been driving it all over Alabama. They had already put 15,000 miles on the rig!
Once the couple discovered that it was not allowed to be driven, they stored it in Florida and hired an Indiana attorney to get their money back. They wanted what they paid and to give the RV back to the seller.
In the end, the dealership took the rig back but only paid a portion of what it was sold for. Overall, the couple lost $57,000 in the deal and learned some important life lessons.
Christine shared this on social media to warn other people from doing the same thing.
Do not find yourself in the same predicament. The following are ways to ensure that you are buying an RV with a clear title and one that is safe to drive.
How to Check the RV VIN on a Used Rig
Buying a used RV can be much more affordable than a new RV, but it is riskier. It's difficult to really know what you're getting unless you know how to vet it properly.
So, here's what you need to know about checking the VIN on an RV.
What is a VIN and How to Find it on Your RV?
A VIN (Vehicle Identification Number) is a unique 17-digit number that every road vehicle made after 1977 has. The VIN number usually comes as a mix of letters and numbers and can be found somewhere on the vehicle.
The VIN may be located on a sticker or as an engraving on the vehicle's metal.
VINs are assigned to every road vehicle, such as cars, RVs, trailers fifth wheels, and any others you can think of. The vehicle sold is recorded on the title associated with that VIN number.
Locating a VIN isn't always easy, but it's typically found in one of two locationss…
Many vehicles have the VIN located inside the driver's side door and can only be seen when the door is ajar.
Many RV VINs are located on the lower-left-hand corner of the dashboard, in front of the steering wheel. You can look at the number through the windshield on the driver's side of the vehicle.
If you do not find the VIN in those two spots, you can also try looking in front of the engine block or on the tongue of the trailer.
You can also consult the owner's manual if it is available.
Google "Free VIN Decoder"
Good ol' Google is a great place to start. There are multiple free resources to look up VIN numbers you can choose from.
Simply google "free VIN decoder" or "free VIN lookup" and a list of free resources will populate. You can get an instant report that usually outlines the manufacturer, brand, make and model, body style, engine size assembly plant, and model year.
This information allows you to double check that the VIN matches the vehicle you're looking at buying. Some also provide a full vehicle history report.
In fact, that's what Christine did when her title was denied. When she googled the VIN, she found out about the Texas auction sale.
Check the RV VIN at the DMV
Another way to check the VIN is to go directly to the DMV. The DMV can often run the number for you to let you know if the vehicle is legally open for purchase.
Finally, you can use a free online VIN check. You input the VIN number, and the site will return a history report to you.
Get an RV Inspection Before You Buy
Like what you see in these videos? We'd appreciate it if you would Subscribe to our YouTube Channel (easy to do right here) and consider "ringing the bell icon" to be notified of any new video from us. 🙂 Thanks!
We also strongly suggest you get an RV inspection before you buy a used RV. In the above video, we are joined by the NRVIA Director of Administration Stephanie Henson to get the details on the hows and whys of RV inspections and what it takes to get an RV inspector involved.
Should You Trust Carfax?
While Carfax offers a great service, it should only be used as a starting point in your search for a reliable used vehicle. The downside to Carfax is that it only contains information that was reported. A vehicle with a clean Carfax report does not mean it is truly safe and can be properly titled.
There is nothing wrong with using Carfax. Just make sure it is not your only source of information in a used vehicle purchase.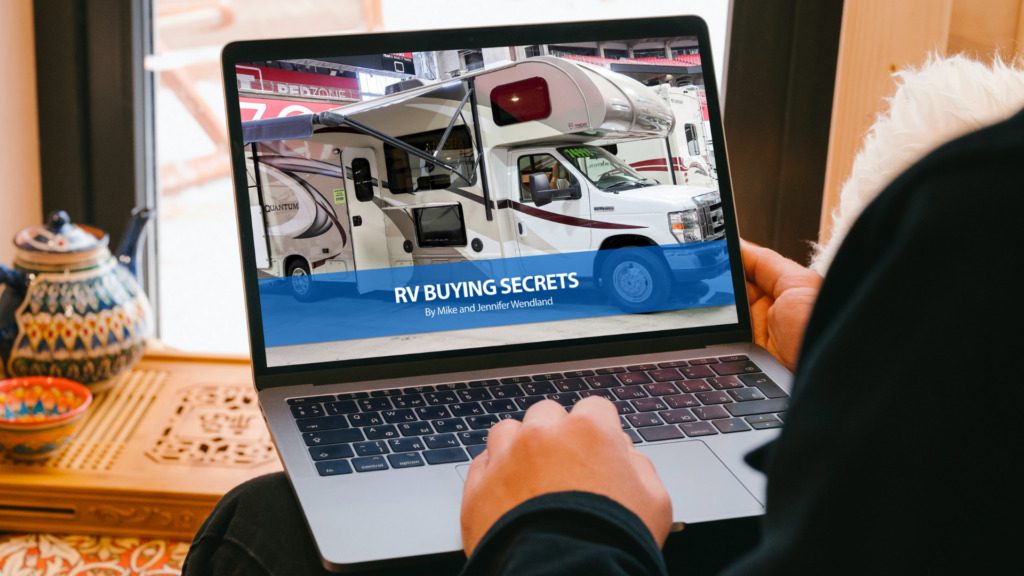 Next to your home, an RV is most likely the 2nd most expensive thing you'll ever purchase.
We get questions every day of other RVers wondering. "How do you buy a new or used RV?"
So we created a 75+-page downloadable digital guide to help you understand the nuances that come with purchasing an RV, where you can save thousands of dollars in the buying process, what the right questions are to ask dealers, what things to look out for, how to select the right unit, amenities, warranties, and so much more!
We created this guide to help you understand the nuances that come with purchasing an RV including:
Where to save thousands of dollars in the buying process
What questions to ask dealers
How to select the right unit
How to narrow down RV amenities
Understanding your warranty and what it covers
This ebook is designed to help make your purchase process as smooth as possible. And to teach you step-by-step exactly what to do so you can start your RV Lifestyle today!
---
---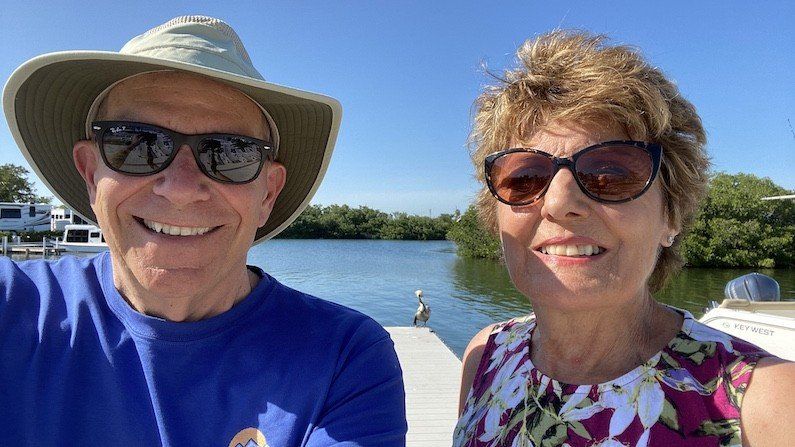 Curious about the gear, gadgets, accessories, and RV products Mike & Jennifer use and recommend?
On this RV Lifestyle Travel blog, our RV Podcast and our RV Lifestyle YouTube Channel, we mention all sorts of RV-related products and gear that we use, So we created a special page that links to them. We update this all the time.  CLICK HERE to go to it directly. Have you caught one of our Amazon LIVE events yet? Just go here and Follow us – to be notified every time we go live.
---
RV Lifestyle officially recommends The Dyrt
You can book campgrounds for tents, RVs, cabins, and glamping, or find free camping. The Dyrt has it all. And in case you didn't know, The Dyrt is the #1 camping app and website in the US, with over 8 million campsites, reviews, and tips — submitted by campers, for campers. And The Dyrt PRO version makes every camping trip easier. With offline map backups, offline search, exclusive discounts, and trip planning tools, PRO can improve any stage of camping.
The Dyrt app lets users with basic accounts search for camping and save favorites, completely for free. The Dyrt PRO is an upgrade that makes it easier to go camping. Try PRO for free today.
Use the code RVlifestyle for your 30-day free trial!