There is no shortage of attractions in Michigan's Upper Peninsula no matter what time of year you visit. Here are our seven favorites.
Luckily for Jennifer and me, the Upper Peninsula (more commonly known as the U.P.) has been right in our backyard because we live just a couple hundred miles south in the lower peninsula. That has made for endless getaways over the years, and we are very excited to share some of our favorite stops right here.
But first, How to get to the U.P.:
If you're coming from the west, find U.S. 2 in Wisconsin and just keep driving east.
From the south, cross from Michigan's Lower Peninsula on I-75 and the five-mile-long Mackinac Bridge.
Pretty simple. If you drive into one of the world's largest bodies of freshwater or see a sign that reads "Welcome to Canada," you've gone too far.
Our Favorite Attractions in Michigan's Upper Peninsula — Mackinac Island
Downtown St. Ignace (near the foot of the northern side of the Mackinac Bridge) and the surrounding area have plenty to offer, but you have to set aside a day to check out Mackinac Island.
The island is located four miles across Lake Huron, and you have to take a ferry to get there. In the winter, when the ice freezes and the ferry boats stop running, you can fly over from the St. Ignace Airport.
Although the big hotels, fudge shops, and restaurants close up in the winter, there is always one restaurant and one lodge or place to stay for visitors. In the winter, snowmobiles are the preferred form of transport.
Taking your RV to Mackinac Island isn't an option, as all of Mackinac Island is a state park and does not allow motor vehicles of any sort (mostly).
The island is 8.2 miles around. Renting a bicycle and circling the island is always at the top of our activity list. Stop at British Landing, the halfway point, and go to the little store located there. Try the fried pickles. Delicious!
Also, check out the Grand Hotel on the island, which boasts the world's longest front porch. The Grand, is known as "America's Summer Place" and one of the most luxurious hotels in the world.
And before you catch the ferry for the trip back to St. Ignace, browse the tourist shops that line the main street and buy some world-famous Mackinac Island Fudge.
This is a great day trip. Other exciting parts of the island include:
Our Favorite Attractions in Michigan's Upper Peninsula — Soo Locks
When in Sault Ste. Marie, go to the Soo Locks. At the Soo Locks, you can watch the freighters, barges, and tugboats as they navigate the 21-foot drop between Lake Superior and Lake Huron. There's an interesting Visitors Center there that explains the history of the area and the significance of the locks, as well as the Soo Locks Park, which has live music in the summer.
If you're traveling with kids, the Visitor's Center has a scavenger hunt called Locks Quest, challenging kids and adults to find the answer to 26 questions by exploring the beautiful grounds and informative visitor's center at the Soo Locks.
It's one thing to watch the boats go by right on the water. It's another to watch from 210 feet in the area at the top of the Tower of History. From the top, you'll see a 360-degree, panoramic view of about 1,200 square miles, including the Soo Locks, the St. Mary's River, and the Canadian wilderness.
Don't feel like standing around waiting for a boat to arrive? Check out the website https://ais.boatnerd.com/ to track boats on the Great Lakes while you grab a great cup of coffee, meal, or dessert at Penny's Kitchen.
You can also travel through the locks on a boat tour. Several companies offer tours of the locks, the local lighthouse, and dinner cruises.
Our Favorite Attractions in Michigan's Upper Peninsula — Tahquamenon Falls
Our favorite thing to do at Tahquamenon Falls is exploring all of the trails. If you're there when there's no snow on the ground there are tons of accessible hiking trails, if you come in the winter, then you can snowshoe or cross-country ski on the trails.
The River Trail that follows from the Upper to Lower Falls is about four miles (be sure to ask if the water is high and blocking any part of the trail unless you don't mind wet shoes/boots and pants!).
The two links below show a more up-close view of the Lower and Upper Falls day use areas and all of the smaller trails available there.
Lower Falls Day Use Area Map: Click Here
Upper Falls Day Use Area Map: Click Here
Our Favorite Attractions in Michigan's Upper Peninsula — Pasties in Munising
While you're in Munising, be sure to eat a pasty from Muldoons, a fun little shop just west of downtown easily recognizable by the statue of Bigfoot out front.
Pasties are a U.P. tradition, a sort of meat and vegetable pie (beef or chicken), originally brought to the area by the working class that filled the region's once-thriving iron and copper mines.
The Yoopers are divided about whether anything other than ketchup should be applied to them, though the "trolls" (the people who live "below the (Mackinac) bridge), "cheeseheads" (those from Wisconsin), and even "flatlanders" (those from Illinois), often opt for a thick gravy. Muldoons will fix 'em how you like 'em with no judging.
If you head to Muldoons you might wonder, what's with the Bigfoot statue there? As well as the Bigfoot infatuation you'll see throughout Munising? Well, it's a long story and part if a video I did not too long ago on U.P. Mysteries, Myths, and Monsters. Click this link to watch it.
Once your belly is full, you'll be ready to check out Pictured Rocks National Lakeshore and many of the area's waterfalls.
Our Favorite Attractions in Michigan's Upper Peninsula — Porcupine Mountains
The Wilderness Visitor Center should be your first stop in the Porkies. It's located along the South Boundary Road, three miles west of Silver City on M-107.
Address: 33303 Headquarters Rd, Ontonagon, MI 49953
Here, you can check on trail conditions, register for backpacking, get directions to scenic sites, check wildlife sightings, note the interpretive activities and guided hikes schedule, and more.
The center has an exhibit hall featuring natural communities of the mountains and native wildlife species, including fisher, goshawk, gray wolf, porcupine, peregrine falcon, bear, and beaver. The exhibit hall also displays the history of the Porcupine Mountains, from prehistoric copper miners to the lumber camps of the early 1900s.
Just outside the Visitor Center is an easy and enjoyable self-guided nature trail. This mile-long loop takes about 45 minutes and highlights the wildlife and other natural features of the northwoods.
The Visitor Center is open from mid-May through mid-October.
The Visitor Center also has a convenient newsletter, and of course, you can pick one up in person.
In the newsletter, there are detailed trail maps, overviews of scenic areas, event guides, and much more.
Our Favorite Attractions in Michigan's Upper Peninsula — Fayette Historic State Park
Fayette Historic State Park has three miles of shoreline and 90′ Dolomite limestone cliffs that look over the townsite and harbor.
Here is a video we did a few years back that shows parts of Fayette.
Like what you see in these videos? We'd appreciate it if you would Subscribe to our YouTube Channel (easy to do right here) and consider "ringing the bell icon" to be notified of any new video from us. 🙂 Thanks!
It's about a four-hour drive to the Fayette Historic State Park from the Porkies.
Fayette Historic State Park encompasses 711 acres and houses a historic town site that was once the bustling industrial community of Fayette (1867-1891). Now it's a ghost town of sorts.
During 24 years of operation, nearly 500 residents lived in or near Fayette, and the towering iron smelting furnaces produced more than 229,000 tons of pig iron.
Experience life as it was back in the 1800s by walking through the historic townsite. The state has restored many of the mid-19th century buildings. Today, it's a reminder that nothing lasts forever.
Throughout the park, there are also more than 5 miles of hiking/biking trails that Bo greatly enjoys!
Our Favorite Attractions in Michigan's Upper Peninsula — Kitch-iti-kipi: The Big Spring
About a 40-minute drive north from Fayette Historic State Park, located in Palms Book State Park, be sure to visit Michigan's largest and most alluring natural attraction The Big Spring, "Kitch-iti-kipi", a 40-foot deep crystal clear spring that can be viewed from a self-operated observation raft year-round.
There is no camping here, but it's a must-see any time you are in the area, no matter how many times you have seen it. Two hundred feet across, the 40-foot-deep Kitch-iti-kipi is Michigan's largest freshwater spring. Over 10,000 gallons a minute gush from fissures in the underlying limestone. The flow continues throughout the year at a constant 45 degrees Fahrenheit.
One of the last times I was there, frost was still on the ground as we arrived, and the water was as flat as glass, perfectly mirroring the towering cedars as oaks that line its back.
Jennifer, Bo, and I were the only ones to get on the self-piloting raft that takes you slowly across the spring, allowing you to look down in the crystal clear water. Huge lake trout circled below us as the bubbling spring created ever-changing shapes and forms.
That's seven. But there are SO MANY MORE! That's why we wrote the following ebooks!
Whenever someone asks us, "Where is one of your favorite places in the US for RVing?" Our answer is unquestionably, in unison, "The UP of Michigan." The "UP" means Upper Peninsula, of course.
That's why we decided to write our first "7 Stop RV Adventure" to help you explore Michigan's Upper Peninsula.
This ebook is a seven-stop guided exploration of the Michigan UP. We provide a suggested route and itinerary, links to multiple campgrounds and boondocking spots, and the best spots to see along the way. Don't plan your trip to the Upper Peninsula without it!
---
It's an instant download. Enjoy!
Finally! Mike and Jennifer's Michigan Bundle
(Michigan's Lower Peninsula AND Michigan's Upper Peninsula)
This Michigan Bundle contains our ever-popular Guide to the Upper Peninsula PLUS our newest Guide on the LOWER Peninsula! Here's a little on both ebooks (not a printed book):
Michigan's Upper Peninsula Adventure Guide: This ebook is a seven stop guided exploration of the Michigan UP. We provide a suggested route and itinerary, links to multiple campgrounds and boondocking spots, and the best spots to see along the way. Don't plan your trip to the Upper Peninsula without it!
Michigan's Lower Peninsula Adventure Guide: This guide explores the Lower Peninsula, also known as 'the Mitten." You can easily spot its mitten shape on the map. Most of this guide follows the coast of Lake Huron and Lake Michigan, with a little bit of Lake Erie down near Detroit.
You are in for a HUGE adventure with this ebook bundle of the best of Michigan for RVers!
---
---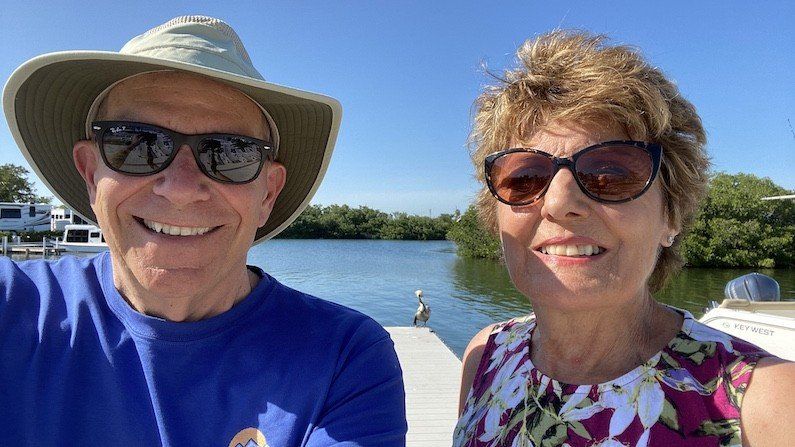 Curious about the gear, gadgets, accessories, and RV products Mike & Jennifer use and recommend?
On this RV Lifestyle Travel blog, our RV Podcast and our RV Lifestyle YouTube Channel, we mention all sorts of RV-related products and gear that we use, So we created a special page that links to them. We update this all the time.  CLICK HERE to go to it directly. Have you caught one of our Amazon LIVE events yet? Just go here and Follow us – to be notified every time we go live.
---
Comments are closed.