What is a 4 Season RV? Is it just a marketing term and when do you really need one? Here are those answers and more…
As the name suggests, a 4 season RV is built to withstand all weather conditions, from extreme heat to freezing temperatures.
But does a 4 season RV really exist? Do you really need one?
We're going to answer those questions and more in this article. We'll discuss what's classified as a 4 season RV and what RVers may need one. And we've included a short list of brands that say they manufacture 4 season RVs…
Hey, if you buy something through my links, I might get a little something-something as a thank you. No extra cost to you, promise! Read our full affiliate disclosure here.
What Is a 4 Season RV?
The most important thing to understand is that "4 Season RV" is a marketing term. It is not an official standard, meaning what one manufacturer considers 4 season can be very different than another's.
However, the concept is the same. A "4 Season RV" or "4 Season Travel Trailer" is meant to be comfortably enjoyed in extreme heat and freezing temperatures with minimal work on your end.
Be Careful of "4 Season RV" Marketing
The problem of it being a marketing term arises when defining "comfort" and what qualifies as "extreme heat and freezing temps."
For instance, staying comfortable in barely freezing temperatures to below zero temperatures are very different standards.
So, when looking at a four season RV, be sure to ask specific questions about its special features. Here are the main systems and features you need to ask about…
What Special Features Does a 4 Season RV Have?
Depending on your camping lifestyle, you may not need all of the following features in a 4 Season RV. However, you need to know which features are actually included in any 4 season RV you consider buying.
Be sure to list these features and notate whether or not different RVs you're considering have them. A spreadsheet would help organize an apples-to-apples comparison chart. List the models of four-season RVs on the left, and features across the top. Check off or notate specific features for each category.
Some of the features you may find in a 4-season RV include:
High R-Value: Extra insulation in the walls, roof, and floor to help maintain a consistent indoor temperature.
Dual-Pane Windows: Dual-pane windows provide better insulation and are more resistant to condensation build-up.
Heated Basement Compartments: Helps prevent the water tanks and other plumbing components from freezing.
Battery Protection: Additional insulation or heating elements to protect the batteries from extreme temperatures.
High BTU HVAC: Larger and more powerful air conditioning units and furnaces to handle extreme temperatures.
Plumbing and Holding Tank Protection: Special housing, placement, or heating elements to protect from freezing.
Heated Water Hose: Built-in heated water hose that ensures access to water even in freezing temperatures and prevents frozen or busted hoses.
Cozier Floor Plans: Special layout to limit exposure to outside temperatures and special design features to make it cozier.
Do I Need a 4 Season RV?
While a 4 season RV can offer more comfort and convenience in extreme weather conditions, whether you need one depends on your travel plans and personal preferences. If you plan to frequently use your RV in areas with hot summers or cold winters, a 4 season RV can provide added peace of mind and comfort.
For instance, a 4 season RV may be ideal for RVers who love winter camping and winter activities like skiing and snowmobiling. Or, on the other hand, for RVers who bask in the sun in places like Arizona or Southern Texas.
However, remember that not all 4 season RVs are created equal. It's essential to research and ask specific questions about the features and capabilities of the RV you are considering to ensure it meets your needs.
Some 4 season RVs may be better suited for extreme heat, while others are better suited for extreme cold. So, do your research!
When Do I NOT Need a 4 Season RV?
If you only occasionally camp in extreme cold and heat, a 4 season RV probably isn't worth the investment. You may be better off temporarily modifying your RV and camping setup for those rare trips.
We personally love winter RV camping, and we don't even have a 4 season RV. We've just learned how to adapt our RV and ourselves to the cold, as you can see in this video…
Like what you see in these videos? We'd appreciate it if you would Subscribe to our YouTube Channel (easy to do right here) and consider "ringing the bell icon" to be notified of any new video from us. 🙂 Thanks!
That said, we aren't camping in extreme cold all winter. So, we manage just fine on the few snowy camp-outs we make every year.
We do have many resources to help you successfully camp in extreme temperatures. Here is a sampling of helpful resources you can find on our blog.
Brands that say they have 4 Season RVs
These are the brands that currently say they have 4 season RVs. Do your due diligence according to our guidelines above. But you could certainly start with these. And always ask your questions in our Facebook Group about what other people have experienced with these brands.
Resources for Camping in Extreme Cold:
Resources for Staying Cool in Extreme Heat:
Check Out Our Ebooks on Seasonal Destinations!
For more than a decade, we have been RVing around the country, exploring seasonal destinations and creating itineraries to help our fellow RVers make the most of their adventures.
These destinations include snowbird favorites, like Arizona and Florida, as well as 4-season destinations, like Maine and Michigan.
You can look at the full list here…
---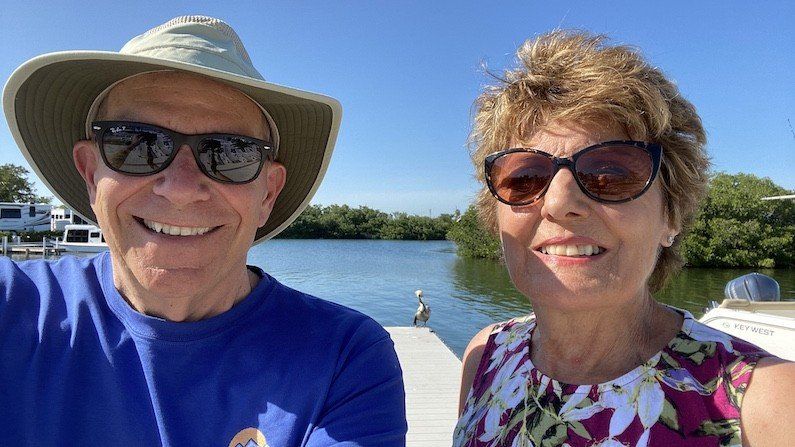 Curious about the gear, gadgets, accessories, and RV products Mike & Jennifer use and recommend?
On this RV Lifestyle Travel blog, our RV Podcast and our RV Lifestyle YouTube Channel, we mention all sorts of RV-related products and gear that we use, So we created a special page that links to them. We update this all the time.  CLICK HERE to go to it directly. Have you caught one of our Amazon LIVE events yet? Just go here and Follow us – to be notified every time we go live.
---