Keep warm on chilly days and cold camping nights with one of the best heated camping chairs…
Whether you're going winter camping or you get chilled while camping year-round, the following heated camping chairs will make all the difference. They'll keep you warm and comfortable outdoors while helping to relax your muscles after a day of adventuring.
We've carefully selected a variety of the best heated camping chairs for different preferences. We've got heated reclining chairs, rocking chairs, double chairs, and more.
That way, you can find the best heated camp chair for you on this list. We even include an option for staying warm while sitting at your picnic table.
Hey, if you buy something through my links, I might get a little something-something as a thank you. No extra cost to you, promise! Read our full affiliate disclosure here.
7 Best Heated Camping Chairs
As big fans of winter camping, we understand why campers have different camp chairs for cold seasons. Although, we know campers (especially women) who use heated camping chairs all year long.
We get the appeal! Even during the summer, it can get chilly after the sun goes down, and a toasty chair is like a warm hug. No need to sit so close to the smoky campfire!
1. The Hot Seat (Heated Seat)
The Hot Seat by POP Design is a portable camping chair that can warm the seat of the chair to 110 degrees Fahrenheit. The chair is compatible with any battery pack with USB port (not included) and can provide hours of heat.
It has high-density foam padding and extra-large armrests to prevent back fatigue. The chair has three reclining positions, allowing you to adjust it to your preferred lounging position. It can support up to 300 lbs.
It is easy to fold and unfold with a quick-release lock and weighs 11 lbs. The chair includes an extra-large shoulder carry case for convenient packing.
2. REALEAD Heated Camping Chair (Heated Back & Seat)
The REALEAD heated camping chair is a great option for bigger guys and gals. It supports 400 lbs and is fully padded.
It has dual heating zones on the back and seat with 3 adjustable heat levels (122°F/ 113°F/ 104°F). It's compatible with any USB portable charger (not included) for hours of warmth.
The hard alloy steel is strong and durable, but the chair only weighs 12.5 lbs. It comes with a closing strap and carrying bag.
3. Sunnyfeel Oversized Heated Rocking Chair (Heated Seat)
The Sunnyfeel heated rocking chair is fully padded with a comfy cushioned armrest. Its high back and smooth-rocking design provides even more support and comfort.
It can also support heavier guys and gals up to 500 lbs. Though it has the highest weight capacity on our list, it's only 11 lbs, which is 1.5 lbs lighter than the REALEAD. However, the REALEAD has dual heating zones, and this one only heats the seat cushion.
The seat heats up to 110 degrees Fahrenheit. Like the others, this heated folding chair requires a USB battery pack (not included).
4. Sunnyfeel Heated Double Camping Chair (Heated Seat)
Do you want to cozy up next to your loved one? The Sunnyfeel heated double camping chair comfortably fits 2 adults up to 300 lbs. A small dog can fit in between, too.
Two adults can share a blanket while enjoying the heated seats that go up to 110 degrees Fahrenheit. Like the others, it plugs into a USB battery pack (not included).
The durable frame folds down compactly and fits into a carry bag with a shoulder strap. It only weighs 18 lbs, which is lighter than carrying two separate chairs.
5. Docusvect Heated Camping Chair (Heated Back & Seat)
The Docusvect heated camping chair has heating elements in the back and seat. The highest heat level of its three levels is warmer than most heated camping chairs (131°F/ 113°F/ 104°F). Runs off any USB battery pack (not included).
This portable chair is fully padded and comes with a cup holder, two side pockets, and a large back pocket to store the included carrying bag or large items. Its maximum weight capacity is 300 lbs.
It's one of the most lightweight chairs on the list at only 9.8 lbs. Plus, it has a double strap on the large travel bag to make carrying even more comfortable.
6. Gobi Terrain Heated Camping Chair (Heated Back & Seat)
The Gobi Heat Terrain camping chair has two heat zones with 3 different heat settings. This is the only chair on our list that INCLUDES THE BATTERY.
The included rechargeable lithium polymer battery has up to 9 hours of battery life.
The chair is only 11 lbs and comes with a carrying case. Its sturdy frame can support up to 325 lbs.
7. Hoperan Heated Stadium Seat for Picnic Table (Heated Back & Seat)
The Hoperan heated stadium seat is designed for sports events. However, it's perfect for playing games or eating delicious camping meals at the picnic table during cold weather.
The double-heated seat can be heated to a toasty maximum of 130 °F. The 3 adjustable heat settings are controlled by an attached remote control. Requires any USB portable battery pack (not included).
The seat has 6 adjustable tilt angles and large padded armrests. Plus, it has 6 pockets, including a big pocket on the back. The carrying case can be worn like a backpack.
Looking for a Regular Camping Chair?
Like what you see in these videos? We'd appreciate it if you would Subscribe to our YouTube Channel (easy to do right here) and consider "ringing the bell icon" to be notified of any new video from us. 🙂 Thanks!
Do you also need a regular camping chair for the summer months? Be sure to check out our lists of the 7 Best Camping Chairs for Big Guys and Gals and 5 Best Camping Chairs for Your RV.
Camping Comfort Food for Chilly Nights
Comfort food warms the soul and the tummy! If you're camping this winter, try the following delicious comfort food recipes from our sister site, CampingFoodRecipes.com:
Explore Arizona with our RV Adventure Guide
We start our Arizona adventure guide at the South Rim of the Grand Canyon, then move west in a slow semi-circle to hit all of the highlights, including Sedona, Lake Havasu, Quartzsite, Kofa National Wildlife Refuge, Apache Junction, and Saguaro National Forest.
Throughout this guide, we explore incredible rocky vistas, historical and mystical sites, inspiring scenic byways, charming Southwest towns, national and state parks galore with wonderful wildlife. No matter what your interests are, you are sure to find something to awe and inspire you in Arizona.
---
---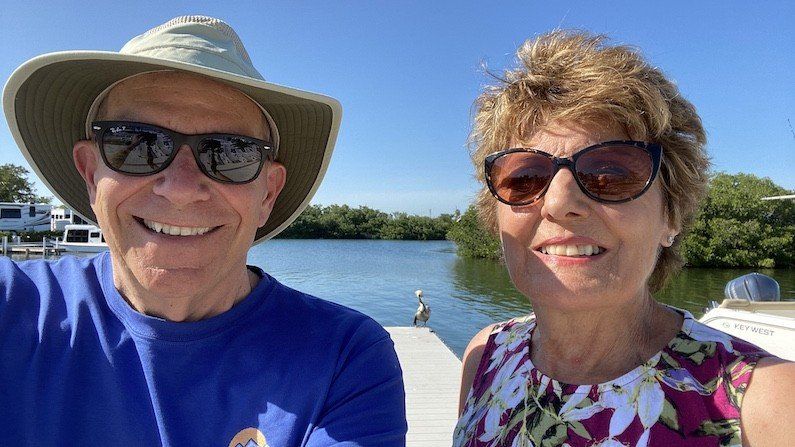 Curious about the gear, gadgets, accessories, and RV products Mike & Jennifer use and recommend?
On this RV Lifestyle Travel blog, our RV Podcast and our RV Lifestyle YouTube Channel, we mention all sorts of RV-related products and gear that we use, So we created a special page that links to them. We update this all the time.  CLICK HERE to go to it directly. Have you caught one of our Amazon LIVE events yet? Just go here and Follow us – to be notified every time we go live.
---
Last update on 2023-11-30 / Affiliate links / Images from Amazon Product Advertising API