On the go and need to go? Here are the best places and the best apps to find clean public restrooms on your next road trip…
RVers can't always use their RV's bathroom, nor do they always want to. Sometimes slide-outs prevent you from easily using it. Sometimes you're trying to minimize using your black water tank until you reach camp. Sometimes you just like to use a big, clean bathroom.
Whatever the reason, it's helpful for every RVer to know how to find clean public restrooms near your current location.
So, I'm going to share my best tips and the best apps to help you do just that. That way, you'll always know where to go when you need to go!
Hey, if you buy something through my links, I might get a little something-something as a thank you. No extra cost to you, promise! Read our full affiliate disclosure here.
Best Places to Find Clean Public Bathrooms
The best tips I can give you are based on knowing which public restrooms are known for their cleanliness. This includes which truck stops, gas stations, fast food restaurants, and other businesses put extra effort into maintaining their restrooms.
Of course, there are always bad apples in the bunch. But, in general, the following locations have better odds of having clean restrooms.
Cleanest Truck Stops
Truck stops cater specifically to truck drivers desperate for a nice place to freshen up. So, the majority of truck stops offer large, clean restrooms. Of course, some truck stops have better reputations than others.
The truck stops known for cleanliness are (links to locations):
The biggest benefit of stopping at a truck stop to use the restroom is they often have showers, too. This especially comes in handy for boondockers trying to conserve water and small campervan enthusiasts.
The average cost to use a truck stop shower is $12 – $15. While that may seem expensive, they're often much cleaner than campground showers. Plus, here's a tip! Many truck stops offer a free shower if you spend $50 or more on diesel fuel.
Cleanest Gas Stations
Gas stations can really be hit-and-miss when it comes to clean restrooms. It's not possible to say all Chevrons or Shells are clean because it varies so much from location to location.
However, there are some gas stations that uphold high standards across their locations. And these places are actually planned pit stops for travelers, not just for their restrooms but their stores.
They are (with links to locations):
I know RVers that go out of their way to go to Buc-ee's to buy their snacks and souvenirs. They get so excited just at the mention of the company's name.
Cleanest Fast Food Joints
Like gas stations, there can be a huge difference in cleanliness even within the same chain. However, there are a few that make the list.
They are:
Chick-fil-A
In-N-Out
Culvers
Other Options You Might Not Think Of
Gas stations, truck stops, and fast food joints are obvious places to stop to use the restroom on a road trip. But there are other options you should consider, especially if you're determined to find a clean restroom.
Some other options that tend to have clean bathrooms are:
book store (like Barnes & Noble)
grocery stores
coffee shop (like Peet's Coffee)
department stores
All of which can serve as a dual-purpose pit stop! You can grab one of the 10 Best Books to Read While Camping or start on your weekend camping trip food list.
Best Apps to Find Clean Public Restrooms
There are several mobile apps you can download to find clean restrooms across the United States. Smartphone users can download them in the Apple Store or Google Play Store, or both.
These bathroom apps direct you to the nearest toilets that match your search filter settings, such as toilet types, accessibility types, hand dryers, etc..
Flush Toilet Finder
Flush Toilet Finder & Map is available on Apple and Android devices. Best of all, it's a free app with no in-app purchases!
You simply open the app and an interactive map displays nearby restrooms. You can then click on a location, and it will automatically direct you to it from your phone's default GPS.
Now, here's the catch! Flush Toilet Finder (both the paid and free version) only shows you nearby restrooms. It does NOT necessarily show you which are the cleanest. However, you can swipe left on a toilet in the list view to rate and report a toilet.
So, assumedly, they do not include restrooms on their list that repeatedly get bad ratings. Although, they do not claim that directly. It would be really nice if their rating system displayed results for each toilet on the list.
If you're curious what the difference is between Flush Toilet Finder vs. Flush Pro, it's not some great feature (like a displayed rating system!). The pro version is ad-free and includes Apple Watch support. Flush Pro is not available on Google Play service.
This app is not specifically designed to find clean restrooms. In fact, it's primarily designed to help you find the cheapest gas prices. You can compare the gas stations at each exit to those on exits ahead.
In addition to gas stations, it helps direct you to other desired pit stops, like rest stops, restaurants and hotels. You can also search for specific chains, like Cracker Barrel, or a specific amenity, like WiFi.
That's useful for any RVer, but why am I including it on a list for clean bathroom apps? Because the results sync with Yelp, displaying the star rating of each location that you can click on for more information.
You can use the Yelp ratings to determine if these locations are clean or not.
Apps That Didn't Make the List… Despite What Others Say
When doing my research for "Best Bathroom Locator Apps," a lot of lists include Bathroom Scout at the top of their list. However, the ratings and number of reviews do not back that up!
On both Apple and Google Play, Bathroom scout has very few ratings and poor ones at that. According to the app's description, it sounds great but according to reviews, it clearly doesn't deliver.
The Charmin Sit or Squat app also came up multiple times. However, this app must no longer be available because I cannot find it in app stores nor on the Charmin website!
So, it must've been a failed project that Charmin dropped and bloggers aren't doing their due diligence to stay up-to-date. But if you want a Pootastic Stickers app, Charmin's got you covered. 😂
So, be sure to ignore those recommendations if you see them elsewhere!
10 Apps Every RVer Should Have
RV and camping apps can really help make your travel efficient. Here is a video that shows our favorites and the ones we recommend for all RVers.
Check out this Southwest Adventure Guide Bundle (Arizona, Utah, & Colorado)
When Jennifer and I travel to the southwest, we are continually amazed at the majesty and beauty this country has to offer. And it's really hard to stay in just one state! So we created this Bundle for you in case you like to travel as we do.
We put together our Southern Utah Guide, Colorado Guide, and our NEW Arizona Guide into this 3-State Bundle at a very reduced price!
Each of these RV travel guides is a seven-day guided exploration of some amazing places to explore in these states. And each stop is a curated view of the best things that we've enjoyed on these trips and want you to experience.
All together these guides are over 300 pages of content!
---
---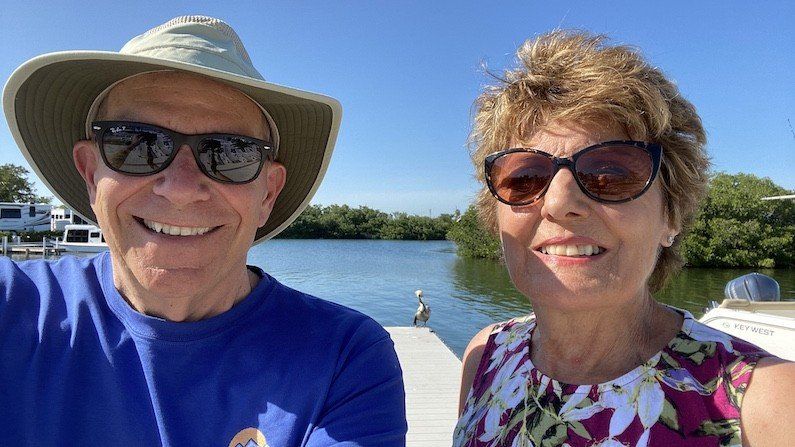 Curious about the gear, gadgets, accessories, and RV products Mike & Jennifer use and recommend?
On this RV Lifestyle Travel blog, our RV Podcast and our RV Lifestyle YouTube Channel, we mention all sorts of RV-related products and gear that we use, So we created a special page that links to them. We update this all the time.  CLICK HERE to go to it directly. Have you caught one of our Amazon LIVE events yet? Just go here and Follow us – to be notified every time we go live.
---
RV Lifestyle officially recommends The Dyrt
You can book campgrounds for tents, RVs, cabins, and glamping, or find free camping. The Dyrt has it all. And in case you didn't know, The Dyrt is the #1 camping app and website in the US, with over 8 million campsites, reviews, and tips — submitted by campers, for campers. And The Dyrt PRO version makes every camping trip easier. With offline map backups, offline search, exclusive discounts, and trip planning tools, PRO can improve any stage of camping.
The Dyrt app lets users with basic accounts search for camping and save favorites, completely for free. The Dyrt PRO is an upgrade that makes it easier to go camping. Try PRO for free today.
Use the code RVlifestyle for your 30-day free trial!