Should I get a new or used RV? That is the question! And here's some helpful information to help you decide which is best for you…
It's no surprise that the biggest driving factor in buying a used or new RV is budget. Used RVs are cheaper, plain and simple.
Many say that even if you had the money to buy a new RV, why not get the almost-same thing for less? They have a point, but that "almost" is the real hitch, isn't it?
Used RVs are cheaper, sure, but are they better?
Well, it depends on what matters most to you. Sometimes there's nothing better than that new car smell. Then again, you could probably buy a lifetime supply of 'new car' air fresheners for what you save with a used RV.
New or Used RV: The Pros and Cons
I wish I could make your life easier and just say flat out "[THIS ONE] is the best!" But the truth is, there is no right or wrong answer when it comes to new vs. used RVs. There are pros and cons for each and the best I can do is outline them so you can decide what's best for you.
So, let's do a rundown of the biggest factors and you can make a mental checklist of which suits your needs best. I'm also going to give you some really valuable advice at the end.
1. New or Used RV: The Price
Let's go ahead and get the most obvious out of the way. If looking at purchase price alone, used RVs have this category in the bag.
An RV's price tag may look like a mortgage, but an RV depreciates like a car. As soon as you sign on the dotted line and drive a new RV out of the lot, its value drops by about 20%! By year 3, you can expect another 10% loss in value!
So, that leads to the realization that you can save 20-30% by buying a 1 to 3-year-old RV.
---
Do you enjoy your Small House and BIG Yard RV Lifestyle experience? Maybe you need a t-shirt or hoodie to tell the world. This saying is a favorite in our community. Don't need a hoodie? We have mugs.
---
2. New or Used RV: Wear and Tear
Buying an RV that's only 1-3 years old doesn't sound bad, right? How much wear and tear (and damage) can an RV experience in such a short time?
Well, a lot actually.
But you can definitely get lucky and find an RV with low mileage and minimal wear and tear. You just have to be patient and willing to pay the upper end of its value.
I do suspect that quite a few of these will become available in the near future as covid campers reach their limit on camping. The prolonged RV lifestyle or travel style isn't for everyone when they have other options.
Regardless, new RVs clearly have, well, the "new" advantage over a used RV in this category. Buying new can save you from these 5 most expensive RV repairs… at least for a while.
There is oftentimes a "breaking in" period where little things go wrong in the first few months of a new RV being on the road. Those issues can be frustrating but that also brings me to my next point…
3. New or Used RV: Warranty
Have you ever heard that warranties are for suckers? Well, I have to disagree with them.
Yes, some warranties aren't worth what's touted, but warranties have saved many people's wallets from devastating blows. New RVs come with warranties and some have extended warranty options, too.
It's important to remember that though an RV is new, it's still an RV. And RVs break. A lot – like these 5 most expensive RV repairs.
If I've said it once, I've said it a hundred times. What an RV experiences driving down the road is like a prolonged earthquake. Earthquakes vibrate, shake, and jolt things out of place. So does the road.
But did you know you can get warranties on used RVs too? That's right!
So, while new RVs have the upper hand when it comes to warranties, used RV warranties make it a bit more of a toss-up.
4. New or Used RV: RV Age-Limits at Campgrounds
Here is one of the biggest kickers that many new or potential RVers aren't aware of. Many campgrounds (mostly resort-style) impose age limits on campers. That means only RVs under a certain age are permitted to stay at their campground.
That RV age is usually 10 years old. Recently, there was quite the conversation about this in our Facebook Group.
This can put a big damper on buying a used RV, especially if you plan to use it for many years to come. For instance, if you buy a 6-year old RV because you can save 40%, you may only have 4 years to use it at some of your favorite campgrounds.
A new RV opens the gates to more campgrounds for a longer period of time.
5. New or Used RV: Customizability
You might think that new RVs have this one in the bag since you can usually make all kinds of selections when buying new. From floorplans to appliances to finishes, new RVs can be customized quite a bit.
(Technically, you can buy a completely custom RV but that's in the way upper price range. I doubt anyone in that price range is even considering buying a used RV.)
However, you can't discount used RVs in this category. In fact, RV makeovers are a huge trend right now. People are remodeling or completely gutting used RVs to make them like new.
If you are a DIYer or love a good design project, then a used RV self-designed can be quite appealing. Just don't underestimate it!
Remodeling a used RV is a huge undertaking that comes with a lot of costs. In many cases, you could probably buy new for the same cost, especially if you count your time. But the advantage is it's exactly how you want it for the price of an otherwise "generic" new RV.
Final Advice: Don't Buy… Yet
The best advice I can give you about buying an RV is to not buy… yet. At least not until you have rented and tried out multiple classes and models.
Nothing will cost you more money than buying an RV that's not right for you, only to have to replace it with something better down the road. That's true whether it's new or used.
Take your time and try out as many RVs as it takes until you are confident in the make and model that works best for you. Here are the Top RV Rental Companies you can use.
So, What's Best for You: New or Used RV?
The price difference alone might make the decision for you, but we'd love to hear your thoughts and advice in the comments below. Did you buy a new or used RV? Would you have done differently looking back?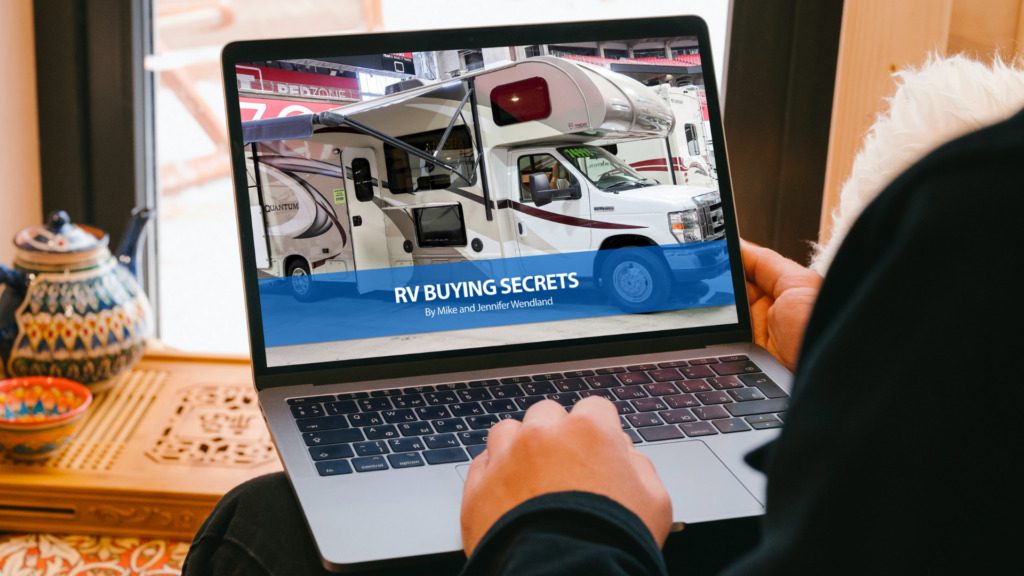 Next to your home, an RV is most likely the 2nd most expensive thing you'll ever purchase.
We get questions every day of other RVers wondering. "How do you buy a new or used RV?"
So we created a 75+-page downloadable digital guide to help you understand the nuances that come with purchasing an RV, where you can save thousands of dollars in the buying process, what the right questions are to ask dealers, what things to look out for, how to select the right unit, amenities, warranties, and so much more!
We created this guide to help you understand the nuances that come with purchasing an RV including:
Where to save thousands of dollars in the buying process
What questions to ask dealers
How to select the right unit
How to narrow down RV amenities
Understanding your warranty and what it covers
This ebook is designed to help make your purchase process as smooth as possible. And to teach you step-by-step exactly what to do so you can start your RV Lifestyle today!
---
---
---