If you're trying to plan what to wear hiking in winter, the following tips will certainly help. We've got you covered from head to toe.
It's that time of year where you trade t-shirts for fleece jackets and pull your wool socks over cold feet. But you should never let the cold interrupt your RV lifestyle!
You know what they say: there's no such thing as bad weather; just bad clothes.
So, after checking the weather forecast and trail conditions, you just need to prepare for the cold weather with the proper clothing and gear.
With the following tips, winter hikers can keep warm, regulate their body temperature, and stay as safe as possible while enjoying nature in its coldest element.
We use affiliate links and may receive a small commission on purchases at no added cost to you. Thank you for your support. You can read our full affiliate disclosure here.
General Rules to Follow for Cold Weather Hiking
Before heading out into the elements, be sure to check weather conditions and charge your cell phone to its fullest capacity. A first aid kit and a water bottle are also among important items that you need for your hike. But you also want to be sure that your body is covered with additional gear that can keep you safe during the winter months.
If you're cold-weather camping, be sure to read these 27 Effortless Winter Camping Tips for RVers. And at the end of this post, we have the video of our Ultimate RV Winter Camping Tips!
What to Wear Hiking in Winter
The following are items that you will want to don on your next winter hike.
Wear Layers
The best way to keep in body heat and regulate body temperature on cold days is by wearing extra layers. A good layering system consists of a base layer the can wick away sweat from your skin to help regulate your body temperature.
Then, you want a mid-layer that insulates your body from cold temperatures. Lastly, an outer shell layer that keeps out moisture and wind chill.
The primary goal of layering is to be able to remove or add layers throughout the day to accommodate your body and weather conditions.
You want to stay warm without getting sweaty or overheated during the hike. In addition, getting wet on a cold day without being able to dry off can lead to hypothermia, a life-threatening condition.
Your outer layer should consist of some sort of rain jacket or puffy jacket that has a down-like jacket interior, but water-resistant outer material. This layer can keep cold wind at bay, and if made from waterproof material, will help keep you dry.
A fleece jacket makes a good mid-layer, especially if your upper body is under a waterproof shell. Waterproof pants, another insulating layer, are a great way to keep your lower body warm and dry are your safest bet for a day in bad weather.
Wearing long underwear as one of your first layers is also a good idea to retain body heat. And a thicker sock made from merino wool can help keep you warm, but dry, in deep snow.
Having the right gear is the best way to stay warm, dry, and most of all, safe when enjoying a day hike in wet winter weather!
What to wear hiking in winter — Avoid Cotton
One fabric you want to avoid in winter hiking is cotton because it takes a long time to dry if it gets wet. That can leave you feeling damp and cold, and downright miserable. Not to mention, it may prevent you from safely keeping in the warmth that your body needs.
It's better to wear synthetic materials or wool products, like merino wool socks. Not only do they dry quicker, but they can help wick away perspiration from your skin. You might not think you'll sweat in the cold weather, but you'll be surprised how much of a sweat you can work up on icy trails!
---
Mike and Jennifer's Summer T-Shirts for your next adventure

---
Be Sure to Cover Your Entire Body
Any skin that is exposed to the elements runs the risk of getting frostbite. It can also decrease your body temperature, which can lead to hypothermia. The colder it is, the more of your body you need to cover!
What to wear hiking in winter on your head?
You've probably heard that people lose the most heat from their heads. But, the only reason that is true is that our heads are usually the least covered!
Wear a wool hat to help keep your body warm. Remember, choose wool, not cotton so sweat will wick away from your head, or 50% recycled polyester and 50% acrylic, like our new hats!
Eyes
Yep, you may even need to protect your eyes from the cold. Ski goggles are a great option for this, even if there's no snow. They'll help keep your face warm and protect you from frigid winds.
If there is snow but you don't want to wear goggles, you might still want to wear sunglasses. The glare from the sun bouncing off the snow can hurt your eyes (and sunburn you! More on that in a bit…)
Nose & Cheeks
A neck gaiter can help keep your nose and cheeks toasty warm. They also help keep snow and water from getting into your top.
What to wear hiking in winter on your ears?
Wearing a winter hat or headband will protect your ears from harsh winter conditions. How you protect your ears comes down to your personal preference, as both of these make a good option.
Neck
Wool scarves are always a great option. But you can also check out neck gaiters, which you can comfortably pull over your face when it gets too chilly.
Hands
Keep the cold air from your hands! Lightweight or mid-weight fleece gloves helps keep your hands toasty. Then place a waterproof outer shell to keep them dry. Consider bringing along an extra pair in case the first fleece pair get wet.
Feet
Not only do you want to invest in waterproof boots, but you also want to keep moisture from building inside your footwear. Wearing sock liners or wool socks can help keep your feet from getting too sweaty. This can help regulate your body temperature and avoid painful blisters in cold conditions.
Be sure that your boots are not too tight, as your feet tend to swell when hiking. The last thing you want is to cut off your circulation. You may also want to carry an extra pair of socks in case yours get wet.
Boot gaiters can also help keep snow out from where it doesn't belong: inside your winter boots. Also, check out 5 Best Minimalist Hiking Shoes and Barefoot Boots (2022)
Avoid Clothing that is Too Tight
Be aware of clothing that is tight. This includes footwear, gaiters, wristwatch bands, rings, or anything else that may cut off your circulation. Poor circulation can increase your chances of developing frostbite. So make sure that your gear and clothing fits properly.
Other Hiking Gear You Might Want
Beyond clothing, there are a few other items that you may not want to be without on a cold hike.
Heat Packs
Consider bringing along hand or toe warmer packets to keep your smallest extremities toasty. This is especially great if you are prone to having cold fingers or toes.
Headlamp
Don't forget that it gets darker sooner in the winter months! You need to plan for that and if you think you'll be hiking as the sun sets, I recommend a lightweight headlamp to make sure you can see your way back to camp.
Sunscreen
Just because it is wintertime doesn't mean you cannot get sunburned. In fact, when the sun reflects off the snow it can burn your skin very easily. Be sure to wear sunscreen just as you would during a summer day.
Want more Winter Camping Tips?
And if Winter Camping is your thing – we have a lot of posts for you to explore. See all of them right here.
Related Hiking Articles
So, now that you know what to wear hiking in winter, here are some other helpful articles: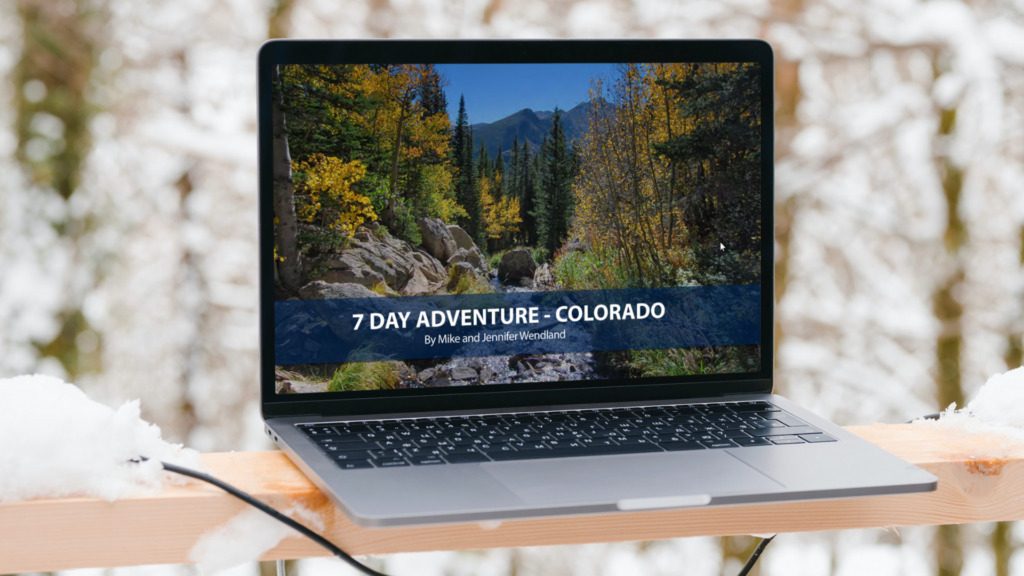 When Jennifer and I first went to Colorado, I felt like I finally understood what John Denver meant by his song: I've now been Rocky Mountain High.
And like Denver, exploring all that Colorado has to offer made me want to sing, too.
This is a fully designed and edited guide that you can download and start reading immediately on your phone, tablet, computer or e-reader.
---
---
---