The more you save, the more you can travel! That's why you need these tips on how to save money on an RV road trip…
To us, there's nothing better than an RV road trip. But, between campground fees, food, fuel, and other expenses, the dollars really add up over several weeks or months on the move.
Thankfully, it is possible to significantly cut costs and save money while still enjoying RV life to the fullest.
In this article, we explore 10 effective tips for budget-friendly RV travel. With a little planning and flexibility, you can enjoy an affordable RV adventure.
We use affiliate links and may receive a small commission on purchases at no added cost to you. Thank you for your support. You can read our full affiliate disclosure here.
Tips for Saving Money on an RV Road Trip
We'll cover membership discounts, free camping options, apps to track spending, fuel-saving techniques, and more. All of which can save you quite bit upfront and a lot in the long run!
1. Use Reciprocal Memberships
RVers can SAVE BIG with reciprocal memberships that give you free or discounted access to a network of museums, zoos, and more!
Reciprocal memberships is a collaboration of cultural institutions that extend member benefits to their network. So, for instance, a reciprocal membership with one museum is like having a membership with all museums in its network.
Benefits may include free or discounted admission, merchandise discounts, special newsletters, and other great deals. Learn more about reciprocal memberships for museums, zoos, and more…
2. Use Fuel Discount Cards
Whether your RV runs on diesel or gas, fuel costs are a big part of your travel budget. RV fuel discount cards and programs help you stretch those dollars farther.
The benefits range from discounted gas prices to multiple ways to save at specific locations. Some cards require an upfront fee or annual membership fee, while others are free to join.
We created a list of the best RV fuel cards and programs that's definitely worth checking out. Many save you $0.30/gallon or more!
3. Learn More About Boondocking
Boondocking is a style of camping that doesn't require using utilities or hookups. It's often done in remote areas, like public lands, thus saving you from nightly campground fees. It is a great way to stretch your RV trip budget, and enjoy a more secluded RV lifestyle.
Boondocking is our preferred RV lifestyle for many reasons! It gives us more flexibility when traveling, avoids crowded campgrounds, and saves us money. It's perfect for us, and you should learn more to see if boondocking is right for you.
We have a LOT of resources on boondocking for you to learn more:
There are a few different forms of boondocking, too, which we'll cover more of later in this list.
4. Try Harvest Hosts
Like what you see in these videos? We'd appreciate it if you would Subscribe to our YouTube Channel (easy to do right here) and consider "ringing the bell icon" to be notified of any new video from us. 🙂 Thanks!
Harvest Hosts is a unique camping membership. You pay a membership fee to join, and then you can stay overnight at different locations for free.
Many of these locations are small businesses, like wineries, breweries, farms, golf courses, museums, etc. So, you get to stay for free, but are expected to make a small purchase. It saves you a lot of money on campground fees, and you get something in return instead of just paying a fee.
Other times, these locations are private properties where the owners are RVers themselves. Or, they like to welcome travelers from all over. It's a unique way to experience new places you might not otherwise see or experience.
Using this link and the discount code: RVLIFESTYLE15 you get 15% off Harvest Hosts annual membership.
Boondockers Welcome is similar to Harvest Hosts (it's actually a subsidiary of it) with more than 3,390 locations. You can also get 15% off your Boondockers Welcome annual membership using the discount code: RVLIFESTYLE15
5. Get a CampersCard Membership
Speaking of Harvest Hosts, the company also created a discount program called CampersCard. A CampersCard membership get you camping fee discounts, exclusive campground perks, and other great travel deals at high-quality campgrounds.
Special perks range from free firewood bundles to site upgrades, early check-in or late check-out, and more. Members can also receive discounts on camping gear, entertainment, and theme park adventures.
CampersCard is ONE EXAMPLE of the 10 Best RV Campground Memberships & Clubs.
6. Plan Your Camping Menu (Including Snacks)
Plan out your meals and snacks to avoid overspending at stores and restaurants. Proper planning and prepping meals in advance go a long way in saving money on a road trip.
Plus, it will help you eat healthier, giving you more energy to enjoy your adventures.
Meal planning can be a pain, which is why we created a sister site to RV Lifestyle, called CampingFoodRecipes.com. We add new recipes every week specifically designed for camping. That means minimal ingredients with maximum flavor!
We also account for leftovers or using the same ingredients for multiple recipes, like our 3 Grilled Sandwich Recipes, Leftover Mac & Cheese Casserole, and Leftover Hamburger Patties Casserole.
7. Use a Budget App to Track Expenses
The best way to avoid overspending on your RV road trip is to track your spending! Apps like EveryDollar, Goodbudget or Mint help you track your spending across multiple categories in one place.
Set a trip budget and entering each purchase keeps you accountable. During the trip, it'll help keep you on budget. After the trip, you'll get a better idea of where your money went and how to save on future trips.
8. Get an America the Beautiful Pass
Hands down, the best value in the RVing world is the National Parks Senior Pass, officially known as the America the Beautiful Pass. If you are 62 years or older, getting this $80 lifetime pass is a no-brainer.
Seniors gain access to more than 2,000 recreation sites managed by six Federal agencies for one low price. Jennifer and I have gotten our money's worth on our annual pass 10 times over!
If you're not a senior citizen, you can get other America the Beautiful passes that are also well worth the money! (That link takes you to a questionnaire that helps you determine which pass is best for you.)
Pass types include:
Access Pass
Lifetime Military Pass
Annual Military Pass
4th Grad Pass
Volunteer Pass
9. Improve Your Gas Mileage
We already discussed saving on fuel prices, but you can also reduce your fuel usage to save money. Some quick tricks to employ:
Slow acceleration
Cruising speeds between 50-60 mph
Lighter loads (i.e. don't fill fresh water tank until you're near your destination)
Check and maintain proper tire pressure
Here are some more tips from REAL RVers on how to get better gas mileage in your RV…
10. Try Moochdocking & Lotdocking
Moochdocking and lotdocking are forms of boondocking. Moochdocking is when you "camp" at a friend or family member's house. Sometimes, you can hook up to their electric or water, so it's not as self-contained as typical boondocking. Other times, it's nothing more than a parking space.
There are some Moochdocking Pros and Cons to be aware of, and it's always nice to repay your family for their hospitality one way or another.
Lotdocking, also commonly known as Wallydocking, is when you overnight in a commercial parking lot, like Walmart or Cracker Barrel. Truck stops and rest stops count, too. Some churches also welcome RVers to overnight in their parking lots (when you ask permission).
When lotdocking, be sure to follow the unwritten rules: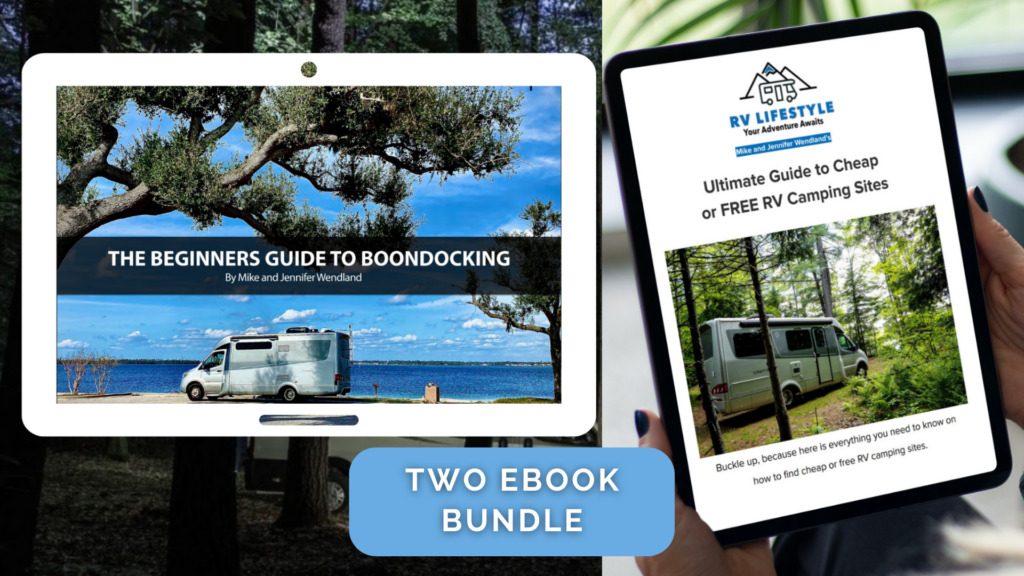 Beginners Guide to Boondocking (one of our most popular ebooks) and one of our newest ebooks, The Ultimate Guide to Free and Cheap RV Camping!
ebook #1: Beginners Guide to Boondocking
We created a 65+-page downloadable digital guide to help you understand the nuances that come with boondocking, the most common boondocking problems, and what you need to do to get your rig "boondocking-ready."
ebook #2: The Ultimate Guide to Free and Cheap RV Camping
Buckle up because here is everything you need to know on how to find cheap or free RV camping sites in the 33-page EBOOK.
---
---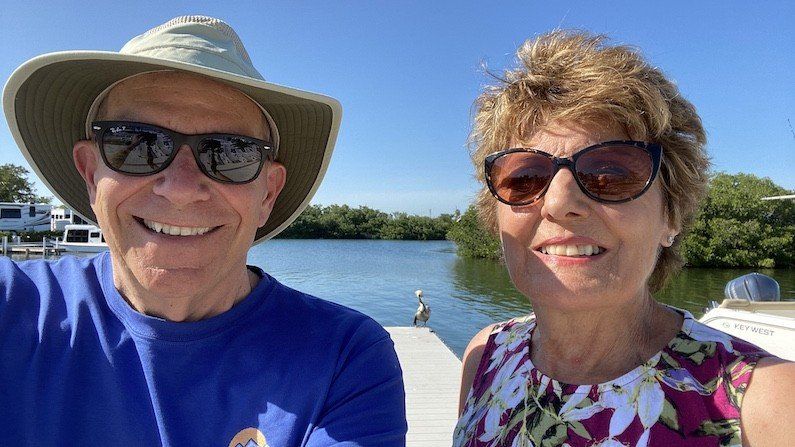 Curious about the gear, gadgets, accessories, and RV products Mike & Jennifer use and recommend?
On this RV Lifestyle Travel blog, our RV Podcast and our RV Lifestyle YouTube Channel, we mention all sorts of RV-related products and gear that we use, So we created a special page that links to them. We update this all the time.  CLICK HERE to go to it directly.
---