An ultimate list of favorite boondocking destinations across the United States, organized by state!
Jennifer and I have been boondocking across the U.S. for over a decade. We have stayed in countless national and state parks, on BLM land, and camped overnight on stunning private properties (with permission.)
We've also met countless other boondockers that have shared their favorite places and are always on the lookout for more great recommendations.
So, this list of favorite US boondocking destinations includes places we've stayed and places that come highly recommended. Boondocking is also called Dispersed Camping – and if you need more info on this type of camping, this post explains it –Dispersed Camping Guidelines.
We'd also love it if you shared your recommendations in the comments below so we can continue to add to this list.
75 Favorite US Boondocking Destinations
As I mentioned, this list is compiled of boondocking locations across the US that we have personally enjoyed or have learned about through research and recommendations. Some are specific campground or GPS coordinates, while others are simply must-see destinations for boondockers.
One great resource we like is Leisure Travel Vans' user-recommended boondocking list. We agree with many recommendations on their list and have added some to our boondocking bucket list as well.
We also highly recommend you read How To Find Boondocking Sites to see what other resources we use regularly. And two of our favorite sites for camping information on these sites – The Dyrt and Campendium – Free Camping. And if you really want to dig into this even more – FreeCampsites.net is for you!
**This is important** Some of these links go to a National Park or nearby town; you'll need to do a little more research to find an actual GPS location as there will be many, but this will get you started!
**Also Important** These might be boondocking or dispersed camping sites, but many do have fees.
Arizona
Coconino National Forest (Flagstaff, AZ)
Grand Canyon Camping (Tusaya, AZ)
Indian Bread Rocks Rec Area (Bowie, AZ)
Grand Canyon North Rim Campsite (Jacob Lake, AZ)
Quartzite (Quartzite, AZ)
California
Alabama Hills (Lone Pine, CA)
Blair Valley – Anza Borrego Desert (Shelter Valley, CA)
Changala Winery (Templeton, CA)
Humbolt National Forest (Burlington, CA)
Indian Cove (Pinto Wye, CA)
Joshua Tree National Park, Jumbo Rock Campground (Twentynine Palms, CA)
Kaweah Rec Area (Lemon Cove, CA)
Sawtooth Canyon (Lucerne Valley, CA)
Tuttle Creek (Lone Pine, CA)
Yosemite Stopover (Mono Mills, CA)
Colorado
Sacred White Shell Mountain (Mosca, CO)
Stub Creek Recreation Site (Bellevue, CO)
Idaho
Scout Park (Bruneau, ID)
Iowa
Florida
Eglin Air Force Base (Western FL Panhandle)
Michigan
Big Knob State Forest Campground (Gould City, MI)
Brevoort Lake Campground (Hiawatha National Forest, MI)
Pigeon River County State Forest
Presque Isle Campground (Porcupine Mountains Wilderness State Park)
Indian Lake State Park (Manistique, MI)
Finally! Mike and Jennifer's Michigan Bundle
(Michigan's Lower Peninsula AND Michigan's Upper Peninsula)
This Michigan Bundle contains our ever-popular Guide to the Upper Peninsula PLUS our newest Guide on the LOWER Peninsula! Here's a little on both ebooks (not a printed book):
Michigan's Upper Peninsula Adventure Guide: This ebook is a seven stop guided exploration of the Michigan UP. We provide a suggested route and itinerary, links to multiple campgrounds and boondocking spots, and the best spots to see along the way. Don't plan your trip to the Upper Peninsula without it!
Michigan's Lower Peninsula Adventure Guide: This guide explores the Lower Peninsula, also known as 'the Mitten." You can easily spot its mitten shape on the map. Most of this guide follows the coast of Lake Huron and Lake Michigan, with a little bit of Lake Erie down near Detroit.
You are in for a HUGE adventure with this ebook bundle of the best of Michigan for RVers!
---
Montana
Devil Creek Campground (Essex, MT)
Otter Creek Fishing Access (Big Timber, MT)
Taylor Fork Designated Dispersed Camping (Custer Gallatin National Forest, MT)
Nevada
Hickison Petroglyphs Rec Area (Austin, NV)
New Mexico
Cosmic Campground International Dark Sky Sanctuary (Alma, NM)
Dog Canyon Campground (Alamogordo, NM)
New York
Peconic River Campground (Calverton, NY)
North Carolina
Camp Springs Bluegrass Park (Elon, NC)
Ohio
Lane Farm Campground (Marietta, OH)
Oregon
Blue Heron Cheese Company (Tillamook, OR)
Cook's Chasm (Yachats, OR)
Rufus Landing Recreation Area (Rufus OR)
Pennsylvania
Meepah Ventures (Bedford County, PA)
Rhode Island
South Dakota
Buffalo Gap National Grassland (Wall, SD)
Nomad View (Wall, SD)
Reva Gap Campground (Reva, SD)
Tennessee
Meriwether Lewis Campground (Natchez Trace, TN)
Natchez Visitor Center (Natchez Trace, TN)
Texas
Brazoria County Public Beach (Surfside Beach, TX)
Magnolia Beach Camping (Port Lavaca, TX)
Utah
Capitol Reef Park Overflow (Garfield County, UT)
Casto Canyon (Panguitch, UT)
Lone Rock Beach (Lake Powell, UT)
Tucson Estates (Canyon Point, UT)
Valley of the Gods (Mexican Hat, UT)
Zion Outskirts (Virgin, UT)
Zion Wright Family Ranch (Virgin, UT)
Vermont
Washington
Minnie Peterson Campground (Forks, WA)
Ranger Creek Airstrip (Enumclaw, WA)
West Virginia
Lake Sherwood Road Dispersed Camping
Anthony Creek Dispersed Camping
Stonecoal Dispersed Camping Area
Wisconsin
Connell's Family Orchard (Lafayette, WI)
Wyoming
Buffalo Valley Road (Moran, WY)
Lily Lake Camping Area (Shoshone National Forest, WY)
North Crandall Trailhead (Shoshone, National Forest)
North Platte River (Fort Steele, WY)
Upper Teton View / Toppings Lake (Elk, WY)
We Need Your Recommendations!
You may have noticed that the above list doesn't include all 50 states, and we only have a few places listed in some states. That's why we need your help! Please share your favorite boondocking destinations in the comments below.
Boondocking Tips & Resources
Come on along with us as we go boondocking in the 100,000-acre Pigeon River State Forest in Northern Michigan, a beautiful wilderness area dubbed "The Big Wild." We hike, view the elk that make this area home, and offer up lots of dry camping and boondocking tips.
Click the video below.
Like what you see in these videos? We'd appreciate it if you would Subscribe to our YouTube Channel (easy to do right here) and consider "ringing the bell icon" to be notified of any new video from us. 🙂 Thanks!
Here are some more boondocking resources: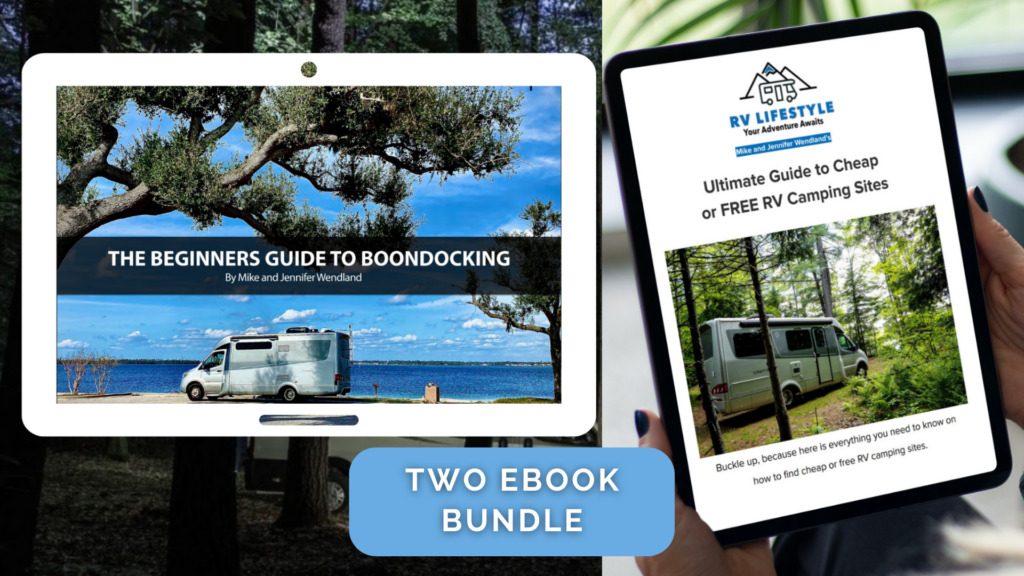 Beginners Guide to Boondocking (one of our most popular ebooks) and one of our newest ebooks, The Ultimate Guide to Free and Cheap RV Camping!
ebook #1: Beginners Guide to Boondocking
We created a 65+-page downloadable digital guide to help you understand the nuances that come with boondocking, the most common boondocking problems, and what you need to do to get your rig "boondocking-ready."
ebook #2: The Ultimate Guide to Free and Cheap RV Camping
Buckle up because here is everything you need to know on how to find cheap or free RV camping sites in the 33-page EBOOK.
---
---
---
Get the Home Study Course today and worry about the road, not the repairs!
Every time you move your RV it's like driving through a hurricane during an earthquake. Parts break and many items need to be maintained, this program will show you how you can save time and money by gaining the confidence to take on the majority of the issues you'll come across. Don't get caught with your RV in the shop! Learn how you can maintain and repair your RV at your own pace and at the most convenient time for you! This course is produced by the National RV Training Academy.
---
Looking for exciting RV trip ideas and travel suggestions?
We've written a library of RV Travel books that lay out guided RV explorations of scenic areas of the US that we''ve explored and think would make an excellent RV trip for you.
In each location, we provide a suggested route and itinerary (7 stops in each guide, one for each day of a week trip!) as well as links to multiple campgrounds and boondocking spots, local tips, and interesting things to do at each location.
You can hit everything in seven days, do a whirlwind weekend tour, or you can take your time and explore the area over a 2+ week period.
Planning an RV trip can be very time-consuming so that's why we've done the research for you! Just take our guides and use them. We're sure you'll have an RV trip for the ages! Instant download. CLICK HERE for information on our RV Travel Guides
RV Lifestyle Favorite Amazon Quick Links
We use affiliate links and may receive a small commission on purchases at no added cost to you. Thank you for your support. You can read our full affiliate disclosure here.