When customizing your RV departure checklist, you must remember these safety checks that will help ensure you make it to your next destination…
Even the most veteran RVers sometimes forget key items on their final walk-through before departure. That's why a thorough RV departure checklist is a must for every RVer.
I have recently released two comprehensive checklists with tips: RV Setup Checklist and RV Tear Down Checklist. I highly recommend you review both those checklists.
As you'll see, I recommend customizing a standard RV checklist to perfectly suit your needs. Otherwise, you'll be sure to overlook items that certainly belong on your list.
In general, however, there are several safety items you can't forget. The following checklist items will help ensure you don't end up on the side of the road or, worse, in an accident.
We use affiliate links and may receive a small commission on purchases at no added cost to you. Thank you for your support. You can read our full affiliate disclosure here.
3 Essential RV Departure Checklist Items
I think it's important to note that newbie RVers are usually best at consistently doing these pre checks. Unfortunately, as RVers gain experience, they also gain cockiness or a sense that "it'll be fine" slowly starts to take over.
Don't be that guy! Don't be the person that thinks or believes everything's good. Be the guy that knows everything is as it should be before you drive away!
(Oh, and by the way, you should always carry an emergency roadside kit with you!)
1. Thorough Tire Inspection
Like what you see in these videos? We'd appreciate it if you would Subscribe to our YouTube Channel (easy to do right here) and consider "ringing the bell icon" to be notified of any new video from us. 🙂 Thanks!
The most common roadtrip mishap that'll land you on the side of the road is faulty tires, whether it's a flat tire or blown tire.
Granted, some tire problems can't be prevented. There will be times where you run over a nail or something else happens once you're already on the road.
However, many tire problems (if not most!) can be prevented with quick and easy pre checks before you drive off.
There are two main checklist items:
Check Tire Pressure
Perform Visual Tire Inspection
Check Tire Pressure
Before you drive away from home or your campsite, you should always check the pressure in all of your tires. All of them!
Be sure to read on the tires what the ideal psi should be. If needed, use a portable air compressor to bring them up to the right pressure.
As you can see in the above video, underinflated RV tires lead to blow outs! And blow outs often lead to accidents.
Perform Visual Tire Inspection
You should also perform a visual inspection. Look for any bulges, cuts, nails, or screws lodged in the tread or sidewalls.
You also need to check the depth of the tread to make sure you have enough rubber between you and the road.
You should replace RV tires when they are worn down to a 4/32" depth. You can get a tire tread depth gauge if you want to be exact with your inspection.
2. Signal Light & Headlight Check
This safety precheck is particularly important if you pull a travel trailer, but motorhome drivers should do it as well.
RV lights enable us to communicate to other drivers and to see when the sun goes down. So, clearly, they are very important.
Don't rely on another driver to wave you down and tell you a light is out. A broken signal light or headlight can easily lead to an accident.
So, before you drive off, have a travel companion or campground neighbor stand behind your RV. Hit the brakes, and turn on each turn signal.
Once you get the thumbs up on all three, ask the person to go the front of the RV. Turn on your headlights and see if you get another thumbs up.
I know it may seem excessive to do this every time you leave a campsite, but signal lights and headlights don't fade; they suddenly go out. So, it needs to be part of your RV departure checklist every time you leave for a road trip.
3. Brake Check
Stopping is a pretty important part of driving, don't you think? Especially when you're driving a multi-ton rig around.
So, it's imperative you do a brake check every time you head for a new destination. The nice thing is you get to do this from the comfort of your driver's seat.
The brake check should be done in a couple stages. First, you should press the brakes as you're pulling out of your driveway or campsite. This makes sure they're working well before you pick up any speed.
But you shouldn't stop there (pun intended). You should also do a brake check when you pull out onto the main road. Once you pick up a bit of speed, press the brakes in gently and then a little more forcefully to make sure they react as they should.
Trust me, it's much better to realize your brakes aren't performing well before you get on a highway!
Preventative Maintenance
Since we're on the topic of preventing problems, it's worth discussing other preventative maintenance you can do to save yourself time, money, and headaches.
I'm not a very handy person myself but I have learned how to do basic RV maintenance. And let me tell you, it has saved me on multiple occasions!
With a few simple checks and tweaks, I have caught multiple issues that would've turned into big problems on the road.
It's so important that I've written an entire article on Preventative Maintenance Every RVer Should Do.
I also HIGHLY recommend educating yourself on how to maintain and repair your RV. Thankfully, I've recently discovered a home study program produced by the National RV Training Academy that teaches you to do just that.
You can click below for more information…
Get the Home Study Course today and worry about the road, not the repairs!
Every time you move your RV it's like driving through a hurricane during an earthquake. Parts break and many items need to be maintained, this program will show you how you can save time and money by gaining the confidence to take on the majority of the issues you'll come across. Don't get caught with your RV in the shop! Learn how you can maintain and repair your RV at your own pace and at the most convenient time for you! This course is produced by the National RV Training Academy.
---
---
---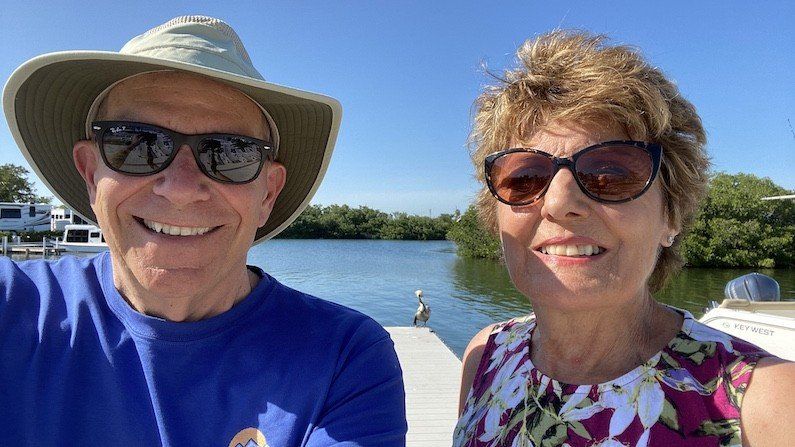 Curious about the gear, gadgets, accessories, and RV products Mike & Jennifer use and recommend?
On this RV Lifestyle Travel blog, our RV Podcast and our RV Lifestyle YouTube Channel, we mention all sorts of RV-related products and gear that we use, So we created a special page that links to them. We update this all the time.  CLICK HERE to go to it directly.
---