There are strict dog rules in national parks, but here's a list of short and long dog friendly hikes Yosemite has to offer.
National parks are known for their lasting beauty and outdoor activities. Yosemite fits the bill when it comes to adventure and incredible beauty! So it's no wonder that you would want to bring along your dog to join in the fun.
But before you take off with Fido on a leash, you will need to do a little research to see where your pup can go. You also want to be aware of any other rules or restrictions when bringing your dog to enjoy all that Yosemite has to offer.
Despite the rules, Yosemite is still a great place to enjoy the outdoors with your four-legged best friend. The following outlines the best dog-friendly hikes you can find in the area!
Located in California's picturesque Sierra Nevada mountain range, Yosemite National Park was the first-ever national park. It is also designated as a UNESCO world heritage site.
The park covers approximately 1,169 square miles, roughly the size of Rhode Island.
About 4 million visitors come to the park each year to camp, hike, and take in the incredible views of waterfalls and other landscapes.
When bringing a dog into the park, your experience might be slightly different. They are not allowed to go everywhere. But, there is still plenty to explore and see, including the famous spots that make Yosemite a unique place.
You can visit Merced river, meadows, alpine lakes, and seemingly endless trails.
Dog Rules and Regulations in National Parks
National parks allow you to bring your pup, but they each have rules governing what you can and cannot do with your dog. If you are unclear on the rules, you can always inquire with a park ranger.
Maybe you've heard us talk about B.A.R.K. – Pet-Friendly Fun in Parks is as Easy as B.A.R.K.
Here are the most common rules:
Dogs must be leashed at all times
Dogs cannot be left unattended (no leaving your pup in a dog kennel in the parking lots)
Clean up after your dog (bag and toss all feces into any of the park's trash receptacles)
Dogs must remain on paved paths only
Generally speaking, pets are not allowed into specific areas. However, service animals that are trained to help a person with disabilities perform a task are permitted to go wherever their handler goes. Areas that pets are not allowed include:
In lodging areas
On shuttle buses
In public buildings
All walk-in and group campgrounds
On snow-covered unpaved roads
Other areas as posted
---
Mike and Jennifer's Summer T-Shirts for your next adventure

---
Hikes for All Abilities
There are hikes for all ability levels. Do you want a short and straightforward stroll or something a little more challenging? There is a dog-friendly hike for you to enjoy with your four-legged friend!
I've broken down the following based on short and long hikes. At the end, I also give you a link to a local kennel service in case you want to enjoy dog unfriendly sites, too.
Short Trails in Yosemite National Park
If you are looking for short dog-friendly hikes Yosemite has several trails to wilderness areas that offer excellent views of iconic landmarks. You can enjoy views of famous locations within the park, including Half Dome, Bridalveil Falls, and Yosemite Falls.
This short walk takes you along one of the park's paved trails to the base of Bridalveil Fall for an incredible waterfall view. These falls are well-known, thanks to the famous photographer Ansel Adams.
The best time to hike this path is during the spring when snowmelt and rainwater make them fuller. Be sure to pack raingear since the mist from the falls can get you wet!
Yosemite Falls are famous for their height. The entirety of Yosemite Falls is North America's tallest waterfall, at 2,425 feet.
While you will get views of both sections of the falls, this hike takes you to Lower Yosemite Falls, where you can bear witness to a cascading 320-foot water plunge.
The peak volume of the falls occurs during spring into early summer.
If you want to extend your adventure, you can hike to Cook's meadow to see yet another view of Yosemite Falls. You will also be able to take in view Half Dome from there.
You can take your dog with you for the first mile of the Mirror Lake hike. Once the pavement ends, you will have to turn back.
Mirror Lake fluctuates in size depending on the season. But you will always be able to see some water.
If you go early in the morning, the lake will have calm waters where you can gaze at the reflection of the surrounding landscape. Hence the name Mirror Lake!
Longer Hikes in Yosemite National Park
Are you interested in doing some longer hikes in the valley with your furry family member? While most dog-friendly paths are less than one mile, here are a few long walks are available to you.
The Old Big Oak Flat Road converges with the start of the main trail that takes you through Giant Sequoia trees in Tuolumne Grove. Dogs are welcome on this trail for the 5.8-mile trek to Hodgdon Meadow Campground.
If you go from the trailhead to the campground, it's mostly downhill. If you want a more challenging hike, take it in reverse!
This 12-mile dog-friendly hike starts at Highway 49 by the golf course. It used to be an old stage coach road, which is really neat but it has degraded over time.
You will hike over Chowchilla Mountain and down into the Ponderosa Basin if you make the entire trail.
The Wawona Meadow Loop is a 3.5-mile trail that encircles a golf course and gently rolling hills. If you take this hike in the spring, you can see wildflowers in bloom.
Kennel Services in Yosemite
If you want to take a hike that your dog cannot go on, there are other options. There are kennel services offered on the valley floor at Yosemite Valley Stable. You can board your dog for $10 per day or $20 overnight.
Nearby Places to Visit
Had a great time in Yosemite, and looking for more adventure? Consider visiting the dog-friendly nearby town of Mammoth Lakes. I even have the Best RV Camping in Mammoth Lakes listed out for you.
The City of Mammoth Lakes is home to some of the tallest mountain peaks in the high sierra. It's a short drive from Yosemite if Tioga Pass is open, which is normally from May to November.
The city has a laid-back vibe, with plenty of things to do. There is food for every appetite, from fine dining to mom-and-pop pizza restaurants. There are also tons of shopping, breweries and distilleries, and natural attractions for everyone to see.
The good news is that the town is very pet-friendly. Plenty of places allows you to bring your furry friend with you.
More Resources for Hiking with your Dogs at National Parks
Mike and Jennifer's Southern Utah RV Adventure Guide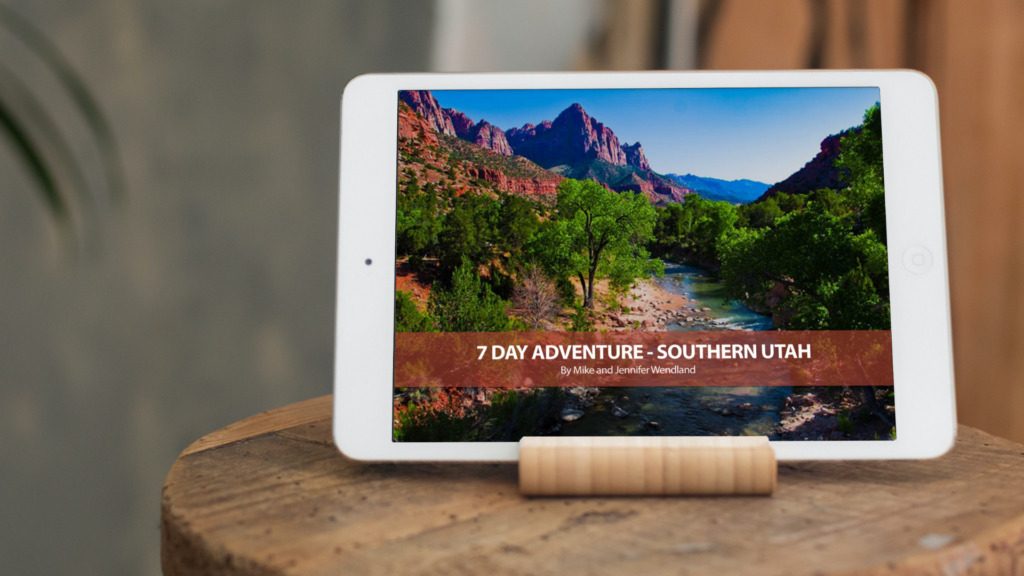 Utah, Utah, Utah. What more is there to be said? In very few places across the United States is there such a tremendous area with breathtaking vistas and diversity of terrain.
The sheer size of the National Parks, the canyons, the desert. Combined with the amount of history written in the red rocks that rise like towers jutting out of the ground and the delicate hoodoos washed away by erosion.
It is a place that, if you've never been, you need to go, at least once in your life.
This ebook is a seven day guided exploration of the State and National Parks in Southern Utah. We provide a suggested route and itinerary, links to multiple campgrounds and boondocking spots, and the best spots to see along the way. Don't plan your trip to Southern Utah without it!
You can hit everything in seven days, do a whirlwind weekend tour, or you can take your time and explore the area over a few weeks.
---
---
---