Many RVers know that RV Lifestyle is a hub of information for new and experienced RVers alike. Many receive our latest articles and resources through our newsletter or social media, but did you know you can find even more information through our website's category pages?
At the top of RVLifestyle.com, you'll find several category tabs that take you to related resources. These tabs are the quickest and easiest way to delve deeper into different aspects of RVing.
In this article, we want to introduce you to our RV Basis tab, which leads to a library of valuable resources for new RVers. Below is a sampling of the most helpful articles for beginner RVers…
Hey, if you buy something through my links, I might get a little something-something as a thank you. No extra cost to you, promise! Read our full affiliate disclosure here.
New Articles & Resources Added Every Day
First, let's begin by saying that new articles and resources are added daily to RV Lifestyle. We work very hard to help RVers of all experience levels to confidently make the most of their RV lifestyle. You can consider us the "Google for RVers" as we have thousands of posts to help you.
In this article, we are going to cover our RV Basics collection of resources. But we also have the following helpful categories:
RV Basics
Alright, now let's jump into the type of resources you can find in our RV Basics category. This category is all about (yep, you guessed it!) the basics of getting started in the RV lifestyle.
The articles cover everything newbies need to know, from buying your RV to planning your first RV trip to rules and proper etiquette to helpful apps and gadgets to staying safe!
The following is a sampling of what you can find. And remember, we regularly add more articles and resources, so be sure to click on the RV Basics tab whenever you're on the website.
The following are all the things our RV Lifestyle members wish they had known about RVing before getting on the road. Their mistakes and discoveries can help you be prepared if RVing is new to you!
We took a lot of their insight from Facebook comments and have added plenty of our own in this article. Because after over a decade of RVing, we learned plenty of things the hard way. Hopefully, we can spare you from some of those hard lessons!
A lot of people realize that since they're going to be RVing all over the country, they really don't have to limit themselves to buying an RV locally.
In fact, many people make picking up their RV their first trip! They fly over and enjoy the maiden road trip back home.
There's the added bonus that it's cheaper to buy RVs in some states over others. However, there are other factors to consider beyond finding the cheapest state to buy an RV.
The following guide explains everything you should consider when looking to buy an RV in a different state. Keep reading…
Which is better for you, gas vs diesel for your RV? It's an important question to ask and answer before buying an RV.
That's why it was a no-brainer to include a discussion on the topic in our book "RV Buying Secrets."
"RV Buying Secrets" is a 70-page downloadable digital guide to help you understand the nuances that come with purchasing an RV including where to save thousands of dollars in the buying process, what questions to ask dealers, or how to understand your warranty and what it covers. Let's take a look at what it says about gas vs diesel…
A new RV owner recently posted in our RV Lifestyle Facebook group, admitting he has no idea how to plan a vacation. Todd reached out to the community for their advice, posting:
"…I honestly don't know how to plan a vacation. How do you decide where to go, how long to stay, what to do?… Any advice is welcome!!"
As always, our RV Lifestyle community responded with encouragement and practical advice in over 150 comments. We have several articles on RV trip planning, but not specifically on where to begin… until now!
In this article, we share advice from the comments as well as some of our own. We also provide additional resources to help you make your RV trips a success. Keep reading…
There are TONS of places across the United States where you can find free RV sites and cheap camping. But it's easy to get stuck going to traditional campgrounds because it can be difficult and time-consuming to find these locations when you're researching and planning out an RV trip!
In this post, we'll cover a lot, so this is your warning in advance to strap in because it's a long one.
We're going to start with a general explanation of boondocking and the various forms that it can take as well as the cost advantages of boondocking. Keep reading…
Packing for an RV road trip can be both exciting and overwhelming. With limited space, it's important to prioritize what items to bring along.
And while it's easy to focus on the big-ticket items, the small things can often make the biggest difference.
I have written in the past about 7 must-haves for your first RV trip. However, I am expanding on that post to include these other "small things" our RV Lifestyle group recommended. Keep reading…
In our years of RVing, we've traveled across the country in every direction and back again. We have learned a lot along the way.
Some of those lessons were learned the hard way. Okay, a lot of them were.
That's why we've compiled our helpful RV rules for the road. So you can learn the easy way! Keep reading…
We started our RV lifestyle with a campervan, so driving wasn't as intimidating for us as it is for most RVers. However, there was a learning curve even for that small RV! (Blindspots, anyone?!)
More recently, we purchased a large 5th wheel, and THAT was definitely more intimidating. Even as experienced RVers, we needed to build our confidence with this new type of RV.
So, we decided that it's time for an article that shares RV driving tips that ALL RVers can benefit from. Whether you have a small or big RV, towable or motorhome, the following tips will help you hit the road with confidence. Keep reading…
leaves you irritable even before setup begins.
While RV designers put a lot of work into making the cab comfortable, they can't cater to all of our individual needs. Some of us need more lumbar or tushy support. Some need heat or to be cooled down.
And we all need little nifty accessories to make the drive more enjoyable. Keep reading…
We know, we know! When you're camping, you don't want to think about rules and restrictions. BUT you also don't want to be "that guy" that doesn't know proper RV camping etiquette.
To save you from being "that guy," we've written many articles on the unwritten rules and proper etiquette for RV camping.
We've received excellent feedback on those articles, so we've decided to compile them into an "RV Rule Book" in the form of this round-up post. Keep reading…
We have been RVing for over 11 years now, and for much of that time in a small campervan! Oh, and we travel with a 70-pound dog, too.
We've clearly learned how to survive living and traveling together in such close quarters. If we hadn't, we either would've killed each other by now or given up on our dream of RVing. I don't know which would've been the worse outcome.
All joking aside, RVing with your spouse is a wonderful and very special experience. But it does come with some BIG challenges. So, we're going to share our "unwritten rules"… Keep reading…
RV slides are wonderful things to have. They give us extra room and truly enhance the RV Lifestyle. But slides are often prone to issues and one of the questions so many have has to do with whether the entire RV should be leveled before the slides go out or whether leveling after the slides are extended is okay.
The question comes from Michael, who asks:
"On a 40-foot class A, should we level first and then put out the slides or put the slides out and then level?" Here's the answer…
Many RV owners want to use their RV fridge and other appliances while driving between camping destinations. That desire leads to the following two questions:
Is it illegal to drive an RV with propane on?
Is it safe to drive an RV with propane on?
In this blog post, we'll address both questions, including the exceptions of when and how it is illegal. We'll also include tips to keep you safe if you choose to use propane in transit. Keep reading…
Want More RV Basics?
The above is only a small sampling of the helpful articles and resources you can find on our RV Basics page. And, we regularly add more resources!
So, be sure to click on the RV Basics tab whenever you visit RVLifestyle.com. The most recent articles and resources will be right at the top, and you can scroll down for more.
Don't forget to also check out our RV Lifestyle YouTube Channel and RV Lifestyle Podcast!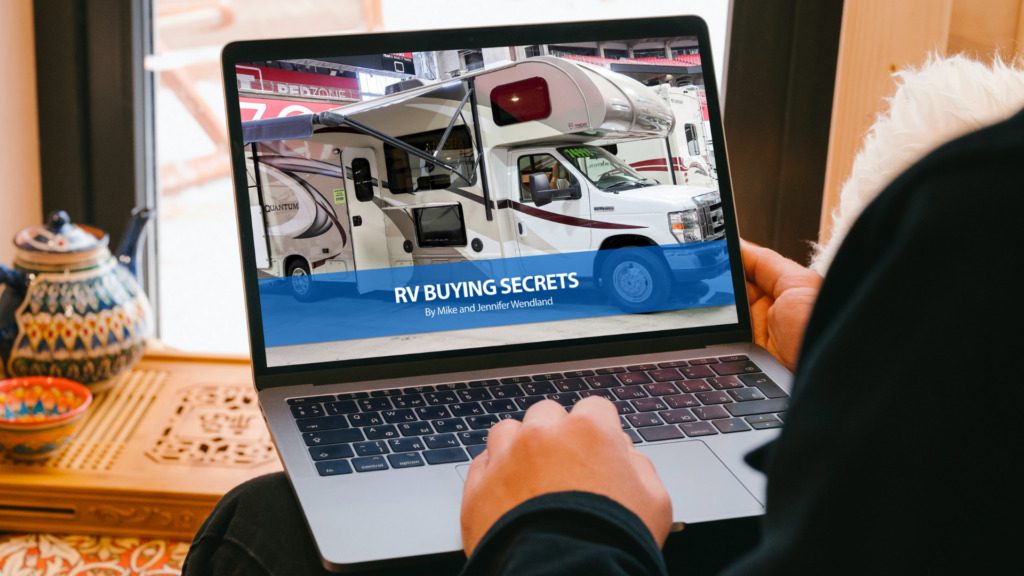 Next to your home, an RV is most likely the 2nd most expensive thing you'll ever purchase.
We get questions every day of other RVers wondering. "How do you buy a new or used RV?"
So we created a 75+-page downloadable digital guide to help you understand the nuances that come with purchasing an RV, where you can save thousands of dollars in the buying process, what the right questions are to ask dealers, what things to look out for, how to select the right unit, amenities, warranties, and so much more!
We created this guide to help you understand the nuances that come with purchasing an RV including:
Where to save thousands of dollars in the buying process
What questions to ask dealers
How to select the right unit
How to narrow down RV amenities
Understanding your warranty and what it covers
This ebook is designed to help make your purchase process as smooth as possible. And to teach you step-by-step exactly what to do so you can start your RV Lifestyle today!
---
---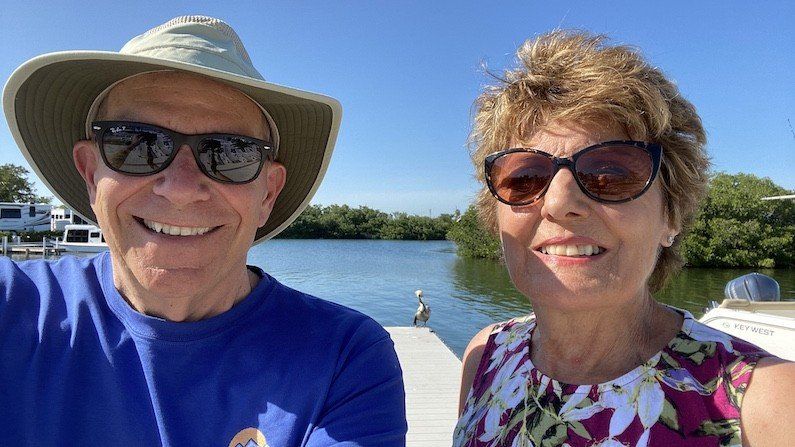 Curious about the gear, gadgets, accessories, and RV products Mike & Jennifer use and recommend?
On this RV Lifestyle Travel blog, our RV Podcast and our RV Lifestyle YouTube Channel, we mention all sorts of RV-related products and gear that we use, So we created a special page that links to them. We update this all the time.  CLICK HERE to go to it directly. Have you caught one of our Amazon LIVE events yet? Just go here and Follow us – to be notified every time we go live.
---