The cheapest state to buy an RV is apparently Arizona, Texas, or Florida. But that's just purchase price & there are other expensive factors to consider…
A lot of people realize that since they're going to be RVing all over the country, they really don't have to limit themselves to buying an RV locally.
In fact, many people make picking up their RV their first trip! They fly over and enjoy the maiden road trip back home.
There's the added bonus that it's cheaper to buy RVs in some states over others. However, there are other factors to consider beyond finding the cheapest state to buy an RV.
The following guide explains everything you should consider when looking to buy an RV in a different state.
What is the Cheapest State to Buy an RV
There seems to be a word-of-mouth consensus on where to find the cheapest purchase price for an RV. Those three states are Arizona, Texas, and Florida. Although that seems to really only apply if you're including used RVs into the equation.
The theory is that most RVers tend to settle in those three states and thus, there are more deals to be found. Since there are more used RVs available, that may also mean new RV sellers have to be more competitively priced.
Based on that, the purchase price of the vehicle itself seems to be cheaper in these three states than others in America. However, that doesn't mean it will be cheaper overall. One of these states, for instance, has one of the highest registration fees in the country.
We'll get into the other factors shortly but first, let's quickly address when to buy an RV.
When is the Best Time to Buy an RV?
RV prices go up and down seasonally, depending on the location. In general, prices go down in the off seasons.
Arizona, Texas, and Florida are hotspots for snowbirds. If you're not familiar with the term, snowbirds are travelers that come from colder climates to warmer climates in the coldest months.
That means, the RV off season for Arizona, Texas, and Florida is summer time, which makes it the best time to buy in those areas.
In other states, the best time of year to make an RV purchase tends to be during the winter months. You can find great deals in very cold states, like Minnesota and the Dakotas, just before winter sets in.
That being said, you can still find deals year-round. Those seasons just tend to be when there's more supply on the market.
Important Things to Consider Before Buying an RV Out of State
When trying to figure out the cheapest state to purchase an RV, you have to consider several different costs. The main ones are:
Actual cost of the camper
Taxes and Registration fees
RV Insurance Premiums
Let's take a closer look at those different costs.
Actual Cost of the Camper
Arizona, Texas, and Florida might have a low purchase cost for an RV. However, be mindful of sales tax and personal property tax since that can drive up the overall price.
You also want to be mindful of any traveling expenses that you might incur by going to a different state to purchase an RV. If you have to fly or drive to a faraway location, say to Arizona from Ohio, then it might be more expensive than any savings you'd see.
Between airfare, gas, and any other tow vehicle or rental, the trip cost could outweigh the savings by a long shot.
When looking at states with the cheapest cost of purchasing an RV, you have to look at the total picture.
---
Mike and Jennifer's Official Summer T-Shirts for you to explore

---
Taxes and Registration Fees
Many people think only about the cost of the RV itself. But if your state has a 10% sales tax, that can add up to big bucks!
For example, an RV that costs $100,000 would incur $10,000 just in sales tax.
If you are purchasing a smaller camper, like one that costs $20,000, then you are still looking at $2,000 just for tax. That is a hefty price tag!
Another important factor to consider when buying an RV is where you want to register it. Some states have steep registration costs, while others are much more reasonable.
Arizona has the lowest registration fee but Florida has one of the highest registration fees for a new RV (it's a pretty average price for a used RV). Texas falls around the middle compared to other states.
If you plan to travel or live in your RV full time, then you may want to consider changing your residency to avoid hefty fees.
BUT you can't just register your vehicle in any state you want, all willy nilly. In most cases, you have to register and pay sales tax on your vehicle in your state of residence, even if you buy in another state.
Establishing a New State of Residence
The state that makes it easiest for you to change residency to is, hands-down, South Dakota. You don't even have to have a residence in the state to claim residency.
If changing your residency is a good fit for you and your travel plans, you can save a bundle. In South Dakota, for instance, you will have lower sales tax when you register your RV.
South Dakota also has no personal property taxes, meaning that you will only be responsible to pay a small registration fee each year to keep your RV current.
But South Dakota is not the cheapest state to buy an RV when it comes to taxes. There is one that is even cheaper!
That state is Montana. Montana has no sales tax and no personal property tax. So, the savings on taxes alone can be worth it. But, more so than that, Montana allows non-residents to register vehicles in their state.
If you are not a resident of Montana, there are companies that can help you obtain a Montana LLC so you can register a camper and avoid paying those taxes.
If you plan to be a full-time RVer and changing your residency interests you, you can visit websites like escapees.com to find out more information. They make it simple for you to register in a different state!
BUT WE ARE NOT RECOMMENDING THAT ONE WAY OR THE OTHER. Just because you can register your RV in a different state, doesn't mean it's necessarily better. Here's why…
Issues with Registering in a Different State
Keep in mind, your home state will frown on you paying registration fees elsewhere. They may hassle you to register it in your state and pay your state sales tax. You could come out on top… or not.
Your insurance company may also hesitate to insure a vehicle that is registered out of state. You would need to find insurance in Montana, or add the Montana LLC to your insurance policy. (You may also want to read 5 Professional Tips for Buying RV Insurance.
Changing residency may be more of a hassle than it is worth. Especially since Montana is the second-most expensive state for auto insurance. Assuming RV insurance rates follow suit in Montana, what you save in sales taxes may not be worth the ongoing insurance costs.
When it comes to insurance prices, Maine is the cheapest state to find RV insurance. But, they have higher sales and property taxes that may offset the savings.
South Dakota also has lower insurance prices, as well as low sales tax, and no personal property taxes.
If you are a full-time RVer and flexible about your residency, South Dakota may be the best all-around option to buy and register an RV if you can establish residency there.
Concluding Thoughts
Purchasing an RV at the lowest rate requires you to look beyond the initial cost of the vehicle. You also have to consider state registration costs where you are a current resident. As well as sales tax, personal property taxes, and insurance fees.
It seems like every time you save in one area, it costs more in another. Montana is the perfect example of this. The sales costs are cheaper, but the insurance costs are higher. So, you really need to do your research on any state you're considering buying and registering an RV in.
Overall, the savings of the initial purchase may not save you money in the long run if you do not look at the whole picture.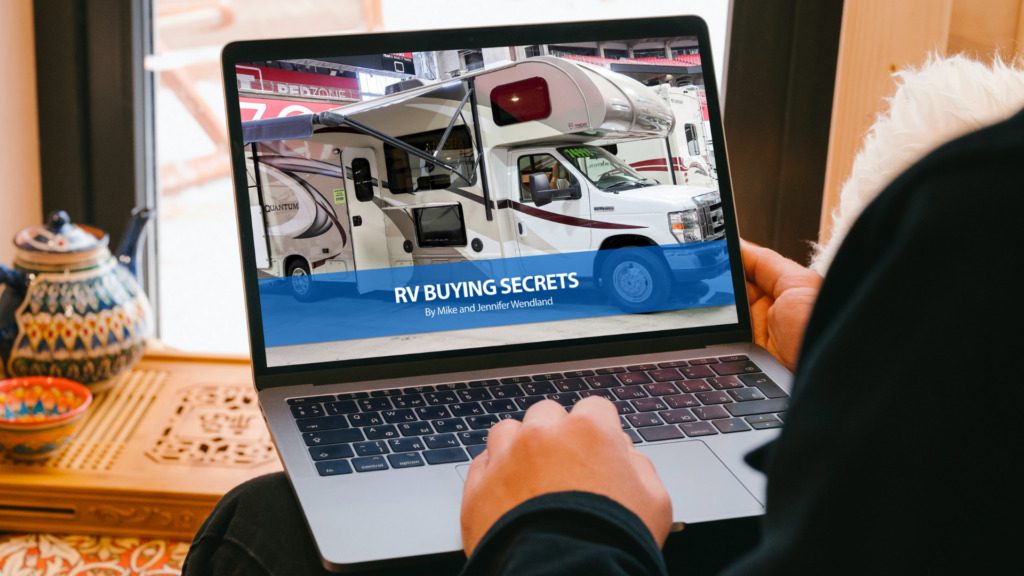 Next to your home, an RV is most likely the 2nd most expensive thing you'll ever purchase.
We get questions every day of other RVers wondering. "How do you buy a new or used RV?"
So we created a 75+-page downloadable digital guide to help you understand the nuances that come with purchasing an RV, where you can save thousands of dollars in the buying process, what the right questions are to ask dealers, what things to look out for, how to select the right unit, amenities, warranties, and so much more!
We created this guide to help you understand the nuances that come with purchasing an RV including:
Where to save thousands of dollars in the buying process
What questions to ask dealers
How to select the right unit
How to narrow down RV amenities
Understanding your warranty and what it covers
This ebook is designed to help make your purchase process as smooth as possible. And to teach you step-by-step exactly what to do so you can start your RV Lifestyle today!
---
---
---