It started as a hobby during retirement and grew into a full-time passion that Jennifer and I live 24/7. This is the story of how we started our RV life and how you can make your dream of RVing a reality, too…
After more than a decade, Jennifer and I still love living the RV life. We had camped here and there as we raised our children but always dreamed of making it a more permanent adventure.
That time came when we retired, and we've been RVing about half to ¾ of the year ever since. We still maintain a brick-and-mortar home, mainly so we can get our grandkid fix "back at home." But the majority of our time is spent traveling the U.S. and sometimes Canada in our RV.
If you're considering living in an RV fulltime (or close to fulltime), I have some insight for you based on our own experiences and everything we've learned.
Hopefully, our story encourages you to embrace this wonderful nomadic life, or at least decide if it's right for you. I'm also going to weave in tips and advice to help you make fulltime RV life a reality (if you so choose).
How We Started Our RV Life More Than a Decade Ago
We started living the RV life when I retired from daily journalism about 12 years ago. However, Jennifer and I had been dreaming and planning for a very long time leading up to it.
At first, it started as a "fun idea," but as we neared retirement, we realized we wanted it more and more. So, we really started digging in and researching what would soon be our new lifestyle.
It was overwhelming at first. After a four-decade-long career as a journalist, I thought my extensive travels would prepare me for the RV life. I suppose in some ways it did, but this style of travel was far different than what I had done as a reporter for big city newspapers and TV stations.
As "one of America's most well-traveled reporters," much of my traveling is called "parachute journalism." I'd fly in, cover a story, and fly out.
I can't tell you how many times I would look out from the airplane window and wish I could have actually experienced the area. That's what RVing allows you to do better than any other form of travel.
So, when we started our RV life, there was still a lot to adjust to and learn about this lifestyle. We both had surprises and challenges to overcome, some individually and some together.
What It Would Have Helped to Know About RVing
Despite all my travel experience and our in-depth research, we were in for some big surprises and challenges. There are always things RVers wish they had known before they started, and we were no exception.
We've experienced pros and cons, and have learned valuable lessons from those situations. So, let me share some of that insight with you.
Pros & Cons of the RV Lifestyle
Recently, I wrote an article on the Pros and Cons of RV Life Beyond the Obvious. I emphasized Beyond the Obvious for good reason. Too many online resources only mention pros like freedom and flexibility, and cons like limited space and travel stress.
While all of that is true, it really doesn't help a newbie RVer who could have guessed those things for themselves. So, I made a more in-depth pros and cons list that I wish I would've had as a newbie.
You can read the in-depth pros and cons of RVing list, but here are a few of the bullet points:
More QUALITY time with family and friends
Deepening connection with your travel partner
Practice builds confidence
Decision Fatigue is real
The RV life is not as affordable as people think
You need to know basic RV maintenance
Valuable Lessons Learned By Experienced RVers
With experience comes wisdom, often through hard-learned lessons of what not to do. There are countless things Jennifer and I learned from RVing, but a few lessons do stand out.
I cover these in-depth in an article titled 5 Lessons I Learned From RVing Over a Decade. I encourage you to read each lesson to better understand them, but here's a summary:
How to Embrace Being a Senior RVer (Good for all RVers to read, regardless of age)
How to Tell Friends & Family You're Starting the RV Life
How to Get Along in an RV
How to Find FREE or Cheap RV Sites
More Helpful Resources
While we're at it, I have a few more articles that are particularly beneficial to RV dreamers and newbies. In truth, we have a ton of articles that can help (we are a RV Lifestyle blog, after all), but here's a good sampling:
A Labor of Love
It's hard to believe that our "retirement" has given birth to an RV travel blog, RV Lifestyle YouTube channel, RV Podcast, RV travel books, and newsletters. Yet, here Jennifer and I are, more than a decade since we retired, enjoying the RV life to the fullest.
You may think that all the work that goes into our blog, videos, podcasts, and such defeats the point of retiring. It's true that if we're not careful, RVLifestyle.com could become all-consuming.
We've grown so fast over the years that our blog gets tens of thousands of views every day, and we have some 155,000 members in our RV Lifestyle Facebook group. Not to mention our other social media platforms.
But do you know the other truth? It's truly a labor of love, so it doesn't feel like work at all. We love sharing our experiences and the knowledge and wisdom that comes with them with fellow RVers like you.
We're thankful for all of our loyal readers, listeners, and watchers, as well as the new RVers that come along. Even if your RV journey looks very different than ours, I hope we can continue to support and learn from each other.
Happy Trails!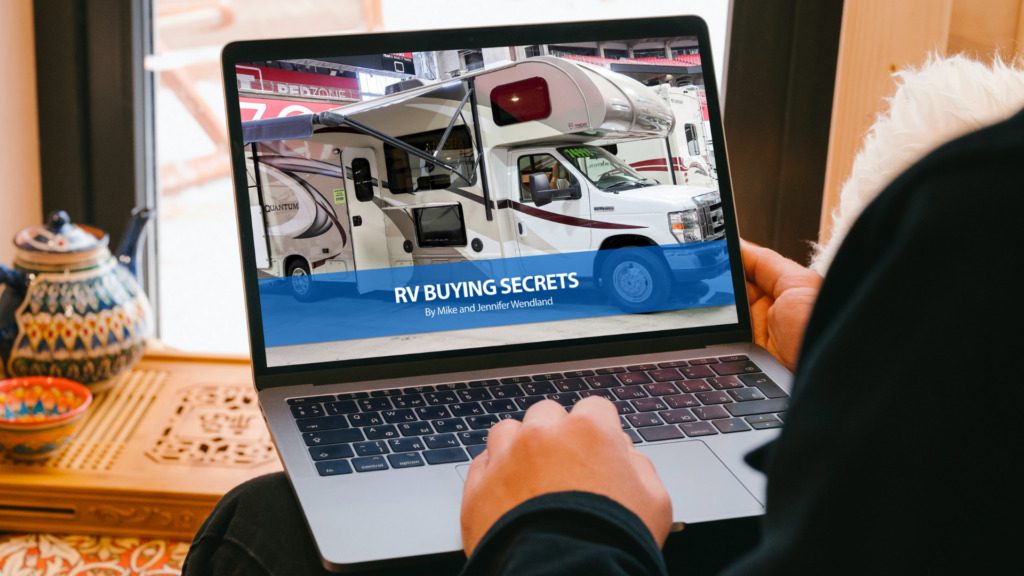 Next to your home, an RV is most likely the 2nd most expensive thing you'll ever purchase.
We get questions every day of other RVers wondering. "How do you buy a new or used RV?"
So we created a 75+-page downloadable digital guide to help you understand the nuances that come with purchasing an RV, where you can save thousands of dollars in the buying process, what the right questions are to ask dealers, what things to look out for, how to select the right unit, amenities, warranties, and so much more!
We created this guide to help you understand the nuances that come with purchasing an RV including:
Where to save thousands of dollars in the buying process
What questions to ask dealers
How to select the right unit
How to narrow down RV amenities
Understanding your warranty and what it covers
This ebook is designed to help make your purchase process as smooth as possible. And to teach you step-by-step exactly what to do so you can start your RV Lifestyle today!
---
---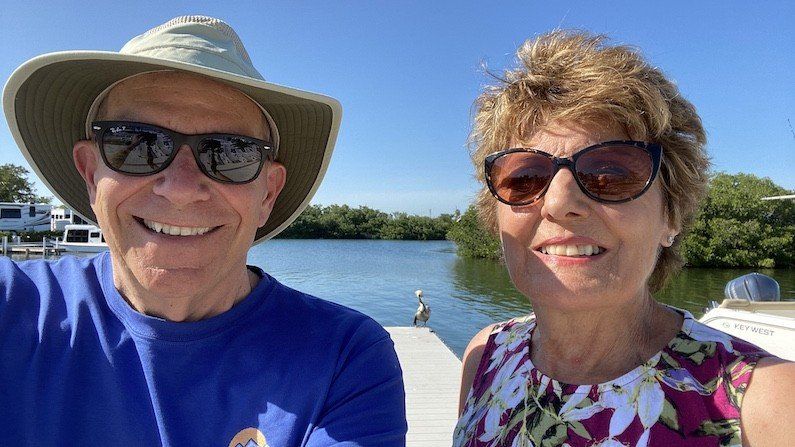 Curious about the gear, gadgets, accessories, and RV products Mike & Jennifer use and recommend?
On this RV Lifestyle Travel blog, our RV Podcast and our RV Lifestyle YouTube Channel, we mention all sorts of RV-related products and gear that we use, So we created a special page that links to them. We update this all the time.  CLICK HERE to go to it directly. Have you caught one of our Amazon LIVE events yet? Just go here and Follow us – to be notified every time we go live.
---