I reflect on the lessons learned from RVing after a decade of the RV lifestyle. By sharing them with you, I hope to better prepare you for things you might not expect and give you insight on how to handle them…
Have you ever heard the saying "you don't know what you don't know"? As in, you don't even know what you're completely ignorant of, like a blind spot in your knowledge base.
Well, I can say with certainty that when Jennifer and I started RVing, there was a lot we didn't know that we didn't know.
We planned and prepared for the RV life for years, but we still hit unexpected surprises once on the road. A lot of them.
But I want to share the top 5 lessons learned from RVing as we've travelled the country.
Lessons Learned From RVing
Hopefully, the following will get you ahead of the curve when it comes to starting your own RV journey. Of course, there will always be things you'll learn on the way from your own experiences, but it always helps to learn from others, too.
Jennifer and I have learned much of the following from others, too. So, it's only right that we pass it on to you and wish you the best of luck on your RV adventures!
How To Embrace Being a Senior RVer
Like many RVers, Jennifer and I began our RV lifestyle after retirement. We planned it for years and made it a reality after I retired from journalism.
To be honest, after decades of working, we were both unsure of what retirement would really be like. We were worried that jumping in an RV and leaving "stability" behind could be a big mistake.
We especially had concerns about leaving our kids and grandkids behind. Was it selfish of us?
And what about our health? We've always been active, health-conscious people, but what if our bodies started to fail us? We were getting older, after all!
Clearly, we took the plunge despite these hesitations and learned with time to truly embrace being a senior RVer. So much so, I wrote an article about it that I encourage every senior RVer to read.
How to Tell Friends & Family We Were Becoming RVers
I wish I had known before we started RVing how many naysayers there would be. I was so surprised by the negative comments and attitudes that some family members and friends had about our dream.
In fact, non-RVers questioning your choices (& sanity) is one of the Biggest Cons of RV Life Beyond the Obvious.
So, I wish I had known better at the time how to tell family and friends we were hitting the road. And also how to better respond to their concerns.
I've written an article about this as well: How to Tell Family & Friends You're Becoming a Full-Time RVer. The information is helpful, even if you're not going full-time.
The Top Ten Rules for Getting Along in an RV
Like what you see in these videos? We'd appreciate it if you would Subscribe to our YouTube Channel (easy to do right here) and consider "ringing the bell icon" to be notified of any new video from us. 🙂 Thanks!
As a journalist, I traveled A LOT during my career. In fact, I was advertised as "One of America's Most-Traveled Reporters."
So, I spent a lot of time away from home (and Jennifer) throughout my career. Imagine going from that kind of lifestyle to traveling and living in a small campervan!
Needless to say, it was a big adjustment! Thankfully, we figured it out and truly enjoy our time together on the road.
But, it would've been a whole lot easier if another experienced RV couple had given us guidelines to follow.
That's why Jennifer and I compiled our list of the Top Ten Rules for Getting Along in a Motorhome. You can read about them by clicking that link or watching the video above.
The 330 Rule
Another rule I wish we would've known before we started RVing is what we refer to as The 330 Rule. This rule would've saved us a lot of frustrating evenings (& arguments) from arriving at a campsite tired yet still needing to set up camp.
When we started RVing, I just wanted to bank as many miles as I could. I'd push myself to drive long hours, and ended up pushing myself (and Jennifer) over the edge. By the time we arrived at our campsite, we'd be irritable and it would only worsen as we set up camp.
We'd end up exhausted, having a late dinner that was thrown together, and starting our whole stay on the wrong foot. That's why we came up with our 330 RUle.
The 330 Rule says to drive no more than 330 miles a day or stop by 3:30 PM each day.
The 330 Rule has spread in the RV community, with lots of new RVers adopting it. By popular demand, we even sell a Rule 330 coffee mug and Rule 330 t-shirts in our shop.
How to Find FREE or Cheap RV Sites
Over the years, Jennifer and I have become expert boondockers. Boondocking or "dry camping" is when you're self-contained and don't require RV hookups when you travel.
We really enjoy the seclusion of boondocking, but it has also saved us lots of money over the years from campground fees. Granted, we still camp in campgrounds frequently, but it's not our preferred method.
If you'd like to learn more, you can read Is RV Boondocking Right For You? We also wrote a Beginner's Guide to Boondocking for those wanting to join the lifestyle.
As boondockers, we have learned all the best ways to find free and cheap RV camping sites. You can read about it here or download our Ultimate Guide to Cheap or FREE RV Camping Sites…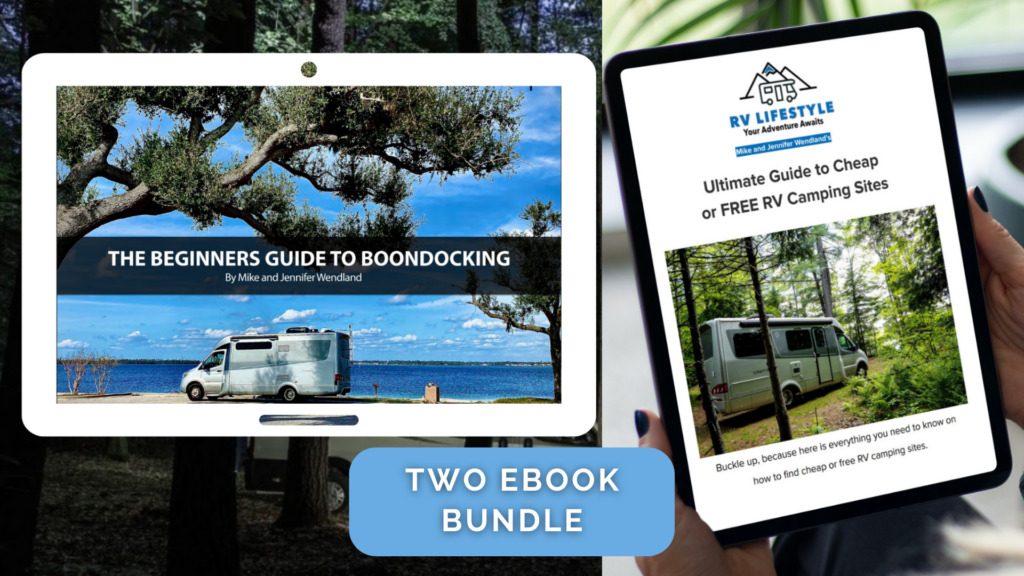 Beginners Guide to Boondocking (one of our most popular ebooks) and one of our newest ebooks, The Ultimate Guide to Free and Cheap RV Camping!
ebook #1: Beginners Guide to Boondocking
We created a 65+-page downloadable digital guide to help you understand the nuances that come with boondocking, the most common boondocking problems, and what you need to do to get your rig "boondocking-ready."
ebook #2: The Ultimate Guide to Free and Cheap RV Camping
Buckle up because here is everything you need to know on how to find cheap or free RV camping sites in the 33-page EBOOK.
---