With limited storage options, how do you store a mop and broom in an RV? Our RV Lifestyle Facebook group offers solutions…
One of our RV Lifestyle Facebook members recently asked the real RVers in our group about storing cleaning supplies, like a mop, broom, and vacuum.
Julie wrote: "May I ask how and where do you guys store your mops, brooms, and vacuums? Mine are always in the way, and we all know how precious storage is. Help!"
This question received almost 200 responses. Clearly, the struggle is real!
Many RVers shared their solutions, which we will now share with you. Plus, as a bonus, we share some shoe storage ideas at the end.
We use affiliate links and may receive a small commission on purchases at no added cost to you. Thank you for your support. You can read our full affiliate disclosure here.
How to Store a Mop and Broom in an RV
Here are some clever tips and tricks your fellow RVers use to store their mops, brooms, and vacuums. I also include alternative cleaning items to save you even more space in your rig!
1. Hang Them (But Where?!)
Many RVers choose to hang their cleaning accessories. While that is a more obvious solution, the question of where to hang them remains!
From a barely used wall to the shower, there are many different ways to hang your accessories so they are out of the way.
Hooks Over a Door or Shower Rod
Some folks hang their mop and broom on their shower rod. There are many different shower rod hooks styles, so you can find one that works well for your setup.
Velcro or Command Hooks on the Wall
One RV Lifestyle member uses Velcro to hang cleaning accessories in the bathroom. You can try this hack using Velcro on an unused wall or even inside the shower.
Another great option is to use command hooks on a little used wall or behind a door. Place the command hooks on the wall. Tie a string to the handle of your broom and mop, and hang it on the hook.
Use Grip Clips
Grip clip organizers hold your accessories to a wall with a click. You simply press the handle into the clip and they snap into place.
These clips come in handy for smaller tools, too, like flashlights or for organizing tools in your RV's basement storage.
2. Purchase Telescoping or Collapsible Cleaning Supplies
Many brooms can be stored in small cabinets or closets. But how do you do that if the closet is smaller than the length of the broom?
Purchase an adjustable set! From detachable cleaning sets to telescoping brooms and mops, there are a ton of options out there for you to choose from.
You can even purchase a collapsible bucket for your mop.
One Rv Lifestyle member, Rick, suggests purchasing a small hand vac instead of housing a large vacuum cleaner. It can easily slide under the bed or in a cabinet, occupying very little storage space.
3. Stash Them
Many RVers stash their brooms, mops, and vacuums inside closets or cabinets. They can easily house cleaning accessories if you have a hall, bedroom, or bathroom closet.
One member mentioned that she and her husband do not use a stackable washer and dryer. They put shelves in the closet and keep a lot of supplies inside.
Just because a closet is in your bedroom does not mean it can't hold your cleaning accessories. You just need to be creative to figure out how it can hold other things as well.
Here are some Space-Saving Tips for RV Closets & Drawers.
4. Store Them Underneath Furniture
Another storing option is to keep your broom, mops, and vacuums underneath your RV bed. Many RV beds have large storage areas underneath that are accessible by lifting the bed.
If your RV has such a bed, that might be the ideal storage place for your longer, bulkier items.
Keep in mind, this is much easier to do with slim and lightweight vacuums. Here's a list of The 5 Best RV Vacuums.
5. Store Next to Furniture
If you do not have any free walls, closets, cabinets, or under-bed storage available, try stashing your cleaning accessories behind furniture.
RV chairs and couches often have free space between the furniture and the wall. For many folks, that space is large enough to store a broom, vacuum, or mop!
6. Next to Your Washer Dryer Combo
If you have a washer/dryer combo in your RV, there's a good chance there's just enough room to slide in a mop and broom on the side.
You may have to figure out the best angle and way to fit them in. But once you have it figured out, you're golden.
7. Consider Using Other Cleaning Supplies
If your rig is small enough, you may not need a full-size vacuum and mop to clean it. Some RVers suggested sweeping and then using cloths to wipe floors and Clorox wipes to clean and sanitize countertops.
Another RV Lifestyle member, Marc, said he uses a bucket of soapy water and cloth to mop his rig instead of a mop. A bucket can be used for multiple purposes, snd not take up to much space if you get a collapsible bucket.
A lot of RVers also like to use a Swiffer mop, which takes up less room (and is lighter) than traditional mops.
8. Purchase a Dual-Purpose Vacuum
Did you know that there are combination vacuum mops on the market? That is right! You can buy one small appliance that does double the duty!
These are a bit bulkier, but since they take the place of multiple appliances, it's manageable.
9. Store Them in Outside Storage Compartment
Another option is to put these items in your rig's basement. While you must go outside to grab them, they won't take up precious space inside your RV.
This may give you more options, too, when choosing which products to buy.
10. Keep Them at Home
Some RVers don't keep mops and vacuums in their RV. Instead, they keep them at home and do a deep cleaning when they return from their camping trip.
Of course, this isn't as practical if you go on longer camping trips. But if you go for a weekend or even a week, this can be a valid option.
It's probably best to still bring a broom for quick cleanups. Or at least a handheld brush and pan or handheld vacuum.
If you encounter a cleaning emergency, a friendly neighbor will likely loan you one!
Bonus Tip
We have an Amazon List called RV Cleaning and Maintenance​ -​ You can see ALL the Amazon Lists HERE.
Like what you see in these videos? We'd appreciate it if you would Subscribe to our YouTube Channel (easy to do right here) and consider "ringing the bell icon" to be notified of any new video from us. 🙂 Thanks!
Another big challenge for RVers is figuring out where to store shoes, especially dirty one!
Where can you store dirty and muddy shoes while you camp? What about when you pack up to go home or head to your next destination? Or just want long-term RV shoe storage?
In this article, we share 10 RV shoe storage ideas…
Whenever someone asks us, "Where is one of your favorite places in the US for RVing?" Our answer is unquestionably, in unison, "The UP of Michigan." The "UP" means Upper Peninsula, of course.
That's why we decided to write our first "7 Stop RV Adventure" to help you explore Michigan's Upper Peninsula.
This ebook is a seven-stop guided exploration of the Michigan UP. We provide a suggested route and itinerary, links to multiple campgrounds and boondocking spots, and the best spots to see along the way. Don't plan your trip to the Upper Peninsula without it!
---
---
---
Official RV Lifestyle QUICK Links to ALL our eBooks
You can see ALL our eBooks here, or use the following Quick Links to go straight to what you need!
● Arizona
●    Colorado 
And MANY of these are BUNDLED together:
New England Bundle
Coastal Maine, Adirondacks
Ultimate Michigan and Great Lakes Bundle – 3 ebooks –
Upper Peninsula, Lower Peninsula, and the Great Lakes Tour
Michigan Bundle
Upper Peninsula, Lower Peninsula
The Great Lakes Adventure Guide Bundle
The Great Lake Shoreline Tour & JUST the Upper Peninsula Guide
Florida Adventure Guide Bundle
Gulf Coast, Atlantic Coast, Keys
Southwest Adventure Guide Bundle
Arizona, Colorado, Southern Utah)
Ultimate 7-Day RV Adventure Guide Bundle
Collection 1- our first 10 ebooks (does NOT contain Great Lakes Shoreline or Natchez Trace)
We also have a nice collection of ebooks that will help you navigate the RV Lifestyle.
Like these:
The Beginner's Guide to Boondocking
The Ultimate Guide to Cheap or FREE RV Camping Sites
Boondocking and Free RV Camping EBOOK Bundle
The Beginner's Guide to Boondocking ebook and Ultimate Guide to Free Camping Sites
And ONE PRINT book 🙂 and yes, before you ask, we have plans for MANY more print books.
The Complete Guide to Boondocking – PRINT VERSION
This is the same as the ebook titled The Beginner's Guide to Boondocking but in print.
And while you are exploring all our ebooks – check out the hoodies, T-shirts, Stickers, and mugs in our MERCH Store! You can get to it directly by just going here – SHOP!
---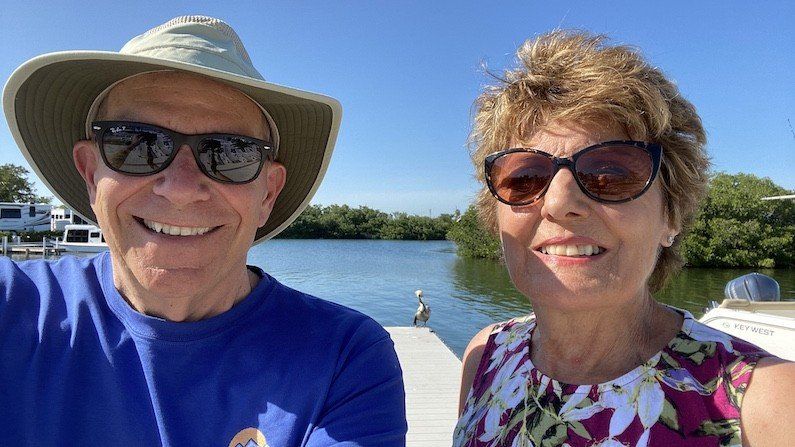 Curious about the gear, gadgets, accessories, and RV products Mike & Jennifer use and recommend?
On this RV Lifestyle Travel blog, our RV Podcast and our RV Lifestyle YouTube Channel, we mention all sorts of RV-related products and gear that we use, So we created a special page that links to them. We update this all the time.  CLICK HERE to go to it directly.
---