Did you know RV Lifestyle has an untapped resource for Boondockers in one easy-to-find place? The "Boondocking" tab contains a library of helpful articles…
Many RVers know that RV Lifestyle provides endless information for newbie and veteran RVers alike. And many already receive our latest articles and resources via social media or our newsletter.
But did you know you can find more information by clicking on our website's category pages?
When you visit RVLifestyle.com, you'll see several category tabs across the top. These tabs are a quick and easy way to dive deeper into specific areas of RVing.
We want to introduce you to our Boondocking tab in this article. This tab contains a variety of valuable resources for RVers interested in boondocking…Click Boondocking at the top.
We use affiliate links and may receive a small commission on purchases at no added cost to you. Thank you for your support. You can read our full affiliate disclosure here.
New Articles & Resources Added Every Day
First things first. Did you know we add new articles and resources daily to RV Lifestyle? That is because we want to help RVers of all experience levels to make the most of their RV lifestyle. We are like the "Google for RVers" as we have thousands of posts to help you.
In this article, we will cover our Boondocking collection of resources. But we also have the following helpful categories:
Resource for Boondockers – the Boondocking tab
Boondocking, also known as dry camping, is camping without hookups to electricity, sewer, water, and cable. Folks love it because you can be away from crowded campgrounds and save a lot of money on campground fees.
Now, let's jump into the type of resources you can find in our Boondocking category.
The articles cover everything from whether boondocking is suitable for you (for all newbies) to the top stargazing tips for boondockers. We even have an article that covers tips for using a CPAP machine while off the grid!
The following is a sampling of what you can find. And remember, we regularly add more articles and resources, so be sure to click on the Boondocking tab whenever you're on the website.
Are you new to boondocking? While boondocking appeals to many, how do you know if it fits you well? Even if you are an experienced RVer, you might wonder if going off the grid ultimately is a good fit.
This article covers things you must consider before boondocking for the first time!
As Jennifer and I tell others about boondocking, over and over again, we hear people give voice to the same two issues.
These boondocking misconceptions have somehow taken deep roots in the RVing world and it's our intent with this article to dispel them.
They are both totally fake news… Keep reading…
Some people seem to think all that solitude and lack of dozens of RVs in the area means you are more vulnerable to criminal elements, right?
I'm sure you have heard those worries. Maybe you even had them yourself and wondered how safe is boondocking?
The simple answer is that boondocking is safer than sleeping in your bed at home. Let's look at why boondocking is safe, and how you can maximize your safety on every adventure… Keep reading…
Camping can be expensive. Especially if you are spending more travel time in outdoor spaces or you're living and working from your RV.
Traditional campgrounds can also be crowded and noisy. It can sometimes feel like the opposite experience you are seeking by getting away from civilization and into nature.
That may be why you are looking for cheap or free RV camping sites and that's why I'm here to help. I'm going to introduce you to boondocking in off-the-beaten-path campsites and then teach you how to find them… Keep reading…
If you are a boondocking newbie, you may be lost in camping jargon. Well, we have got you covered!
This article explains all that RV terminology, acronyms, and other RV jargon tripping you up. Even experienced campers may find this guide helpful if you are new to boondocking! Keep reading…
Whether you are spending the night in a paved parking lot or a few days on public lands, some common-sense rules will make your stay less obtrusive, more enjoyable for everyone, and help to protect treasured boondocking locations for future use.
At a time when poor camper behavior is causing local, state, and federal officials to shut down longtime boondocking areas, all RVers need to follow proper boondocking etiquette.
Here are the 9 etiquette tips, short and sweet with lots of bonus suggestions and videos… Keep reading…
Lithium-ion batteries are the leading battery choice for boondocking. They are newer than lead-acid batteries, and lighter and more compact. In fact, you probably already own small lithium batteries in your laptop or cell phone!
They do not need as much maintenance as lead-acid batteries, making them easier to deal with. They can also lose their charge completely without damaging the battery, unlike lead-acid batteries.
However, they are expensive and aren't worth it for every type of RVer. So, this article covers the different batteries to help you determine which is the best RV battery for you… Keep reading…
If you love camping, then you probably love to go stargazing. What better place to stargaze than while you are boondocking and likely far away from the light pollution many cities experience?
Are you looking for the top stargazing tips for boondockers? If so, this article is for you! Keep reading…
One reason real RVers love to boondock is to be closer than ever to the great outdoors without the noise and distraction of other people. And what better place to do that than near one of the most gorgeous places on Earth: Yellowstone?
This article outlines three fabulous locations to boondock just outside of Yellowstone. Keep reading…
Podcast alert! Have you heard of Boondockers Welcome but wondering what it's all about? In short, it is a boondocking program that can connect you with memorable places to go boondocking without breaking the bank!
Watch RV Podcast Episode 395 to find out more!
So many RVers experience full campgrounds and ballooning nightly fees. Are you fed up? If so, you are not alone and may want to try your hand at boondocking.
First, I recommended watching the above podcast on what Boondockers Welcome is. Then, read this article to learn seven more reasons it is worth using! Keep reading…
Whether you are young or old, you may have sleep apnea. This sleep condition can be dangerous if left untreated with a CPAP machine.
So, for those folks who rely on this vital piece of medical equipment to sleep at night, you may think boondocking is not for you. But do not despair because you can still enjoy camping off the grid!
A while back, an RV Lifestyle member asked other RVers for advice on using a CPAP while boondocking. And boy, did they answer with some good advice! Keep reading…
We Have LOTS of Boondocking Videos
Like what you see in these videos? We'd appreciate it if you would Subscribe to our YouTube Channel (easy to do right here) and consider "ringing the bell icon" to be notified of any new video from us. 🙂 Thanks!
On our RV Lifestyle YouTube Channel, we have a big collection of boondocking-related videos. Here's a small sampling of those videos:
Want More Boondocking Resources?
The above is only a small sampling of the helpful articles and resources you can find on our Boondocking page. And, we regularly add more resources!
So, be sure to click on the RV Basics tab whenever you visit RVLifestyle.com. The most recent articles and resources will be right at the top, and you can scroll down for more.
Don't forget to also check out our RV Lifestyle YouTube Channel and RV Lifestyle Podcast!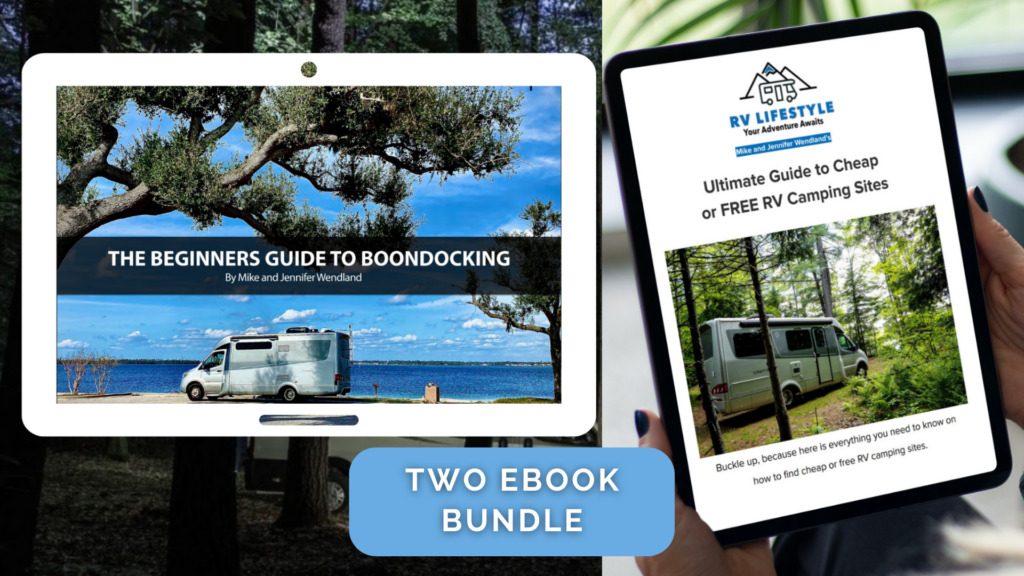 Beginners Guide to Boondocking (one of our most popular ebooks) and one of our newest ebooks, The Ultimate Guide to Free and Cheap RV Camping!
ebook #1: Beginners Guide to Boondocking
We created a 65+-page downloadable digital guide to help you understand the nuances that come with boondocking, the most common boondocking problems, and what you need to do to get your rig "boondocking-ready."
ebook #2: The Ultimate Guide to Free and Cheap RV Camping
Buckle up because here is everything you need to know on how to find cheap or free RV camping sites in the 33-page EBOOK.
---