Recently, RV Lifestyle Facebook group member Bobbie asked about towing a 5th wheel in toll lanes. She posted:
"I'm a newbie going on our first long trip. We are pulling a 5th wheel. If you go through tolls, do you pay as a car or truck if you go through tolls? What lane do you get in? Thank you for your advice!"
Our RV Lifestyle community replied to her post with many helpful comments. In this blog post, we're going to answer Bobbie's questions and several more regarding RVs and toll roads.
(PSST! We also share a video on RV Towing Basics You MUST Get Right at the end of this article.)
We use affiliate links and may receive a small commission on purchases at no added cost to you. Thank you for your support. You can read our full affiliate disclosure here.
Can You Tow a Trailer or 5th Wheel on Toll Roads?
Yes, you can tow a travel trailer, toad, or 5th wheel on MOST toll roads. As long as you abide by the toll roads rules and regulations, it doesn't matter if you're pulling a trailer or not.
There are a few exceptions, however. For instance, Southern California's 91 Express Lanes do not allow trailers even though California's FasTrak does.
So, our advice to you is to DO YOUR RESEARCH, especially in excessively-high traffic areas. Those areas (like San Francisco and Los Angeles) will have more unusual toll regulations.
That brings us to our next FAQ about toll roads…
Do All Toll Roads Work the Same?
The United States has different toll authorities in different states and regions. Though toll roads work mostly the same way, each toll authority may have different rules and pay schedules for their toll roads.
Thankfully, you can usually count on plenty of signage and information at each toll station to answer most of your questions on the go.
However, there are certainly some basics RVers should know before planning to use any toll road. You don't want to plan to use a toll road in your route only to realize it's inaccessible or more expensive than you're willing to pay.
There has also been a dramatic shift in how toll booths operate. The majority of toll roads now use electronic payment systems, many of which "scan and charge" you as you drive at normal speed.
However, even some of these electronic systems require you to slow down and use certain lanes. While still others are person-operated. Let's do a quick rundown of the different toll processes.
Attendant Toll Booths
Many places have gone away from toll booths, but some still require you to stop and pay an attendant.
You may also find that machines have replaced attendants. So, you still must stop and pay toll fees at the time of use on these roads.
A good rule of thumb when driving in a new area is to ALWAYS keep some cash on hand. For unexpected tolls and countless other issues you may face while RVing in an unfamiliar area.
Most toll roads are doing away with attendants and booths entirely…
Automatic Transponder Toll Roads
Many modern-day toll roads use pre-purchased vehicle transponders inside or on a vehicle's windshield to track and charge tolls. As you pass through the toll "checkpoint," the transponder is read and automatically charges a bank account linked to your toll account.
For RVers just passing through, it doesn't always make sense to register for a transponder in a certain area you don't frequent. So, you may think that if you don't have the regional transponder, you can't use the toll road. In some cases, you'd be right…
What If I Don't Have a Toll Transponder?
This is where toll authorities vary, especially depending on the region. Some toll authorities (particularly in less-populated areas) may simply send a toll bill to the address registered with your vehicle. (Although this is becoming less and less common.)
In those areas, you can use the toll lane and just pay the bill asap. Just NOTE that toll bills usually require FAST payment and charge BIG late fees if not paid in time.
HOWEVER, other toll authorities (particularly in populated areas) will send you a VIOLATION NOTICE if you use a toll lane without a valid transponder. You can usually avoid this violation if you pay through their app or website within a few days.
California's FasTrak, for instance, will charge you a $25 penalty if you use their express lane without a valid FasTrak toll tag. You have 5 days before or after you drive on the toll road to pay through their app or website. If you don't pay digitally within that timeline, you'll pay the penalty.
Is There a Universal Toll Transponder?
Yes, there is a universal toll pass in the U.S. called RV Toll Pass. It's a single transponder that people can use for their RVs, whether a motorhome or towable. The company claims it works on "97% of major toll roads in the U.S."
We wrote an article on the Universal Toll pass that relays what we have learned about the product and how it may be useful if it lives up to its promises. (We haven't tried it ourselves.) The article also provides tried-and-true alternatives to the universal toll pass for large-range toll transponders.
Keep Cash on Hand
While most places accept credit or debit cards nowadays, keeping cash on hand is always a good idea when traveling in an unfamiliar area. It may come in handy for tolls and other remote locations that may not accept credit cards. Or, if their card machines are down.
We always recommend that RVers keep at least an "emergency $20" if not a hundred dollars. Some of us keep a baggie full of all those coins we never use, which comes in handy at tolls less than two or three dollars.
How Much are Tolls for an RV?
Overall, most toll authorities charge per axle. If you are driving a motorhome with only two axles, then you will likely pay the regular toll rate.
If you tow a small trailer with only one axle, you will likely get charged for three axles. That includes your vehicle's two axles and your trailer's single axle.
If your fifth wheel has two axles, you'll likely be charged as a four-axle vehicle.
Some places, however, charge by weight. Or, charge by using a flat rate by size or vehicle type.
Which Toll Lane Do I Use?
The best practice for RVers is to use the truck toll lane when passing through toll points. These lanes are specifically designed to accommodate larger vehicles and offer more space for maneuvering.
Additionally, commercial/truck lanes often have higher weight limits, ensuring that your RV can pass through without exceeding any restrictions.
Just be sure to pay attention to signage. In most cases, RVs are welcome to use the truck lanes, but there can be a few exceptions. If the sign doesn't specifically say "No RVs", then you should be fine to use it.
If you're unsure, it's usually best to err in a truck lane than in a passenger vehicle lane. If you use a truck lane and you're not supposed to, you'll likely just get a warning. The consequences of using a too-small passenger vehicle are much riskier since you can damage your RV or toll booth.
If you have a campervan or small RV, then any lane is fine.
Do 5th Wheel Campers Need to Stop at Weigh Stations?
In addition to toll roads, you may encounter weigh stations along your travel route. But many folks do not know if they need to pull over when towing a trailer.
Keep reading Do 5th Wheel Campers Have to Stop at Weigh Stations? to learn more.
RV Towing Basics You MUST Get Right
Like what you see in these videos? We'd appreciate it if you would Subscribe to our YouTube Channel (easy to do right here) and consider "ringing the bell icon" to be notified of any new video from us. 🙂 Thanks!
One of the most daunting parts of camping has to do with RV Towing. Not just how to tow but how to make sure your tow vehicle is up to the task and then how to tow safely and correctly is what we explore in this video.
Mike and Jennifer's Southern Utah RV Adventure Guide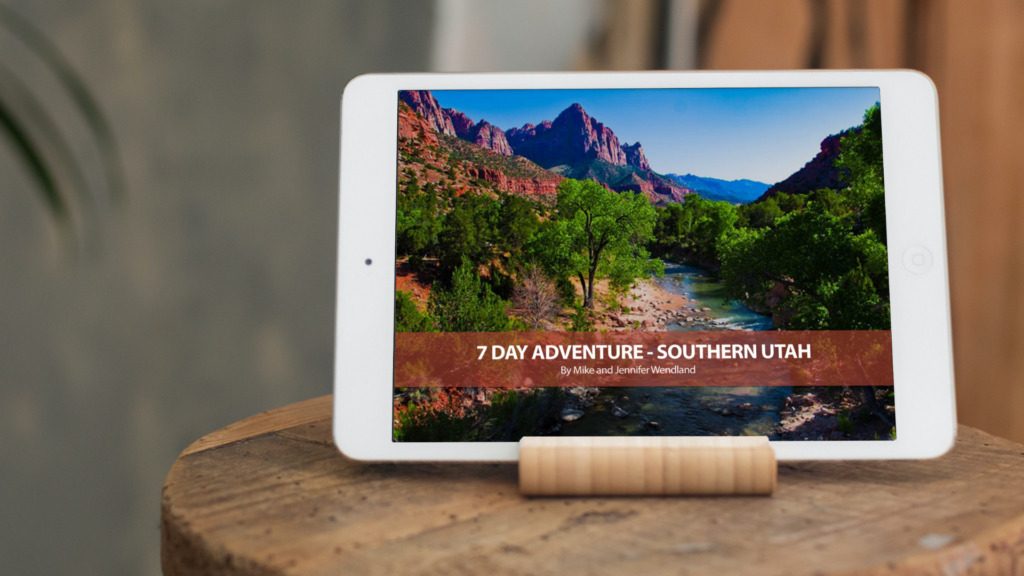 Utah, Utah, Utah. What more is there to be said? In very few places across the United States is there such a tremendous area with breathtaking vistas and diversity of terrain.
The sheer size of the National Parks, the canyons, the desert. Combined with the amount of history written in the red rocks that rise like towers jutting out of the ground and the delicate hoodoos washed away by erosion.
It is a place that, if you've never been, you need to go, at least once in your life.
This ebook is a seven day guided exploration of the State and National Parks in Southern Utah. We provide a suggested route and itinerary, links to multiple campgrounds and boondocking spots, and the best spots to see along the way. Don't plan your trip to Southern Utah without it!
You can hit everything in seven days, do a whirlwind weekend tour, or you can take your time and explore the area over a few weeks.
---
---
---
Official RV Lifestyle QUICK Links to ALL our eBooks
You can see ALL our eBooks here, or use the following Quick Links to go straight to what you need!
● Arizona
●    Colorado 
And MANY of these are BUNDLED together:
New England Bundle
Coastal Maine, Adirondacks
Ultimate Michigan and Great Lakes Bundle – 3 ebooks –
Upper Peninsula, Lower Peninsula, and the Great Lakes Tour
Michigan Bundle
Upper Peninsula, Lower Peninsula
The Great Lakes Adventure Guide Bundle
The Great Lake Shoreline Tour & JUST the Upper Peninsula Guide
Florida Adventure Guide Bundle
Gulf Coast, Atlantic Coast, Keys
Southwest Adventure Guide Bundle
Arizona, Colorado, Southern Utah)
Ultimate 7-Day RV Adventure Guide Bundle
Collection 1- our first 10 ebooks (does NOT contain Great Lakes Shoreline or Natchez Trace)
We also have a nice collection of ebooks that will help you navigate the RV Lifestyle.
Like these:
The Beginner's Guide to Boondocking
The Ultimate Guide to Cheap or FREE RV Camping Sites
Boondocking and Free RV Camping EBOOK Bundle
The Beginner's Guide to Boondocking ebook and Ultimate Guide to Free Camping Sites
And ONE PRINT book 🙂 and yes, before you ask, we have plans for MANY more print books.
The Complete Guide to Boondocking – PRINT VERSION
This is the same as the ebook titled The Beginner's Guide to Boondocking but in print.
And while you are exploring all our ebooks – check out the hoodies, T-shirts, Stickers, and mugs in our MERCH Store! You can get to it directly by just going here – SHOP!