The best survival gadgets can mean the difference between life and death! But mostly, it's about the difference between enjoying an RV camping trip or not…
If you like to enjoy the great outdoors, like Jennifer and I do, you want to be sure to always have a plan to remain safe. You need to have the right supplies in order to survive in an emergency situation, should one arise.
I hope that you never have to face a survival situation. But if you do, I want you to be prepared for anything.
You may have seen my post about the 29 must-have camping gadgets. Those are excellent items to take along for any camping trip.
I wanted to expand on that gadget list and even take it up a notch from "must-have" to "need-to-have." That's why I created this list of the best survival gadgets for camping.
You never know when natural disasters or other emergency situations may occur. You may find yourself lost, in need of a freshwater source or emergency shelter. Or maybe there is a power outage in your area, limiting your electronic devices.
Having the right gear in those situations can save your life!
11 Best Survival Gadgets for Camping
Some may call it a bug out bag, while others simply say survival pack. No matter what you name it, packing a day pack or keeping an extra bag with survival gadgets and other emergency supplies can come in handy.
The following is my list of the best survival gear to increase your chances of a safe return in a survival situation.
We use affiliate links and may receive a small commission on purchases. Thank you for your support.
1. Space Blanket
A space blanket is also known as an emergency blanket or survival blanket. This blanket is very similar to an emergency sleeping bag but is usually smaller.
They both work as a warming device by reflecting or maintaining 90% of a human's body heat. It keeps it trapped inside the blanket to keep you warm in extremely cold temperatures. They are great to have on hand in case a natural disaster or unexpected bad weather occurs.
Adding this item to your basic survival kit is a great thing for your peace of mind.
2. Fire Starter
Being able to start a fire can mean the difference between life or death in certain scenarios. Not only does fire keep you warm, but it also provides a heat source for cooking food and boiling water.
Emergency fire starters come in different shapes and sizes. Many are waterproof, windproof, and lightweight. That means you can easily add it to a pack for your outdoor adventures.
Or you can make your own! We were gifted some great fire starters made out of pinecones during our last RV Lifestyle Meetup!
3. First Aid Kit
Even though people know they should have a first aid kit, they often leave it behind. So while this may seem like an obvious item on the list, it is an absolute need-to-have for your survival kit.
Keeping a well-stocked first aid kit is the best way to be prepared for a minor medical emergency during a road trip.
Furthermore, people forget to replenish and renew the medical supplies within. Much of its contents expire, so you want to check them before you leave on your trip.
In case of an emergency, a first aid kit can help stave off blood loss and keep an infection from setting in while waiting for emergency responders to reach you.
Wondering how to take care of your medical needs while RVing? We got you covered there, too.
4. Tactical Pen
Tactical pens are actual pens but come with extra handy tools as well. You can find different models out there, but many come with an LED flashlight, glass beakers, and some sort of multi-tool.
They can also be used in a self-defense situation to protect yourself against an attacker.
5. Tread Bracelet
A tread bracelet, like the Leatherman Tread Bracelet, is a stylish, wearable multi-tool. This highly functional tool is worn on your wrist, which means it's hard to lose and get separated from in a fall or other situation.
Different bracelets feature unique tools. The Leatherman offers two tools and customizable links.
The tools that are available include box wrenches, flat and Phillips screwdrivers, oxygen tank wrench, hex drives
6. Portable Solar Panel
Portable solar panels can be an important survival item, especially if you are boondocking. You may have a great battery (or think you do), but that does not mean it can't die. Especially if you get lost or your hike takes longer than expected.
Having portable solar panels means you have access to energy, keeping you "plugged in" in the event of an emergency.
7. Tactical Flashlight
A tactical flashlight is another important survival tool. They are a more compact size than traditional flashlights yet put out more light. They are also made from weapon-grade aluminum for long-term durability.
A flashlight's primary job is to improve visibility, of course, but it can also be used as a signaling device.
Get an LED flashlight. They are usually compact, ultrabright, and long-lasting.
8. Water Bottle
Having a good water bottle is important when doing any outdoor activity. So, it's no surprise that you need to keep hydrated in order to survive.
Look for a durable water bottle. You want a heavy-duty plastic or insulated bottle to keep it fresh and clean for the duration of your outing.
9. Survival Bracelet
Another one of the best survival tools you can find is a survival bracelet. While it is similar to a tread bracelet, it also provides a handy way to carry survival tools.
Some tools include a compass, emergency rope, magnifier, whistle, fire starter and emergency cutting device.
Take a look at this one – A2S Survival Paracord Bracelet
10. EDC Kit
An EDC Kit is an "Every Day Carry" kit that can work as an emergency survival kit. They usually include survival gear items, like medical supplies, fishing tools, folding cutting devices, poncho, and other excellent survival items.
If you only get one thing on this list, let this be it because it actually comes with a lot of things on this list!
11. Personal Water Filter
A water filter, like the LifeStraw Personal Water Filter, can filter natural freshwater sources. It turns it into safe drinking water.
The filter removes unsafe contaminants from natural freshwater, including bacteria, PFAs, lead, and parasites.
Other Things to Throw in Your Survival Pack
In addition to the items I already included, there are other gadgets that you may want to include on your survival gear list. They include:
signal mirror
emergency whistle
dry bag
pepper spray
water purification tablets
fishing line
duct tape
wire cutters
rechargeable battery
Know of something to add to our Gear List?
Please tell us about it in the comments or in our Facebook Group! And check out this post for more survival gadgets!
---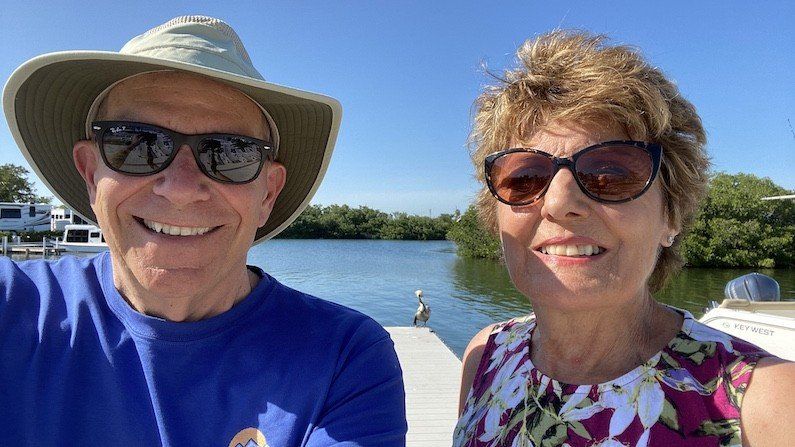 Curious about the gear, gadgets, accessories, and RV products Mike & Jennifer use and recommend?
On this RV Lifestyle Travel blog, our RV Podcast and our RV Lifestyle YouTube Channel, we mention all sorts of RV-related products and gear that we use, So we created a special page that links to them. We update this all the time.  CLICK HERE to go to it directly. Have you caught one of our Amazon LIVE events yet? Just go here and Follow us – to be notified every time we go live.
---