As RV Lifestyle bloggers, podcasters, and YouTubers, Jennifer and I get asked a lot of questions about our experiences. Now, we're answering RV questions you've been waiting for…
Jennifer and I have been living the RV Lifestyle for over a decade. We have this blog, a podcast, and a YouTube channel that answers RV questions, gives advice, and shares our experiences daily.
We spend a lot of time answering RV questions, in general, but we also get a lot of personal questions, too. So, we've finally set time aside to answer those questions we have been avoiding. Not because we don't want to answer, but because we've been too busy answering others!
As a bonus, we're going to include helpful info and resources related to each question.
(If you're just meeting us, you may want to read Our Story first to get some background information.)
We use affiliate links and may receive a small commission on purchases at no added cost to you. Thank you for your support. You can read our full affiliate disclosure here.
Why Do You Have Two RVs?
We've been getting this question often since purchasing our 5th wheel. Getting used to our new Arcadia 5th wheel took some time. After all, it's a palace in comparison to the campervans we've always traveled in before. 
However, we're so pleased to have both types of RVs now. We mainly bought the 5th wheel to serve as a home base for our Tennessee and Michigan properties. We can move it between the two, just like a mobile home. Or, use it whenever we want to do big campouts with the grandchildren.
We still use our Class C campervan for traveling, seeing as it is so much easier to zip around the country. So, we like to have two RVs for the two very different RV lifestyles they offer.
Realistically, we don't need two RVs. And sooner rather than later, we will probably sell one. But we've put off that decision for a while as we wait to see what the economy will do.
Of All the Different RVs You've Had, What's Your Favorite & Why?
This is a difficult question to answer because we have been so pleased with all of our RVs. Of course, they each had their pros and cons but, overall, all were great homes away from home. If I had to choose one, though, I would pick the Arcadia 32.5 foot Fifth Wheel we bought last spring.
I totally love the room. I have an office area (that doubles as a dining table) to spread out in. There's a living room with a fireplace. A separate bedroom with walk-around space, a huge wardroom, and its own air conditioner. The bathroom has a big shower. And we have near energy independence with 1,200 watts of solar panels on the roof that charge two 2.5 amp hour lithium batteries.
But then again, we also love our 2023 Unity FX Class C from Lesure Travel Vans that we bought in September.
It had been on order for well over a year, before we bought the fifth wheel.
It's roomy, has a slide for the Murphy Bed, and is on the Mercedes Benz Sprinter chassis. It's the second FX model we have owned and is our favorite floorplan of all the previous campervans we use. It's perfect for short trips.
But for longer trips where we stay in one place for extended periods of time, the fifth wheel is our favorite, and push come to shove, that's probably the one we'll be keeping long term.
Do You Ever Get Tired of All the Travel?
Yes, there are times we get tired of all the traveling, but those times don't last long. We've learned to recognize the signs of travel fatigue, and take time to rest accordingly. 
Sometimes that means camping in one place longer. Sometimes that means returning to our sticks-and-bricks house that we still live in for about ¼ of the year. In most cases, it means spending time with our family to refuel our emotional tanks, so to speak.
These intermittent rests recharge us, and it's never long before the travel bug starts to bite again.
Have You Stopped Traveling Now That You Bought Property in Michigan & Tennessee?
Like what you see in these videos? We'd appreciate it if you would Subscribe to our YouTube Channel (easy to do right here) and consider "ringing the bell icon" to be notified of any new video from us. 🙂 Thanks!
No way! We are still traveling all around the country, but it is nice to have these two home bases in Tennessee and Michigan. It's especially nice for our family and friends to be able to join us in their RVs for family campouts.
We've pretty much finished the development of our 5 acres in Tennessee and since we just bought the 10 acres in Southwest Michigan this past October, we'll be doing a lot of work there, especially when the snow melts.
So, if anything, we're staying a little less at our sticks and bricks house and more time at our properties. Granted, we're probably staying a little less time on the road, but that's mainly because we're still getting settled in and enjoying the newness.
Do You Ever Get On Each Other's Nerves?
Jennifer answered this question with a "yes" before I finished reading it. But, yes, we both get on each other's nerves sometimes. It's inevitable when you spend a lot of time together in close quarters. But really, it's inevitable in any relationship, no matter the situation.
Sometimes I get on Jennifer's nerves when I try to do too much in too little time. Sometimes Jennifer gets on my nerves with her (admirable) healthy habits while RVing. But we always do our best to be patient with each other. 
To combat such frustrations, Jennifer and I live by Our Top Ten Rules for Getting Along in a Motorhome.
Don't You Ever Need "Me Time"?
Like what you see in these videos? We'd appreciate it if you would Subscribe to our YouTube Channel (easy to do right here) and consider "ringing the bell icon" to be notified of any new video from us. 🙂 Thanks!
You Seem to Get Along and Have Been Married a Long Time. What's the Secret?
It's hard to answer this question simply. A lot goes into making a marriage a success. But I think it mainly comes down to mutual respect, patience, and understanding that the other person isn't perfect.
And neither are you.
When traveling together, it's also important not to lose sight of your individuality. There are still things you like to do that your partner does not, and vice versa. 
It's important not to give up those things but be open to enjoying those things on your own or with other friends. Or to take turns enjoying each other's hobbies. (Here's an article on How to Make Friends While Camping (14 Icebreakers)
For Jennifer and me, a lot of our marital strength also comes from our faith. We believe in a loving, patient, forgiving God, and we try to emulate that in our relationship.
Again, you might want to read How to Keep the Romance Alive While RVing.
Is RV Lifestyle a Business or a Hobby?
Both! There's no way we could have kept RV Lifestyle up this long if we didn't love doing it. We started it in our retirement mainly as a hobby, but it has grown into a money-making business for us. We make income from writing books and running ads and affiliates on our videos, blog, and podcast at no extra cost to our followers.
It's a fantastic way to fund our travels while sharing all of our lessons and experiences along the way. It's a win-win for us as we get to do what we love even more because of the extra income.
Do you get a lot of free things?
Sometimes.
Not a day goes by that some company doesn't offer to send us their products for a review. The vast majority of the time, we turn them down. If we do accept the product, we always make sure we tell you that they sent it to us. And we make it clear that if they send it to us and we try it out, we will tell our audience the good and the bad and what we really think of it.
But most of the products you see us review or use are things we actually purchased ourselves. We bought our fifth wheel and campervan. We bought our RV property in Tennessee and Michigan. When we recommend a product or service, it is mostly because we use it ourselves or it comes highly recommended by our experienced RV audience.
How Do Your Kids and Grandkids Feel About You Being on the Road So Much?
Leaving our kids and grandkids behind was our greatest apprehension to embracing the RV Lifestyle. We love them dearly and enjoy spending a lot of time with them. They feel the same, so it was scary at first for all of us to possibly weaken this connection.
Thankfully, we learned that one of the Pros of RV Life (Beyond the Obvious) was getting to spend more QUALITY time with our family and friends. We make every moment count whenever we're together.
It is worth noting that this is why Jennifer and I aren't technically full-time RVers. As you may know, we maintain a sticks-and-bricks house near our family that we live in about ¼ of the year. That helps keep us within reach whenever needed and wanted.
If you're also worried about joining the RV life for this reason, I encourage you to read How to Tell Family & Friends You're Joining the RV Lifestyle.
You Can't Do This Forever. When Do You Plan to Quit?
So far, we have no intentions of quitting any time soon. After 10 years, we're still enjoying the RV life and all it entails. The new experiences, the beautiful sites, the great friendships… they're still feeding our travel bug!
Some day, we'll have to slow down and eventually quit, but we're making the most of The Now as possible.
To help you do the same, I recommend the following:
Have More Questions for Jennifer & Mike Wendland?
We'd be happy to answer more questions if you have any. Ask away in the comments below! It may take some time, but we will eventually expand this article to incorporate more of your questions.
We recommend you go Lectric for your RV Lifestyle

You know we love our RAD Power bikes – and have featured them for years, but we recently tested out and LOVE our new Lectric foldable ebikes. Being able to fold them up allowed us to put them in our Wonder rear garage area for a recent RV Lifestyle Gathering. You can check out our experience with them right here on our YouTube Channel.
---
---
---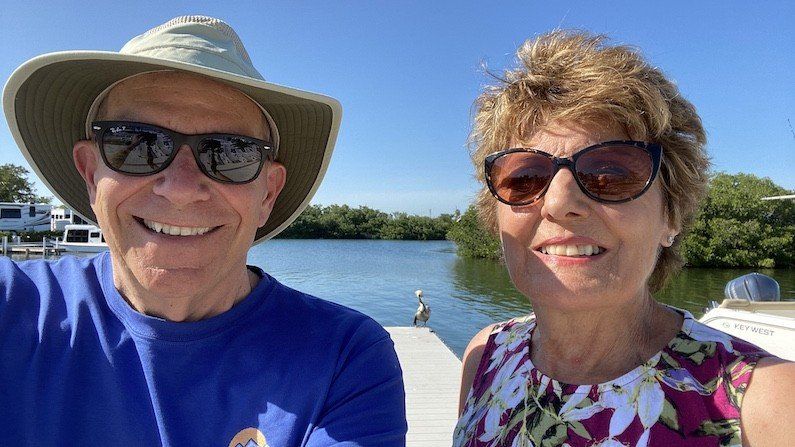 Curious about the gear, gadgets, accessories, and RV products Mike & Jennifer use and recommend?
On this RV Lifestyle Travel blog, our RV Podcast and our RV Lifestyle YouTube Channel, we mention all sorts of RV-related products and gear that we use, So we created a special page that links to them. We update this all the time.  CLICK HERE to go to it directly.
---