When you think of Colorado you probably don't think of castles, but you should! From fire to ice, here are the best castles in Colorado to visit.
Did you know there are amazing castles in Colorado? You can enjoy everything from overnight stays to tea in the Queen's Parlour Tearoom and plenty in between.
Driving non-stop, you could see all 9 of these castles in 12 hours. That means you can complete a whirlwind Colorado castle tour in a long weekend if you'd like! Though, if you take Redstone, Bishop, and Cano's Castle off the tour, you can cut that time in half.
RV Tour of the Castles in Colorado
The following is a list of the best castles in the Centennial State. Some of these castles you can only view from the outside (or the internet) but most you can explore.
I've organized this list in driving order if you were to start at Restone Castle and drive all the way around and down to Cano's Castle. Of course, it all depends on where you're driving from but this gives you an idea of the progressive locations.
Located near Carbondale, this majestic castle was started in the early 1900s and finished in 1902. It was originally built for a man named John Cleveland Osgood, a coal magnate and industrialist.
Talk about being spacious! The magnificent structure has 24 bedrooms and 16 bathrooms. It is set atop some sandstone cliffs not far from the Crystal River Valley in Carbondale.
Many famous guests have stayed at the castle. Some that are included on that list are JP Morgan and Teddy Roosevelt.
It was sold not long ago for a $2 million price tag and is now being used as a private residence.
Public tours are offered and can be purchased online in advance.
A little-known must-see winter attraction: ice castles in Colorado.
Every year, professional ice artists build unique attractions made from hundreds of thousands of icicles. These ice castles contain all sorts of interactive surprises, like tunnels, slides, LED-lit features, and more.
Dillon, Colorado is one of six locations in the U.S. where you can experience life in a frozen fairytale. The other locations are Minnesota, New Hampshire, New York, Utah, and Wisconsin.
Dress warm but keep your fingers free so you can take plenty of pictures.
If you like stone castles, this just may be for you!
This Colorado castle turned modern-day wedding venue was built in 1941, in a breathtaking location near Idledale, Colorado. It was once the private residence of royalty, but now hosts weddings and other private events.
The 140-acre property was built on a peninsula, overlooking Bear Creek. It is inclusive, offering walkways for mobility-impaired visitors. They want all of their guests to enjoy the waterways, gorgeous grounds, and beautiful courtyards.
In addition, this stunning property is set on 17-acres with an open space park. Enjoy a walk, biking, or hiking in part of the Jefferson Open County Complex. Or, take advantage of the 1,500 feet of private trout ponds the property has to offer.
Located in Westminster, Colorado, northwest of Denver, sits a castle listed on the National Register of Historic Places. The castle is now known locally as the "Pillar of Fire," which seems well-suited with its red sandstone exterior.
The castle was actually the main building of Westminster University. Though it was completed in 1893, the university did not open its doors until 1908. Then, less than a decade later, enrollment dropped completely due to World War I.
The castle was abandoned for three years during the war and then reopened under new ownership and the name of Bellview. Classes continue in the historic red building today.
It is located fairly close to Dunafon Castle.
This breathtaking stone structure was completed in 1882 for a Prussian immigrant named Baron Walter von Richthofen. He came to America as a Colorado mining entrepreneur. It was modeled after his childhood home.
The Baron was also rumored to be the uncle of the infamous WWII German fighter pilot: The Red Baron!
Richthofen Castle boasts over 15,000 square feet, with over 35 rooms. It also has stone-carved gargoyles, soaring spires, a sky-high tower, and a large Porte-cochere. Inside, you can find leaded glass windows, wallpaper made out of hand-tooled leather, and hand-crafted woodwork.
The castle, located in the historic east Denver neighborhood of Montclair, is now a private residence. No public tours are available but you might be able to drive by after seeing Westminster Castle. However, their website is great to explore!
True crime buffs will love that this castle plays host to an infamous murder. In 1911, Gertrude Patterson supposedly shot her husband, Charles Patterson, in the back of his head. She claimed that it was self-defense from his physical abuse.
Glen Eyrie Castle, also known as Palmer Castle, is a unique conference, special events, and hotel location in Colorado Springs.
Nestled on 700 breathtaking acres, with 95 different guest rooms, you will not be disappointed with all this castle has to offer! The grounds also include an extensive conference and retreat center with lots of meeting rooms to accommodate large groups.
Stay in one of the luxurious guest rooms before enjoying high tea. Or "day trip it" with one of their private tours of the hotel and hike on the property. However, if you are claustrophobic, be sure to take the stairs. The elevators are tiny and not for the faint of heart.
If you love local history, then you will love this. The onetime private residence was built by the founder of Colorado Springs himself, General William Jackson Palmer in 1872. He was both a Civil War hero, as well a railroad magnate. He founded Colorado Springs on July 31, 1871.
General Jackson built the castle for his wife and was sure to add 24 fireplaces to keep her toasty in the cold months. You read that right- 24 fireplaces!
Founded by Jean Baptiste Francolon, Miramont Castle is an exquisite stone structure located in Manitou Springs, Colorado. It's not far from Glen Eyrie Castle.
Its biggest draw is high tea in the Queen's Parlour Tea Room. Reservations are taken online in advance.
You can also visit the castle year-round to tour the building and castle grounds. No reservation is needed for the castle tour.
Many consider Bishop Castle to be one of the best castles in North America. This beautiful castle was built by a single man named Jim Bishop. His vision started when he was just 15-years-old. He built a small cabin from rocks in the mountains that he loved, and was hooked!
Bishop Castle is a towering castle, complete with everything you think a castle should have: a grand ballroom, bridges that boast 100-mile views, and a statue of a fire-breathing dragon.
The is free of charge and always open. However, it is always a good idea to check their website before you head out.
This spectacular work of art built by Donald "Cano" Espinoza was constructed out of beer cans and other scrap metal. He is said to have built the castle over a span of more than two decades, "on faith."
The castle shines bright in the Colorado sunshine and has five different structures. There is a house, garage, two different base structures, and a shed.
Not only were beer cans used in the building of this incredible structure. But other scrap aluminum has been implemented, including window casements, hubcaps, grills. wire, and screen doors.
Cano is a private man, that spends much of his time living off the grid. He spends his time working on the castle in solitude.
Looking for more than castles in Colorado?
If you want to see more than castles in Colorado, you can check out the 7 Best Ghost Towns or 4 Most Haunted Places in Colorado. You can stay at these 10 Best Campgrounds in Colorado on your trip!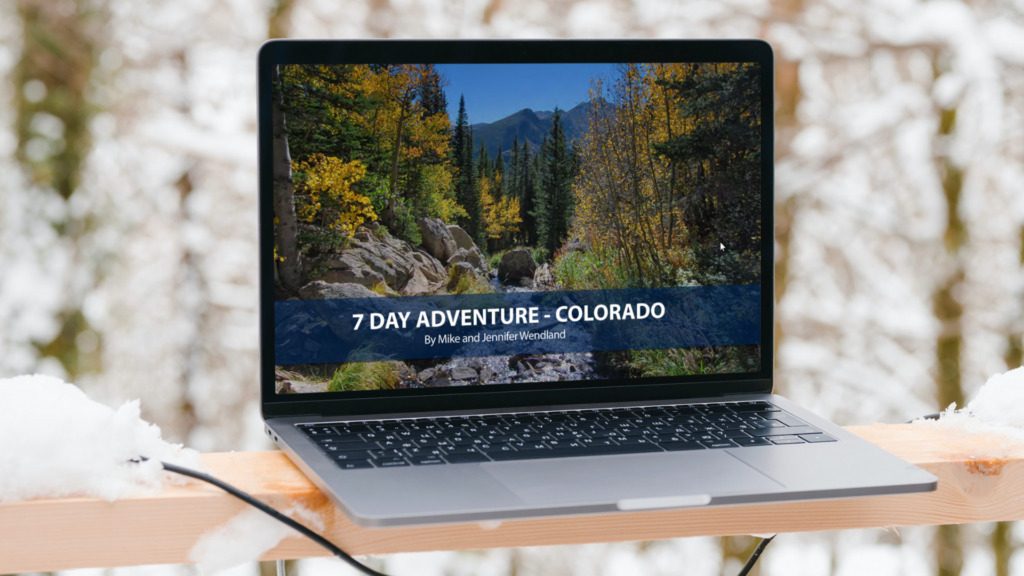 When Jennifer and I first went to Colorado, I felt like I finally understood what John Denver meant by his song: I've now been Rocky Mountain High.
And like Denver, exploring all that Colorado has to offer made me want to sing, too.
This is a fully designed and edited guide that you can download and start reading immediately on your phone, tablet, computer or e-reader.
---