From Pikes Peak to Mesa Verde National Park, this Colorado itinerary takes you on a week-long adventure.
Colorado is B-E-A-utiful and one of the best places in the United States for outdoor activities. When people think of Colorado, they usually think of the Rocky Mountains, Estes Park, Colorado Springs, and, of course, the Mile High City. All of which are along this scenic drive that I have lined up for you.
There's so much to do in each of these destinations that we can't cover it all in a blog. So, Jennifer and I also created a guided tour that covers the best things to do and campgrounds to stay in along the way. You can download that ebook if you'd like a complete guide, but I want to give you an overview of what could be one of the most spectacular drives you'll ever take.
8 Amazing Destinations for the Perfect Colorado Itinerary
This Colorado road trip itinerary is designed after one of the best road trips Jennifer and I took together. You can comfortably visit all of these places in 7 days, but if you don't have that much time, you can break it into different trips. This list goes in progressive order from East to West, although this Colorado road trip map really looks more like an upside-down U.
Pikes Peak
This trip begins on the Pikes Peak Highway that leads up a mountain to Pike's Peak, over 14,000 feet high. Let me tell you, it's a beautiful drive but it can be scary. If your rig is longer than 25 feet, I don't recommend this drive in your RV. However, if you drive a smaller RV or have a secondary vehicle, it really is a great experience.
I don't want to discourage you right off the bat, but you need to go into it prepared. If you are able to get to the top, you'll be rewarded with some of the best views of the trip. (Learn more about Climbing Pikes Peak in an RV)
Garden of the Gods
The name of this landmark is not overstated. It is one of the most popular places to visit in Colorado because of its stunning sandstone rock formations.
Retired biology professor Richard Beidleman notes that the park is "the most striking contrast between plains and mountains in North America" with respect to biology, geology, climate, and scenery. Dinosaur bones have even been found throughout the park.
Unlike Pike's Peak, the Garden of the Gods is very accessible for any RV. You can visit Pike's Peak and Garden of the Gods in the same day, but try to leave enough time to enjoy the hiking trails, bike trails, and beautiful scenery of the Garden.
For Your Colorado Itinerary Add Denver
Even though Denver is the largest city based on population, a lot of people haven't experienced it outside of the Denver International Airport. As RVers, we get to do more than pass through on a layover.
From delicious food and craft breweries in Downtown Denver to the Denver Botanic Gardens and Denver Art Museum, there's something for everyone. If you're not a city person or don't want to deal with big city traffic, you can bypass this part of the trip and head straight to Rocky Mountain National Park.
Rocky Mountain National Park
When I first went to Rocky Mountain National Park, I felt like I finally understood what John Denver meant: I was on a Rocky Mountain High. Its 415 square miles contains an impressive range of mountain environments, including meadows, forest, and alpine tundra.
We recommend going into the park from Estes Park, on the east end, and like lots of other people, take Trail Ridge Road up and through the park. Be sure to stop at the Alpine Visitor Center, which is the highest visitor center in the National Park system.
Next Up on Your Colorado Itinerary – Glenwood Springs
Glenwood Springs is known for the world's largest hot spring pool. If you love natural hot springs, this is a must-visit. You'll become one of the millions of visitors that have made their way to the famous resort since 1988.
Wild West Legend Doc Holiday was one of those visitors. He visited to the springs in hopes of healing for his tuberculosis but he never left. You can visit his grave in the town's original Pioneer Cemetery.
Colorado National Monument
The Colorado National Monument is right outside Grand Junction and it's not what you'd expect. At least, it certainly wasn't what I expected.
Instead of some statue or whatnot, it's a long stretch of incredible rock monoliths cut into the sandstone and even granite rock formations. It can perhaps more accurately be described as a preserve.
If you only have enough time for a day trip out of this whole itinerary, this is where I'd recommend you spend your time. But, honestly, you can easily spend more than a day in just this location. It is such a great place!
Black Canyon of the Gunnison National Park
I'd be willing to bet that most readers haven't heard of Black Canyon. It's probably not on many RVers' bucket lists, but it should be. There are some great hikes and amazing scenic overlooks.
Usually, it is compared to its more famous Big Brother, the Grand Canyon. But while the Grand Canyon is deeper (6,000 feet at its greatest depth) and longer (277 miles), the Black Canyon of the Gunnison is an amazing tourist attraction for RVers. It is often overlooked because it is rustic and remote – which means it's perfect for us.
Mesa Verde National Park
Last but certainly not least is Mesa Verde National Park. If you're taking your trip in the winter months, be sure to check road conditions before heading this way.
The key attraction here at Mesa Verde is the amazing archeological sites. The park preserves cliff dwellings of the Ancestral Pueblo people who lived here between 600-1300 A.D. in structures built within caves and under outcroppings in cliffs.
There's still a lot of mystery around why the Pueblo people settled here and why they suddenly abandoned it so long ago.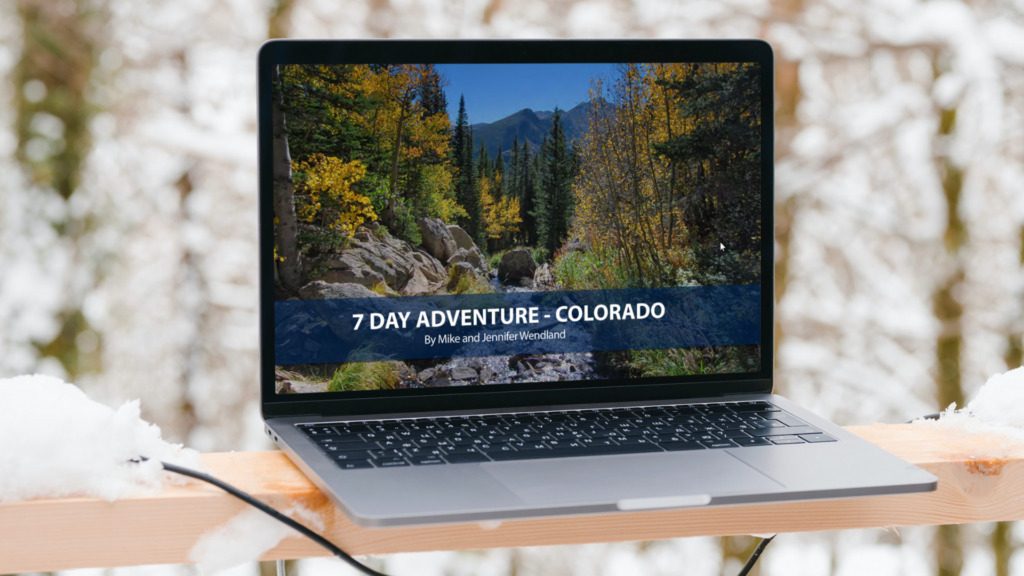 When Jennifer and I first went to Colorado, I felt like I finally understood what John Denver meant by his song: I've now been Rocky Mountain High.
And like Denver, exploring all that Colorado has to offer made me want to sing, too.
This is a fully designed and edited guide that you can download and start reading immediately on your phone, tablet, computer or e-reader.
---