Ghost hunters and creepy cravers must visit these haunted places in Colorado.
From the Garden of the Gods to camping on the Colorado River, there is no shortage of things to see and do in Colorado!
But have you thought about visiting the "other side" of Colorado? The one where haunted houses are rife with paranormal activity. Where strange things occur in the night at haunted hotels.
If this is the type of adventure you seek, the following is my list of spooky places and haunted spots to check out when in Colorado!
4 Most Haunted Places in Colorado
Haunted hotels, parks, and prisons… oh my! Your hairs are sure to stand on end at these locations.
Located in picturesque Estes Park, this hotel is anything but picturesque on a dark night, all alone. It is widely considered one of the most haunted places in Colorado.
The hotel was built in 1909 by Freelan Oscar Stanley, an entrepreneur, hotelier, and architect. He had come to the area in 1903 with a grim health prognosis. The area revived him and he decided to try and make it into a resort town.
The hotel was facing closure when, in 1974, famous author Stephen King check-in for the last night of the season. He and his wife had heard about the spooky desolate setting and thought it a good place to help him finish a novel he was working on.
The Kings were the only guests in the hotel that night. After dinner, Tabatha King returned to their room number 217, while Stephen King walked the halls. He visited the hotel bar and spoke with the bartender.
There are many ghost stories that plague the Stanley Hotel. There are reports of shadowy figures, eerie laughter, items moving on their own, and flickering lights. The staff reports that when they vacuum, machines go haywire and the plugs come flying out of the wall!
On the second floor, where Stephen King stayed in room 217, there is a ghost called Mrs. Wilson.
In 1911, she was cleaning that room when there was an explosion. Although it did not kill her, folks claim that she still cleans that room. There are even reports of luggage being mysteriously unpacked, lights turned on and off, and cold spots in the bed.
Beyond that, there are reports of children running and laughing, dizzy spells, and other cold spots throughout the hotel.
Later that night, Stephen King had a nightmare involving the hotel and his little boy.
That night was so eerie between the spooky sounds and weird sites, that he had the core of The Shining written before he checked out the next day.
Another one of the most haunted places in Colorado is the Museum of Colorado Prisons.
It opened in June 1988 to chronicle the over 140-year history of the Colorado prison system. It has exhibits and displays that include furniture and other items from various prisons.
Some items belonged to a former warden named Roy Best. There is prison riot documentation dating back to 1929. There are also items that belonged to famed inmates Alred Packer, a cannibal, and Antone Woode, known as the "Boy Murderer."
As the legend goes, the museum is haunted not only by the dead owners whose artifacts are displayed but by the inmates that were once housed in the building's cells.
Ghost hunters have spent a lot of time trying to track paranormal activity in the walls of the prison. They are trying to find the source of floating orbs, unexplained screams, sounds of crying, and inexplicable cold spots.
In addition, there are also reports of the smell of tobacco, lights flickering on and off, full-body apparitions, and female voices harassing male guests. There have been disturbing EVP recordings made, which is short for Electronic Voice Phenomena.
There are even ghost tours available for those who are interested.
---
---
In the heart of downtown Denver lies a park surrounded by charming homes and brick mansions. It's called Cheesman Park and is one of the most desirable areas in the city.
Just by looking at it, you wouldn't know it is one of Colorado's most spooky places. The actual Cheesman Park is located in this neighborhood and was built on top of a cemetery.
Mount Prospect Cemetery was opened in 1859 and utilized 160-acres of land. About 20 years later, the city decided to turn it into a park and had to move 5,000 bodies that were buried on the site.
They hired an undertaker to move most of the bodies for $1.90 per coffin. However, McGovern had a sinister plan. He dismembered the bodies and placed different body parts into separate coffins. That way he could increase his profits.
Once discovered, the city took McGovern off the job. In the end, the city only removed the headstones and left about 3,000 bodies buried underneath the park. That is why it is considered one of the most haunted places in Colorado.
There are reports of ghostly apparitions and other phenomena, and there was even a Hollywood movie called The Changeling that was based on a house located in Cheesman Park.
Every year, leading up to Halloween, there is a paranormal investigation led by Magpie Paranormal that offers two-hour walking tours. Let these paranormal investigators guide you through these spooky spots!
In Aspen, Colorado, there is a historic hotel that has its share of paranormal activity. As one of the oldest hotels in the state, it is definitely one of Colorado's most haunted sites.
The most famous haunting is that of a little boy. It is reported that he was staying in room 310, which overlooks the pool. He left his room and drowned in the pool.
It is now believed that this little boy, called "water boy," sometimes appears to guests looking wet and shivering. He then disappears quickly, leaving only wet footprints in his wake.
Another ghost, Henry O'Callister, was in the mining industry. He moved into Jerome after making a lot of money during the silver boom and fell in love with an heiress, Clarissa Wellington. He wanted to marry her, but her father would not allow it.
Legend says that O'Callister sobs at night as he wanders the halls of the hotel.
Another ghost that appears in hotel rooms is Katie Kerrigan, who once worked at the hotel. An attractive maiden, she was sometimes the butt of practical jokes.
One night, she was told that her kitten fell through the ice of a nearby frozen pond and died. She rushed out to see and fell through the ice. She was rescued but died from pneumonia.
The staff says that she sometimes appears to turn down bedsheets at the old hotel.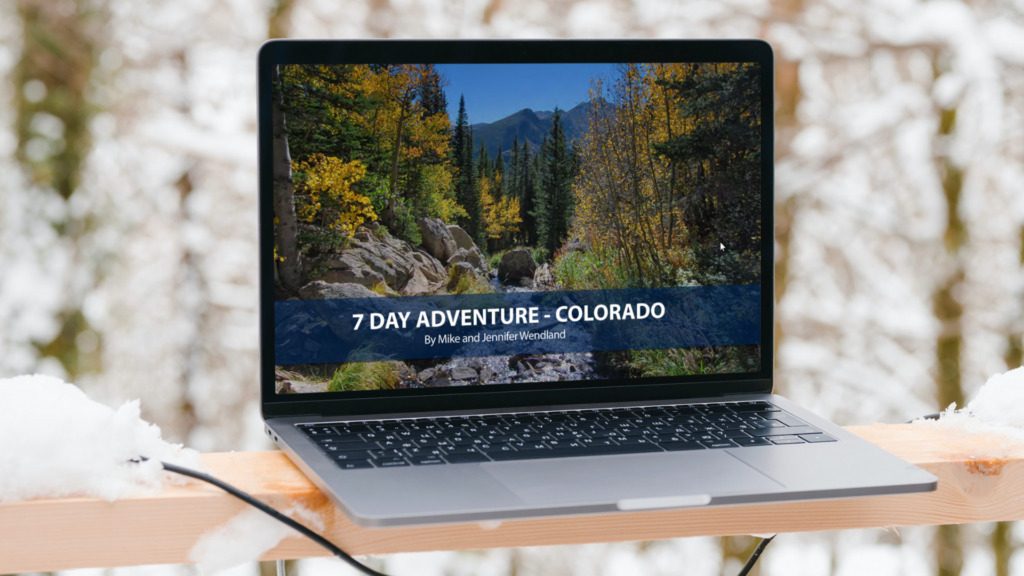 When Jennifer and I first went to Colorado, I felt like I finally understood what John Denver meant by his song: I've now been Rocky Mountain High.
And like Denver, exploring all that Colorado has to offer made me want to sing, too.
This is a fully designed and edited guide that you can download and start reading immediately on your phone, tablet, computer or e-reader.
---
---
---