Step into history at the best ghost towns in Colorado.
In the late 1800s, a mining boom attracted a mass migration of workers to the state of Colorado. Over a thousand mountain towns sprung up hastily to accommodate these hopeful gold miners.
Out of all these former mining towns, only a lucky few are still booming, such as Idaho Springs, Breckenridge, Boulder and Aspen.
The remaining towns are still abandoned and deserted to this day.
It's true that few original buildings are left standing and the gold rush is long gone. But the stories behind the ghost towns of Colorado still live through what remains.
The harsh winters and high elevation made for rough living and even rougher people. Visiting these places dating back to the late 19th century gives us an insight into the Wild West life.
10 of the Best Ghost Towns in Colorado
Out of your many options to choose from, here are the best of Colorado's ghost towns.
A relatively small town peaking at only 500 residents, Carson is one of the best-preserved ghost towns. However, it's difficult to get to.
Built at an elevation of almost 12,000 feet in 1889, its inaccessibility made it unpopular from the start. Due to harsh winters at being situated along the Continental Divide, Carson was abandoned by the early 1900s.
Now on private property, the owners allow visitors. However, getting there is something else. The road is quite treacherous. You certainly can't take your rig on it. But if you're up for an adventurous bike ride or hike or have a 4×4, you'll get to see history trapped in time.
You will encounter Old Carson, but keep in mind Carson is different. Keep going until you encounter the stunningly well-preserved buildings.
If you're looking to step out of your RV into a John Wayne movie, circle St. Elmo on your map. Unlike Carson, Saint Elmo is one of the most accessible ghost towns.
Located in Chalk Creek Canyon, there are 43 historic buildings in total to see. Founded in 1880 with about 2,000 rowdy residents, St. Elmo and neighboring Tin Cup weren't abandoned until 1950.
Left behind today are well-preserved dance halls, private homes, jails, and what was once rambunctious saloons. There is a general store that sells souvenirs and even a bed and breakfast.
But don't let the touristy features fool you. St. Elmo is said to feature some paranormal activity. Read about the Most Haunted Places in Colorado if you're interested in what goes bump in the night.
Perhaps even more unsettling, explore the bloody history of Tin Cup. Sheriffs were famously run off or killed time and again. Check out the populated town cemetery to get the idea.
While you're here, there are other spots to see. By 4×4 or hiking, visit Agnes Vaille Falls or neighboring ghost towns Pitkin and Ohio City. Then after a long day of "ghost hunting," visit the Mount Princeton Hot Springs in the area for a good soak.
Just note that the campground closes for the winter season.
Set at an elevation of 11,200 feet in the San Juan Mountains, Animas Forks is about 12 miles from Silverton.
It was founded in 1873 where three rivers including the Animas River "fork," hence the name. By 1883, about 450 residents filled its buildings, including a hotel, saloon, and post office. Given the brutal snowstorms, Animas Forks emptied out by the 1920s.
It's still a remote location and requires four-wheel drive. It's also best to visit in summer. Weather conditions can get gnarly up there, so check it ahead of time.
If you don't want to risk driving anywhere treacherous, you can rent an ATV in Silverton or Lake City nearby.
Once you arrive, check out the original intact buildings along the Alpine Loop Scenic Byway. The most popular attraction is the Duncan House, sitting at two stories with a huge bay window.
Independence was founded in 1879 at 11,000 feet elevation. It's 16 miles east of Aspen and is constantly hit with snow.
At one time a bustling town featuring 1,500 residents, gold ran dry. By this time you may notice a pattern. In 1899, miners ditched Independence in droves using handmade wooden skis.
Even today, Independence is closed between October and May due to snow. If you're driving up during the summer months, there is plenty to see. You can find a stable, houses, a general store, and the Farwell Stamp Mill.
Be careful as you explore, though. These structures are dilapidated.
For history buffs, the Aspen Historical Society gives tours during the warm months.
A few more best ghost towns in Colorado to explore
Existing for decades, Dearfield was the only all-Black settlement in Colorado. It's located on the eastern plains east of Greeley, founded in 1910 by Boulder entrepreneur Oliver T. Jackson.
Dearfield functioned as a safe haven for African Americans from racism. Then the Great Depression and Dust Bowl years hindered its agriculture, resulting in its abandonment.
Visitors today can still see Jackson's home, a gas station, and a diner.
Aschroft is the biggest ghost town in Colorado. Also close to Aspen, Ashcroft is now on the National Register of Historic Places and offers tours.
And for good reason, since you can tour preserved saloons, a jail, and a livery stable. 2,500 people had lived in Ashcroft, accommodating them with 20 saloons at that time!
Once thought a boom for silver mining in 1880, the mines quickly dried up by 1885 due to shallow deposits.
Teller City is an abandoned town for the more adventurous of you.
It's located in the Roosevelt National Forest, which makes for great camping. To see the town's buildings, you will need to hike for a couple of hours to find them scattered in the woods.
Booming in the early 1880s, this scenic mining camp is set in some of the most peaceful scenery of dense forests.
At once having 1,500 residents, Teller City featured a 40-room hotel and a whopping 27 saloons.
But as the story goes, Teller City was busted by 1902 due to the value of silver falling.
Ohio City is an interesting addition to this list because it's a "semi ghost town." Though it's mostly abandoned, some current residents remain.
Ohio City ghost town is northeast of Gunnsion next to Piktin. It has several remaining buildings, including a city hall and private homes.
It was originally a gold-mining town in the 1860s, and then miners returned in 1879 during the Silver Boom. Once the Silver Boom collapsed in 1893, the town became mostly abandoned once more.
If you have a 4-wheel drive vehicle, Ohio City also serves as a good hub to explore other ghost towns nearby. The nearby Pitkin also has many historic buildings worth checking out.
Alta ghost town is only about 10 miles from Telluride. It's set on a beautiful high-alpine backdrop– the views are worth seeing on their own. You can take Alta Lakes Road past the town to enjoy hiking, camping and even more great views.
This Colorado ghost town had lots of mining activity from 1877 to the late 1940s. A few hundred people live in the town during that time. It was temporarily revived during WWII, but died again when the mill burned in 1948.
Interestingly, this town was the first place to use Tesla's AC transmission system. Before this upgrade, the mines were powered by coal.
Located next to Central City, Nevadaville was quite large in its heyday. Around 4,000 people lived in the city in the late 1800s. When gold and silver ran out, so did its residents.
Unlike some of the other Colorado ghost towns on this list, you can reach Nevadaville by car. You do not need 4-wheel drive and can park to walk around.
The site has several original buildings and a few old grave sites. You can also view several historic mines from the road, located both above and below the town.
What Is the Largest Ghost Town in Colorado?
The largest ghost town in Colorado is Ashcroft. It's #6 on our list of the best ghost towns in Colorado. Ashcroft is also considered the best Colorado ghost town to visit because of its many well-preserved buildings and accessibility by 2WD car.
In its prime, it had 3,500 residents, six hotels, and twenty saloons. The Aspen Historical Society offers summer tours and a self-guided tour in the off-season. The tours guide you around the town's remaining jail, salons, stable, and more.
Our 7 Day RV Adventure Guide to Colorado
Like what you see in these videos? We'd appreciate it if you would Subscribe to our YouTube Channel (easy to do right here) and consider "ringing the bell icon" to be notified of any new video from us. 🙂 Thanks!
Your Vote on the Best Ghost Towns in Colorado
Do you have a favorite ghost town to visit in Colorado? Let us know in the comments!
We've written so many other posts about Colorado! If you want to read more – here you go!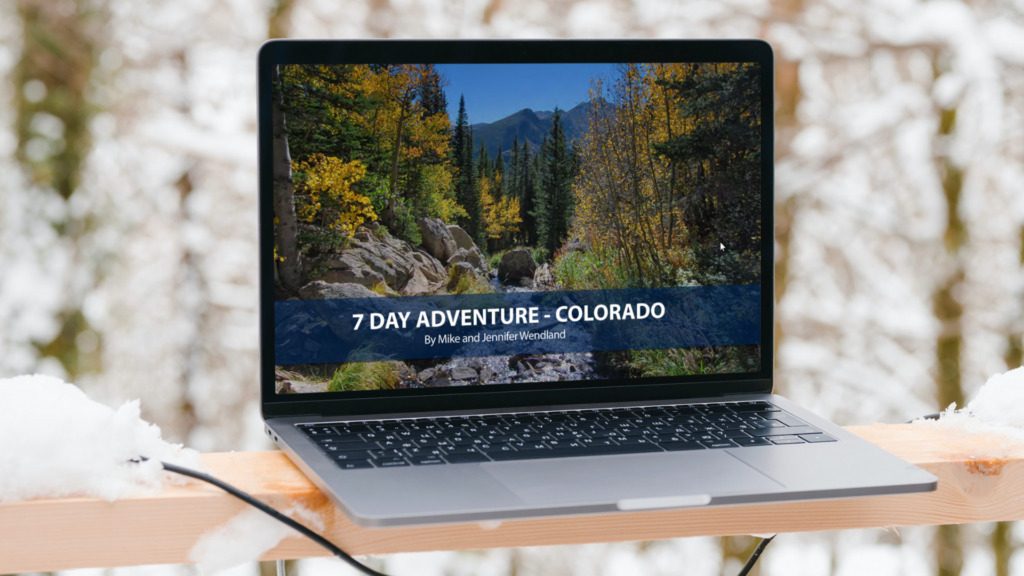 When Jennifer and I first went to Colorado, I felt like I finally understood what John Denver meant by his song: I've now been Rocky Mountain High.
And like Denver, exploring all that Colorado has to offer made me want to sing, too.
This is a fully designed and edited guide that you can download and start reading immediately on your phone, tablet, computer or e-reader.
---
We recommend you go Lectric for your RV Lifestyle

You know we love our RAD Power bikes – and have featured them for years, but we recently tested out and LOVE our new Lectric foldable ebikes. Being able to fold them up allowed us to put them in our Wonder rear garage area for a recent RV Lifestyle Gathering. You can check out our experience with them right here on our YouTube Channel.