Talk about RV Repair Horror Stories! Wait till you hear about the quality and service issues exposed in this week's RV Podcast by an RV Tech.
An RV is the second most expensive thing most people buy after their sticks and bricks home. So when things go wrong, getting them fixed properly is critical to enjoying the RV Lifestyle.
But that doesn't happen.
A lot.
Our guest this week for the Interview of the Week is Justin Green, a fulltime RVer who runs Go Green Mobile RV Repair Service.
You can watch a video version of the podcast, or listen to an audio-only version.
The video version is below:
You can hear the audio version of the podcast through Apple Podcasts, Google Podcasts, Spotify, Sticher, and all the major popular podcast apps. Or click the player below:
Podcast: Play in new window | Download (0.0KB) | Embed
Subscribe: Google Podcasts | Spotify | Email | TuneIn | RSS
Table of Contents for this Episode
To find specific content in this episode, use the slider in either the video or audio files to navigate to the listening times for each segment.
:39 – Mike & Jen's new Video Studio
1:04- The New Format for the Podcast
2:06 – Where to meet them at the Hershey RV Show in Hershey, PA this weekend
6:33 – Interview of the Week – RV Repair Horror Stories from Justin Green
27:39 – RV News: It's mating season for Elk. Watch out for them.
29:44 – RV News: Fires Rage in two California National Parks, Kings Canyon, and Sequoia
31:10 – RV News: Some Louisiana State Parks are reopening after Hurricane Ida damage
32:18 – RV News: Elkhart RV Dealer Open House canceled for 2nd year in a row because of COVID fears
33:42 – RV News: German Company debuts $2.4 million Class A with a lift to park a car inside it
34:35 – Minnesota woman in burn unit after tripping over kerosene lantern at a campground
35:53 – Texas woman gives birth to a baby boy in her RV while camping in a state park
39:30 – RV Question of the Week: The difference between a hard start capacitor and SoftStart to run an RV air conditioner
47:52 – RV Calendar of upcoming RV shows
50:28 – RV Tip of the week: Using bath mats inside the camper door for muddy boots
RV Repair Horror Stories: The Interview of the Week
Our guest is Justin Green, of Our guest this week for the Interview of the Week is Justin Green, a fulltime RVer who runs Go Green Mobile RV Repair Service. Justin travels the country fulltime with his wife and kids, doing mobile RV Tech work.
He talks about a decline in quality he is seeing in new RVs and the shoddy repair service that he has to fix because of poorly trained service techs.
Here's a transcript of the interview:
Mike Wendland:
Joining us right now is Justin Green, from the road. Justin, how are you today?
Justin Green:
I'm doing great. How are you doing, Mike?
Mike Wendland:
Why don't you introduce yourself to the audience a little bit? Tell them what kind of RV you're in, how you became a traveling mobile RV tech, and then we'll get into some of the things you've seen, good and bad out there in the road.
Justin Green:
All right. Well, my name's Justin Green. I own a company called Go Green Mobile RV Repair. We live in our 38-foot Fleetwood Storm, which you could see is a nice mess behind me. And we started traveling a few years ago.
We were living in Texas and realized it got entirely too hot for us in Texas. We wanted to find a new place to live, but we had no idea where we wanted to live.
We figured we'd get into an RV, do some traveling, find the perfect space, and maybe settle up there, and we've just been traveling ever since. We can't seem to pick a spot, we love it so much.
He's a Fulltime RVer traveling with his family
Mike Wendland:
Now, who is the we? You obviously have a family, and you don't travel alone, yeah.
Justin Green:
Oh. I do. I have my wife, Amanda, and I have my two kids, who's 14, and William, who's nine.
We've been homeschooling them on the road, long before COVID. Everyone thinks we got into homeschooling because of COVID, but we were cool before it was cool.
Yeah, we've just been traveling around. Right now, we're in San Diego, and we love it.
Mike Wendland:
Were you an RV tech before? How did you get into that part of the business?
Justin Green:
Well, I started off as a mechanic in the military. I used to fix howitzers and some of their big artillery
When I got out of the military, we got into RVs for fun. We had some for weekend trips, and I was just constantly working on it, and learning about it, and having to fix it.
Something is wrong with the RV Repair business…
Example of Justin's repair videos
Whenever I had to have a professional come out, I noticed it was weeks until they could show up, and sometimes, even when they did show up, they didn't know what they were doing. So I decided to start learning myself and doing the work myself.
Once I realized I was pretty good at it, I decided to go get certified. And I went to a class in Clearwater, Florida, to be certified to work on RVs.
Mike Wendland:
What kind of standards are those, or certification? What should people look for when they hire a mobile RV tech?
Justin Green:
Well, of course, you want to look for somebody who's certified, but the challenge with certification is, what does the certification even mean? So you can get certified …
Mike Wendland:
So, who does the certifying?
Justin Green:
Yeah, exactly. There RVIA, which is industry standard for most of the RVs around the country.
I went to a school called RVTTC, which is a training center in Clearwater, Florida, where they use the same curriculum, the curriculum as RVIA. But it is a different accreditation.
What to look for in finding someone to repair your RV
I would say it's more important to make sure that your repair tech has better reviews. I'd make sure that they have insurance. I think those two things will be more important than, say, a certification. Because I could say my mom's certified, been certified by Tammy Miranda, and nobody would know what that meant, so …
Mike Wendland:
Now, you are traveling around the country and you work from the road. How do people find you out there? How do they know you're there?
Justin Green:
That has actually been our biggest challenge. One way we do that is, I have a big Sprinter van, write our business name, our number on the side.
Most, I'd say probably 70% of our business, comes from people seeing that van outside of an RV, and a lot of people walk up. "My tech never showed up. I've been trying to get into Camping World for months, I've been trying to get into Lamesa for months, can you please help me?" So I get a lot of people online, like that.
We also have Yelp ads and Google ads that we can change no matter where we are in the world, in the country. Usually, we'll switch over our Yelp and our Google a few weeks before we get to a place, so we have our calendar pretty much booked up when we show up.
Mike Wendland:
Yeah. Certainly, as people tell you, when they call you that there is a challenge in getting into an RV dealership or a service center, just as there's a challenge in buying a new RV.
I've always been recommending mobile RV techs, but I'm wondering lately, because there's so much demand out there, if there's a lot of shoddy work that's being done under the name of a mobile RV tech. Now, I know I'm kind of asking somebody who does that. But you've been pretty vocal in pointing out some of the horror stories that you've seen.
Pointing out the RV Horror Stories he encounters
Justin Green:
Yeah. I have been.
Mike Wendland:
Maybe you could share some of those with our audience.
Justin Green:
Sure. I'd say maybe, and these are just random numbers that I'm guessing, based on my experience, I'd say maybe 30% of the jobs that I do are to fix jobs from Camping World, La Mesa, other mobile techs, where somebody will show up, say that they're certified, they know what they're doing, "Oh, but I can't fix your problem, because it's some crazy industry problem that you as a customer can understand. So why don't you pay me my service fee, and I'm going to be on my way now?"
Then I have to show up, charge the customer again, and actually fix the problem. And that happens all the time.
I had a customer in Maryland, actually, a few weeks ago. His water heater wasn't working. He had a mobile tech come out, I think he said three or four times, finally replaced his water heater completely.
I show up, and it was a 10-year-old heater that this mobile tech put in this poor man's RV, and he wired it incorrectly so that there was an electrical fire inside the box behind the water heater. So I had to get in there and get it all wired up and fixed up properly.
The guy was just, "I thought this was impossible because I had two separate techs come and tell me that I'm just not going to have hot water."
People are being taken advantage of
Justin Green: So it's exactly like you said. There are plenty of people who are just taking advantage of people, collecting that service fee, and moving on.
Mike Wendland: The average person as an RVer, how do they know when they're dealing with somebody who really doesn't have any skills or competency?
Justin Green: Sure. One of the big things that I do when I talk to customers is, I tell them if I can't fix it or diagnose it, I will not charge them.
Mike Wendland: Sure.
Justin Green: That is something that I would ask if I'm calling a mobile tech. Yeah, because for me, my time has value, if I can bring that value to the customer.
If I show up, "Oh, I don't know what the heck's going on, that'll be $200," I didn't do anything for you. I took a shot at the basket, I completely missed, and then, for some reason, I expect you to pay me for not doing anything or making your life any better. I know there's been a lot of amazing mobile techs that I've worked with all across the country.
There are a lot of good RV Repair Techs out there
Justin Green: There's Dan the Man RV Repair, in Florida, who also will tell you, if he has any trouble, he will not charge you. There's Aspen RV, who's owned by another Justin, and he's the same way, if he gets into something that he's struggling with.
I'll tell the customer, "I don't know what to do here. If you want to tip me, that's fine, but I don't want to bill you for anything. I don't want to take advantage of you."
So I would say, as a customer, to ask that question, "If you can't solve my problem, are you still going to bill me your $200 an hour?"
Mike Wendland:
Now, what are some of the other problems that you have seen, in terms of repairs, either by the big dealerships or by other RV mobile techs?
Inexperience and Inability in the RV Repair Business
Justin Green: I think a lot of it comes down to inexperience and the inability to understand when you don't know. For me, when I look at something, and I don't know what's going on with it, I'll say, "I don't know what's going on with this. So I'm going to find out."
I think a lot of dealerships, especially these big dealerships, they can't afford to say they don't know. I think they just kind of shoot at the dark, and fix things, and hope that the customer's solved.
Being big doesnt mean they do good RV repair work
Justin Green: But I see a lot of things, like RV electrical under plumbing fittings. So when that plumbing fitting starts to leak, it's dripping right on an electrical, like a huge plug.
I found one last week, actually, and right, we could smell something burning in his RV, and we couldn't find it, couldn't find it. We're tearing apart his walls, we're taking out his cabinets, trying to find this burning.
Finally, I see this little ember of fire coming from his closet. There's this, maybe 15 wires in this little plug that connects right under a water valve, and it's just dripping right on electrical.
I think a lot of the issue is, for me, mobile techs, I charge $200 an hour to work on something for the first hour, and $175 an hour for every hour after that. That's a lot of money. But for me to charge that, I feel like I need to know what I'm doing.
If I go to a big dealership, I'm getting somebody who just graduated a certification, who probably hasn't been working very long. They're making 20, $30 an hour.
I think there's probably a reason why they're making $20, $30 an hour, you know what I mean? They're working for a major company because it's comfortable, it's simple, and they're safe there, and they have someone to back them up.
I'm alone in the field. So I have to read manuals at night when I go to bed, I have to do this studying because I'm responsible for my name.
Quality Control is often lacking from the RV manufacturers
Mike Wendland: Now you mentioned that water drip. I know there was another case I saw you talk about on your website, and we'll link to all your websites in the show notes. But I had one where it was a manufacturing issue, where somebody stapled a water line to the wall?
Justin Green: A staple would have been more understandable. They took a screw, they held up the water line with their hand, and then they put a screw through the center of the water line, to mount it to that wall.
An adult human person did this. I don't understand why, and that was a problem that I actually couldn't fix in the field. So I helped this woman, and we were looking for this leak, and I couldn't find it, couldn't find it, couldn't find it.
Finally, we got to a point where we're looking at pulling her shower out, her entire shower to come out. Because I could see there's water lines, but I can't get to it, but I can feel the drip coming from under it.
So I had to tell her, "Ma'am, I could try to pull your shower out in the field, but I don't know how many hours this is going to add up to. I think we should take this to a manufacturer, get it under your warranty, and let them pull it out, where they have all the equipment to lift and do everything that they need to do." And she did.
She sent me that picture, that I have on that video, of that water being held up by that screw. I see things like this just, absolutely, constantly.
More RV Repair Horror Stories
Justin Green: I worked on a Thor a couple of weeks ago. None of their kitchen lights worked. So I'm following the story of 12 volts, trying to find out where this power stops.
Finally, I take apart their cabinets, and the wires are just fresh cut wires, just laying on the floor of this cabinet, not hooked up to anything. They were never just wired.
I had to install switches. Then, at one point, I'm playing with the wires, trying to figure out what they all do.
I touch two wires together, and she goes, "Oh my God." I go, "What?" She goes, "This LED's under my countertop."
Well, that's cool. I was like, she had no idea that they even existed. There's just so many problems like that.
Mike Wendland:
It sounds like, as the manufacturers are rushing as fast as they can to complete things, and they're having trouble getting parts, so they're really rushing when they do get them, that lot of stuff is going, going past the inspectors who are supposed to check these things.
Justin Green: Yeah.
Mike Wendland: Not wiring things, just leaving them lying there, putting a screw through a water line.
Justin Green: Yeah. I've had multiple fires in RVs. I had a woman's Aqua-Hot set fire. They woke up in the middle of the night, and they're a very, very old couple, and they were lucky too, that the fire didn't spread.
But I don't think they would have gotten out of that RV if that fire would have spread any worse. That was at the bottom of their Aqua-Hot control board.
Some of these RV Repair Horror Stories are dangerous
Justin Green: There's a positive and a negative DC terminal, and they were just loose, and just knocked into each other, and arced, and started a fire. This is a brand new $300,000 RV they just pulled off the lot.
Mike Wendland: Yeah.
Justin Green: While they're sleeping, it's setting on fire. That's insane.
Mike Wendland: Right. As we wind this up, for the average consumer out there, they've got a problem in their RV, or they're thinking about buying an RV, is there anything they can do before they call that tech?
Advice in avoiding an RV Repair Horror Story
Mike Wendland: You said to ask for some of the reviews, and will you charge me, all that stuff. But what else can people do to avoid these horror stories?
Get your RV Inspected by a Pro
Justin Green: I know that RVs are expensive, and this really sucks, but I think you need to get your own mobile tech when you're buying an RV, or even looking at an RV. You need to have them come out and perform a PDI, a pre-delivery inspection.
Those can be hundreds of dollars, and they're not cheap. I can probably do one in three or four hours. At my rate, $175 an hour, that can add up. But I think it comes down to, and what I hear from some of these companies, and I don't want to name names or burn anybody, but I hear that they're buying these companies, and then demanding, they're doubling their output, without giving them more resources.
I've talked to multiple of these RV companies that have been bought out. And they're just, "We have to double our output, but we don't have more people to build them. So our time is literally cut in half to produce these RVs, and get them out on the road."
A big thing is, get a PDI, get it checked. When your dealer says, "Don't worry, we'll take it back and we'll fix it, don't believe them," because they may not even be lying. They may, in their best intentions, want to work on your RV.
But the reality is, it's going to be three or four months before they can get to it. Even if they can get to it, just the work that you're going to get in a dealership is going to be so fast and so rushed, because they're just completely swamped.
Mike Wendland: Now, you mentioned a PDI, a pre-delivery inspection, and to get your own inspector or RV tech out there.
Justin Green: Yeah.
Mike Wendland: I've heard of a lot of dealerships who say, "No, we're not going to let you do that because that ties up our lot, and we can't keep a service bay open." Have you run into that problem?
Justin Green: I have not. I don't need a service bay to do my PDI. I can do it wherever the RV is parked on their lot, if they like. Or, I mean, do a test drive, and tell them you want to take it somewhere where I can take a look at it.
You are in charge of your RV repairs
Justin Green: For me, if you're the one buying the RV, you're making the rules. I remember once, I bought a car from Honda, and right before we were driving off the lot, they didn't have floor mats in the thing. And we signed the papers, we made the payment, this was our car.
Right when I look at the floor, and I was like, "Oh, hey, man, you guys forgot the floor mats." He goes, "Oh, they don't come with floor mats."
I was like, "Okay, cool. Here are the keys. I'm not buying this car." Like I said, ink was on paper and everything, and they went out of their way, and they got me those mats.
So I think you, as a buyer, you need to know, no matter how busy they say they are, no matter how many, should they say, "The next person will just come buy it," you need to say, "I want to buy this RV. But I need to feel comfortable when I buy this RV."
One good way to get them on their heels, I would say, is when they say that their service department will take it right away, just ask them, "How backed up are you? How backed up is your service department?"
Because I don't think they're going to lie to you about that. They're just going to tell you straight up, "It's about a month and a half, two months out."
Mike Wendland: Justin, a lot of people are listening to you and saying, "Boy, I wish I had him near me," but there is something you do.
Justin Green: We have people who come to us. We have people who travel around the country and they follow it. "Where are you going to be next? Because we want you to work on our RV again."
Mike Wendland: Yeah, yeah.
Justin Green: I have a guy right now, who's got a problem with his Tiffin, and he's got another tech working on it. He's like, "Can you talk to this tech, And let me know if he knows what he's doing?" That happens.
Mike Wendland:
Now, you also do phone consults with RVers, right?
Justin Green: I do. We've been trying to get that off the ground. That is something new we're trying to do. We haven't even had anybody try to use it yet.
But this is for somebody who, say, knows how to use a multimeter, has the tools, and really doesn't want to spend $200 or travel somewhere where they need to drop off their RV, and they just want to call somebody that says, "Hey, connect this wire to this wire, this is your problem." That's something that we're trying to get going.
Mike Wendland: All right. Easy way for people to get ahold of you. How can they do that?
Justin Green: All of our information's on our website. We have, of course, our phone number. You can text us or message us, it's on Facebook, pretty much any way they like. I would use our website. That has a lot of good information on it.
Mike Wendland: Give them that address. I'll put it on the screen below.
Justin Green: I know. It's gogreenmobilervrepair.com.
Mike Wendland: Justin Green has been our guest. Justin, we will be talking to you again, I am sure.
Thank you for sharing your expertise, and your tips, how we can avoid those RV horror stories. Thanks for being with us.
Justin Green: Thank you, Mike.
Dont' make a mistake when buying your RV
Whether you are shopping for a new or used RV, we have a guide that can save you thousands of dollars.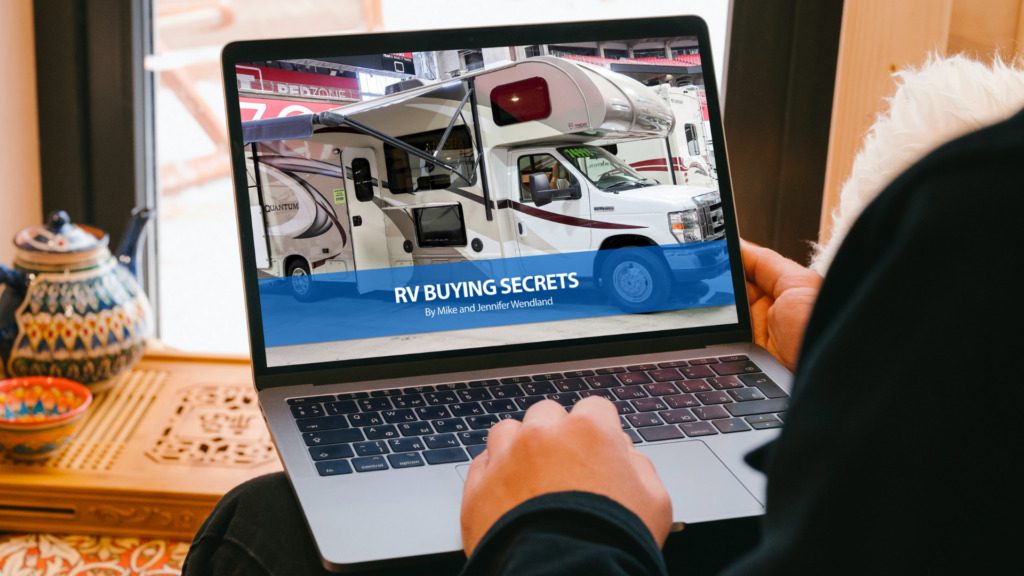 Next to your home, an RV is most likely the 2nd most expensive thing you'll ever purchase.
We get questions every day of other RVers wondering. "How do you buy a new or used RV?"
So we created a 75+-page downloadable digital guide to help you understand the nuances that come with purchasing an RV, where you can save thousands of dollars in the buying process, what the right questions are to ask dealers, what things to look out for, how to select the right unit, amenities, warranties, and so much more!
We created this guide to help you understand the nuances that come with purchasing an RV including:
Where to save thousands of dollars in the buying process
What questions to ask dealers
How to select the right unit
How to narrow down RV amenities
Understanding your warranty and what it covers
This ebook is designed to help make your purchase process as smooth as possible. And to teach you step-by-step exactly what to do so you can start your RV Lifestyle today!
---
---
Think of this as a group travel journal! We've been adding our favorite places all across the country and now you can, too! Every day more and more gets added by RVers just like you!
To add your own locations, you need to get the free app for your smartphone so you can add spots and share them with others as you travel! Click the link in the lower-right corner of the map and start adding YOUR favorite places. Already we've found many new places to explore during our RV adventures and you will too!
Together, we can make this a huge resource for the RV community!
---