What the RV community is saying about the most common RV interior design flaws… and what the RV design industry should do about it is the topic of this timely post.
As a nearly $30 billion dollar industry, you can only imagine how much money and man-hours go into designing functional and attractive interiors in the RV Industry. But sometimes even the best plans don't translate to the best real-world results. The only real way to know what works and what doesn't is to turn to the people using it.
RVers learn to adapt to the tiny lifestyle, coming up with all kinds of clever solutions and hacks. God bless the RV designers who have given us a great head start, but there's always some kind of impracticality to overcome.
Our community in the RV Lifestyle Group on Facebook has been having an excellent discussion on what RV designs are in need of improvement. So, I thought I'd share the main concerns that popped up in the conversation the most along with some great suggestions on how to fix them.
I truly believe the RV industry excels at listening to its customers, so hopefully, we'll be part of that conversation through this article.
The Most Common Issues with RVs
The issues that were mentioned the most revolved around the kitchen, laundry, shoe storage, and accessibility.
I think the solutions for these problems are certainly achievable, even if they're offered as options instead of standard features.
Impractical Oven
The oven came up the most in the conversation. While some people do love their oven, many find the oven to be too small or too ineffective to be worth the space it does take up. It seems many RVers are content to use convection microwaves or air fryers in their place.
Here are some suggestions RVers offered:
option for convection microwave and dishwasher drawer instead of an oven
option for 9-in-1 built-in air fryer instead of an oven
larger oven that can hold at least a large roast
Understandably, preferences can vary widely when it comes to ovens and cooking. So, it really seems the best solution is to have more options! Let the RVer have more of a say in their cooking appliances when they purchase an RV.
More Counter Space
RV designers have tried to maximize counter space without encroaching into the living space too much. Two main solutions they've come up with are boards that cover the stovetop and sink when not in use. While these are helpful sometimes, they aren't really useful when you're in full cooking mode.
After all, isn't it while you're cooking when you need the most counter space? You end up having to push those boards aside when, say, sauce is simmering on the stove and pasta is draining in the sink. That just takes up more room, not create more!
The most sensible solutions seem to be:
Sturdy pull-out boards (a few models have these)
Sturdy flip-up boards from side of cabinet (some models have these)
Pull-down shelf from underneath the cabinets
I particularly like the pull-down shelf idea as it seems we just need more room to set things down that we take out of the pantry or fridge. The pull-down shelf takes advantage of the vertical space, making a pseudo-double-decker counter. Once the ingredients are put away, the shelf hinges right back underneath the cabinet.
Adjustable Shelves (& More Shelves!)
Adjustable shelves seem like such a simple solution… because they are! I'd bet it's one of the cheapest yet most effective changes every RV brand could implement in every class and model. This problem came up with both pantry and closet storage.
We always say, "Take advantage of vertical space!" and what better way to do that with shelves. Being able to customize the height based on the products you store would be a HUGE help.
And designers shouldn't be stingy with the shelves! Give us at least a couple more shelves to work with!
(By the way, our partners over at Organized Obie have some great vertical storage solutions for RVers!)
---
Mike and Jennifer's Summer T-Shirts for your next adventure

---
Drop-Down Upper Storage
A lot of storage in RVs is in the form of small cabinets above the couch. It turns out that a lot of people, either because of their height or their age, have a hard time reaching these spaces. They're high up, plus we have to reach over a couch.
Yet, these cabinets often store the everyday items we need to get to often!
It seems like one of the best solutions follows that same idea as the pull-down kitchen shelf. It would be great if RV designers could make these small storage cabinets hinge down and out towards us.
Dirty Laundry Hamper
Maybe RV designers haven't heard that we're not supposed to air our dirty laundry, because they haven't given us a good place to put it. I've actually heard this complaint several times even outside of our Facebook discussion.
We need a designated place for dirty laundry that's not the shower space!
Shoe Storage
Shoe storage! Shoe storage! Shoe storage!
It seems everyone agrees we need more of it. Yes, there are after-market door hangers but why not integrate shoe storage into RV design?
I particularly agree with one member of our group that suggested shoe storage by the front door. We all end up leaving shoes by our doors, and they become a tripping hazard. A cubby or space for a couple of pairs of shoes by the door and more shoe storage in the back would be ideal.
Some models have this near-the-door shoe storage now. If this is important to you, make sure you check to see if the model you are viewing has it.
Better Accessibility
A lot of the discussion centered around accessibility and emergency exits, and I couldn't agree more. The RV Lifestyle is about freedom and discovery, and it should be possible for people with disabilities and mobility issues. Not to mention, a big part of the RV community is senior citizens that are only getting older.
Newmar has Wheelchair Accessible Luxury Diesel Motorhomes
And Winnebago has several models they called Accessibility Enhanced
One of the biggest obstacles for people with disabilities and seniors with more limited mobility is the front entrance. The big steps become a serious safety hazard if not a complete blockade to the inside.
RVers would like more options when it comes to how they enter their RV. Some suggestions include:
An electric lift (like a miniature version of moving truck lifts)
A slide-out ramp
More graduated steps
Swing-out or collapsible hand rail alongside steps
The next biggest area of concern in this area was a more realistic emergency exit for seniors. Many older people worry about the idea that they might someday have to escape through the escape window. Would they really be able to get out the window? Would they hurt themselves doing so?
A second emergency exit door in lieu of an emergency window seems like an option many people would pay extra for.
Speaking of emergencies, you might want to tune into our podcast episode on When the Worst Happens: Medical Emergency on the Road.
Join the Conversation
Our Facebook group is a great place for RVers to come together to seek advice, share solutions, and even just to share stories. We also share our blogs in the FB group so you can easily stay up-to-date on all our RV Lifestyle tips, tricks, and travel ideas.
I Want to Join the RV Lifestyle Facebook Group!
You can share any RV interior design flaws and suggestions you have in our comments below, too! The more we talk about these issues, the faster solutions will be available.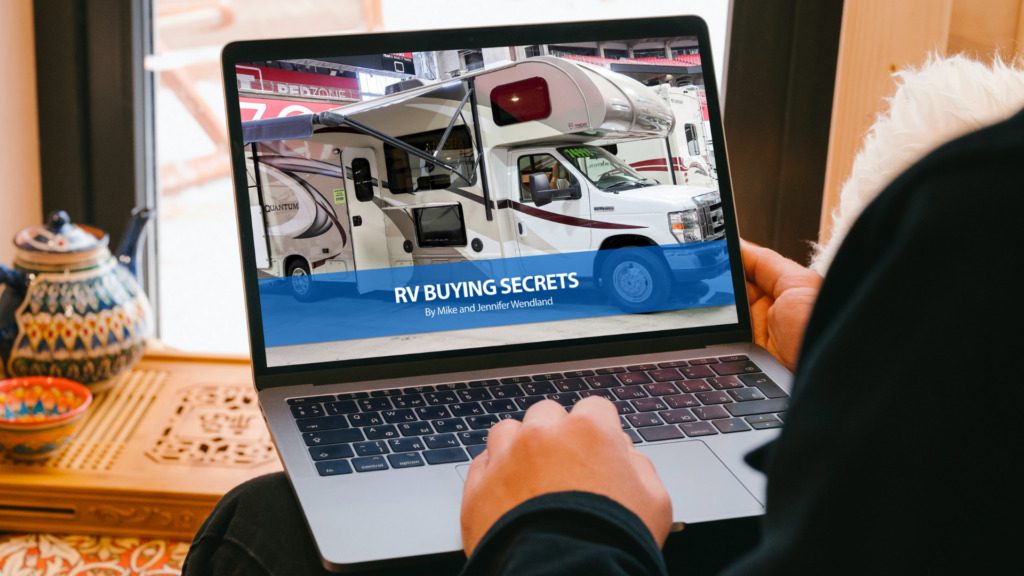 Next to your home, an RV is most likely the 2nd most expensive thing you'll ever purchase.
We get questions every day of other RVers wondering. "How do you buy a new or used RV?"
So we created a 75+-page downloadable digital guide to help you understand the nuances that come with purchasing an RV, where you can save thousands of dollars in the buying process, what the right questions are to ask dealers, what things to look out for, how to select the right unit, amenities, warranties, and so much more!
We created this guide to help you understand the nuances that come with purchasing an RV including:
Where to save thousands of dollars in the buying process
What questions to ask dealers
How to select the right unit
How to narrow down RV amenities
Understanding your warranty and what it covers
This ebook is designed to help make your purchase process as smooth as possible. And to teach you step-by-step exactly what to do so you can start your RV Lifestyle today!
---
---
---