This week on the RV Podcast we talk to a woman about how to renovate an RV, learning her fascinating back story and how she is now helping others to do what she does.
She is Cortni Armstrong, known as The Flipping Nomad, who was nearly homeless a few years back and discovered her gift for renovating and redesigning RVs after she moved into one to keep from living on the streets.
You can see the entire episode (#415) of the podcast in the video below, which features Corni in our interview segment.
If you prefer an audio-only version, you can listen on your favorite podcast app or click the player below.
Podcast: Play in new window | Download (Duration: 36:18 — 21.4MB) | Embed
Subscribe: Google Podcasts | Spotify | Stitcher | Email | TuneIn | RSS
Cortni is an expert on how to renovate an RV
In fact, she is so much an expert that Keystone RV and several major RV suppliers approached Cortni a while back because they were so impressed with her skills that they wanted to build "the Ultimate RV" and gave Cortni a deluxe 37-foot Montana Fifth Wheel and told her to go at it, to design and tweak it however she thought best.
And did she ever!
If you want to see how that project turned out, take a look at this video we did last week on our YouTube Channel. That Ultimate RV is amazing. Click the player below to see:
Jennifer and I loved what she did and asked her if she would take a look at our Arcadia Fifth Wheel and come up with some design tweaks to give me a dedicated work area. Come back to our YouTube Channel Saturday if you want to see how that turned out!
Cortni's story: From Near-Homeless to an RV Design Queen
In this week's podcast, Jennifer interviewed Cortni to learn how The Flipping Nomad came about. Here's an edited version of the podcast interview.
Jennifer
Cortni, you have a great backstory as to how you learned how to renovate an RV and became the Flipping Nomad. So can you tell us a little bit about it?
Cortni
So most people when they get into RVing, they have a story that's almost out of a movie. They got fed up with life and sold everything and bought the RV and hit the road.
And it sounds like some fairytale. But my story's actually very opposite of that. It started eight years ago. My dad had a stroke and he had two businesses, but neither business was doing very well. So I had to drop everything and take them over. And I was basically facing a do I feed myself or do I feed my dog type situation.
And it was pretty dire. And I found myself in desperate need of affordable housing. And a family friend turned me onto living in an RV, just stationary. I was not traveling. And so I moved into it basically. That was the only option that I could find. And at first I hated it and I was embarrassed about it and, felt like I was at rock bottom.
And then a year went by and I had fallen in love with the lifestyle. And I was like, maybe this isn't so bad and, maybe I could get my feet underneath of me faster if I live this affordable lifestyle. And so I said I would just really like an RV that feels more like a bachelorette pad.
---
Mike and Jennifer's RV Lifestyle hat collection
Who needs a hat? You do! Dad hats aren't just for dads. This comfy one's got a low profile with an adjustable strap and curved visor. Just the thing to wear on your next RV Lifestyle adventure.
---
I was 25 at the time. I searched high and low for something that felt as good as it felt to live tiny, and nothing fit the bill. And so I thought I could renovate one, right? I don't know, can you renovate an RV? And I did a quick Google search and nothing came up, but now I realize it's because nobody else was doing it at that time.
It's a little bit different story now. But I got the courage up to renovate an RV for myself. And then two years went by and got everything settled with the family, I said, Okay, now it's my turn. What am I gonna do with life? And I kept coming back to my buying experience and I wondered if maybe other people didn't like the interiors of their RVs, either, and if maybe there was a business there.
And so started in the RV renovation business and then the business started taking off, fueled by social media. And then Keystone RV Company took notice, which was the shock of a lifetime. They watched online for several months, unbeknownst to me. They reached out in March of 2019 and they were like, Hey. They were like, What you're doing is really cool and we would love to be involved with you.
So they said, What do you think if we pull a brand new Montana off the line and give it to you and give you a budget and tell you to go build the craziest thing you can come up with? And I was like, Done.
Cortni is now helping others learn how to renovate an RV
Jennifer
So to go from desperate for housing and nearly homeless to this beautiful RV has just been like the craziest story and now you are helping other people.
Cortni
Yeah, I am. So we had a shop in Texas where we were doing renovations for people and it got to the point that we just could not keep up and we were just turning people away left and right.
And so we were like, how could we get creative and help these people live out this lifestyle and this dream that they have in mind without actually building their RVs for them. And so that's when the light bulb moment went off where we could just create an RV renovation course, where we infuse all of our years of knowledge into fellow nomads.
And so that's what we did.
She now has a course on how to renovate an RV
Last year we took four months to film the course and get it up and going and it took a little bit longer than we were anticipating. Still a little bit in the beta version right now it's about 80% of the way done. But that's what we're focusing on this year, getting the course fully finished, and then we're gonna be traveling the country and going to RV dealerships and shows and hosting in-person workshops.
And so actually teaching people like hands-on if they can get to us or if they can't get to us and want to do it on their own, then we have the course that they can take.
Jennifer
Now I'm hearing "we are."
Cortni
Yeah. We is actually my mom and I. So she's a partner in the business and through the turmoil of, how I got into an RV, with the family breakdown she ended up getting a divorce through that too.
She's finding her footing, now in her sixties and reinventing herself too. So there's a lot of emotional ties, and depth, I guess you would say that go with RVing and it's more than just an interior design project for us. There's a lot that goes into it.
The Challenges of RV Renovation: Weight, Size, and Furniture
Jennifer
So what are some of the challenges that people have to deal with?
Cortni
Yeah, it's a tricky line with renovating an RV, because at the end of the day, people want them to feel like a house. They're an RV and they have to function like an RV.
And one of the biggest factors with RVing, especially renovating, is weight.
Weight's kind of the name of the game with RVs. And so that's things that we walk people through.
Like flooring, for example, is always a hot topic because, in the residential world, people would use planks, three feet by six-inch wide planks that kind of click together and that's the entire flooring of the house.
If you did that in an RV, planks are extremely heavy. So you're going to annihilate your carrying capacity right off the bat just with that flooring.
And then also the RV goes through temperature fluctuations and also vibrations on the road. And so with so many joints in the flooring, you run the risk of something happening.
That's why we choose to work with sheet vinyl flooring. That's also what all the manufacturers use. So it's a wash for flooring. But that's just one example of the differences between residential renovating and RV renovating.
Jennifer
What do you do about the furniture? If they are wanting to update furniture, what are their options?
Cortni
They can either update or, slip cover what they already have or replace it entirely.
We actually just use residential furniture and I will say that it is tricky, especially to find sofas that can fit in an RV. Because most residential sofas are like 98 inches and a standard in RVs is about 72 inches. So it is a little tricky to find pieces, but at least with furniture, we do use residential options for those.
Thinking of renovating your RV?
Let us know all about it in the comments or in the social posts. Where do you want to go next?
---
Looking for exciting RV trip ideas and travel suggestions?
We've written a library of RV Travel books that lay out guided RV explorations of scenic areas of the US that we''ve explored and think would make an excellent RV trip for you.
In each location, we provide a suggested route and itinerary (7 stops in each guide, one for each day of a week trip!) as well as links to multiple campgrounds and boondocking spots, local tips, and interesting things to do at each location.
You can hit everything in seven days, do a whirlwind weekend tour, or you can take your time and explore the area over a 2+ week period.
Planning an RV trip can be very time-consuming so that's why we've done the research for you! Just take our guides and use them. We're sure you'll have an RV trip for the ages! Instant download. CLICK HERE for information on our RV Travel Guides
---
---
---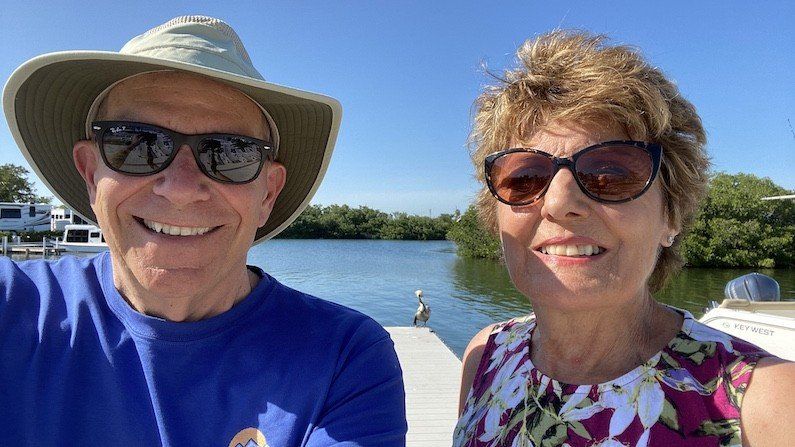 Curious about the gear, gadgets, accessories, and RV products Mike & Jennifer use and recommend?
On this RV Lifestyle Travel blog, our RV Podcast and our RV Lifestyle YouTube Channel, we mention all sorts of RV-related products and gear that we use, So we created a special page that links to them. We update this all the time.  CLICK HERE to go to it directly.
---